Brighten Up Your Kitchen With This Gorgeous Fixer To Fabulous-Inspired Cabinet Color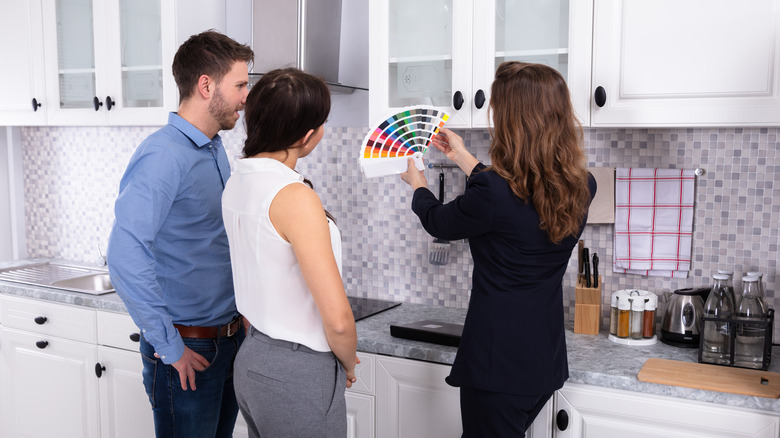 Andrey_Popov/Shutterstock
Sometimes a kitchen renovation means different floors, all stainless steel appliances, and swapping out pendants for recessed lighting. But if you want to make a strategic update, one of the most reliable and affordable renovations is the use of color. It can brighten or darken a room, make a space feel cozy, or make it feel spacious. As part of a house-wide renovation, Dave and Jenny Marrs, co-hosts of HGTV's "Fixer to Fabulous," found a gorgeous blue-gray color to take the kitchen cabinets from dated to eye-popping — yet the color is still subtle and not at all overbearing.
Although the Marrs did more than update the cabinet color — they added an island and other features — color alone can be enough to massively upgrade and modernize a kitchen. Jenny Marrs says (via daveandjennymarrs.com), "For the cabinets, I chose a soft shade of blue-gray to brighten up the kitchen. The glazed backsplash tile looks handmade and provides a soft contrast against the quartz counters. Plus, the subtle look of the tile also allows the cabinet color to pop." The color De Nimes from Farrow & Ball ($130 per gallon) is a calming, fairly saturated medium blue muted slightly with gray undertones. Blue kitchen cabinets are a bold statement, but the earthy quality and subdued feeling of this color makes it easy to live with.
How to make blue cabinets work in your house
What direction does your kitchen face? Use the compass app on your smartphone and point it at the window. If you have a northern exposure, that's cooler, indirect light, and we recommend you steer away from a paint with cool undertones. Cool-toned paint paired with cool light will get depressing pretty fast. Instead, opt for a warmer-toned grayish blue. In contrast, if your kitchen has a more southern exposure, that warm golden light does well with a cooler undertone and more muted hues.
Another consideration is finish. Traditionally, a semi-gloss lacquer is preferred for kitchen cabinets because it's the most practical, durable, and chip-resistant option for something you use daily. Recently, there's been a move towards muting that shine, though getting a matte finish is not recommended because it is harder to clean the surface. If you like less shine, opt for a satin finish instead of semi-gloss.
Some fabulous colors we like are Benjamin Moore's Water's Edge ($80 per gallon), a high-quality color similar to DeNimes; it's a blue-gray with the merest hint of green. If you want to veer more to a gray with a slightly blue look, Clare Paint's Set in Stone ($70) would work. Conversely, Benjamin Moore's Flower Box ($82) is a more saturated blue with hints of gray. Once you've sorted out color and finish, you could use a clothes hanger hack to paint your kitchen cabinets, but consider hiring professionals for an impeccable paint job.