Add Instant Charm To Furniture With The Gold Paint Alternative TikTok Swears By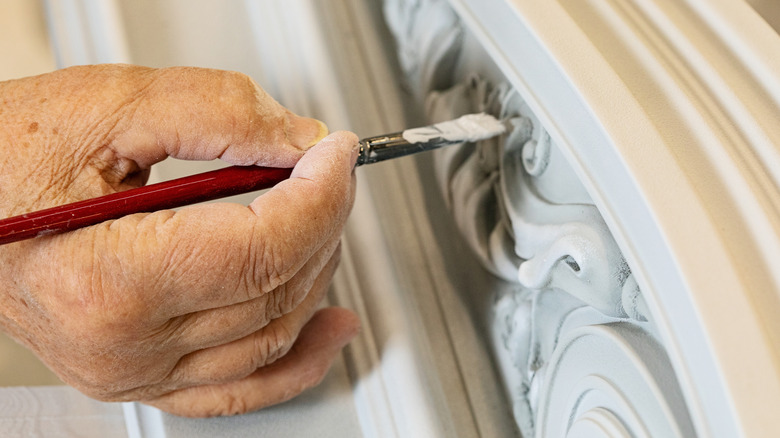 Vitapix/Getty Images
For some of us, heaven is going to a high-quality (or thoroughly tacky) flea market and discovering just the perfect little side table, mirror, or chest of drawers. If you've spotted something a bit "off" about a vintage item or even something new you've recently purchased, this is your chance to allow your inner designer to swoop in and fix it. A really fun, charming way to elevate a coveted piece of furniture is to use gold gilding wax, a super low-key alternative to paint. And TikTok is showing off how to do just that!
Gilding wax is a heavily pigmented oil-based wax that is great for highlighting details and textures on your furniture. It doesn't need to be sealed after applying it, the application couldn't be faster, and the same goes for drying time. With wax, you can work in layers. While a more involved project might require the use of gold paint, one of the advantages of gilding wax is that you can use a much lighter hand and exert greater control over how much pigment you deposit versus paint, which is automatically more opaque and a bit heavier. 
Ideas for how to use gilding wax
Some fantastic candidates for gilding are mirror frames, but gold also illuminates 3D carvings on furniture. Or, you can simply follow the lines of the piece to create an outline effect. For example, if you source a vintage wooden side table, you might paint it black and then use gilding wax to give it a halo — it's simple, but striking. Covering the base of a lamp in gold creates fresh energy. A small hardware adjustment can make a big impact — like removing drawer pulls and reviving them with metallic wax.
Gilding a mirror frame is straightforward, and you can use the same steps for other furniture or hardware as well. There are several brands, including Dixie Belle, Pebeo, and ProtekPaint. The application tool we recommend is a brush, and Dixie Belle has a few different brush sizes to choose from. Using a microfiber and/or bottle of canned air, dust the frame thoroughly. Placing painter's tape all around the edges of the mirror prevents wax from getting on the glass.
Dip your brush into the wax and apply it, using a light hand. You can always add more. To create maximum depth and multiple glints of color on a carving, use lighter gold on the parts that protrude out the farthest and warm bronze in the crevices. Although wax dries fast, allow a full-length mirror a couple of hours to completely cure before re-positioning it against the wall to prevent color transfer.