DIY A Beautiful Hanging Herb Garden With This Easy Can Hack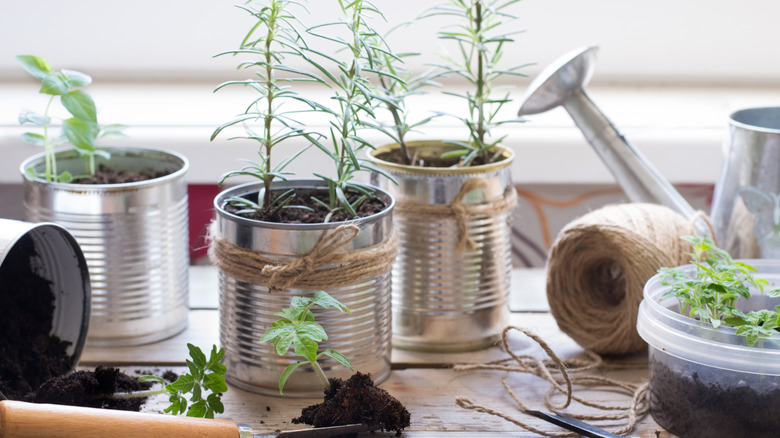 Albina Yalunina/Getty Images
Your newest herb planters may already be in your recycling bin. Using materials you probably already have hanging around the house — pardon the pun — you can turn old food cans into a decorative herb garden. This is a fun project to do with older kids or just to get your creative juices flowing. After a tasty meal, save those tin cans and remove the labels. Now, you have a blank slate to create a beautiful (and free!) hanging herb garden.
For this project, you can use just about any food-safe can. Those industrial-sized containers of nacho cheese or green beans are large enough to grow bigger herbs like lavender and rosemary, while standard ones could grow a few sprigs of basil or thyme. As you prepare your cans for planting, remember those inside edges can be sharp, so you may want to wear a pair of work gloves for this project.
Making a hanging herb garden
With your clean, lidless, label-free cans on hand, you'll just need a few other supplies. To create your new planters, grab some sturdy string or wire and some scissors. You will also need a way to poke holes in metal. This can be done with a large nail and a hammer or a power drill with a small drill bit. If you are using your hanging herb garden outside, make holes in the bottom of your cans. For planters that will be placed indoors, you can skip the drainage holes, but be careful not to overwater because this will lead to root rot. Make two or three holes adjacent to each other just under the top lip of the can and run your string or wire through those holes, knotting at each end, to create the hanger.
Now that you have made your planter, it's time to be creative. You can decorate your cans with paint, stickers, or even cute scrapbook paper. Of course, you can also just enjoy the simplicity of the cans as they are. If you do decorate your planters and plan to use them outside, protect your artwork with a few layers of polyurethane. Add high-quality potting soil to the bottom of the can, add your herbs, and fill the planter with extra soil as needed. Leave about ½ inch of space at the top so you can water your fresh herbs without it spilling over.