TikTok Shows You How To Use Regular Sheets As Couch Covers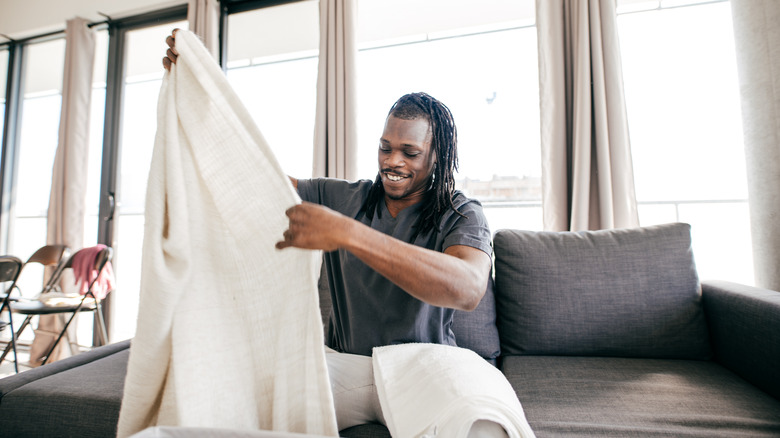 Kate_sept2004/Getty Images
We may receive a commission on purchases made from links.
Couch covers are incredibly popular, and for good reason. They have various uses, including that they can create a unique sofa style or add an extra layer of protection against spills and crumbs. Further, unlike the bulky couch cushions themselves, they can easily be removed and thrown in the washing machine. However, rather than using traditional couch covers, you could use a much cheaper item that you may already have on hand. The solution? Cover your bottom couch cushions with a fitted bed sheet instead. 
Not only can a fitted sheet look just as good as cushion covers, but it can also be equally as effective and easy to clean, since it can be placed in the washer as well. Naturally, this is the perfect solution if you're looking to add some protection to your couch without breaking the bank. While sofa covers can be cheap, some higher-quality designs cost well over $100. In this instance, a fitted bed sheet would most likely be much cheaper. This hack is also extremely helpful if you have a couch where the cover is no longer available, perhaps if the model has gone out of stock at the retailer.  And, if you select the right color, the fitted bed sheet could even blend seamlessly and look like part of your original furniture.
How to complete this bed sheet hack
When choosing the right bed sheet for this hack, keep in mind that it will only cover the bottom cushions and not the back or sides of the couch. In most cases, a twin size will work best, and you may need more than one sheet to cover all the bottom couch cushions. If you don't already have a spare bed sheet, you can purchase one for a cheap price. For an extra-soft feel, the Bare Home Super Soft Fleece Fitted Sheet on Amazon that costs about $25 may be a good choice. If you want to add a bit of flair, try out a patterned type like one from the Room Essentials collection at Target, which costs under $10 for a twin set. However, you may want to think twice about using a polyester bed sheet, as this material can attract hair. If you choose one made out of this material, ensure you clean your makeshift couch covers enough.
Whatever you choose, all you need to do is slip the elastic corners around your bottom couch cushions so that the sheet is secure. Ensure that each corner connects to a separate corner of your couch, just as when you make a bed. If necessary, you may have to lift your cushions in order to wrap them in place from all sides. As a result, you should be able to protect your bottom couch cushions from both crumbs and spills.
Downsides to this hack and alternative ideas
The main downside of using this hack is that the fitted bed sheet will not cover the entire sofa but will only protect the bottom cushions. In comparison, some covers are large enough to protect the back and sides of the couch as well. Likewise, you may also find it difficult to achieve exactly the look you want with a bed sheet if you can't find a color or pattern that matches your sofa. 
If you want to cover your whole couch, you could do so with a flat bed sheet instead of a fitted one. To do this, you'll need a sheet that's long and wide enough to cover your whole couch, so possibly a queen or king size. Drape the fabric over the whole couch including the back and bottom, then tuck it in to make it fit snugly. However, keep in mind that this won't look as neat, and the sheet may become disheveled when people sit on the couch. You could also use a twin fitted sheet on the bottom cushions and then cover the back and sides of the couch with the flat sheet, if they come in a set. Another alternative is a waterproof mattress cover, which can be placed onto your bottom cushions in the same way that you would attach a fitted twin bed sheet. For instance, you could use IKEA's GRUSNARV Waterproof Mattress Protector that costs about $18.