DIY A Festive Candy Cane Centerpiece With A Few Budget-Friendly Items
Liliboas/Getty Images
'Tis the season for gorgeous DIY centerpieces. The joyful energy and rich color palette of the holidays are ideal for making creative centerpieces, plus these ideas incorporate some great decorating tips for holidays on a budget. This candy cane centerpiece concept, as shared by TikTok user @kelsimsavage, is a classic example of a quick, easy, and cheap holiday DIY project. It takes simple materials you can find online or at a dollar store and transforms them into a stylish, festive centerpiece. Essentially, the idea is to line the perimeter of a glass with candy canes and fill it with lights and a fun holiday item, like a branch with berries.
You don't need a lot of technical know-how to pull off this DIY project — as long as the candy canes are a similar height to the glass and your decorative piece is tall enough to stick out of the glass, this centerpiece should come together seamlessly. For your supplies, you can find candy canes at most stores during the winter season or get them online, like the Brach's candy canes on Amazon. You can repurpose a glass you already own or get a plain glass vase, such as this one from Dollar Tree. Finally, you'll need battery-powered twinkly lights and a faux branch — these fairy string lights from Target and these red berry pine branches from Amazon, for instance, would do the trick. And with that, you're ready to start making your centerpiece.
How to DIY a candy cane centerpiece
This festive centerpiece idea is super easy to do and requires no tools, just a few basic items. Start by putting some kind of decorative light at the bottom of your glass. You can use a small set of string lights or a battery-powered fake candle for this, just make sure your light source is bright enough to add a fun sparkle to your centerpiece. For an extra tip, try to leave the switch to turn on the light easily accessible, so you don't have to take apart the centerpiece every time you want to turn the lights on and off. Next, begin lining the edge of the glass with candy canes. Place the long part of the candy cane inside the glass, with the hook sticking outward over the top of the glass. Do this with all your candy canes until the entire circumference of the glass is filled.
Finally, add the focal point of your centerpiece. The TikTok creator @kelsimsavage uses a fake sprig of pine leaves with berries and a pinecone for hers, but you can really use any vertically-oriented decorative piece that can fit inside the glass and stays upright when leaning against the candy canes. Turn the lights on, and you'll have a perfect holiday centerpiece. If you need holiday decorating ideas for small spaces, consider putting the vase on a tiny side table or kitchen counter for a hint of festive flair. 
Styling a candy cane centerpiece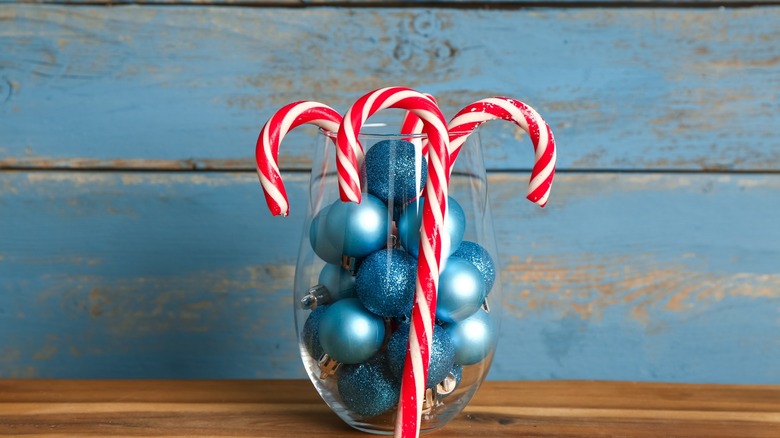 Pixel-Shot/Shutterstock
Since this DIY centerpiece idea is really versatile, you can style it any way you like. You can copy @kelsimsavage's version exactly or make a version that matches your own holiday aesthetic. For instance, if you like a cottagecore vibe or rustic décor, use a mason jar instead of a straight glass vase, and add a plaid ribbon around the jar for some extra texture and pattern. Or, if you like a glam holiday aesthetic, fill the vase with ornaments or get an eye-catching stem, like this Metallic Gold Faux Weeping Eucalyptus Stem from World Market. And remember, don't feel tied down by the red and white candy cane color scheme — these Yum Earth Holiday Blue Raspberry Organic Candy Canes from Target, for example, would be perfect for a Hannukah-themed centerpiece. 
Alternatively, you can lean heavily on the candy cane theme and layer multiple levels of candy canes into the glass, creating a quasi-bouquet of candy canes — this is an especially good idea if folks want to pull a few candy canes out of the centerpiece to have as a sweet treat. Put some kind of platform on the inside of the glass — perhaps a piece of faux snow — so that the inner layer of candy canes can sit a little higher than the outer ring. You can top off your candy cane masterpiece with a giant candy cane in the center, which you can easily find on Amazon.