Do Homeowners Get To Keep The Furniture On Married To Real Estate?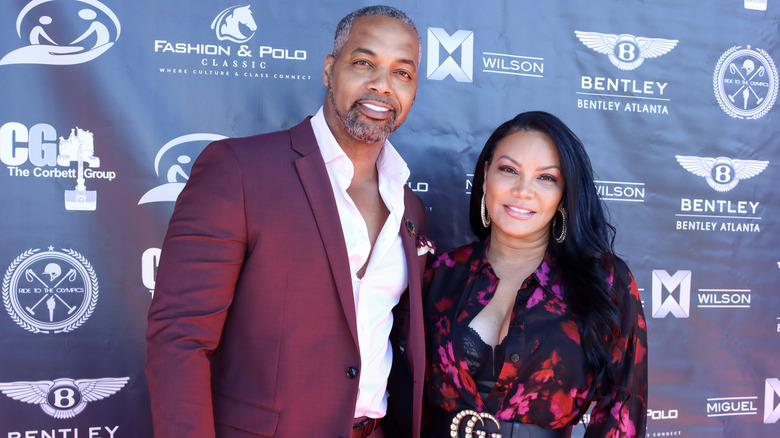 Nykieria Chaney/Getty Images
HGTV's property renovation shows tend to follow a similar formula: the featured homeowners of the episode struggle with an unsuitable living arrangement, professionals step in to solve the problem, followed by a construction montage before showing the clients and viewers at home the long-awaited finished product. But what happens to the furniture used for staging to generate those stunning before-and-after shots? In the case of the popular show "Married to Real Estate" and others like it, homeowners aren't allowed to keep the furniture added to the house's refurbished interior for the cameras unless they purchase it separately after renovations are complete.
"Married to Real Estate" is one of many television shows on the HGTV network that takes home buyers — and a curious audience — on a journey to find their perfect abode. Hosted by real estate professional Egypt Sherrod and her builder husband Mike Jackson in the suburbs of Atlanta, Georgia, the couple helps families craft the homes of their dreams by navigating the competitive housing market and renovating their property to meet their needs better. As the series prepares to air its third season on HGTV early next year, let's look closer at how HGTV recruits talent to stage homes for its shows.
Homeowners keep furniture on a case-by-case basis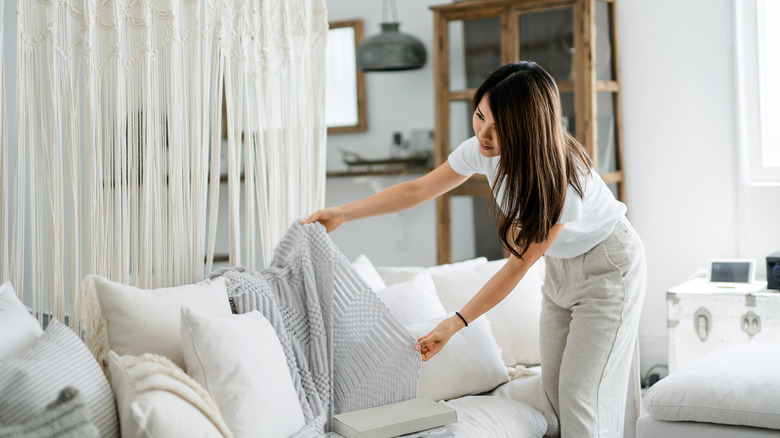 Asiavision/Getty Images
Similar to other HGTV programs, "Married to Real Estate" doesn't simply hand over staging furniture to the new homeowners once renovations inside a property are finished — at least, not without a cost. As a rule of thumb, clients featured on the network are generally given the opportunity to buy the staged pieces they like after they opt to stay in their renovated or purchased home. However, there are some instances where certain pieces of furniture are factored into the overall renovation costs, meaning they come with the newly updated property. Regarding "Married to Real Estate" specifically, Sherrod and Jackson may incorporate some of their clients' existing pieces or architectural features into the home's new design, keeping remodeling costs down and making the redecorating process easier for the designers.
When homeowners choose to buy staged items, the new furnishings are added to the costs of renovating the house, which, depending on the family of the episode and their financial situation, could push the clients past their renovation budget. Regardless of the program's concept, the network rarely pays for renovations to the homes they feature on their TV shows. That responsibility falls on the homeowner. However, HGTV will make an exception if the rehabilitation process needs to speed up in order for filming to wrap in a timely manner.
What happens if the owners don't buy the furniture?
Since purchasing some or all of a home stager's updated furnishings is often not possible with featured families' budgets, it's not out of the ordinary to wonder what happens to the remnants of a stager's hard work after an episode of "Married to Real Estate," or the like is recorded. Well, any non-purchased furniture used for staging is removed from the home when the buyers move in, either to be returned to their rightful owners if they were rented or placed in storage while waiting for the next staging project.
HGTV doesn't rely on an in-house team of stagers to decorate the newly renovated homes featured on their vast collection of television shows. Instead, the network contracts independent home stagers to work with them on individual projects, who are usually already based in the cities where the featured properties are located. For example, one designer who was contacted to stage a house for "My Lottery Dream Home" said HGTV discovered her through her previous designs and offered the chance to pitch a budget and design plan for a home on the show. Another Atlanta-based stager was selected by the network to stage a home featured on Sherrod's previous HGTV project, "Flipping Virgins," back in 2018. Since these stagers work for standalone companies or manage their own businesses, they're usually in charge of gathering their own furniture and decor pieces, so they also have a say over where they go next.