Use This TikTok Trick To DIY A Bed Frame For A Fraction Of The Cost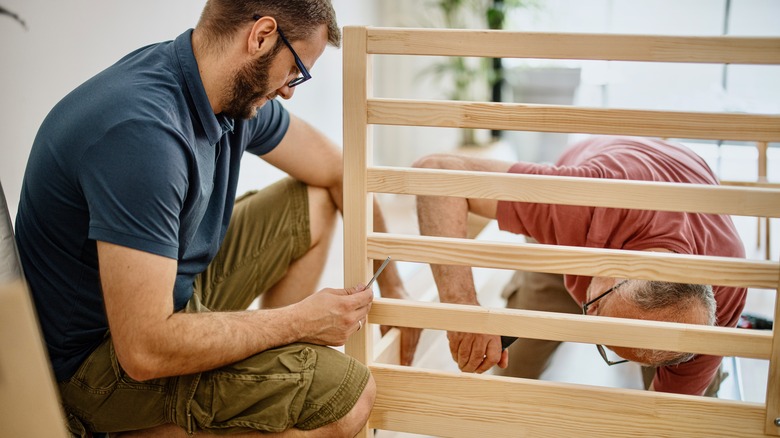 Anchiy/Getty Images
Your mattress needs a bed frame; and no, the box spring on the floor doesn't count. While they may seem like an extra accessory to get you to spend more money, there are actually plenty of benefits to using a bed frame. They can support your mattress and prevent sagging, prevent mold growth by allowing air to circulate and keep your mattress dry, and keep insects — such as mites, bed bugs, and fleas — from climbing into your mattress. However, bed frames can get expensive, especially when paired with the price of buying a mattress and a box spring. But a creative TikTok hack proved you can make an inexpensive bed frame and headboard using wood pallets.
Pallets are usually used for shipping and transporting purposes, and their ability to withstand heavy weights makes them ideal for turning into a bedframe. In the TikTok video by 5-Minute Decor, they use six wood pallets — along with simple tools — to create a bedframe, headboard, and side tables for nightstands. Where bedframes can cost between $100 and $1,200, depending on the size and material, a bedframe made from wood pallets would cost a fraction of the price with comparable durability.
Sourcing wood pallets for your DIY bed frame
Most of the materials for this DIY are readily available, and most people will already have the tools they need. Sourcing the pallets is often the more time-consuming part. The trade-off, however, is that wood pallets are often very inexpensive, if not completely free. You'll want to look for pallets that are clean and dry to reduce the likelihood of them having bacteria.
Some places to check out for used pallets are bars, breweries, and liquor stores. Furniture stores, flooring stores, and pet supply stores may also have some used pallets that you can have. It's a good practice to ask the manager of these establishments if there are any pallets you can have in order to prevent unintentional theft. You can also find other hobbyists and crafters selling pallets on sites like Craigslist and Facebook Marketplace and people in your neighborhood may be giving them away on buy-nothing groups.
You can also buy new pallets online, though this is a more expensive option, and you often have to buy in bulk. Global Industrial sells pallets in five-unit increments for $39.95 each, or $199.75 total. While you will be spending more money, you'll have more control over the size of the pallets and ensure they're of new quality.
The materials and the project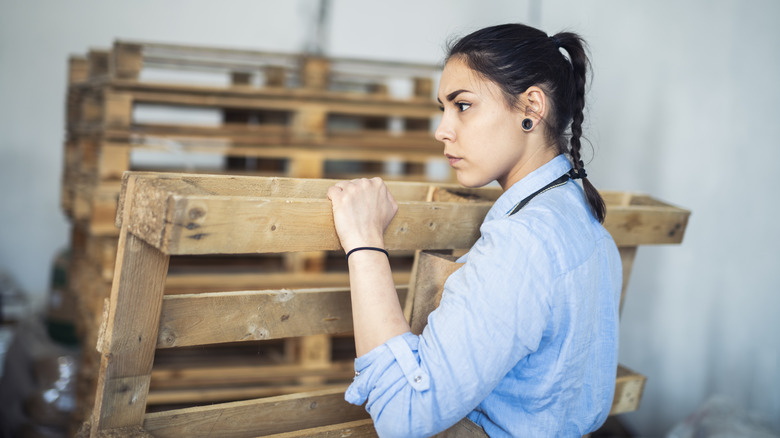 Artistgndphotography/Getty Images
To determine how many pallets you'll need, you first have to know the dimensions of your mattress. Twin beds are 38 inches by 75 inches, fulls are 54 inches by 74 inches, queens are 60 inches by 80 inches, and kings are 76 inches by 80 inches. The pallets, when next to each other, should be slightly longer and wider than your mattress to ensure it's not hanging over the sides. You'll also want more for a headboard that is equal to or a little longer than the width of the bed. If you're going to create side tables, you'll need two more pallets; however, these can be smaller if you choose. Other than the wood pallets, you'll need sandpaper or a sander, a drill, screws, and flat brackets.
Before assembling the bed frame, sand down the wood to make it smooth; then clean up the shavings and wipe the wood so there's no debris left behind. This will ensure that rough wood won't snag the material on the mattress or box spring. Create a layout for the bed, headboard, and side tables. Start with the length and width of the mattress, then place pallets standing up horizontally and place them perpendicular width-wise to the base of the bed frame. Then, place the nightstand pallets against the headboard. Once you have the layout you want, place the brackets between each pallet and then drill in the screws. Once everything is secure, you have a DIY pallet bed frame.