TikTok Proves The IKEA KALLAX Is The Perfect Storage Solution For A Neat And Organized Laundry Day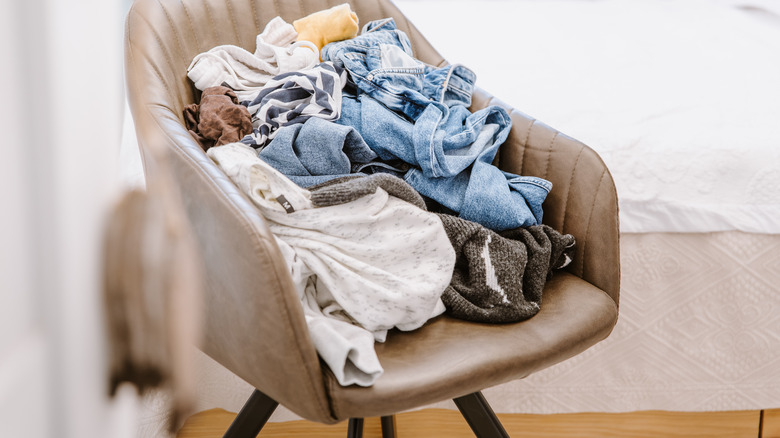 Damian Lugowski/Shutterstock
Keeping your home neat is always a priority just to hang on to your sanity, but even more so when there's limited space. Some apartments and homes have washer-dryer units in slightly odd places rather than in a dedicated laundry room. We've seen them in kitchens, halfway between a kitchen and an exit, and in a hidden closet adjacent to the living room. So, we love the idea of an organizational workaround that keeps your laundry close by yet invisible. There is a shelving system called KALLAX, one of IKEA's most versatile pieces, a furniture-like unit that doubles as laundry storage. It's so tidy that no one will know all your clothes are hiding in plain sight! Of course, KALLAX storage fits beautifully into a real laundry room, too.
This is also an affordable hack. IKEA is hugely popular and yet has managed to keep their prices consistently reasonable for decades. Sure, these shelving units are made from particleboard, fiberboard, acrylic paint, and plastic... so the four-shelf cube is only $45 because it's not solid wood. Yet it's sturdy. Although a rolling hamper is a slightly different item, it is an organizational staple, and to compare, this one from Crate and Barrel costs $259. It screams, "Laundry!" but we like KALLAX's more subdued presence.
How to best use these shelving units
The organized practicality here makes us happy. The design is so simple and streamlined that it could fit into several low-key décor styles. KALLAX comes in black/brown, gray/wood, a regular and high-gloss white, and a faux oak look, so check what works naturally with your room. They're built in different configurations and sizes — you can buy them as a horizontal stack, which works if you have a bit more space. The four-unit cube, as seen in the TikTok video, could be the best overall pick. Or the skinny vertical unit is super helpful for tight widths. Though you could try your hand elsewhere, we recommend sticking with IKEA for the many types of storage box choices because they're perfectly sized to fit the KALLAX units. We like DRONA, which are $7 each, and the $13 GNABBAS basket has a unique, warm look. IKEA even has a page just for KALLAX inserts and accessories. If you want to disguise their function even further, you can put plants, books, and art on top of the cube or the horizontal layout.
We recommend labeling each storage box. You could organize the laundry by household members' names, by hand laundry, regular laundry, and detergent supplies, or by lights, darks, and delicate fabrics. This is one of at least a dozen creative IKEA shelf hacks that are totally unique and will keep you organized.