The DIY Cinnamon Stick Ornament That Is Easy And Fun For The Whole Family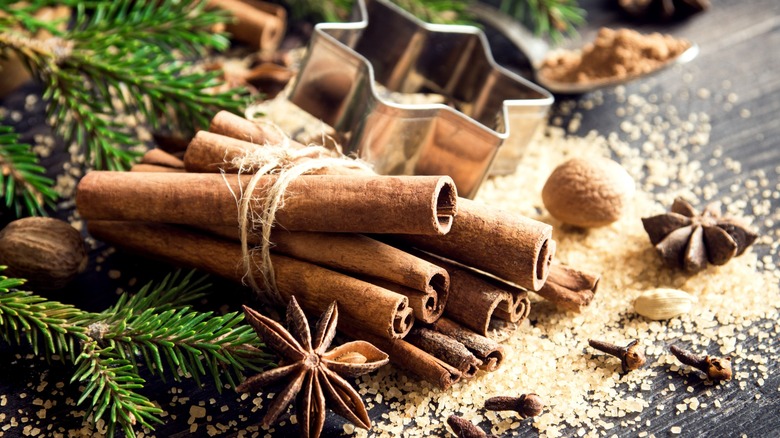 Mizina/Getty
We may receive a commission on purchases made from links.
Handmade ornaments are the best way to add a sentimental touch to your holiday season. Whether you give the ornaments away as gifts or just make them as an activity to share with loved ones, creating DIY ornaments is a fun and simple project. For an idea that's easy to complete and that provides a natural look, try turning five cinnamon sticks into a star-shaped piece by crossing them over one another and attaching them together with hot glue. You can then adorn them with any small, decorative items you choose. 
This DIY cinnamon ornament will make your home smell like the holidays, so it's a great way to get in the festive mood. It's also super cute and can be completed by crafters of all ages and skill levels. For your supplies, get cinnamon sticks at any grocery store or order them online. For instance, you could buy The Spice Way Cinnamon Cassia Sticks that cost about $7 for 3.5 ounces on Amazon. If you don't already own a hot glue gun, the Arrow Mini Glue Gun from Home Depot only costs around $7 and comes with glue sticks. As for the other decorative elements, look for anything cute and festive, like these Red Berries Christmas Sprigs from Target that cost $5 for 30 pieces. To hang your ornaments, you'll also need some sturdy string, and you can buy 600 feet of PerkHomy's Natural Jute Twine on Amazon for about $5.
How to DIY a star-shaped cinnamon stick ornament
To form a star-shaped cinnamon stick ornament like the one featured in @leladymoon's TikTok, you'll need five cinnamon sticks of similar length and width. Begin by taking one cinnamon stick and gluing the end to another stick's end to form an acute angle — they should look like two sides of a triangle with the bottom missing. Then, take a third cinnamon stick and glue it over the two pieces horizontally. Attach the next stick to one side of the horizontal piece and the end of the opposite stick diagonally, then do the same with the final cinnamon stick. Once the star shape is complete, you can then glue on any extra decorative pieces. To attach the string, either feed it through one of the points in the star and tie it, or tie the string in a loop and hot glue it to the very tip of the star. 
If you don't want to create a star, there are other ornament designs you can make with cinnamon sticks. For a snowflake-inspired shape, crisscross four cinnamon sticks over each other and place a sparkly bow or other decoration right in the center. Or, for a minimalist look, adorn a single cinnamon stick with a bit of greenery. No matter how you design your piece, this eco-friendly DIY Christmas ornament will be a keepsake you enjoy for years to come.