The Dollar Tree Item That Can Help Protect Your Plants From Unwanted Pests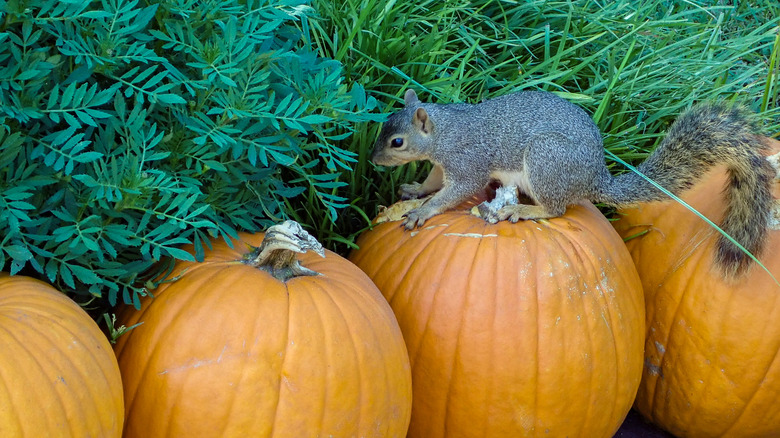 Martina Sliger/Shutterstock
We may receive a commission on purchases made from links.
Tending to a garden may sound like a walk in the park, but it takes hard work and dedication to turn an empty patch of land into a haven for plants and trees. In addition to catering to the nutritional needs of your vegetation, you also have to worry about protecting them from the wildlife in your area that seek to take a bite out of your labor. You have hungry grubs, rodents, and birds stalking your garden for fruits and fresh shoots so it's your job to protect the plants from an invasion. 
As a solution, a lot of gardeners set up PVC garden hoops with mesh netting around them to keep pests off their property. Purchasing a garden hoop set with netting from a big retailer like Walmart will set you back about $35. These sets are usually fixed and don't give you much leeway to get creative and tailor the hoop to your needs. For instance, some people may need stronger netting to combat smaller pests in their areas, while others who only have to deal with worms and insects will need one with tinier holes. 
However, you can create a cheaper DIY version using Dollar Tree hula hoops and affordable mesh netting. Using this hula hoop hack is ultra-affordable and allows you to customize your garden security. You get to adjust the size and number of the hoops for bigger or smaller gardens.
Dollar Tree pest-control hack instructions
To make your Dollar Tree garden hoops, snag some hula hoops from your local store; you'll need two or three for each garden bed. Then, you'll need to find netting, which you could buy from Walmart for under $13 or from Amazon for $9. Finally, you'll need garden stakes, which are also available on Amazon for $7.
To complete this hack, begin by stripping the hula hoops of their plastic ribboning to locate and pull apart the connector clips to unhook the hoop. Bury a pair of stakes onto each side of the garden where you are erecting the hoops. Fit the ends of the hoops over each stake. Hula hoops are light and can blow away if fragile so the stakes will keep them rooted. The taller your plants, the longer the stakes will need to be. Once your hoops are lined up over your garden, add more stakes on each corner so that you can lay them over with the mesh netting. Secure the netting by tying it where necessary.
This hack is perfect for gardeners who have raised garden beds. Your garden won't look like anyone else's, so you'll have to fix it up according to the height of your plants. You may need more hula hoops to achieve this. 
If your garden is prone to smaller pests, you will need mesh with very small holes to keep them at bay. Rodents might chew through the net so double it up.