What It Means If You See A Home With A Gold Porch Light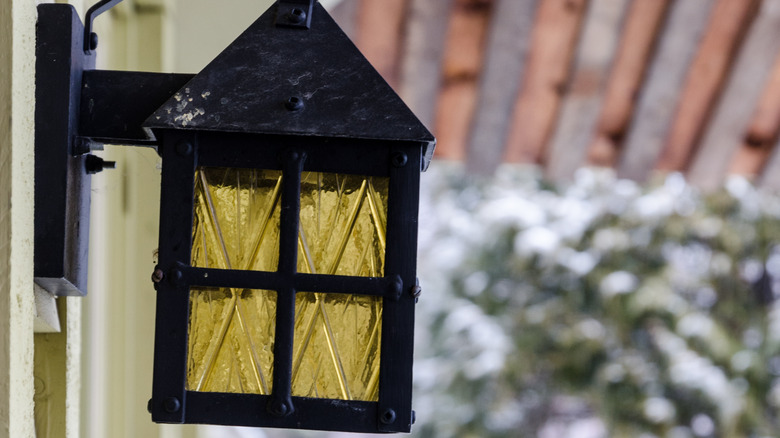 Marc Dufresne/Getty Images
Everything you do with your home, inside and out, is symbolic of what you like or what is important to you. When you have a porch, one way to make it unique is to customize the lighting. Porch lights in general, can be used to improve safety and security around a home. A well-lit porch is often used to deter burglars as well as make it easier for visitors to see and find their way to the front door. Additionally, using different colored porch lights is a simple way to communicate with your neighbors and community and show your support for social causes. Gold porch lights, in particular, have both a festive and regal air to them but can also signify a very important meaning and a call for awareness of childhood cancer.
Colored porch lights can be a nice touch for visitors. Gold is traditionally associated with wealth and prosperity, so gold porch lights could also be used to give a home a sophisticated and polished look. A porch bathed in the soft glow of gold lights gives off a sense of refined elegance and understated charm. 
Gold brings awareness to childhood cancer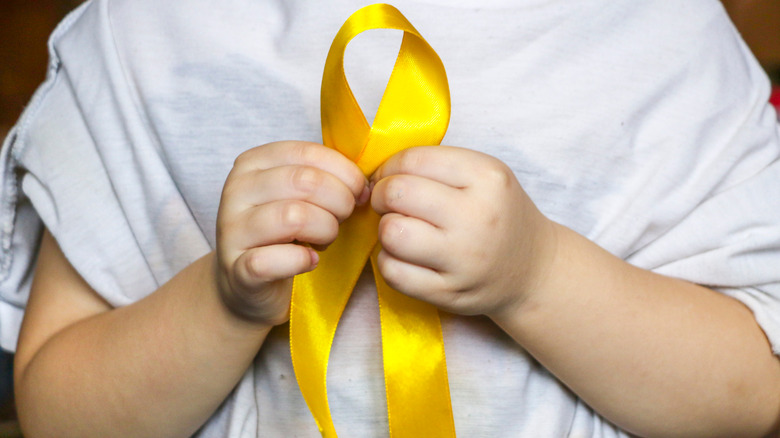 ognennaja/Shutterstock
Colors are often used to raise awareness, such as pink for breast cancer awareness, red for heart disease awareness, and teal for gynecological cancers. By changing porch light colors, homeowners can show their support for these causes but also encourage others to learn more about them.
In 1997, a group of parents of children with cancer chose gold as the official color for childhood cancer awareness. Since then, the gold ribbon has become a widely recognized symbol of childhood cancer, and the color gold has come to be associated with the fight against this devastating disease.  Like children, gold is precious, and it is also a symbol of strength and resilience. Gold is a strong and durable metal that can withstand a great deal of wear and tear, and children with cancer often exhibit remarkable strength and resilience in battling their illness.
A "Gold in September" campaign was initiated by Annie Bartosz whose brother Jack passed away from cancer. Now several organizations including the American Cancer Society participate and encourage individuals, businesses, and organizations to illuminate their buildings with gold lights during the month of September.
Gold is also for celebration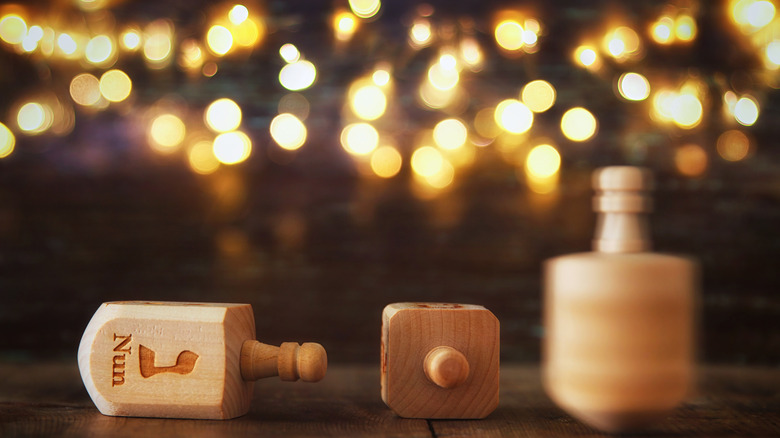 tomertu/Shutterstock
Gold porch lights are a versatile choice that can complement a variety of home exteriors. If your porch has calming colors and natural hues, gold lights will add to the ambiance. Ultimately, the meaning of gold porch lights is up to the homeowner. The color is often associated with celebration and joy, so gold porch lights could be used to celebrate a special occasion, such as a birthday or anniversary.
One of the most fun ways to experiment with gold porch lights is during the holiday season. Festive lights help set the mood for the holidays, with gold lights being a classic choice for Christmas decorations. Pair them with red and green lights for a traditional look, or with silver lights for a more modern look. Gold porch lights can also be a beautiful way to celebrate Hanukkah when paired with blue and white lights for a traditional look. For New Year's Eve, gold porch lights can add a touch of sparkle and glamor to your decorations. Pair them with white and silver lights for a festive and elegant look.