Turn A Dollar Tree Duster Into Cozy Christmas Decor In A Few Easy Steps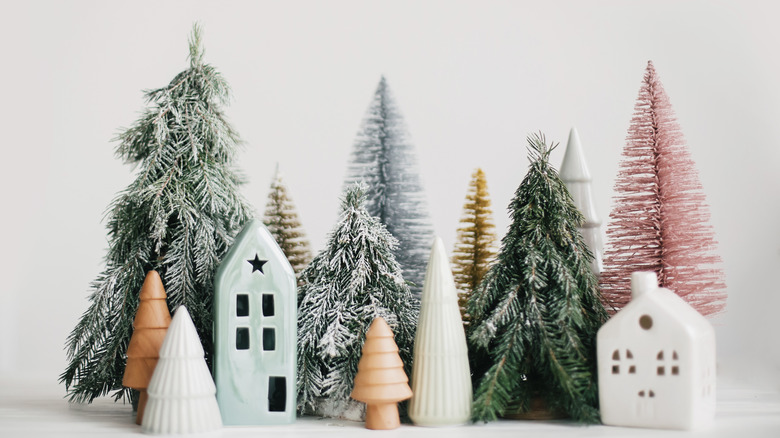 Bogdan Sonjachnyj/Shutterstock
Dollar Tree is a gold mine for holiday goodies like stockings, wreaths, and feather dusters — nut we're not using this cleaning supply to tidy up before guests arrive. The feathered sweeper is the key to a winter wonderland Christmas décor. Pop off the handle, and the white duster head becomes a snow-covered pine tree ready to be decked out in lights, tinsel, and whatever's in the storage box labeled holiday ornaments.
Stop by your local Dollar Tree to find the Essentials Flexible Duster, or buy it online. It is only available in bulk on the store's website. The minimum quantity is a pack of 12 dusters priced at $15. However, that leaves you with enough feathers to make a forest, even if you want to save a few for actually cleaning up. You'll also need a pair of scissors and ornaments for this DIY. It is easy to replicate and a great holiday decorating idea for small spaces.
How to decorate your duster tree
To create your mini spruce, first remove the plastic handle from the duster. Give it a good twist and tug to pop it off. Then, prune the feathers to turn its outline from a long rectangle to a triangular tree. Start from the bottom of the duster, trimming a little at a time. Fluff the hairs as you go and cut at an angle to mimic branches. Remember, you can always cut more if necessary, but gluing it back won't be easy. Once you're done snipping, you'll have the perfect blank canvas to showcase your Christmas spirit.
Now the fun part — decorating the snow-covered pines. Put the duster in a jar or flower pot, stuffed with scrap paper to add a stable base, and hide the metal handle. Feel free to cover the wand with ribbon or fake snow if you plan to prop it against the wall or other décor, and you don't need a stand. The feathers can't support the weight of ornaments, so light pieces like tinsel, pompoms, stickers, crepe paper, or fairy lights are best to wrap around the tree. You can also paint the plumes with fabric markers or dye for holiday décor with non-traditional color schemes. Decorate each tree differently or create a matching set, and place them around the house for the perfect Christmas look.