The Bathroom Accessory HGTV's David Bromstad Doesn't Want You To Cheap Out On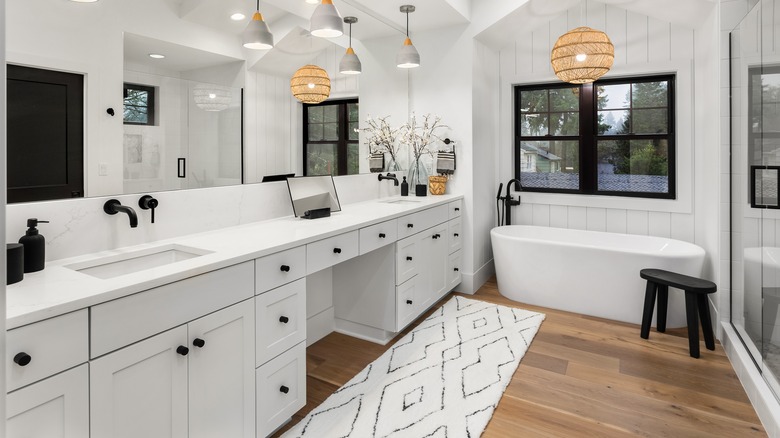 BM_27/Shutterstock
You can always count on HGTV's David Bromstad's tips for creating your dream home. The interior design expert even has some helpful advice to help upgrade your bathroom's aesthetic. While you may not initially think of your bathroom as a glamorous or exciting room in your home, it's undeniably important, so why not make it look nice? According to Bromstad via Us Weekly, an attractive rug is worth the splurge for helping your bathroom appear more appealing.
"Rugs are important to splurge on because rugs aren't cheap. Well, the cool ones aren't anyway. Rugs are one of the best accessories 'cause [the floor] really your fifth wall, and people always ignore it. Why? You can add color and graphics and boldness that really sets the tone," Bromstad told Us Weekly. Thus, everyone should consider investing in a rug to elevate their bathroom's appearance. But before purchasing your bathroom accessory, you should consider the size you need and how you want that rug to look.
Tips for choosing a rug for your bathroom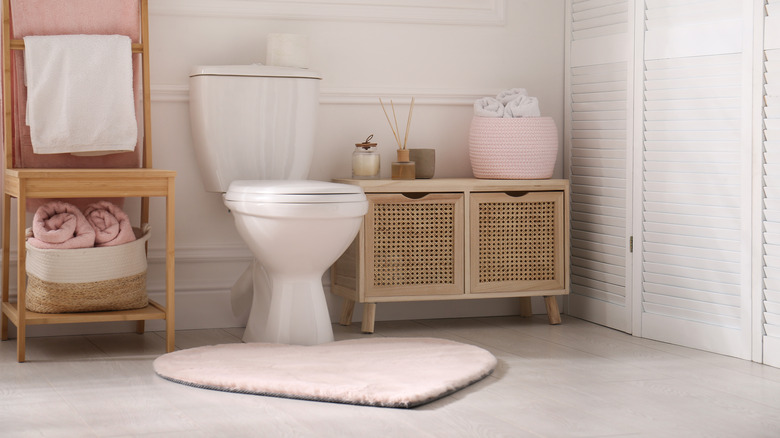 New Africa/Shutterstock
While the right rug can do wonders for your bathroom, an item that doesn't appropriately fit the dimensions of the room will become more of an inconvenience than anything else. That said, measure your floor space and only look for rugs that fit and look good in the allotted space. "We always start with the practical and then get to the decorative while considering the architecture and mechanics. Are there doorways and [doorswings] to consider? Is there any floor grille for HVAC that you don't want to cover?" Jesse Carrier, a principal of Carrier and Company, an interior design firm in New York, told The New York Times.
Once you understand the size you're looking for, it's time for the fun part: thinking about how you want the rug to look. For instance, do you want the rug to be colorful or neutral? Should it have a square, rectangular, or circular shape? On TikTok, @charlesids, an interior designer with over 50,000 followers, posted a video addressing some other points to consider regarding choosing rugs, such as how beige and gray rugs are typically the most beloved options and that rugs with light hues tend to require more maintenance than darker ones.
Bathroom rugs to explore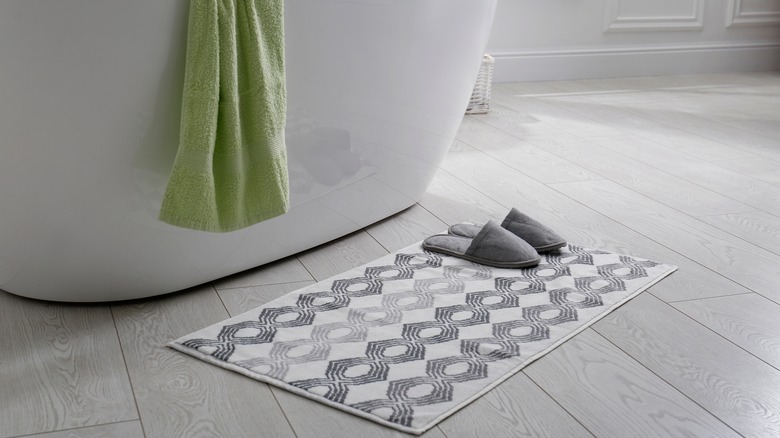 New Africa/Shutterstock
After spending some time thinking about what you want for your bathroom rug, you can start shopping. Luckily, there are many options available in a wide variety of shapes, sizes, colors, and patterns. For example, if you want a practical, rectangular rug in the popular, low-maintenance dark gray look, the Antimicrobial Bath Rug is available at Target in your choice of 20" x 34", 23" x 37", or 22" x 60" runner. The rug has 4.6 stars with around 1,400 ratings.
If you want to stay within the gray range but enjoy a livelier pattern, check out the Hotel Collection Sculpted Marble Bath Rug, 22" x 36", Created for Macy's. Featuring a fun design of swirly lines, the rug has 4.5 stars. On the other hand, the Mellie Bath Rug is an exciting option for anyone who wants an ultra-bold rug featuring rainbow colors in a bold stripe design. You can buy the eye-catching rug in sizes of either 20" x 30" or 22" x 44." Or, if you want a bathroom rug in a bold, unconventional shape, look into the best-selling Faux Hide Bath Mat in a curved, swirly outline for a cloud-like look. The unique product comes in sizes of 22" x 31" or 64" x 24". Once you invest in your bathroom accessory, don't forget to read up on the game-changing tips to keep your rugs pristine.