The One Shower Cleaning Trick You Need To Know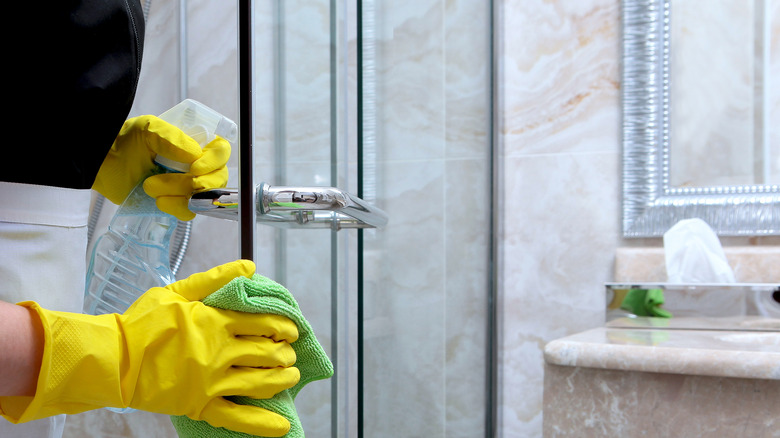 Shutterstock
We may receive a commission on purchases made from links.
Let's be honest, the elbow grease and squatty positions required to clean a shower may be the most painful parts of housekeeping. Not only that, but if the task is neglected, dust and hair will pile up, while soap-scum and mildew will accumulate — all combining to make the job of cleaning your bathroom twice as hard.
Fortunately, thanks to social media, new products and techniques are always surfacing to help lighten the load. There's the viral power drill scrubbing attachment, the miracle-working Pink Stuff, and more. But none of those address the annoying step that no one ever seems to talk about, which is chasing around a surface layer of lint, dirt, and dust before you get polishing.
An extendable shower head helps to rinse some debris down the drain, but that can lead to clogs and not every shower even has one; scrubbing just moves dirt around; and you can try wiping it up with a cloth but that only works half the time. Plus, getting hard-to-reach areas still requires lots of bending.  Well, you're not going to believe this, but the answer to streamlining that tedious process has always been right in front of you.
You already own this game-changing shower cleaning tool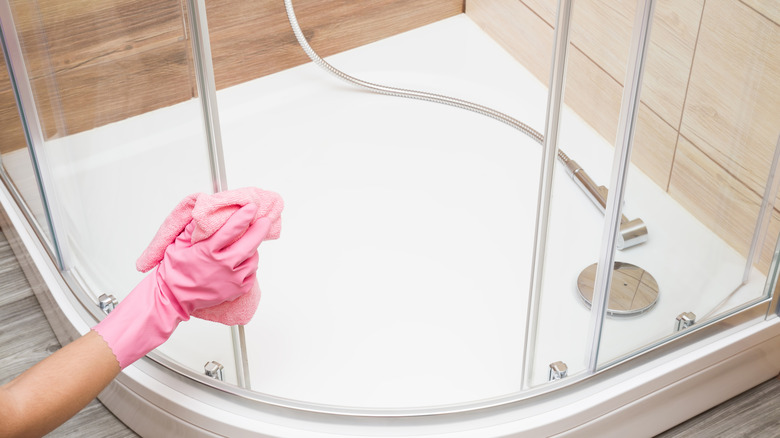 Shutterstock
Certified house cleaner Allison's Cleanin on TikTok changed our lives forever when she brought this simple, but life-changing shower cleaning hack to light. Instead of grueling over that initial dirt layer, suck it up with a vacuum in half a second. Duh, right? "This cuts the cleaning time down in half," she said in one clip. "It's genius. You gotta try it." Just make sure your shower is completely dry first.
For stand up showers, you can literally use a vacuum on the tile like you would on a rug. For tubs and tricky corners, a traditional hose attachment will work, but a stick vacuum's hose — like the Shark Rocket or Dyson V8's — is ideal, because it's not flimsy and takes reaching and bending completely out of the equation. After quickly getting that fuzzy film and straggling hair out of the way, you can focus your energy on disinfecting and polishing to reveal a sparkling tub in no time.