Home Improvement Shows You Can Watch On Netflix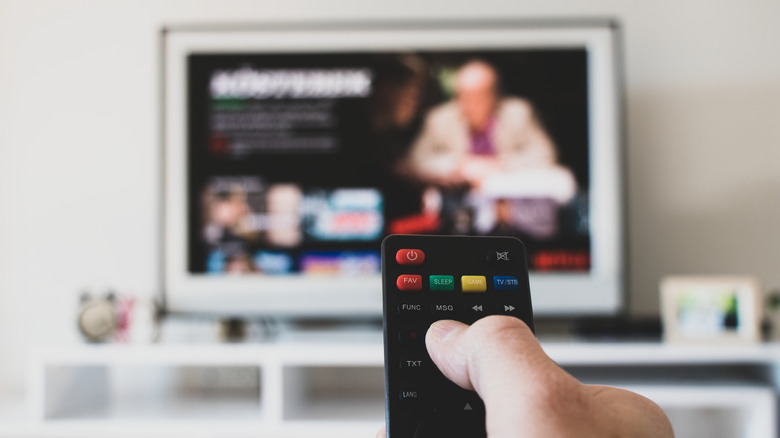 Shutterstock
If you've been stuck inside for the past year, staring at the same four walls, you may well be itching to change up your living spaces. Perhaps unsurprisingly, many people have felt the same. With the Financial Times reporting that both Home Depot and Lowe's reported historically large quarterly gains in 2020, more and more Americans are turning to home improvement, either to tackle those jobs they've never found time for or to finally make the changes to their homes they've always wanted to.
And where better to find inspiration to improve your home than from within your home? With the rise of Netflix, there's now a seemingly endless range of home improvement shows for you to binge while you plan your next project. And, as the choice out there is pretty massive, we've managed to whittle it down to our top picks to give you a list of the best home improvement shows you can watch on Netflix. Let's take a look at the Netflix shows that could give you your much-needed lightbulb moment today.
Tidying Up With Marie Kondo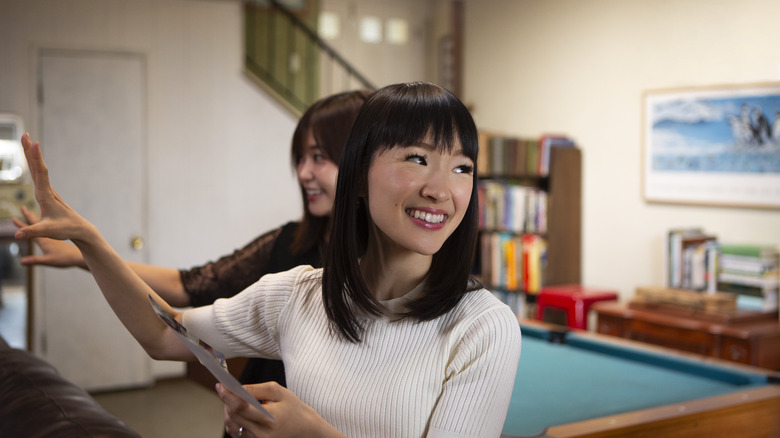 Denise Crew/Netflix
The mother of organization, Marie Kondo offers a minimalist approach to living that makes a binge-worthy watch in her Netflix series Tidying Up With Marie Kondo. In the show, Kondo applies her trademark serenity and gentle touch to home improvement, encouraging new parents with cluttered houses and those tempted to hold on to sentimental items to consider whether they need all of the objects in their homes. How? She instructs them to ask whether said objects 'spark joy' for the owners. And in doing so, she makes some beautiful, simple home improvements, and even changes some lives along the way.
Kondo's process for home improvement is based around her tailored approach, labeled 'The KonMari Method', which she stresses works on a more profound level than just basic tidying up. As she outlined in an interview with Harvard Business Review: "The process is to look at what sparks joy in your life, say goodbye to the objects that don't, and be grateful for the ones you decide to keep. That, to me, is different from simply organizing." That sounds like a pretty joyful approach to living!
Tiny House Nation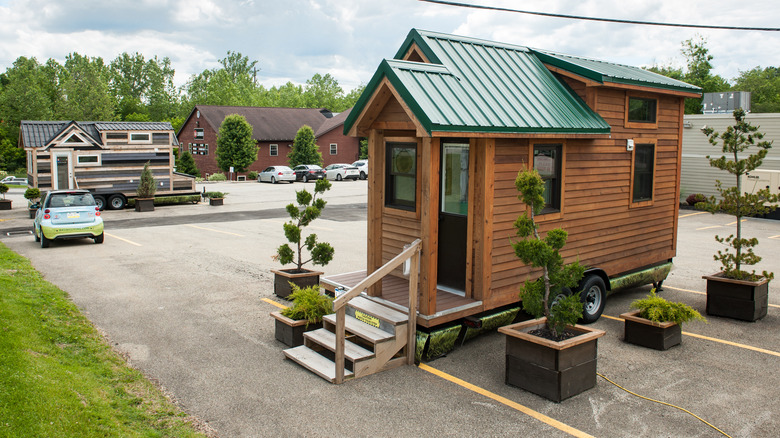 Bloomberg/Getty Images
Ever thought of downsizing? If you have, Tiny House Nation might be the show for you, as they take the concept pretty much as far as it can go. In Tiny House Nation, hosts John Weisbarth and Zack Giffin travel across America and help families that want to embrace the 'tiny house movement', ie. living in a dwelling that generally comes in at under 400 square feet total (per The Tiny Life). From concept to build, Weisbarth and Giffin help people build gorgeous dwellings that trim all the fat out of modern-day living.
As the series shows, tiny houses are not only practical, but embrace a philosophy that focuses on minimalism, environmental conscientiousness, and freeing up clutter in your home. Giffin expanded on this in a New York Times interview, saying, "People have come to the conclusion that to downsize their living environment frees up their time and allows them to pursue their passion and spend more time with their family. I would say that's the main area the show tries to focus on."
Dream Home Makeover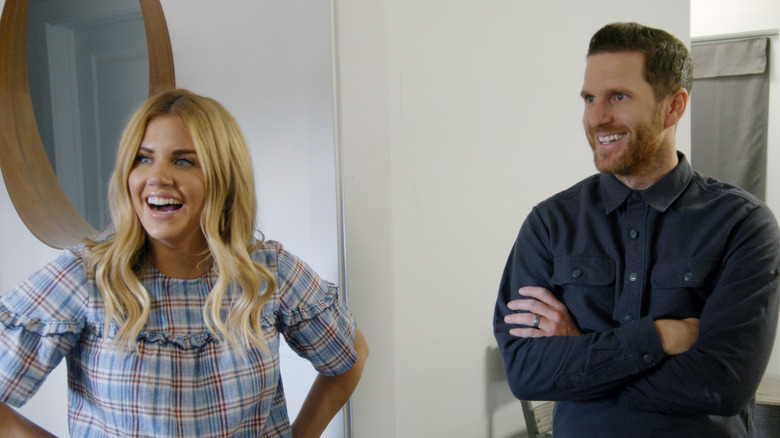 Netflix
If your inspiration for home improvement comes from seeing interiors turn from drab to the divine, Dream Home Makeover is the series for you. Husband and wife team Syd and Shea McGee, owners of interior design firm Studio McGee, help families and couples realize their design dreams. Each episode offers a new home, a new budget, and a new style as they take people on a home improvement journey they won't forget.
The McGees understand the importance of having their show act as inspiration for all, whatever their current home living looks like. As Syd McGee said in an interview with US Magazine: "We know that like not everybody's in the same situation. So [people can use] more of the takeaways of what we do and how you can incorporate that in any situation that you're in." Shea McGee agrees, saying that "It does not matter the size of your home, you can incorporate design principles that we're using at any scale." So, if practical inspiration is what you're looking for, let the McGees be your guides.
Get Organised with the Home Edit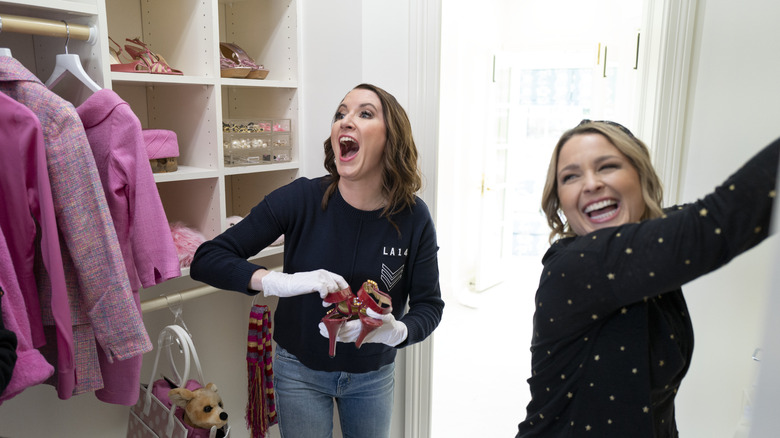 John Shearer/Netflix
Celebrities are just like us, right? Well, as Get Organized with the Home Edit shows, they definitely are in some ways, particularly in how cluttered their houses can be. In Get Organized with the Home Edit, Clea Shearer and Joanna Teplin help both celebrities and regular clients alike 'edit' their homes to reduce mess and create visually gobsmacking interiors. If you like your home improvement shows with a little Hollywood glamour, this is the series you need.
And if you're surprised about the caliber of celebrity that appear on the show — which features Eva Longoria, Khloé Kardashian, and Reese Witherspoon, to name but a few — Shearer and Teplin are the same in some cases. According to Entertainment Weekly, they were flabbergasted that Neil Patrick Harris wanted to take part in the Netflix series, with Shearer calling his participation "mind blowing." They still have a few celebrities to tick off the list, though. Shearer, in particular, is keen to get both Beyoncé and Meryl Streep on as dream guests. Now those are some episodes we'd love to see...
Stay Here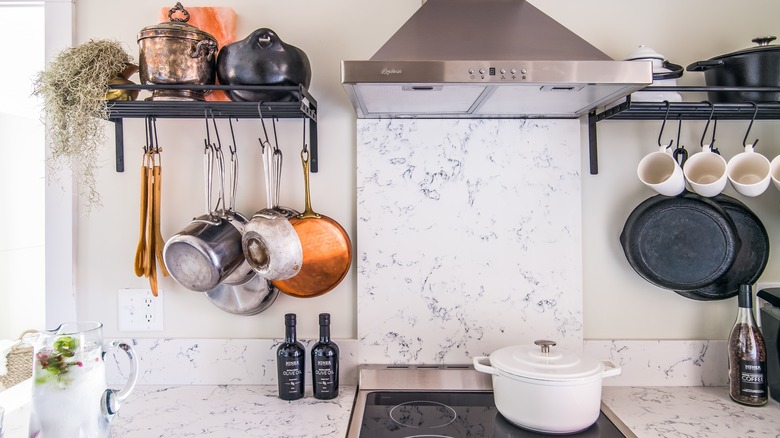 Netflix
If you've ever looked around for a short-term rental, you'll know that a stunning interior is high-priority. So it's little surprise that the popularity of Stay Here has boomed, as the show focuses on taking short-term rentals and turning them into spaces you'll never forget. Designer Genevieve Gorder and real estate pro Peter Lorimer help property owners realize the potential of their rentals, leaping from brownstones to beach houses, firehouses to houseboats, and creating extraordinary spaces along the way.
While many home improvement shows focus on a big reveal, Stay Here prefers to take both the viewers and the owners of the properties the hosts are working on along for the ride. As Lorimer says in an interview with TV Insider: "I think it would be unnatural to just kind of send them away and bring them back for the reveal. We wanted them to see what we were doing every step of the way so that not only the owners of the property could see it, but also our audience can go on that journey with them." At a time where staying away from home might be tricky, Stay Here has the fix you need.
Grand Designs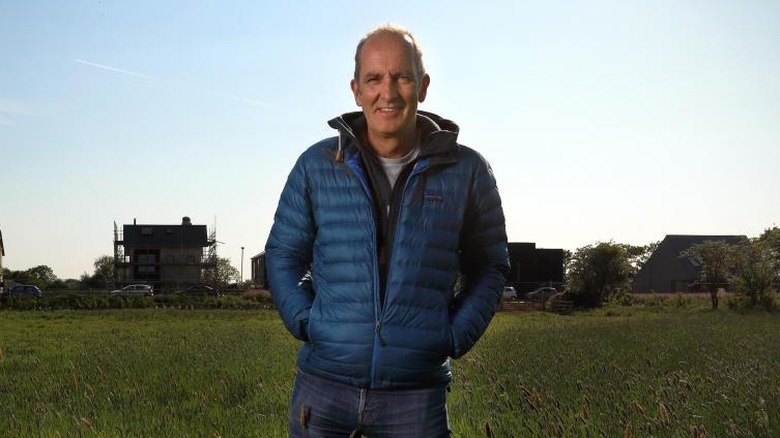 Channel 4
There's home design... and then there's Grand Designs. This long-running British series that focuses on unique home designs has found an international home on Netflix, and with the jaw-dropping architecture on display, it's easy to see why. Between houses constructed from old shipping containers, homes created from empty lifeboat stations, and one project costing an astonishing £3 million to create (via The Mirror), if you think you've seen it all, you haven't seen this show yet.
Although the houses on Grand Designs frequently become some of the most distinctive and attractive properties in their areas, host Kevin McCloud doesn't approach the show from a resale point of view, and instead focuses on the journeys of the people building them. Speaking to The Guardian, he says "I don't look at what people do with their homes in terms of money, but the social and personal value of what they're trying to do and achieve [...] I never use the 'P' word. I'm not interested in just doing something up and selling on." Although home improvement can take your property's price up, it's important to remember the human impact of good design, and Grand Designs does that well.
Interior Design Masters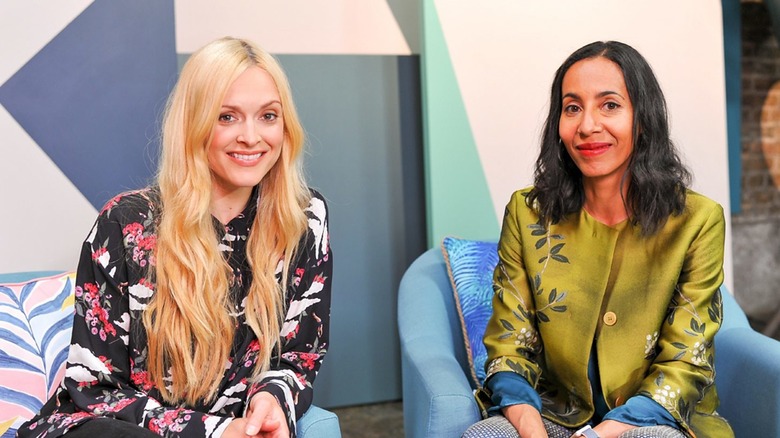 BBC
For a home improvement show and competition rolled into one, strap in for Interior Design Masters. In this quirky British show, ten aspiring interior designers go head-to-head in a series of challenges focusing on home improvement as they compete for the grand prize of a design contract in a prestigious London hotel. Expect dramatic moments and beautiful design work, and some pretty incredible home improvement inspiration along the way. 
It's not only the viewers who get to learn, too. Speaking ahead of the Season 2 premiere of Interior Design Masters, new host Alan Carr (taking over from previous host Fearne Cotton) explained to the BBC about how much the contestants on the show have taught him about his design approach. "They've inspired me that doing up a house doesn't have to cost the earth. [...] People just assume it's the prettying up of a room, a doily here, a vase here but its more subliminal than that. Your favorite shop, restaurant or even pub is probably your favorite because it makes you feel a certain way –- classy, safe, relaxed, exclusive, and that will be more often than not down to lighting, space and décor. Interior design!"
Amazing Interiors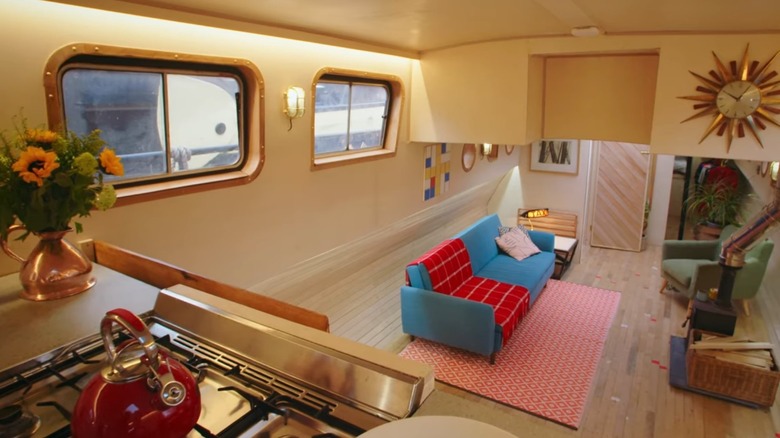 Netflix
Home improvement doesn't have to stop at simply painting the walls and putting a new rug down. This is something that Netflix's Amazing Interiors shows, with its focus on truly quirky, unique design and homeowners that want their interiors to stand out from the pack. With three distinct interiors looked at in each episode, viewers will never be short of inspiration when watching this show. 
And what's amazing about this how is how truly diverse the designs are of each space. While the show has no host, it means that the interiors themselves — as well as the people creating them — are the true stars. Looking for a unique boost for your next design move? Maybe follow in the footsteps of couple Joel and Rosie, who embark in one episode on turning an old ship into a one-bedroom home (pictured above). If that doesn't tickle your fancy, maybe the entirely pink-themed Pink Palace featured in one episode will float your boat instead.
Queer Eye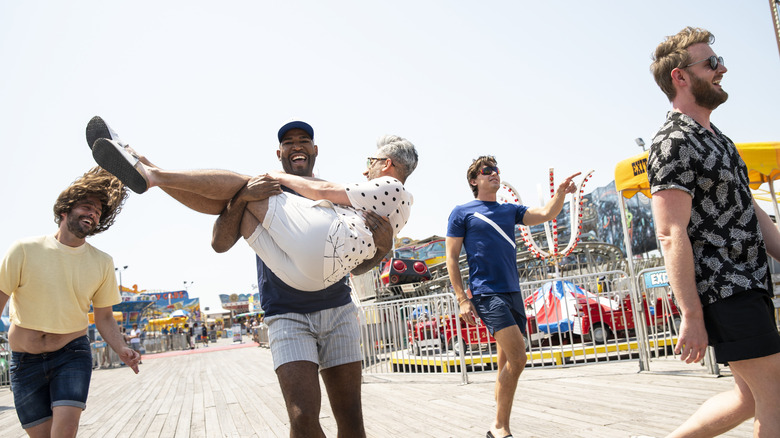 Ryan Collerd/Netflix
If you like your home improvement shows with more than a dash of self-love, Queer Eye's got you covered. This Netflix reboot of the Bravo original Queer Eye For The Straight Guy took over the world thanks in part to the chemistry between the hosts Jonathan Van Ness, Tan France, Karamo Brown, Antoni Porowski, and home design expert Bobby Berk. In each episode, the Fab Five take someone under their wing and teach them how to truly live their best life. Keep your tissues close — this show gets emotional.
As the show's resident interior designer, Berk (on the right in the photo above) likes to truly get under his client's skin and show them that home improvement can be not only visually beautiful but can nourish the soul. In an interview with Metropolis Magazine, he confirms this philosophy, stating that he believes that "When people are happy in their space, it really spills out to the rest of their lives." We'd have to agree, Bobby.
Hoarders
A&E
Although this might seem an odd choice for the list, Hoarders is, in many respects, a home improvement show. Instead of focusing on shiny new interiors, the show trains its gaze on individuals who hoard items (also known as hoarding disorder) and the impact that disorder has on their homes and lives. While the series can make for difficult watching at points, it remains a unique look at what can happen when clutter can get way, way out of hand.
Hoarders can be an emotional rollercoaster, but it's useful to remember that behind the scenes a great deal of care and detail was taken with each episode and the people featured. Dorothy Breininger, one of the organizers on the show, spoke to Reality Blurred about the process behind helping the individuals clear out their homes. She detailed the painstaking planning she did to make sure the procedures were as specific as possible, taking "hours and hours and hours, sketching and writing and putting down how long I think it takes to do half a living room [...] I react and organize according to the crisis at hand". Over a decade on from its first episode, Hoarders remains a show like no other.
Million Dollar Beach House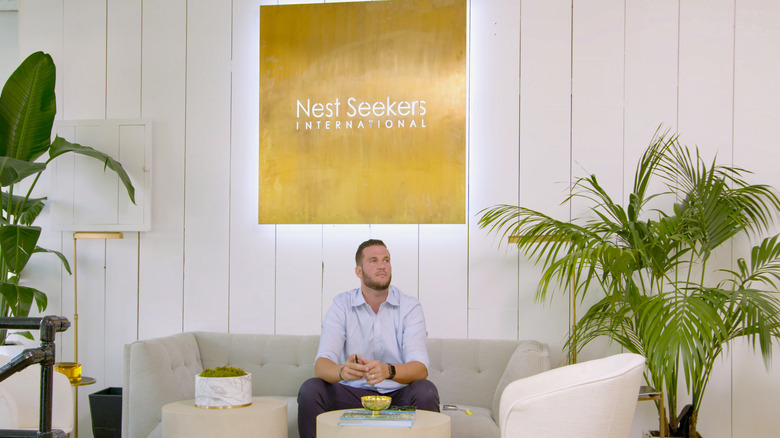 Netflix
Following the high-end Nest Seekers firm, this show takes us into the wildly competitive Hamptons real estate market, with eye-catching interiors and plenty of drama. With the properties on Million Dollar Beach House selling at prices that would make even the wealthiest blush (one property featured on the show later changed hands for a cool $7.4 million, according to the Nest Seekers website), this series is all about aspiration, with some great design inspiration along the way.
If you can get past the drama, that is. Million Dollar Beach House is almost as watchable for the hosts' tumultuous relationships with each other as its properties. Despite this, host Peggy Zabakolas was clear in an interview to Oprah Magazine about their property priorities: "I think all of us as a cast wanted to be authentic to who we were, in addition to that, authentic to the real estate process. I'm glad that we were able to focus more so on the real estate because that's what we're very passionate about". On whether the drama was real between the hosts, however, she said: "Oh, a hundred percent. Everything was very authentic." Sounds like good material for another season.
Selling Sunset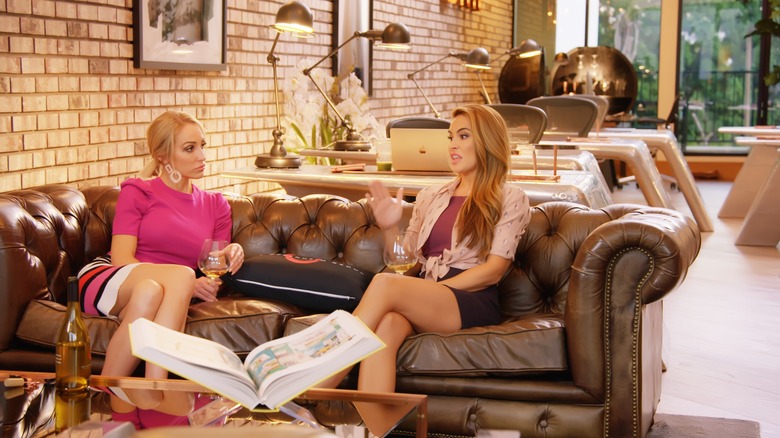 Netflix
Selling Sunset has truly taken the world by storm. The perfect cocktail of ultra-luxe homes, endless LA sun, and continuous drama, the show follows the workings of the Oppenheimer Group. The homes on Selling Sunset are truly the stuff of dreams, with one property coming with a $75 million price tag, according to Hello Magazine (and which, as the Oppenheimer Group website states, has yet to be sold, despite agent Davina Potratz' best efforts, with a running storyline in the show of her trying to find a buyer for it). If you like never-ending shots of astonishing home interiors, this one's for you.
Frankly, though, where Selling Sunset remains truly bingeable on Netflix is through its drama. Between Chrishell Strause and Christine Quinn's frenemy relationship, Amanza Smith and Heather Rae Young's tortured working relationships, and Mary Fitzgerald's wedding dramas, you might assume there's bad blood in the group. But according to Strause in Cosmopolitan Magazine, it's just another day at the office: "When we get along, we get along so well [...] There are times where we're really great and then there are times that we aren't. But at the end of the day, it is who we are."
Styling Hollywood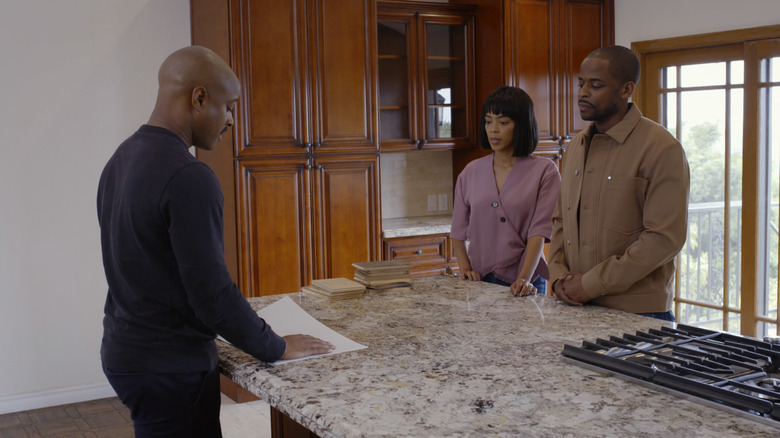 Netflix
With a name like Styling Hollywood, you'd expect glamour — and this show has it in spades. Following the work of Jason Bolden and Adair Curtis of JSN Studio, this real-life couple works with celebrity clients to bring their styles and their home interiors to the next level. Expect Taraji P. Henson, Zazie Beetz, and Janet Mock to make appearances, as Bolden and Curtis bring their home improvement and styling talents to the table, and enjoy some fabulous home designs as they do so.
Bolden and Curtis's touching relationship is also a main draw of the show, with Curtis telling Decider that their dynamic is the same off-screen as it is on camera. "There is no perfecting anything. This is exactly who Jason is. This is exactly who I am. [...] We want the same things. Although we're really different and there's a big contrast, you can root for us because we love each other." What's also notable is their philosophy towards home design, with Curtis saying to Refinery29 that "[they] always approach the design of our own home based on how we want to feel there." Who couldn't get on board with that?
The World's Most Extraordinary Homes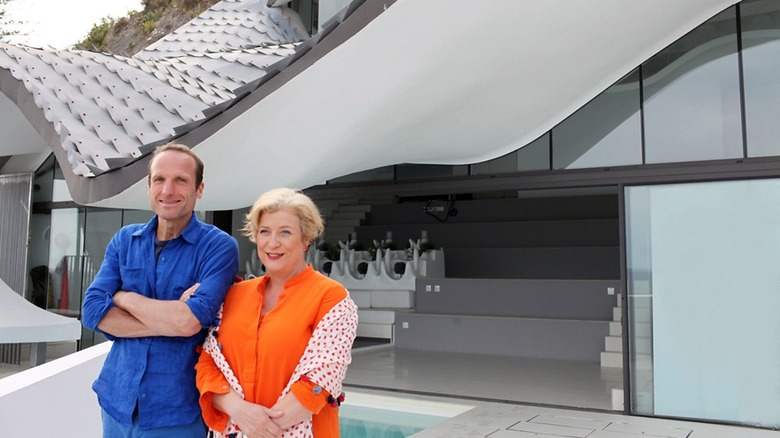 BBC
Feeling a little bored at home? Queue up The World's Most Extraordinary Homes on Netflix and take a journey to design paradise. In this British series, hosts Piers Taylor and Caroline Quentin visit homes around the world that are truly breathtaking — think houses built into the foothills of the Pyrenees — checking out some divine interiors along the way. Co-host Taylor comes with a pretty serious design pedigree, as a former Design Fellow at the University of Cambridge and the founder of architectural practice Invisible Studio (per The Scottish Sun), and his technical know-how comes into play here.
It's Quentin, however, that speaks to home improvement enthusiasts like us. In an interview on The Ellen Show, she calls herself a "serial doer-upper" and discusses how her personal appeal for properties in the show is in "how a property sits within its environment, and how you feel to be there." Pretty relatable, right? The difference between the two hosts' approach helps to cause reflection on our own design choices, as well as the properties featured.