Why You Should Think Twice Before Adding A Sunroom To Your House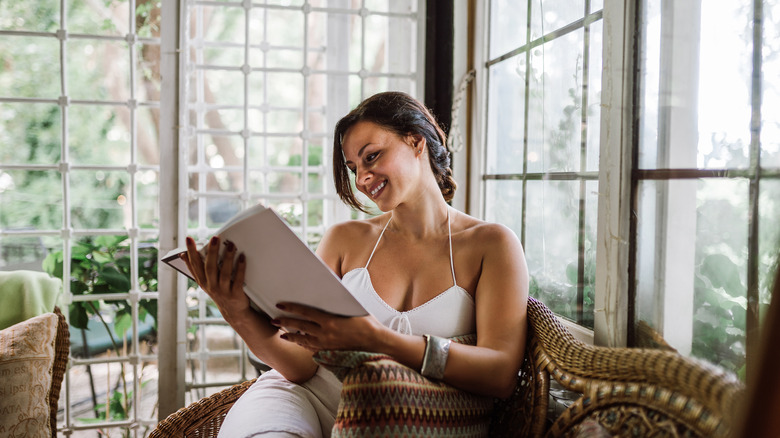 Shutterstock
When you picture yourself in a sunroom, there are a few scenes that might come to mind: sipping coffee on a light-filled morning, watering a room full of happy, well-lit plants, watching the sunset with a cup of tea, and eating dinner "outside" without worrying about bugs. It's no secret that getting a little extra sun, even when you're inside, provides a welcome serotonin boost — which makes a sunroom seem like the ultimate at-home luxury. 
But if you're considering adding a sunroom to your home – be it as an addition or as part of a new construction — you shouldn't be blinded by its long list of pros before considering the potential cons. After all, no two sunrooms are exactly alike. They vary in aesthetic, price point, and functionality depending on your situation and wants, where you live, the materials used, and more — and they rely on a good contractor as well as a good, solid foundation. Here's why you might want to think twice before adding a sunroom to your house.
A sunroom's potential cons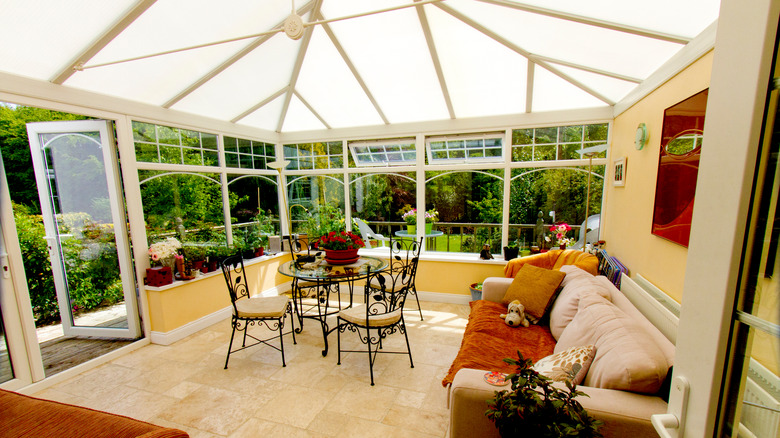 Shutterstock
First, the climate you live in will ultimately determine whether or not a three-season or four-season sunroom is best for you. A three-season sunroom is built without insulation or a heating source, according to Midwest contracting company Lindus Construction. So if you live in a place with cold, long winters, that may be a negative, check against adding that kind of sunroom. Meanwhile, if you upgrade your plans to a four season so you can enjoy it year-round, the construction will cost significantly more and will take longer. Plus, you'll have to accept the increased energy bill that comes with it. Because sunrooms are 90 percent windows, they naturally lose heat through them, which isn't efficient or ideal.
Additionally, if you're planning on building a sunroom onto your existing home, there are lots of structural risks that should be professionally assessed. "You've got to do your homework to get what you want and not go down a bad path," Robert Criner, president of Virginia-based Criner Remodeling told Daily Press. Most sunrooms are built on top of patios or decks, which A) don't offer strong enough foundations and B) are built to slope away from the home to promote drainage. Both can cause issues for sunrooms because, over time, if a flat foundation isn't installed beneath, settling can create cracks and leaks in as little as two years, per Daily Press.
So while the thought of a sunroom is exciting, building one may not be. Be sure to consider all of your options (like a partially screened in porch or canopy) before taking the leap.