Mistakes Everyone Makes When Shopping At IKEA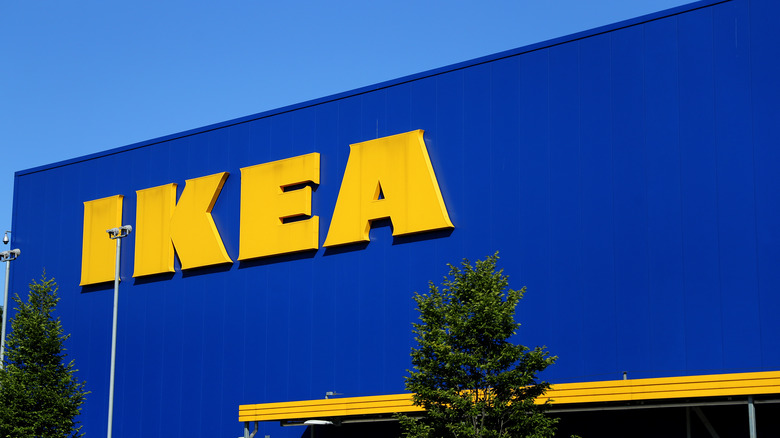 Warren Little/Getty Images
Known for its minimal furniture, equal parts simple-and-infuriating instructions, and cult-favorite meatballs, IKEA's offerings are simultaneously one of today's most beloved and frustrating modern conveniences when it comes to decorating your home. Where the home furnishing store goes right with pricing and customizable furniture, it lacks a bit in terms of keeping shoppers stress-free. But no matter how chaotic a trip to the store can be, IKEA fans will still return for a try-on furniture experience that's unlike any other.
But rather than accepting that every trip you take to IKEA will be stressful, there are several hacks, tips, and ideas you can keep in your back pocket to set yourself up for success. Some are as simple as remembering your shopping bags while others involve planning ahead and taking measurements. But altogether, they'll help you craft a foolproof furniture shopping game plan. Here's what mistakes you should avoid before, during, and after you shop at IKEA.
Forgetting to measure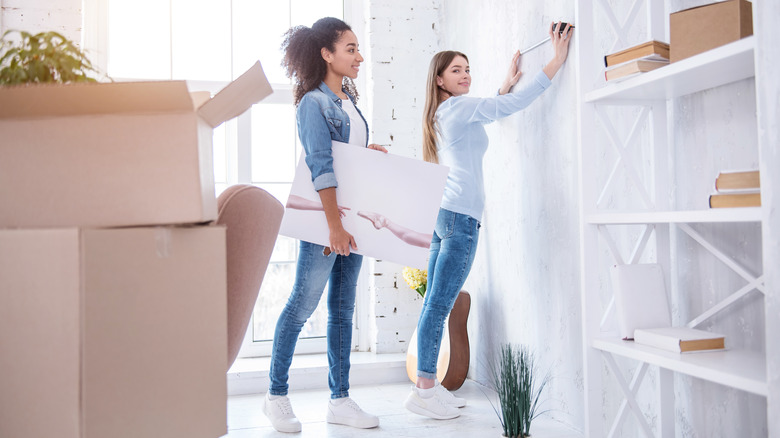 Shutterstock
This is a must before you even think about making your journey to IKEA. Without knowing the dimensions of your space, it's impossible to create a successful layout — and you won't be able to accurately choose large items like couches or bed frames or even smaller products like bedside tables or ottomans. But, as The Spruce explains, this goes beyond measuring just the area of where the furniture will be positioned. Door frames, windows, radiators, and hallways are all important numbers to know. This way you won't block anything important and you'll be able to move your furniture through rooms and entryways if needed.
But if you do forget to measure spaces around your house before you make your trip, all is not lost. Take down the dimensions of products you're interested in possibly buying while you're at the store so you know what you're working with and can map out in your space when you go home. Even if you decide against taking a second trip back to IKEA's physical store, you'll be able to purchase items online.
Disregarding your personal style and needs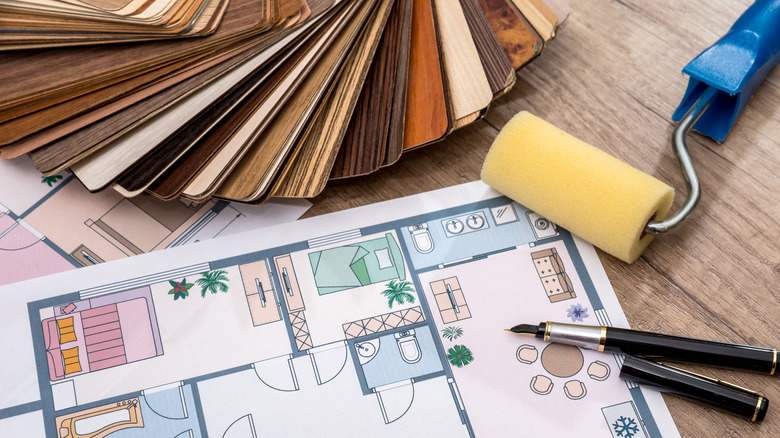 Shutterstock
IKEA's Scandi style is undeniably chic, but your style preferences and list of needs comes first. It's easy to be swayed by the endless sea of shelves and wire baskets. Don't feel guilty either — it's not just you or a lack of self-control. As UX Collective describes, it all comes down to IKEA's layout, which in essence forces you to follow a path that the brand has laid out for shoppers. This premade journey makes it nearly impossible to keep your eyes on the prize and avoid impulse buys. But there's a way to prevent this; before you add that fun KRUX lamp to your cart just because it's cute, double check that it'll actually fit in with your room. 
To prevent flying through the aisles, piling up your oversized cart, and the eventual buyer's remorse that comes with taking home armloads of fortgås, take some time to determine your style and what intentions you have for your room. Hiring an interior stylist can be super useful, but if you don't have the time or budget, Jane at Home says there are several things you can do to can choose a design style. Two methods she suggests are pulling inspiration from what you wear and creating a sample vignette to narrow down what you like.
Not keeping track of item names and shelf numbers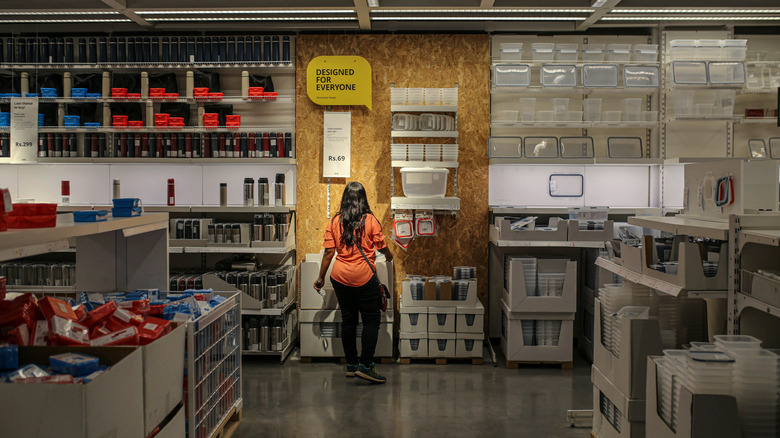 Bloomberg/Getty Images
All may seem fine and dandy as you wander your way around IKEA, pointing out what you think would look best in your home. That is until you get to the end of the store and realize you have no idea about IKEA's names or the associated shelf numbers of any of the products you want. When you're faced with 12 slightly different side tables in the same unfinished oak material or an array of boxes with the same Swedish name listed on them, you'll be wishing you had jotted down specifics.
IKEA explains that looking on the price tag will give you everything you need: "This details where you can collect the item from the self-serve furniture area, or information on where to collect it at furniture pick-up area." Most IKEA locations will have small pencils and paper for you to grab if you're not prepped with your own notepad. Better yet, you can just use a note-taking app on your smartphone — and let's face it, that thing's never too far from your hand.
Shopping with too many friends or family members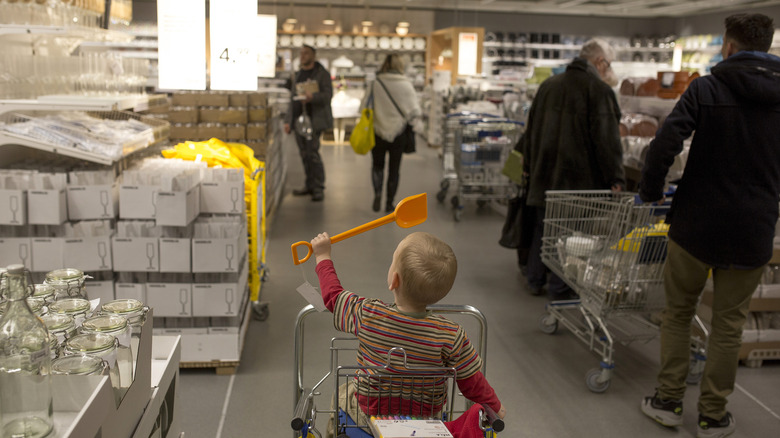 Bloomberg/Getty Images
If you have a roommate or two who need to be involved in the decision process, bringing your design-loving friend or sibling who lives elsewhere might be too chaotic. Keeping your shopping team to a minimum is essential for keeping stress at bay and preventing arguments. The same goes for family households, including those with small children.
As CNBC notes, if you have a few little ones on your hands, a majority of IKEA locations have a children's play center to keep them occupied and watched over while you shop. Titled Småland, you'll likely see it upon entering the store. But keep in mind, this service only lasts for one hour, and is for kids who both can use the restroom on their own and who are between the heights of three feet and just under 4.5 feet tall, according to the company. So you may have to sort out different plans for shopping alone if you have an infant or kids who are too old.
Not testing out the furniture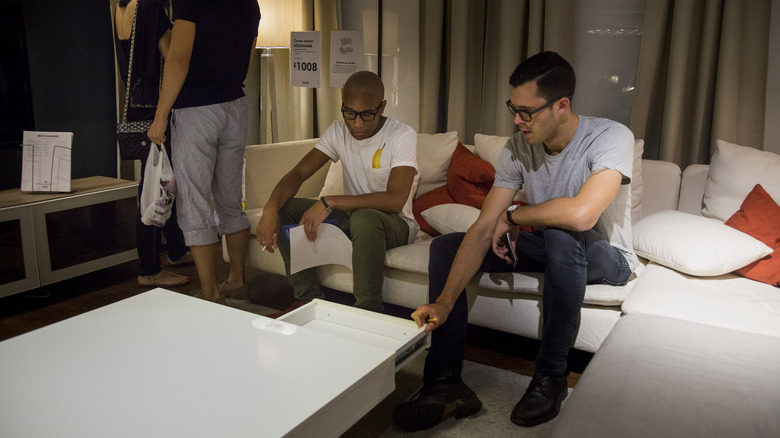 Bloomberg/Getty Images
As you're probably aware, one of the best — and worst — parts of IKEA is its layout. Although it can be overwhelming, it does give you the chance to try things out — more than many other brands on the market. Doing so is essential so you're not left with a new, but very uncomfortable, big ticket item and plans for a return trip. As IKEA states on its webs ite, testing furniture is one of the most important aspects of a successful shopping excursion.
While the staged vignettes are fun to look at, they're also there so you can not only visualize a kitchen layout or new couch in your home, but to physically determine if it's best for you. The company is fine with you doing everything from lying on beds to flicking lamps on and off, so you can ultimately decide if the cabinets are too high up and if you really like the vibe and spinning capabilities of that desk chair.
Skipping over the food court or shoppable snack section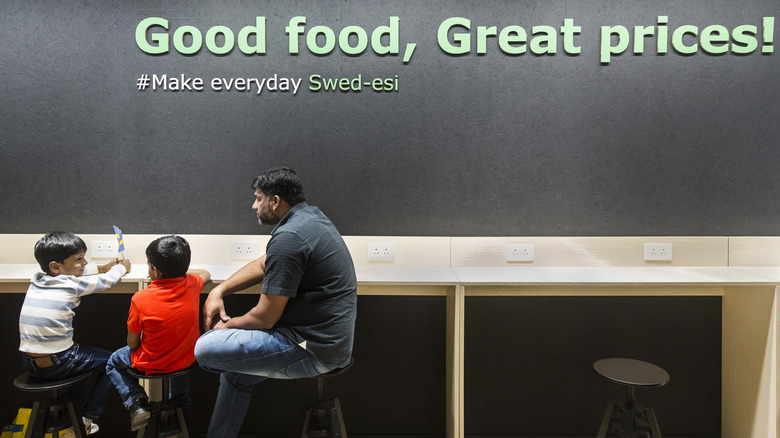 Bloomberg/Getty Images
You might assume those cult-favorite meatballs aren't worth the money, but a large percentage of IKEA shoppers would disagree. Redbook ranked the best dishes you can purchase while at the retailer, and the meatballs — which now come in salmon and veggie options, too — took the top spot. Even a writer from Business Insider found that after trying nearly every dish on the menu, the meatballs still remained a forever favorite. But even if you just opt for a soft-serve ice cream, the food court serves another important function besides just feeding your hunger: it gives you a chance to take a breather and gather your thoughts.
Perhaps you're still adamant about skipping the cafeteria. If so, perusing the shoppable snack section is a definite must. These aren't your standard selection of snacks and pantry staples, but rather Swedish treats like gummy candies, lingonberry jam, nut bars — oh, and a frozen version of those beloved meatballs. 
Not taking a break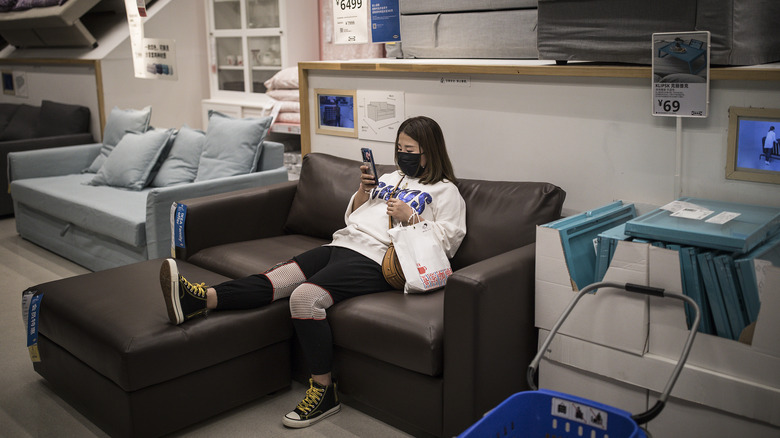 Stringer/Getty Images
Whether you take a break at the food court or not, really any kind of break from browsing is essential if you're set on getting all your shopping done in a single trip. It may sound silly to plan for this, but we've all been on the wrong end of long furniture hunting day, and IKEA's maze of rooms only exacerbates the indecision and confusion that can come with it. 
Without taking a few minutes to reset, your hours-long shop can become quickly irritating and stressful. As CNBC reports, this is a major mistake not worth making. While the outlet strongly suggests taking this time to visit the cafeteria there are still a lot of couches, beds, and chairs lying around that make an instant break easily accessible if your stomach isn't grumbling yet. This also gives you and your fellow cohabitants a chance to discuss what you want to purchase and what the next half of your day is going to look like.
Forgetting to shop the As Is section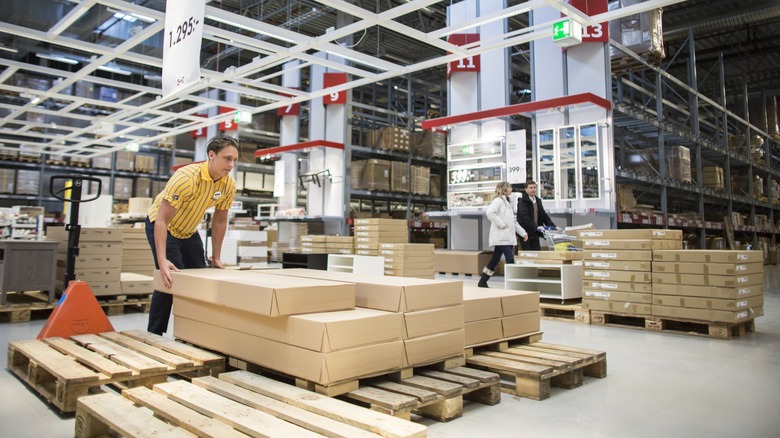 Jonathan Saruk/Getty Images
As Apartment Therapy notes, passing up the "as is" section of IKEA is a rookie mistake. Some folks may not even realize IKEA has a markdown section, but this area is definitely worth scoping out whenever you visit the store. Here, you'll be able to find pre-made pieces that were returned available to you now for a lower cost, as well as new products that may have been manufactured with few superficial flaws or dinged up in the rough and tumble of daily swathes of shoppers. 
That said, don't allow these lower costs to hypnotize you into buying right away. Yes, it's easy to look past some damage and a missing screw or two, but you'll really want to examine each item to make sure they're up to par with your standards. Even with great deals in this section, there still comes a point where the price tag isn't worth the hassle of fixing it yourself.
Shrugging off the rewards program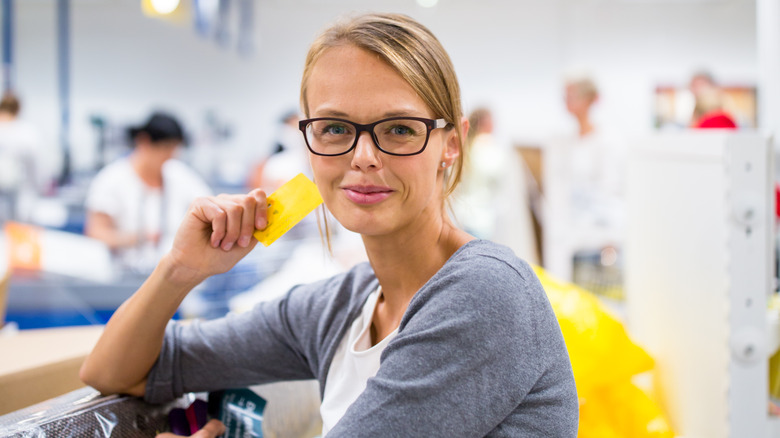 Shutterstock
We get it — you don't need another rewards card to cram into your wallet. But there are too many reasons why IKEA is worth your time and email address. Shopping at the store almost always leads to costly purchases, so signing up for IKEA's rewards program is a must. As IKEA puts it, you'll get a nice selection of coupons and deals on furniture, and you'll even get invited to workshops and events held in-store at no cost.
Hip2Save also adds that discounts on home décor aren't the only perks you'll get from signing up. Your birthday will come along with a $15 off coupon, as well as some free food from the cafeteria, and upon registering you can get a free ice cream cone. The site also says that free coffee and tea are on offer every time you visit, too, if you're a rewards member.
Not bringing your own bags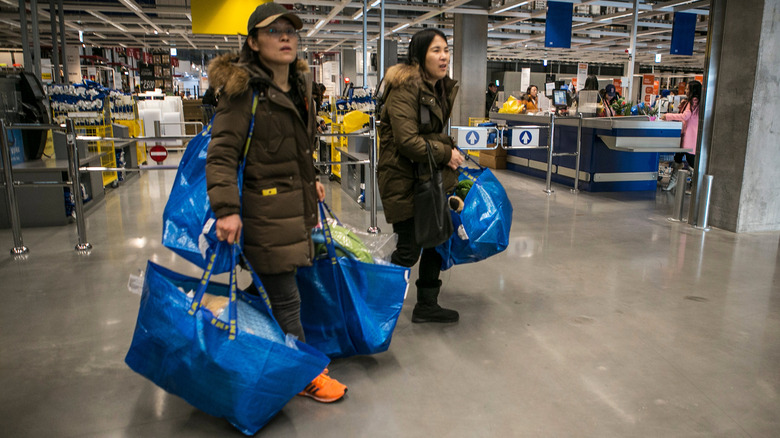 Bloomberg/Getty Images
IKEA cares about its ecological footprint. Sure, this is just one small way it makes an impact, but you won't find single-use plastic bags in-store. Occasionally, IKEA paper bags will make an appearance, but like many environmentally-conscious wholesalers, it's reusable bags or bust. The bright blue bags you can purchase from the brand are the same ones as the yellow version you can tote around the store — they just have a reversed color palette. These oversized totes might be basic upon first glance, but their popularity led to them starring as a fashion week staple accessory courtesy of Balenciaga in 2017 and even being repurposed into items like hats and shorts, as The Outline reported.
Sartorial style aside, don't make the mistake of leaving your IKEA bags behind (or any kind of reusable container for carrying your purchases home). It may sound simple, but as The Spruce advises, if you forget your bags, you'll either have to pay for a new one at the retailer each time or struggle trying to juggle bulky items with your smaller purchases.
Not considering transportation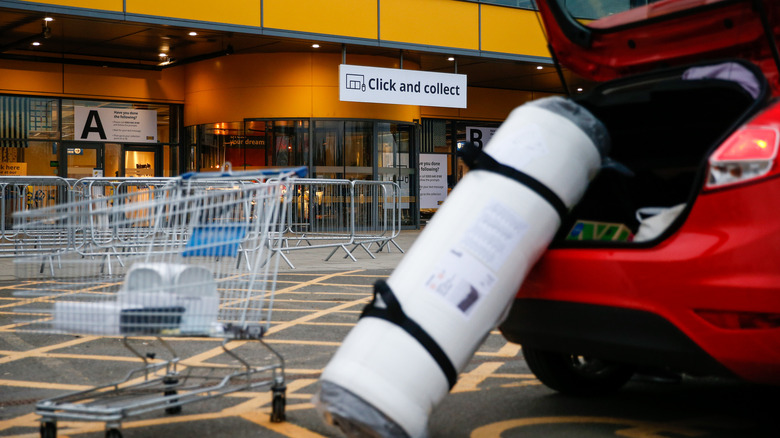 Bloomberg/Getty Images
You've checked out, everything is loaded up onto your metal cart and in your blue bags, and you're headed for the door — and that's when you realize you have no idea how you're going to get all of this home. This is obviously no big deal if you live in the suburbs and have a car, but city dwellers without their own vehicle need to think about how those shelving units are getting back to their apartment. The subway or train is stressful and tough to maneuver and convincing your Lyft driver to take you and your stuff home can be difficult if they weren't expecting to tote your new décor haul.
There are a few options if you have items too bulky for public transportation. One idea is renting a car for the day or asking a friend with a car to help you out — maybe throw in some free meatballs? If this isn't possible, trying booking a car in advance, hiring a moving service for the day, or seeking out the help of a company like Task Rabbit. Lastly, if shopping in person with a major list isn't doable, it might be worth checking out all of IKEA's offerings online. Real Simple writes that delivery costs aren't too high (they're a flat fee), and if you don't feel like dragging your friend or family member along for a full day of shopping, you can opt for the company's click and collect service instead.
Not checking inventory and avoiding the online IKEA shop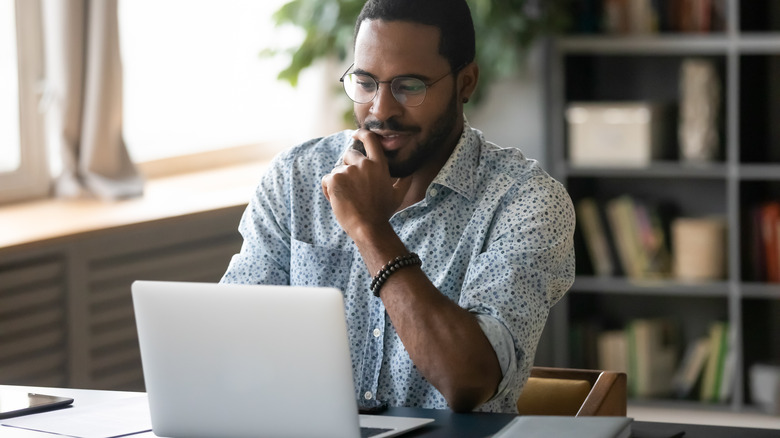 Shutterstock
Yes, the whole point of IKEA is its in-person experience, but sometimes online shopping reigns supreme. If you've realized that you can't find a way to efficiently transport furniture or you still don't have a good idea of what you like, it's worth scouring IKEA's website, too. You can get a visual and financial idea of what you might want to buy, and you won't have to leave the comfort of your couch. But if you're still set on making a trip, visiting its e-commerce selection still remains as a must.
In reality, this should be one of your first steps before even considering visiting an IKEA store. Why? The website can give you a good idea of what's currently in stock. Otherwise there is the very real chance that you could show up and nothing you've planned to buy is available for a same-day purchase (via Cheapism). Knowing what's in the inventory will help you avoid coming back for round two.
Assuming you can build everything on your own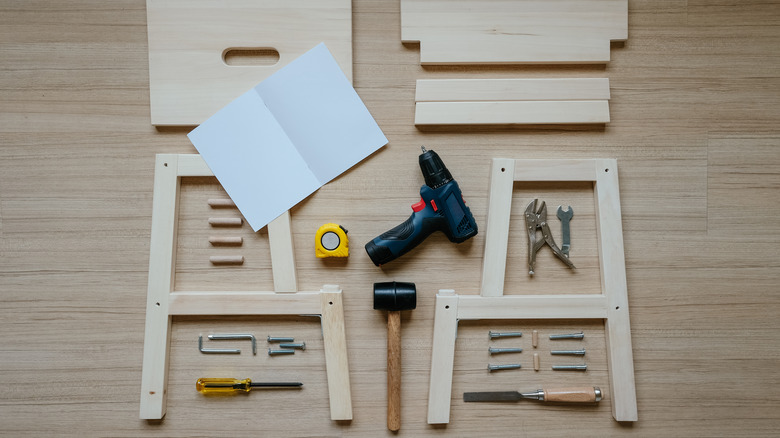 Shutterstock
IKEA is infamous for its not-so-user-friendly instruction manuals. While many customers may succeed after multiple frustrating attempts or hours of work, it's worth knowing you don't have to rely solely on YouTube tutorials and guesswork — IKEA has a partnership with Task Rabbit to help. The company website lists this as a service, and if you'd rather spend your time sitting, relaxing, and enjoy your shiny new purchases, it's worth spending a little extra to have someone else put your things together in a pinch.
That said, if you're a DIY enthusiast or can't bear the thought of having someone else tackle this, there are plenty of hacks to help you construct your furniture without an extra set of hands. Popular Mechanics recommends taking a few vital steps to reduce aggravation. Firstly, take inventory of everything you've been given so you don't realize you're missing a screw towards the end of your project. Then, take the time to really clear out a proper workspace and enough room to lay out all your parts. Popular Mechanics also states that analyzing the instructions thoroughly is a major "do," even if they seem confusing at first.
Assuming what you see is what you get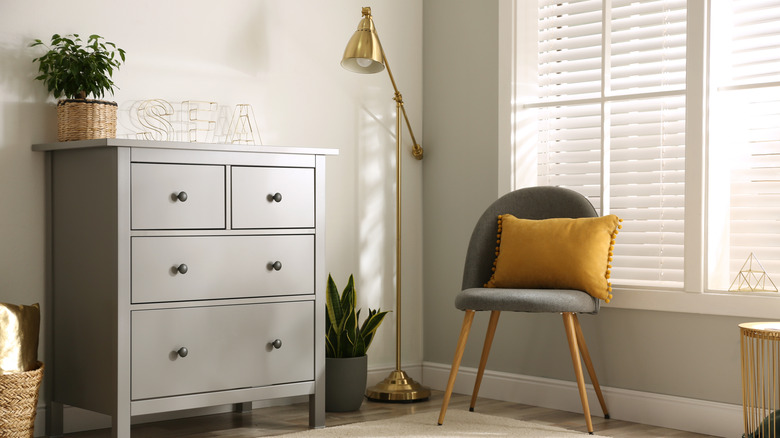 Shutterstock
Once you've built what you've bought, or perhaps long before you even start, you'll realize an unspoken truth about IKEA's products: They can be pretty plain — especially if you're not a minimalist or Scandi fiend. The price may have been nicer, or the idea of minimalism might've sounded chic in theory, but if you're bored by what you've selected don't fret. There are so many options out there for customizing your IKEA furniture, whether you love a good DIY or want it done for you.
Upcyclers and those with a knack for crafting may want to take things into their own hands. IKEA's unfinished wood pieces (or even the already colored products) can be personalized with paint, new legs, fresh hardware, or sophisticated slip covers (via Vogue).
But the idea of painting or creating your own attachments might not be everyone's cup of tea. In this case, there are companies out there that make add-ons specifically for IKEA furniture. For instance, companies like Semi Handmade and Pretty Pegs will replace the likes of IKEA cabinet doors and furniture legs with trendier options (via House Beautiful). It just might be worth using some of that money you saved by shopping at IKEA on beautifying one or two of your favorite items.