Here's What You Should Know Before Using Cork Tiles In Your Bathroom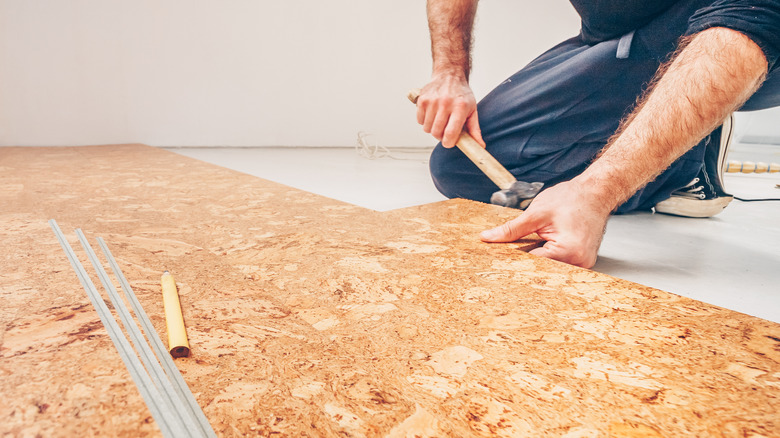 Shutterstock
When it comes to building materials, today's homeowner is much more conscious of eco-friendly materials, and that includes cork.
Since it's made from the naturally dropped bark of the cork oak tree, it's sustainable for the environment at large, per Better Homes and Gardens. And it's good for your home environment, too, because cork is hypoallergenic — in fact, it's one of the most hypoallergenic flooring materials on the market — as well as resistant to mildew and mold.
Cork flooring also offers solid sound insulation (better than, say, tile), a nice amount of warmth underfoot, and comfort: Its internal structure of air cells makes for a soft and spongy surface, whether used on its own or under another material, like carpet or wood.
When it comes to price, cork flooring costs about the same as many hardwoods and more than linoleum and carpeting. The cork flooring market has expanded in recent years, now offering more colors, patterns, and formats (e.g., tiles and planks) than ever before.
So which rooms are the best places to install cork flooring? Keep reading.
Cork works great in bathrooms but isn't indestructible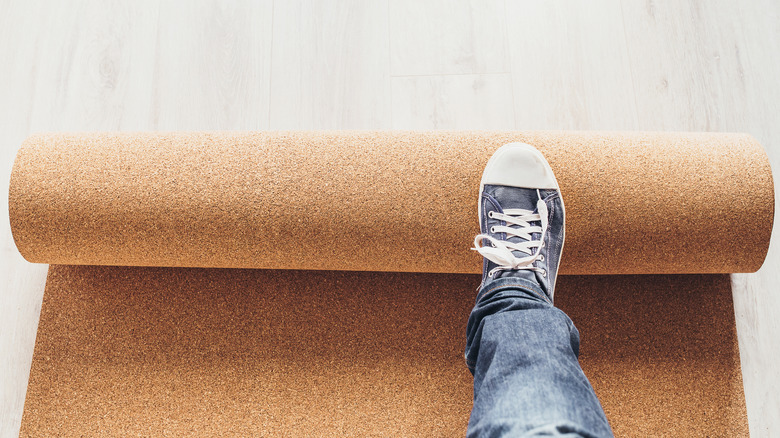 Shutterstock
Anyone who's removed a cork from a bottle of wine or used a cork coaster knows that cork has water-resistant properties. So it's a no-brainer that cork flooring works well in areas with water, including kitchens and bathrooms. The latter is especially popular since, as mentioned before, cork feels warm and comfortable under bare feet, and it's resistant to mildew and mold, which can run rampant in damp, enclosed spaces like bathrooms.
However, while cork is water-resistant, it's not waterproof, so most cork flooring is protected with a topcoat of polyurethane to seal it, which should be reapplied every five to 10 years, according to Better Homes and Gardens. It's also smart to use a bath mat near your tub, shower, and/or sink to protect the cork from large amounts of water, which can cause damage.
You also have to treat the cork with a certain amount of care so that it lasts longer. Too much direct sunlight can cause fading, and heavy objects, such as a freestanding cabinet or rack, can create indentations. (Put protective disks underneath the legs or corners of such furniture pieces to avoid damage to the floor.) If you have kids in the house, prevent them (as best you can) from scratching or digging into the cork, which can leave lasting damage.