Kamala Harris' LA Home Is Truly A Sight To See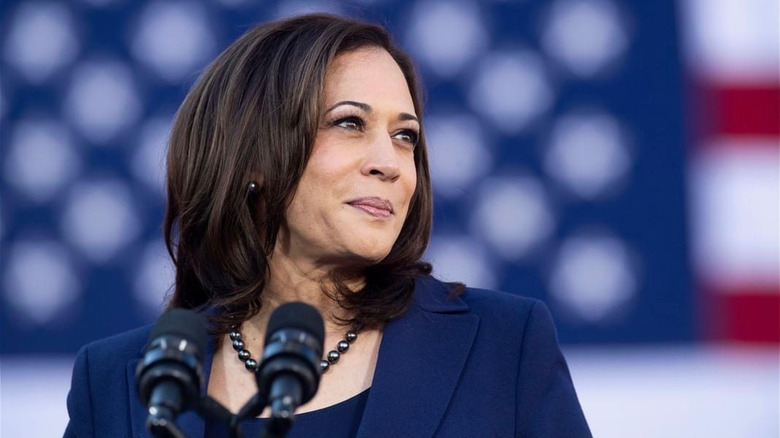 Shutterstock
Vice President Kamala Harris has had an impressive political career, so it's no surprise that she has an impressive real estate portfolio, too. She owns a home in the Brentwood area of Los Angeles, an apartment in the SOMA neighborhood of San Francisco (which was recently under contract), and a two-bedroom condo in the West End district of Washington, D.C., per Business Insider.
Altogether, the veep's three properties are worth close to $8 million, according to Zillow (via Mansion Global). While Harris' D.C. condo and San Francisco apartment are noteworthy, her Brentwood home that she shares with her husband, Douglas Emhoff, has been getting the most attention because it's been kept relatively private. Given Harris' lofty position, the property is well-secured and has been mostly blurred out on the street view feature of Google Maps. However, public documents state that the home, which was built in 1948, comprises 3,500 square feet and is estimated to be worth around $5.4 million. So, we can only assume that the home is downright wow-worthy inside and out.
Keep reading to learn everything we know about Vice President Kamala Harris' LA home.
Kamala Harris' LA home is in a posh neighborhood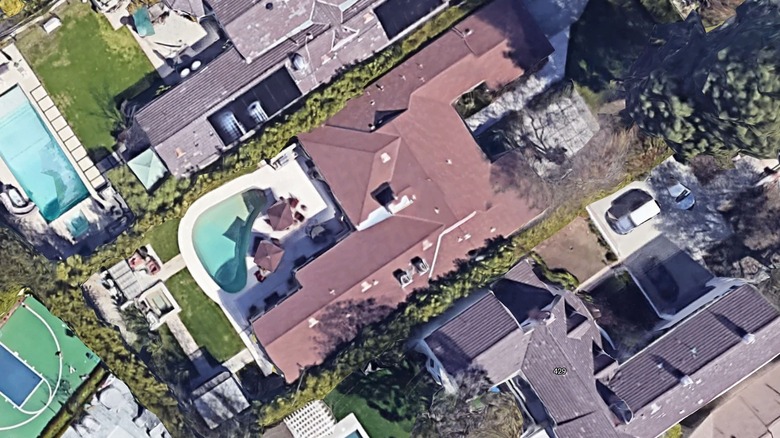 Google Maps
Vice President Kamala Harris' single-family Los Angeles home was owned by her husband, Douglas Emhoff, before they married in 2014. Per Mansion Global, he purchased the property in 2012, but it has since been transferred to a trust with both of their initials.
In a Forbes article, Harris' home landed the top spot in a ranking of the 2020 Democratic presidential candidates' residences. It features four bedrooms, four-and-a-half baths, a private pool, and a coveted location within an upscale neighborhood. Although not a lot is known about the details of the home, the rest of the houses on Harris' street vary architecturally, with some featuring a Mediterranean style and others being "classic clapboard homes." A-listers like Gwyneth Paltrow and LeBron James also own multimillion-dollar mansions in the same area, according to Town & Country, and another prominent political figure, President Richard Nixon, once called the Brentwood area home before his presidency, per Business Insider.
While Harris and Emhoff are now spending the majority of their time at Number One Observatory Circle in D.C., thanks to her new role as vice president, there's no news of the couple selling their Los Angeles home anytime soon.