Why You Should Think Twice Before Adding A Swimming Pool
Shutterstock
Installing a swimming pool is a quick and easy way to earn popularity points with your friends, family members, and neighbors this summer. When the temps soar, the party will be at your place. A swimming pool also affords the opportunity for a little at-home relaxation — add a few waterfalls and a fiery centerpiece, and it'll be like you're on vacation. Swimming also offers a low-risk, whole-body workout that you just can't get at the gym (via Men's Journal). What's more? According to HGTV, adding a concrete in-ground pool measuring 14-by-28-feet could add 5% to 8% to the value of your home.
There's no doubt that adding a swimming pool to your backyard has its benefits. Even so, you may want to think it over before you start planning for your backyard oasis. Despite the positives, there are more than a few downsides when it comes to installing an in-ground pool. Keep reading to get the scoop.
Things you should know before buying a swimming pool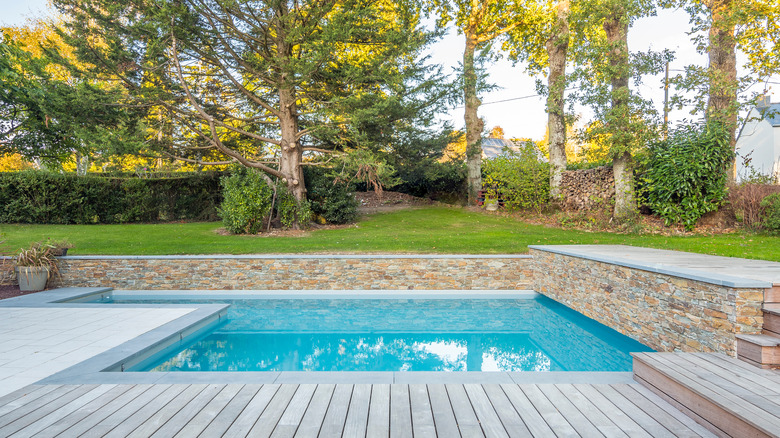 Shutterstock
First of all, it should come as no surprise that swimming pools aren't cheap. According to HomeAdvisor, installing an in-ground pool could cost more than $51,800 depending on your zip code. Above-ground pools, though more affordable than in-ground pools, have an average installation price of $1,000 to $3,500 and a building cost of $5,000. That's still a hefty price tag, especially when you add in the hidden costs (e.g., landscaping, a deck or concrete patio, lighting, accessories, etc.). 
Then there are the maintenance fees. Once a pool is installed, it requires constant maintenance, which, according to Home Guide, can cost anywhere from $80 to $150 per month or $960 to $1,800 per year on average. Don't forget about the cost of unexpected repairs, electricity, and water, too! You could take on these tasks yourself, if you have the time, energy, and know-how, but it's a big job.
You'll also need to think about insurance. Owning a pool poses possible liability: Imagine your 10-year-old neighbor Timmy coming over and injuring himself while trying to land a massive cannonball. It could cost you big time without the proper insurance. The Insurance Information Institute reports that pool owners should have a minimum of $300,000 to $500,000 of liability coverage or an umbrella policy with $1 million in protection to ensure that they're completely covered from any unforeseen accidents or mishaps. That kind of coverage could cost $300 or more per year in premiums. Just more food for thought when it comes to considering a new pool.