Inside Steven Seagal's Bulletproof Arizona Mansion
Shutterstock
We may not have seen Steven Seagal in any film roles lately, but rest assured that the movie star is doing A-OK. The actor, activist, and right-winger recently put his $3.4 million mansion in Scottsdale, Arizona, on the market, and it's quite the desert oasis, per the Los Angeles Times. He purchased it for $3.5 million in 2010. Its most unique feature? Bulletproof floor-to-ceiling windows throughout the property.
Although it's not immediately clear why the black-belt martial artist felt the need for such protection while on his 12 acres of land out in the desert (shouldn't his bare fists suffice?), perhaps the action-packed plots from his past films — including "Under Siege," "Above the Law," and "Hard to Kill" — have made him a bit paranoid. Maybe he should've taken a hint from the name of the neighborhood, Carefree Ranch Homesteads, and chilled out.
Regardless, the 8,973-square-foot home has a lot more going for it than bulletproof windows. Let's take a tour of Steven Seagal's Arizona mansion.
Steven Seagal's home is a desert oasis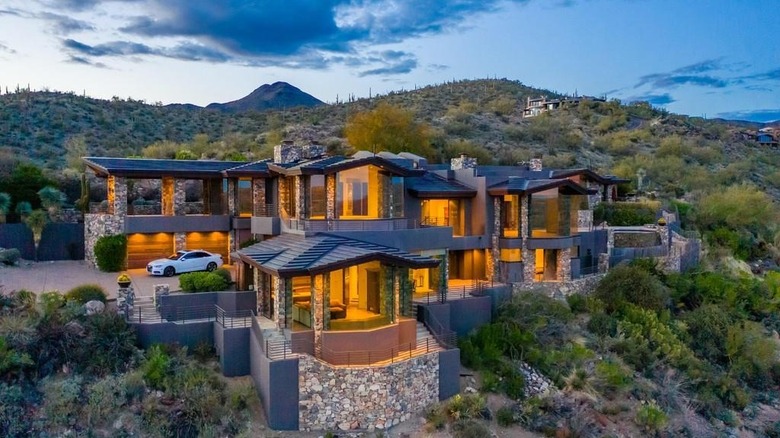 Realtor.com
Perched on a hillside and offering breathtaking desert vistas, Steven Seagal's contemporary home — boasting glass, copper, and stone elements throughout — features five bedrooms, five-and-a-half bathrooms, a movie theater, a two-story atrium, and a living room with a fireplace, according to the Los Angeles Times. Skylights allow for plenty of natural sunlight to flood the spaces, while stone columns provide structural interest.
Outside Seagal's mansion, which was custom-built in 2001 and is located in a guard-gated community, lifelike statues stand sentinel on the compound. An expansive terrace, an infinity-edge pool, and several decks that wrap around the home provide further views of the surrounding hills and vegetation. A smaller deck ringed with shrubs is home to a hot tub in a cozy nook with equally stunning vistas.
Guests of Seagal — or the future homeowners — can make themselves at home in a separate guest house, complete with a master suite, a full kitchen, and a living area.