Ellen DeGeneres' Houses Actually Look Different Than You Would Think. Here's Why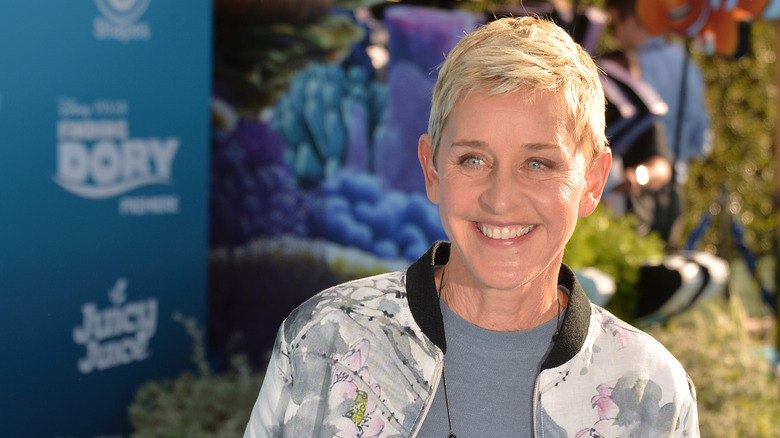 Shutterstock
Comedian, actor, and television host Ellen DeGeneres has one of the quirkiest senses of humor in Hollywood. She has hosted her own talk show, "The Ellen DeGeneres Show," since 2003, where she's known for pulling playful jokes on her guests and audience members. While some negative stories have been circulating about DeGeneres and her workplace as of late, per Insider, she remains a comedic icon and LGBT trailblazer to countless fans. 
So, when we checked out two of DeGeneres' former homes, in Santa Barbara and Beverly Hills, that she had shared with her wife and fellow actor, Portia de Rossi, we were a little shocked by their style. Many would think that the "Ellen's Game of Games" star would have an abode that echoes her outgoing personality and outsized sense of humor. But, in reality, her former homes were "surprisingly stately," per HuffPost — a stark contrast to DeGeneres' free-spirited onscreen manner. To learn more about the comedian's unexpected design style, take a look at two of Ellen DeGeneres' previous homes.
Ellen DeGeneres' Santa Barbara home had Old World charm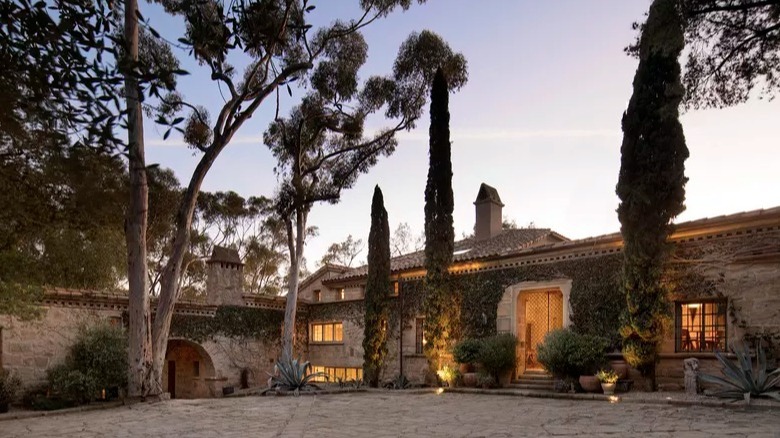 Sotheby's International Realty
In 2017, Ellen DeGeneres and Portia de Rossi's Santa Barbara estate went on the market, giving outsiders an inside look at where the comedian spent her downtime. While many would think the home would be filled with bold and creative interior design — since DeGeneres is known for her quirky personality and adventurous fashion sense — the home is pretty much the complete opposite. 
The mansion is said to embrace "Old World romance and refinement" thanks to its 17th-century Italian-villa-inspired design, per HuffPost. Built by architect Wallace Frost in 1930, the ivy-bedecked home has been renovated over the years to blend European country style with contemporary California chic. It features six bedrooms and baths, views of both the ocean and mountains, an ultra-modern kitchen, a pool with a terrace, and nine fireplaces.
The couple purchased the home in 2013 for $26.5 million, according to The Spaces. In DeGeneres' 2015 book, "Home" — in which she writes about her passion for home design, having purchased and revamped nearly a dozen properties prior to the book's release — she speaks highly of the Santa Barbara property. "The house truly feels like it was built out of the landscape, rather than plopped on a plot," she wrote. "It feels ancient, like it's been there forever. Like that hill was never without the house. This is a home that honors nature, and I love that."
Her Beverly Hills property was also quite traditional in style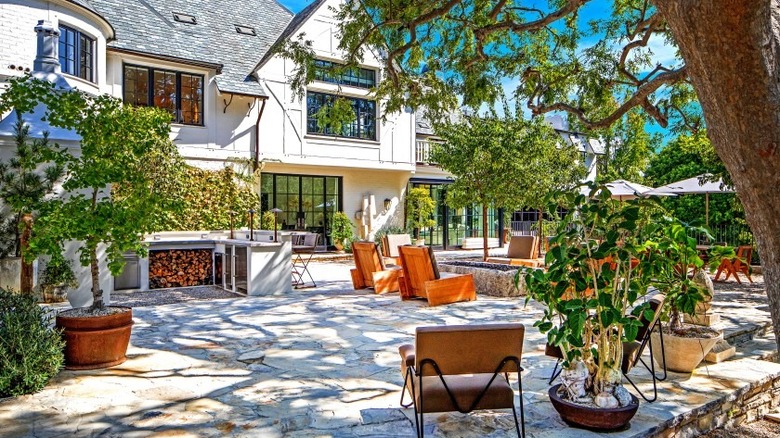 Anthony Barcelo/Realtor.com
Following the sale of their swoon-worthy Santa Barbara mansion, Ellen DeGeneres and Portia de Rossi went on to purchase and sell a few other homes, via Architectural Digest. However, in 2019, their significant real estate portfolio grew even bigger when the duo bought a Beverly Hills pad from "The Voice" star and Maroon 5 lead singer Adam Levine. The couple has since sold the property, which the Wall Street Journal described as a "traditional ivy-covered estate" that "spans about 10,000 square feet."
The "completely decked out" home was purchased for a "little over $42 million," according to AD. But it's not "decked out" in modern upgrades and technology the way you might assume. Instead, the home follows in the same traditional vein as DeGeneres' Santa Barbara residence with a more stately, classic design. The house offers five bedrooms, 12 bathrooms, a living room, a library, and a media room, per AD. Outside, you'll find multiple patio sitting areas, a kitchen, a tennis court, a resort-style pool with a hot tub, and a guesthouse.
Clearly, based on both her Santa Barbara and Beverly Hills homes, Ellen DeGeneres likes to escape the glitz and glamour of Hollywood in an elegant, traditional property instead of something that leans modern, bold, or artsy. And, after looking at these gorgeous mansions, we can't say that we blame her one bit.