Tom Brady And Gisele Bundchen's Homes Will Make You Jealous
Kevin Mazur/mg19/Getty Images
Given his success and longevity as an NFL superstar — and her worldwide supermodel status — it's no surprise that Tom Brady and wife Gisele Bundchen have an impressive real estate portfolio from coast to coast, via StreetEasy. While they have several homes at their disposal, we've gotten an inside look at two of their primary properties: the couple's former Massachusetts mansion and their current home in Tampa. 
The duo officially sold their luxurious Brookline, Massachusetts, estate for a whopping $32.5 million dollars in 2021, per Market Watch. The custom-built mansion had been the family's home base on the East Coast since 2015. At the time, Brady played for the New England Patriots, helping take the team to nine Super Bowls during his time with the franchise. However, per CBS Sports, after playing for the Patriots for 20 seasons, Brady's contract ended in 2019, which led him to join the Tampa Bay Buccaneers as a free agent. 
Therefore, with his big move down to Tompa (which some locals are now dubbing the city), it was only natural for the celebrity couple to sell their New England pad. While they haven't officially purchased a new home in Florida, they have moved into a rental. But it's not your average rental, of course — the home actually belongs to another superstar athlete.
So, if you're eager to see the life of luxury that this gorgeous couple leads, we've got you covered. Here's everything we know about Tom Brady and Gisele Bundchen's former Massachusetts mansion and their current Tampa home. 
Tom Brady and Gisele Bundchen's former Massachusetts home is totally luxe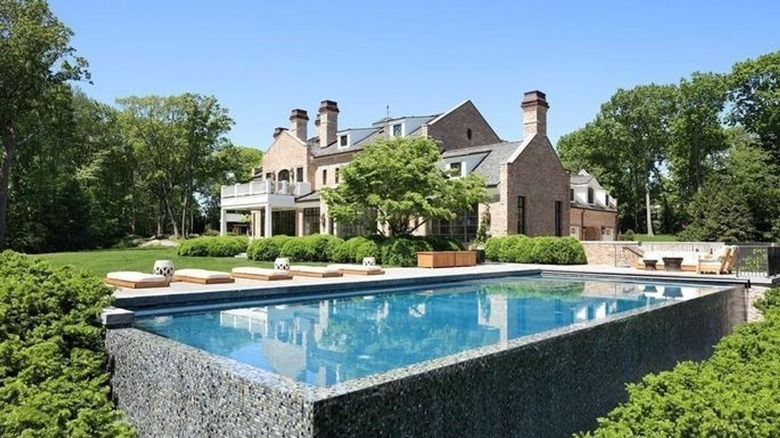 Realtor.com
Just outside of Boston, Tom Brady and Gisele Bundchen's former home in Massachusetts was created in 2015 by the same architect who helped build the couple's West Coast mansion. Market Watch reports that Richard Landry of Landry Design Group helped transform the 12,000-square-foot estate into a luxurious escape, complete with five bedrooms, a home office, a chef's kitchen, and a grand stairwell. 
The massive lower level is all about fun, featuring a rec room and a playroom for adults and kids alike. You'll also find a wine room as well as a fitness area comprising a gym and a spa. If that doesn't make your jaw drop, the estate's grounds will. Per Market Watch, the home has an infinity-edge pool, a pristinely manicured garden, and a barn-inspired guesthouse for visitors with its own yoga studio. 
For the car enthusiasts among you, you'll appreciate the three-car garage, carport, and spacious circular driveway. Brady and Bundchen's former property is also conveniently located at the ninth hole of the Country Club in Brookline, so homeowners have scenic views wherever they turn. 
Their current Florida house is one of Tampa's most impressive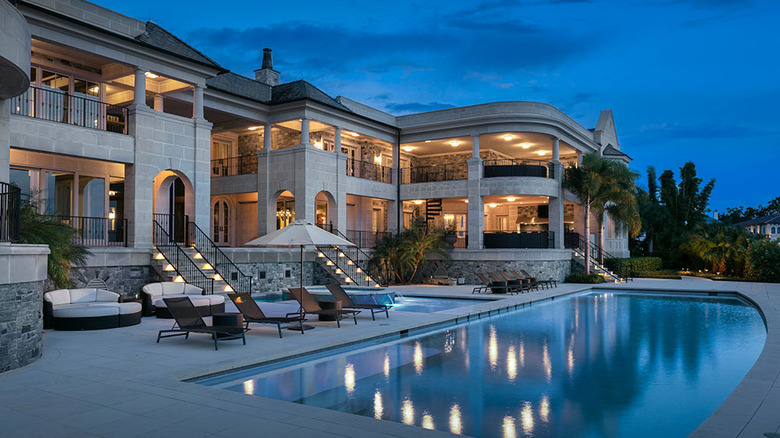 Realtor.com
Following the move from their Brookline estate, Tom Brady and Gisele Bundchen transitioned to the Sunshine State so that the quarterback could join the Tampa Bay Buccaneers under a two-year $50 million deal, via the NFL. However, they have yet to purchase a permanent residence in Florida. 
Instead, according to Robb Report, the family has decided to rent a home belonging to Derek Jeter, the MLB-star-turned-owner of the Miami Marlins. He created the 22,000-square-foot property by purchasing three adjoining waterfront lots on the exclusive Davis Islands. The waterfront mansion is currently on the market, but Jeter has agreed to rent the estate to Brady and Bundchen in the meantime.
So, what does this gorgeous home look like? "This is the most impressive home to ever hit the market in the Tampa Bay area," listing agent Stephen Gay told the Tampa Bay Times. "It is the perfect fit for the luxury-minded buyer who wants the utmost in quality and impeccable attention to detail in conjunction with the security and privacy that this 1.25-acre walled estate provides." 
The pad, which features top-of-the-line finishes and materials, includes seven bedrooms, eight full bathrooms, and eight half baths. Perfect for entertaining, the clubroom offers a full-service bar, a billiards and game table, and a glass corner wall overlooking the water. Outside, you'll find a resort-like pool and spa, covered porches, a dock, and a boat lift — all with stunning water views.
If we were Tom Brady and Gisele Bundchen, we wouldn't be leaving this island oasis anytime soon.