The Best And Worst Upgrades You Can Make To Your Kitchen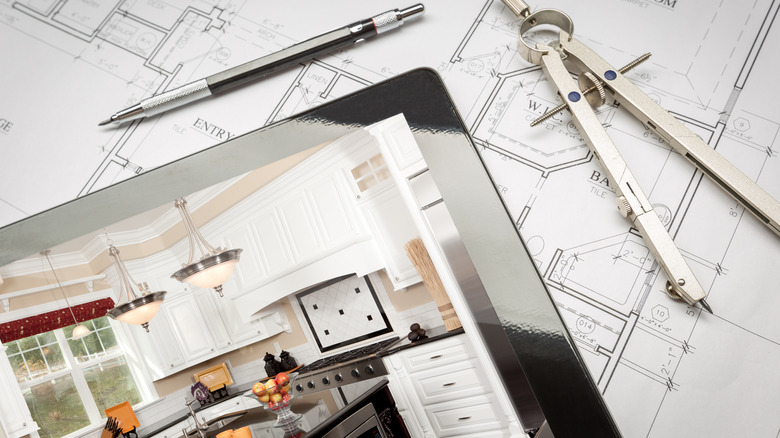 Shutterstock
Maybe you're putting your home on the market soon and want to make some upgrades to net a better price. Or perhaps your house was built in the 1990s and those white laminate countertops and fluorescent lights are no longer all that and a bag of chips.
Regardless, unless you have an unlimited budget, you'll want to pick and choose which parts of the space you upgrade. Because overhauling your entire kitchen could cost an arm and a leg — anywhere between $12,567 and $34,962 on average, according to HomeAdvisor (via HGTV). Whereas a high-end renovation could total more than $50,000, renovating a tiny kitchen could come in as low as $4,000.
Either way, the kitchen is often considered the heart of the home, and, if you're selling, potential buyers will definitely take its condition into serious consideration. Even if you're not selling, you want to make wise upgrade choices that will enhance — and not detract from — what's probably the biggest investment of your lifetime. "Any changes you make on your house now should increase your home value later," Kermit Baker, project director for the Remodeling Futures program at Harvard University, told HGTV.
So, if you're torn about what to keep and what to scrap, here are the best and worst upgrades you can make to your kitchen.
The best kitchen upgrades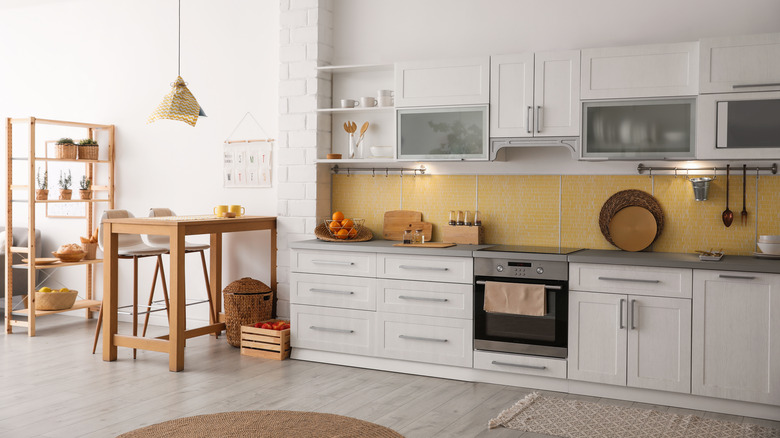 Shutterstock
Let's start with the good stuff. It's always worth the cost of painting your kitchen to give it a fresh feel and to banish cooking stains and wear-and-tear from years past. Many homeowners are capable of painting a kitchen themselves within a day or two. But, even if you want to hire a professional to do the job, it's one of the least expensive home upgrades and is worth every penny, according to HGTV.
If you can afford to replace your appliances, a set of matching stainless-steel pieces — including range, microwave, dishwasher, and fridge — is worth the investment and the wow factor, per HGTV. You don't need to go for high-end brands like Miele or Sub-Zero, either. Mid-range brands like you find at the big-box hardware stores will do just fine and won't eat up as much of your budget.
Stone kitchen countertops are pretty much the standard these days, but you don't have to break the bank with expensive marble or even quartz, according to HGTV. A granite countertop in a neutral hue will look modern while standing the test of time.
Finally, small details can make a big impression. Swap out dated lighting, such as drum lights over a breakfast bar, for modern pendant lights. If you can't replace your sink, installing a new faucet with a spray attachment gives a better impression. And if it matches the finish of your appliances? Even better.
The worst kitchen upgrades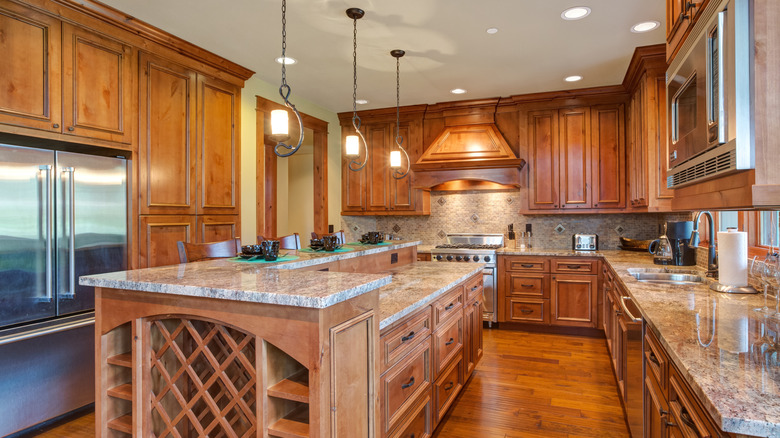 Shutterstock
First things first: We know that this is your kitchen, but making highly personal, eccentric upgrades — like a kitten-themed backsplash — isn't a wise choice, according to Real Simple. Instead, think neutral, timeless, and versatile.
Next, although cabinets are a big focal point of any kitchen, it's not necessary to replace them if they're in decent shape. Often, cabinets can be repainted or refinished (if they're solid wood) or the doors and/or hardware can simply be replaced for a totally new look. For cabinet hardware that's trendy yet durable, try brass pulls or knobs, which can lend a more luxe look, notes HGTV.
Unless you live in a traditional or historic home that's rich with architectural details, adding ornamentation like pilasters and crown molding is an unnecessary expense. Simple woodwork is a classic crowd-pleaser, especially when painted a crisp, clean white.
Finally, keep in mind that you can't drastically improve the overall value of your home by going overboard with high-end kitchen upgrades. For example, installing an expensive Miele range isn't a wise choice if you live in a tiny cottage. "You'll never get your money back by installing fancy appliances in a smaller home," Leslie Sellers, vice president of the Appraisal Institute in Chicago, told Real Simple.