The Best Ways To Keep Your Stainless Steel Appliances Spot Free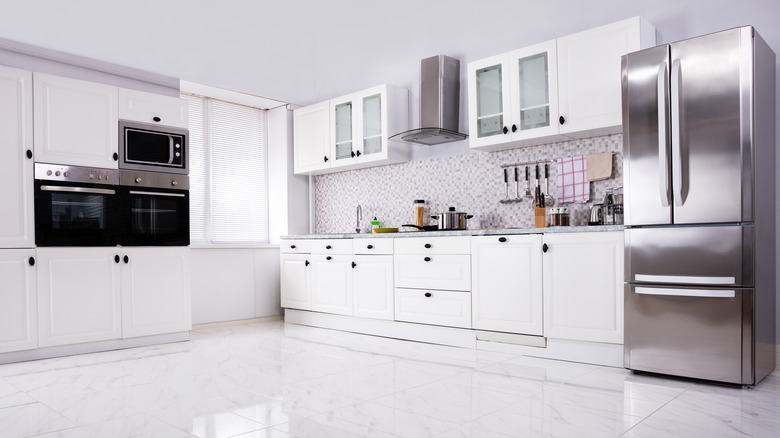 Shutterstock
When it comes to kitchen design, stainless steel reigns supreme in the appliances category, with more and more homeowners choosing the chic metallic finish these days.
The appeal of stainless steel continues to grow year after year, with it quickly becoming the standard in today's modern home. The global market for stainless steel was valued at $111.4 billion in 2019 and is expected to grow 6.3% from 2020 to 20207, according to a report from Grandview Public Research. "Rising demand for consumer goods is likely to drive market growth as stainless steel is resistant to corrosion, exhibits high toughness and ductility, and requires low maintenance," per the report. "The aforementioned properties of stainless steel have resulted in the increased utilization of the product in consumer products such as cookware, showpieces, and stoves, which in turn is anticipated to propel product demand over the coming years."
Despite its popularity, however, there's one major downside to stainless steel: The finish is a magnet for spots, from fingerprints and smudges to water spots and streaks. But it's easy to keep your stainless steel appliances spot-free if you know the best way to clean them. Here's how.
Four ways to keep stainless steel appliances sparkling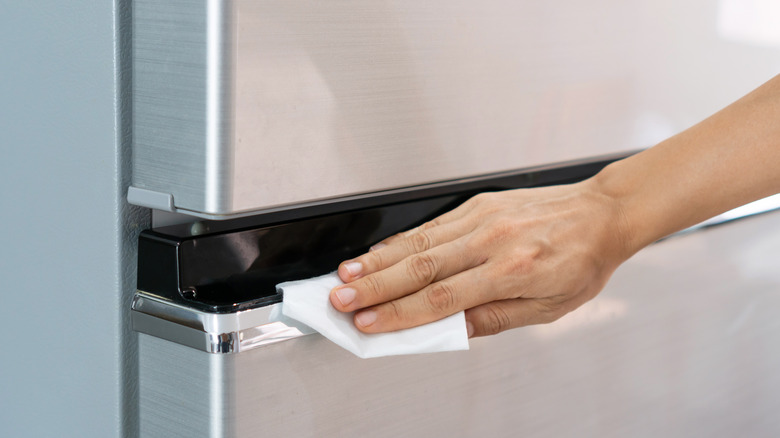 Shutterstock
Although stainless steel appliances aren't difficult to clean, keep in mind that you can damage them if you use the wrong products, such as steel wool, bleach, ammonia, and scouring powders, according to Good Housekeeping. These can all ruin the finish and should be avoided. Instead, the preferred method for removing spots from your appliances is a cleaner made specifically for stainless steel, such as Weiman Stainless Steel Cleaning Wipes.
However, if you prefer to use products you may already have around the house, there are other options, too. Dish soap can do the job just as well if you mix one teaspoon with one quart hot water and use a microfiber cloth to rub the spots with the solution. Go with the grain, and tackle small sections at a time. Then, rinse with hot water, and dry with a clean cloth.
Window cleaner can work, too, but ensure it's free of ammonia and vinegar. Simply spray the surface, and wipe it clean. Or you could remove spots from your stainless steel appliances with a light coating of mineral oil; make sure to buff it away to remove all the residue afterward.