This Viral Sweeping Hack Simplifies Everything
Shutterstock
We may receive a commission on purchases made from links.
Removing pet hair, dirt, dust, and debris from your floors is one home task most people can't stand taking care of, but alas, it's an important one. Sure, it's a great feeling when your floors are spotless and sparkling without a pet hair in sight, and all of that nasty debris is picked up — it's just getting to that point of perfection on a regular basis that is pretty difficult.
If you live at home with pets and kids, you may have to perform this task more often than you would like to — daily in some households. This is because pet hair and other debris can hide in pesky spots, including under rugs, in radiators (if you reside in an older home), and under couches. Thankfully, there's a viral floor-sweeping hack on TikTok that is sure to make your life a whole lot easier when it comes to this not-so-fun cleaning task. (We already can't get enough of this clever TikTok bathtub hack!) If you thought TikTok was only about cool food trends and dance challenges for your teen, think again. It's actually chock-full of excellent cleaning tips and tricks, too. 
Read on for this simple TikTok sweeping hack that is taking the internet by storm, because it will surely help you get every last piece of debris off of your floors so much easier. Once you master it, you can spend time on the more enjoyable moments of life.
This viral sweeping hack from TikTok will leave your floors spotless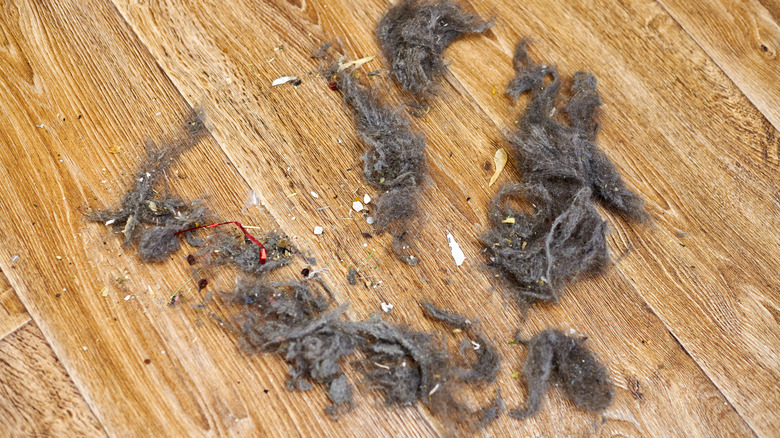 Shutterstock
When sweeping your floors, it's not uncommon to have pet hair, dirt, or grime left behind when using a broom and dustpan. You can forget about missing some of that hard-to-get debris with this spot-on solution, though.
TikTok user Michele Mendoza shared an incredible cleaning hack on the popular app, and you will be absolutely obsessed. Mendoza posted a video sweeping dirt and debris into a pile. The TikToker then sprayed the mound of debris with citrus-smelling Mrs. Meyer's Clean Day Multi-Surface Cleaner Spray that's great for removing dirt, in addition to being safe to use on wood floors and other surfaces. Next, Mendoza took a paper towel and scooped up the mess without a single hair left behind. The TikToker explained that she prefers this method, because a dust pan "always leaves that little line of dust" behind. 
Mendoza also noted in the video comments that water is a sufficient alternative. (Although we can appreciate this no-cost idea, be sure not to leave any H20 behind so that it doesn't harm your hardwood or laminate flooring.) There were even a few TikTok users who chimed in, saying their parents used Windex for this TikTok hack. However, with its harsh ammonia ingredient, we would advise against using Windex on your hardwood floors, and keep it for its original purpose of cleaning glass surfaces. Cheers to spotless, hair-free, and gleaming floors, because your cleaning just got easier.