The Real Reason The Cost Of Housing Building Materials Is So High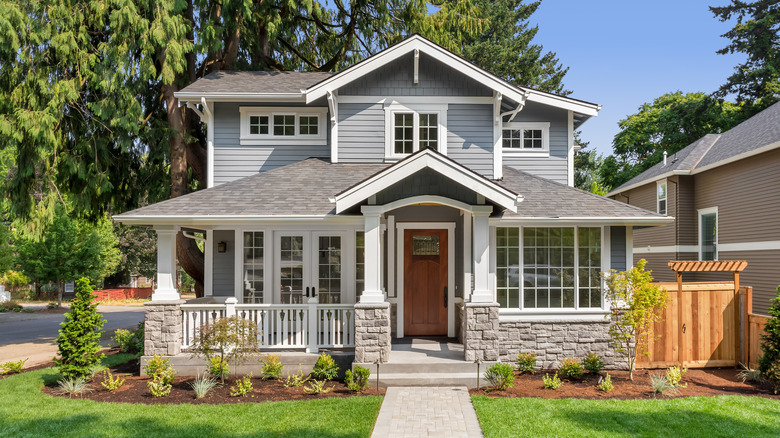 Shutterstock
If you're looking to build a home or are already in the process of doing so right now, you've probably already noticed that the price of building materials has been unusually high as of late. Lumber prices, in particular, have seen the largest spike. In fact, lumber prices rose over 30% during the first five months of 2021 alone, according to The Columbus Dispatch. Furthermore, an analysis by the National Association of Home Builders (NAHB) found that a new, single-family home currently costs $35,872 more than it did a year ago. That is a massive increase.
The consequence of higher lumber prices means that buyers are having to spend more money when buying or building a home. Fortunately, until now, there is still far more demand than supply, meaning buyers are willing to pay the increased costs. However, John Lovallo, lead home builders analyst at Bank of America stated, "This can only last for so long before affordability becomes pinched and demand pauses" (via CNN). Disturbingly, the shortage of lumber and the increase in prices have also led to widespread theft of raw materials directly from construction sites.
Lumber isn't the only building material that has seen a price increase — roofing materials, plastics, hardware, and even housing fixtures have jumped significantly in cost. But where are these price increases coming from, and is there even an end in sight? Keep reading to find out what has happened to make this so.
Sawmills shut down in anticipation of a slowdown in housing construction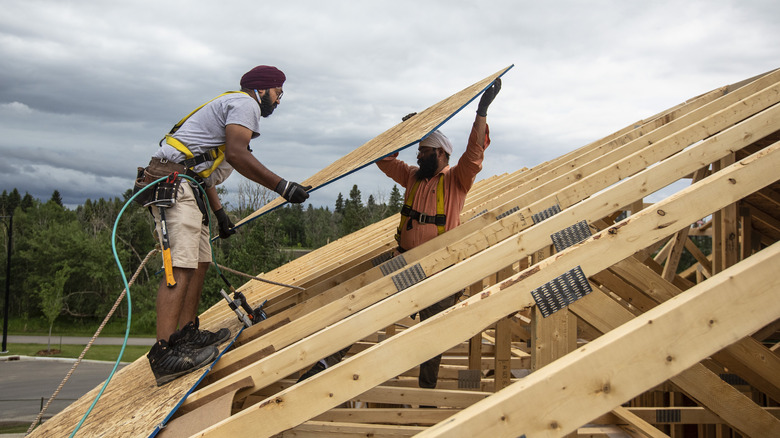 Bloomberg/Getty Images
The reason we're seeing a surge in the cost of lumber can be traced back to the global coronavirus pandemic (via CNN). When the U.S. economy tumbled in the spring of 2020, sawmills paused lumber production in anticipation of a slowdown in housing construction, which never came. The industry based their predictions on the housing boom that occurred early in the 21st century — which started to decline in 2006, and the housing bubble popped at the end of 2007 — forcing many sawmills to close their doors.
Lawrence Yun, chief economist of the National Association of Realtors, explained the sawmill industry's reaction once the pandemic took hold (via CNN). "There was a great fear among sawmills to prepare for a downturn," Yun said. "When home buying surged, they could not open up capacity quickly enough." The sawmill industry did not prepare for the increase in home renovations and expansions that we are seeing today, which have risen in part due to people being shut in their homes for months on end and also because of a drop in mortgage prices (via Forbes). In fact, in the beginning of the pandemic, 30-year fixed-rate mortgage rates fell to less than 3%. 
Despite the current increase in lumber prices, industry experts expect to see prices fall again, as sawmills are able to catch up to the demand (via CNN). KB Home CEO Jeffrey Mezger affirmed, "The mills are coming back online."
Lumber isn't the only problem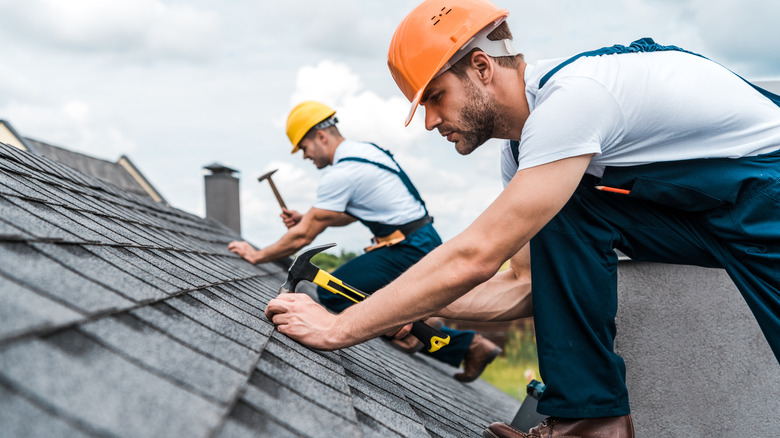 Shutterstock
The demand for housing materials in general has grown, meaning prices for wood aren't the only costs that have increased. According to ABC, the overall jump in home improvement projects coupled with erratic weather patterns in the southern U.S. has caused roofing material prices to surge. Roofing businesses have either had to close temporarily or permanently due to a combination of power loss from storms and workers getting laid off because of the coronavirus pandemic. The roofing industry in Texas, for example, has seen a 30% percent increase in the cost of supplies after dangerous storms and record-breaking snow have spiked the demand for roof repairs (via ABC). The increase, of course, gets passed down to consumers.
Prices for plastics used in building supplies like insulation and piping — in addition to flooring, granite, and brick — have also increased (via The Wall Street Journal). The increases for piping and insulation can be a result of erratic weather endured in the southern part of the country where oil plants have been impacted (via The Irish Times). Suppliers of these materials have progressively increased prices to 20% in recent months. Total Petrochemicals & Refining in Texas, which provides the raw material for construction plastics, had to halt manufacturing due to cold weather disruptions earlier this year. The pandemic caused a price jump for many additional materials, including scrap iron and steel, wood windows, plumping fixtures, hardware, and paint (via Bob Vila).