David Harbour's Loft Isn't What You'd Expect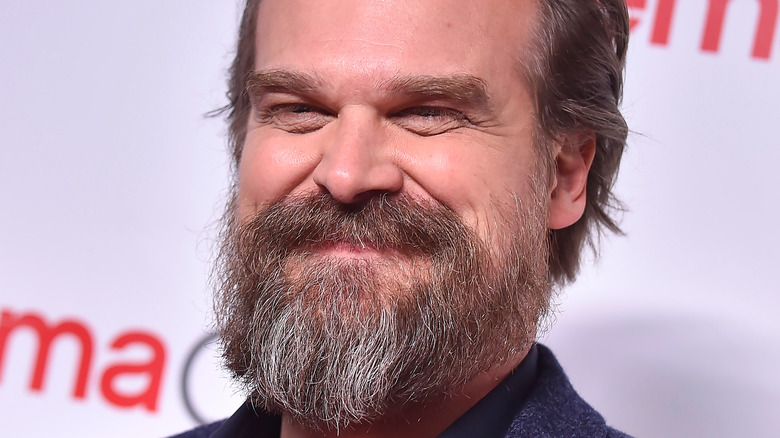 Shutterstock
There are many celebrities who call surprisingly random places home, as well as famous figures who live in homes with ridiculous features that you'll never see in a regular ole' house. As for David Harbour, his residence may not exactly be what you'd expect — but that doesn't mean you won't love it!
While Harbour's character on "Stranger Things," Jim Hopper, lives in a cabin that's located in the middle of the woods, the actor himself was looking for something different when he wanted to buy his own first home. He told Architectural Digest in November 2019 that he was determined to find a loft-like space in Manhattan that gave off a very New York-ish vibe. The problem? He explained that the "prices were sort of outrageous."
Although it took the star three years to find a suitable (and affordable) option, that didn't mean his work was done when he finally found a place to purchase. The loft "didn't look like much," Harbour admitted to Architectural Digest, and that seems to be putting it mildly. Frankly, the "floors were uneven, there was crappy drywall. There were two bathrooms placed right next to each other that served no purpose other than to make it a two-bathroom. It was just a crazy space that clearly hadn't been touched since the '70s." Fortunately for Harbour, he would be away filming for about a year, so he wouldn't be in the way of the major renovation that would turn his loft into something truly unexpected!
David Harbour transformed his loft into an enviable abode
When David Harbour was ready to give his loft in New York City's Nolita neighborhood a complete makeover, he brought in assistance for the project by hiring Kyle O'Donnell of Gramercy Design, according to Architectural Digest. "He was very enthusiastic and very meticulous," Harbour said. As for the design pro, O'Donnell noted that they wanted to "draw inspiration from the neighborhood vernacular to add back anything that may have once been there in the past. And to recreate the charm of a vintage NYC loft space, but update it with modern conveniences to suit David's lifestyle."
To do that, they completely renovated the 1,400-square-foot space starting from the ground up. That resulted in a ceiling of vintage tin, white walls, strategically placed bookshelves, five additional closets, and two separate bathrooms being merged into one, per People. In a home tour Harbour gave Architectural Digest, many personal touches were visible, such as a framed comic book, what appear to be vintage Polaroid cameras, and a lot of plants — not to mention a lot of books. We also can't help but swoon over Harbour's movable library ladder, blue bathroom tiles, and copper fixtures that are perhaps a nod to the loft's past as a factory.
As for Harbour, he certainly seems pleased with how the renovation turned out. He told Architectural Digest, "It was really nice to see this thing that you envision in your head and have it be done just right."