Rectified Tile: What You Need To Know Before You Buy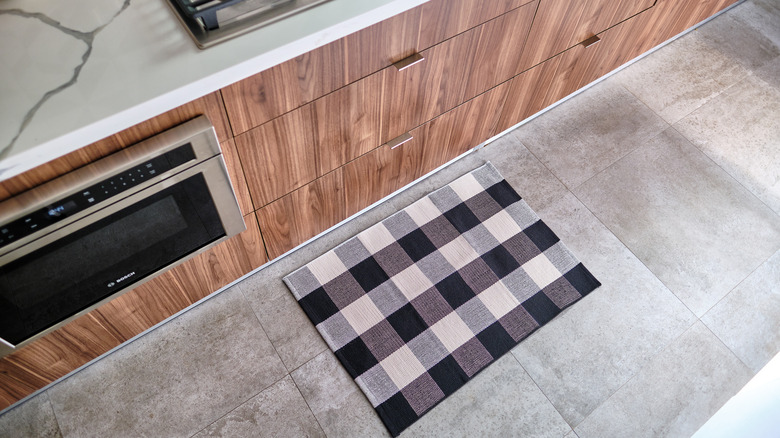 Shutterstock
There are many different types of tile that you can use to finish the flooring in your home. When it comes to choosing the right tile for your space, you'll also want to consider whether to go for rectified or non-rectified tile. In short, rectified tile is a ceramic or porcelain tile that has been finished so that all sides are exactly the same size (via The Spruce). Since this refers to the edges of the tiles, it is also referred to as an edge treatment. Rectified tile also has minimal grout lines, which look trim and neat when laid and collect less debris and dirt. Non-rectified tile doesn't have precise, even edges, giving it more of a natural and traditional look (via Bristol Tile). You'll notice that with non-rectified tile, the grout is wider and easily visible. 
Neither type of tile is necessarily better than the other — it all comes down to preference. If your space is more modern, you might prefer the seamless, chic look of rectified tile while non-rectified tile gives you the option to decorate the grout in between the tiles. If you've decided to go for rectified tile in your space, there are a few things you'll want to keep in mind before you head to the store. Keep scrolling to find out what they are.
Rectified tile is more expensive but its modern, timeless look outweighs the cost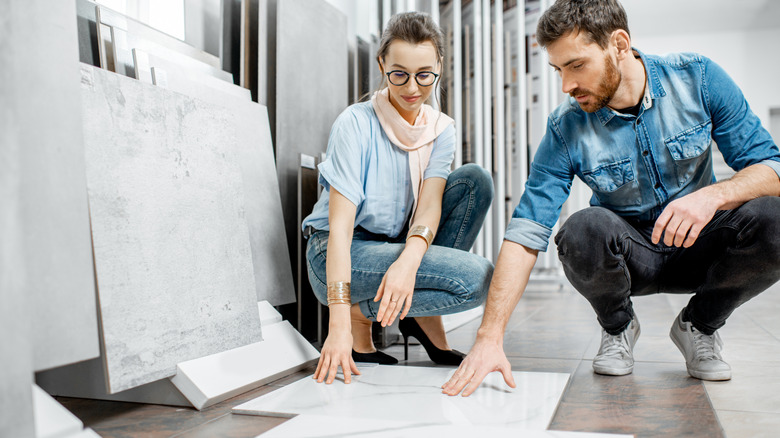 Shutterstock
Rectified tile was created to achieve a small grout (less than 3 mm) mostly in kitchens and bathrooms to give the floor a seamless appearance (per Nerang Tiles). You may be surprised to learn that just like with non-rectified tile, rectified tile comes in a wide variety of textures, formats, finishes, and sizes, giving you plenty of options to choose from. You'll also want to be aware that laying rectified tile is a slower process due to the precision of placing the tiles as close together as possible. However, you'll want to purchase the proper tools to avoid laying the tile directly up against one another as manufacturers recommend leaving at least a 1 mm gap to avoid chipping. One such tool is a leveling system, which ensures that you end up with a level finish without lippage (when one tile is higher or lower than the next).
You won't need to go to a special store to purchase rectified tiles as all major tile manufacturers and retailers carry them. If rectification isn't specified next to the tile, you'll be able to tell by looking at the edge finish. As a general rule, any natural stone and loose mosaic tile will be rectified. Finally, keep in mind that rectified tile tends to run on the pricier side (anywhere from $0.50 to $35 per square foot), so make sure you've budgeted for the extra cost (via Home Advisor).