This Is What Happens When You Put Bleach In Your Toilet Tank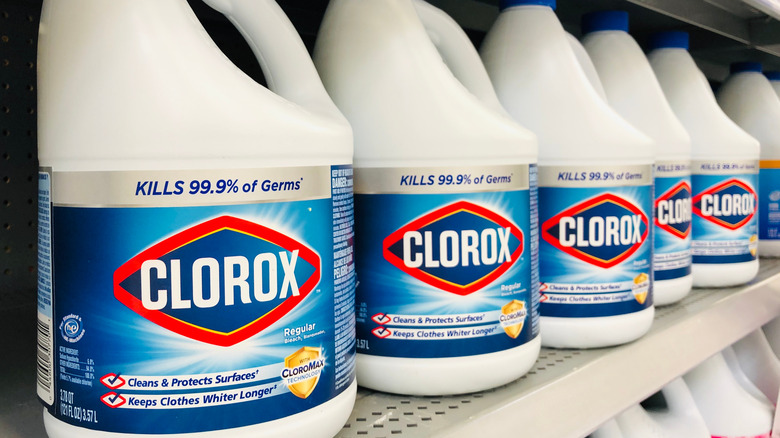 ZikG/Shutterstock
While cleaning your toilet bowl is probably the most essential part of cleaning the toilet, have you ever pondered what happens when you put bleach in your toilet tank? According to a Clorox report, bleach tends to be the end all be all when it comes to cleaning our bacteria-laden surfaces, which saw a 31% sales increase in 2020. This is true, especially in the bathroom. Per Better Homes & Gardens, bleach can be used to clean toilets, grout, and even rugs. It isn't news that the loo is a pretty grimy spot in the bathroom, and finding a sufficient way to clean it is of the utmost importance.
We already know the harm that those blue tablets can do to a toilet, what Fabuloso and vinegar can do in your toilet bowl, and how fabric softener can affect a toilet tank, so let's find out what happens when bleach enters a toilet tank, shall we? You just might gain some insight on the best way to clean this area of your toilet.
Here's what goes down when you use bleach to clean your toilet tank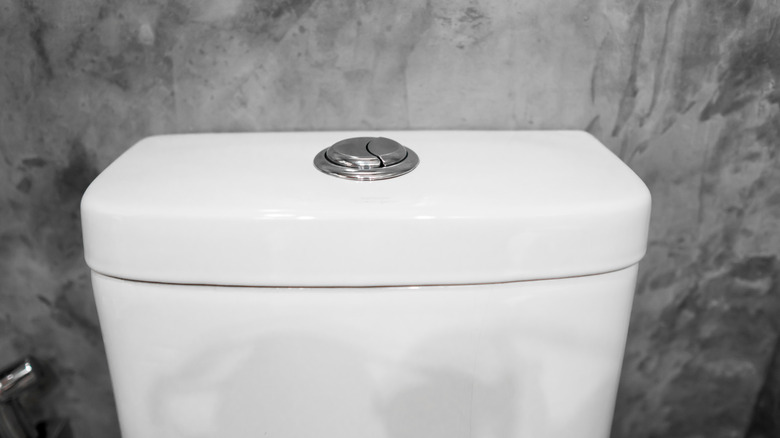 Volodymyr_Shtun/Shutterstock
While you can use bleach to completely sanitize your toilet bowl as part of a mixture, it is not recommended for your toilet tank as it can ruin the inside of the tank. "The biggest don't when it comes to toilet tanks is bleach — do not use bleach or products containing bleach inside the tank, as it can corrode the internal parts of your toilet," says Patty Stoffelen, a bath fixtures merchant for The Home Depot to Martha Stewart. "If you are aiming to remove tough stains from the tank, I also recommend white vinegar diluted with water."
So now you may be wondering how to clean the tank? Bob Vila suggests cleaning it two times a year — at minimum. The outlet suggests shutting off the water, emptying the tank completely. Then they advise on checking out if a good healthy scrub is needed or if it's something more serious, such as stains from mineral deposits. While they suggest using a disinfectant, they advise against using bleach as well.