This TikTok-Approved Hack Will Make Arranging Flowers So Much Easier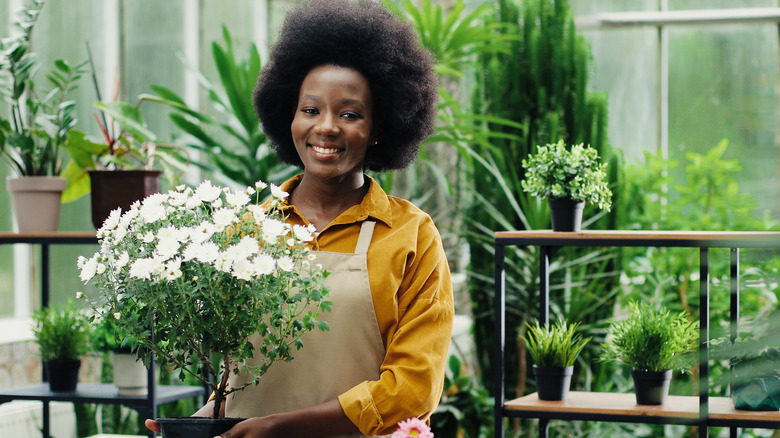 M_Agency/Shutterstock
Whether you pick up weekly flowers for yourself (a total indulgence for sure!) or a special someone surprises you with a beautiful bouquet, having fresh flowers in your home is a form of happiness in our book. As it turns out, having flowers in your home is also a form of self-care. "There is a growing body of research that illustrates how environmental design positively impacts health," explains Dr. Erin Largo-Wight, an associate professor at the University of North Florida's Department of Public Health, to Best Life. "Now it is both intuitive and scientifically known that adding elements of nature, like flowers, to interiors promotes well-being." The outlet adds that flowers can help diminish stress, improve moods, and increase compassion, and we are here for it.
Okay, so we know what you must be thinking: Fresh flowers are expensive. Right? Well, they don't have to be. Apartment Therapy gives a slew of tips on how to have fresh flowers throughout your home for under $10. Now that you know the impact of having fresh flowers in your home, you can create a swoon-worthy arrangement that can rival a floral designer with this well-loved TikTok hack.
How to style your floral arrangement like a floral designer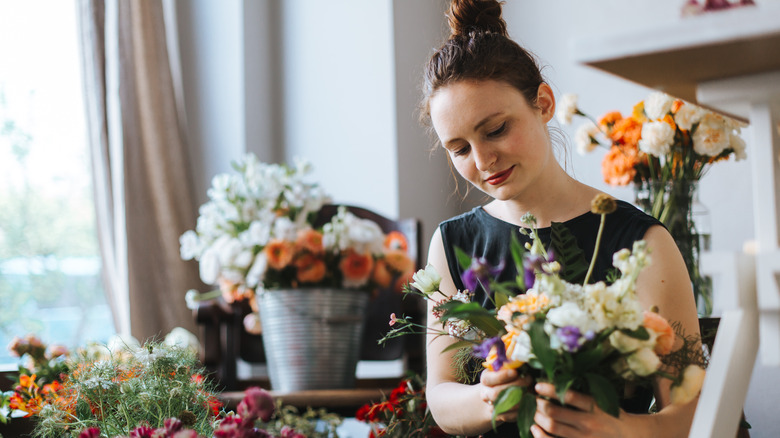 kay fochtmann/Shutterstock
You must try this TikTok hack that makes the job of floral arranging so much easier! First, follow @carolina.mccauley on the popular app (just like her millions of followers). According to Pure Wow, who also loved this method, you want to gather your items, including a vase, scissors, flowers, and most importantly ... tape, which can be Scotch tape or floral tape. Next, the outlet advises you to fill up your vase with around 3/4 of the container of water and make sure you thoroughly dry the top of the vase. Now you will take your tape and create a grid. This resembles the Tic Tac Toe game, only with an extra horizontal and vertical line. Then, take your scissors and cut the bottom of the flower's stems at an angle. Finally, you can fill each square hole with a flower or two.
If you would like an impressive visual of this floral arrangement style, Amy Balsters, floral designer and educator of The Floral Coach, provides a step-by-step tutorial of this method on her YouTube channel — and we loved recreating it in our own homes.