The Benefits To Buying A New Construction Home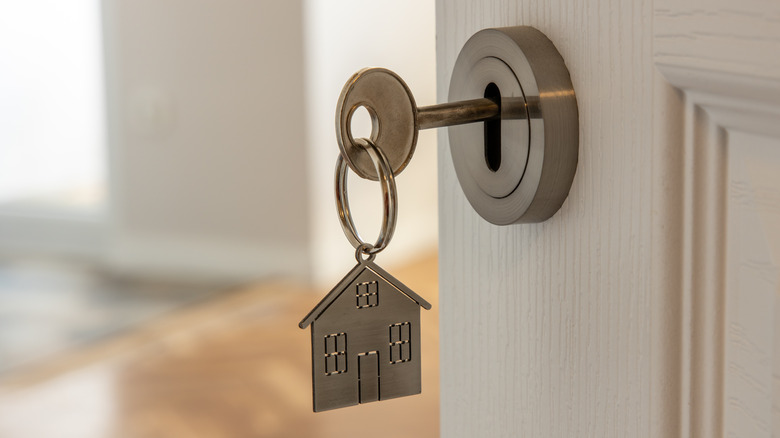 Michael Dechev/Shutterstock
Buying a home is one of the biggest decisions you'll ever make, and feeling as though you made the right choice is crucial. And although your heart may be set on a classic New York brownstone or the Cape Cod style house of your dreams, the fact remains that as time marches on, new construction properties are not only more common but can be way more desirable. Consumers seem to be cottoning on to the ease and simplicity that a new construction home can offer, too, with a survey from Trulia showing that 41% of people would prefer to live in a newly-built house.
But why, when new construction homes are much more expensive than older homes on a per-square-foot basis (according to Robert Dietz, the National Association of Homebuilders' chief economist, via CBNC), is this the case? Surely cost wins out every time, right? Well, before you're swayed by the lure of a cheaper, older home, give this article a look, because we've got all of the reasons why the advantages of buying a new construction home may far outweigh the negatives.
Newer homes are often more energy-efficient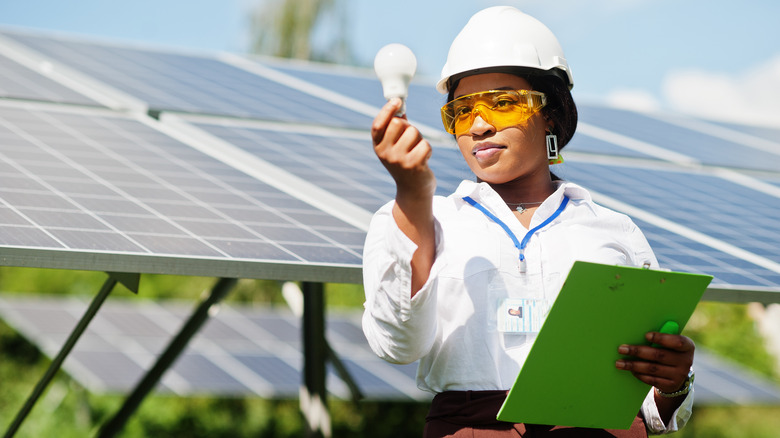 AS photostudio/Shutterstock
Older houses were built for a different time — and when it comes to energy, it shows. Not only do older houses frequently incorporate the use of less efficient appliances and energy systems that could be more eco-friendly, but they're also often constructed of materials that may have deteriorated over time; this can create opportunities for things like heating escaping, spiking your bill. New construction homes, by contrast, are built with the most modern methods and materials for operating, heating, and insulating a house, and frequently incorporate sustainable materials and higher-spec construction, according to Impresa Modular. That keeps the house warm, your lights bright, and your bills lower.
The difference between the energy-efficiency of new construction homes compared to older ones is reflected in the average spend on electricity per square foot, as seen in the 2009 American Housing Survey and interpreted via NIH Homes. In older homes, homeowners spent 78 cents per square foot per year on average on their electricity, whereas in new construction homes the spend was a much more palatable 65 cents for the same area and period. Those cents could add up to huge savings if you opt for a new construction house.
With a new home, there's usually less maintenance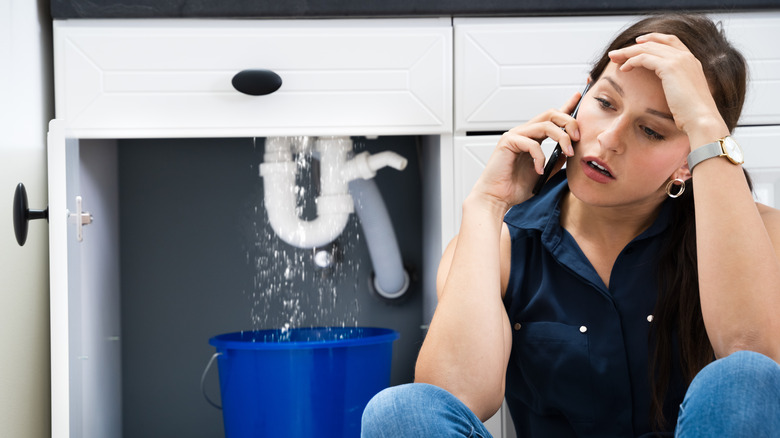 Andrey_Popov/Shutterstock
All things deteriorate with time (not to be too bleak about things, but ... y'know), and your house will too. And naturally, the more things that deteriorate in a home, the more you have to maintain it. This can end up in your gorgeous period property becoming a huge money sink, with costly contributions towards the upkeep of a property. According to Reuben Saltzman, president of Minneapolis-St. Paul, Minnesota-based home inspection company Structure Tech, older plumbing in period homes can be a particular issue, and a nightmare (and highly expensive) to get fixed. Additionally, time-specific features like chimneys, a frequent feature in older homes, can be unexpectedly problematic and susceptible to water damage.
With a new construction home, on the other hand, everything's, well, new – meaning that you're moving into a home that should require very little expenditure on upkeep and far fewer headaches. The amount of money you save over time on maintenance isn't insignificant, either. According to the 2009 American Housing Survey, 73% of new construction homeowners spent less than $25 a month on routine maintenance, whereas for all homeowners, fewer than 50% did the same. On the other end of the spectrum, 26% of all homeowners spent over $100 or over a month on maintaining their home, whereas only 11% of new construction homeowners did. The numbers don't lie, friends!
The newest technology is far easier to install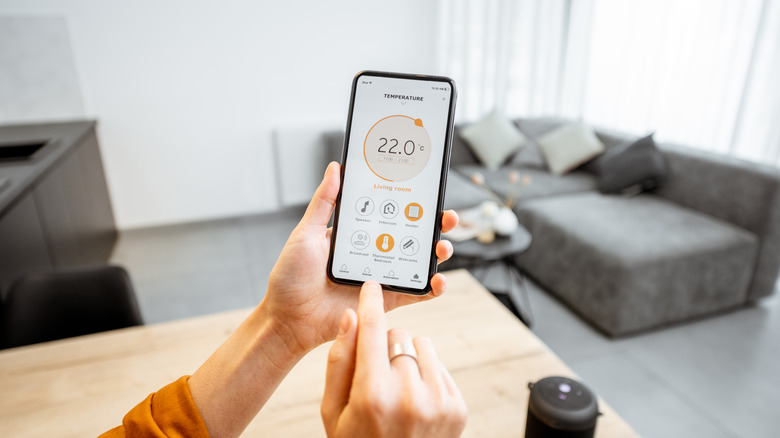 RossHelen/Shutterstock
Ever wanted an Alexa built into your wall, the latest snazzy security features, or a heating system that you can connect to your phone? They might not be for everyone, but there's no denying that homeowner tastes are changing, and the trend towards homes that can incorporate the newest technology is on the rise. In a survey from tech company Xiaomi (discussed via Cision), it was found that more than half of all people asked bought a smart home device during 2020, with Daniel Desjarlais, Global Product Marketing Manager at Xiaomi, proclaiming that "Connected homes, automated systems, and new technology are helping people create ecosystems within their homes to solve new challenges."
And, inevitably, these technological glories are far easier to integrate into a newer construction home than an older property, which may have been built when this tech was but a twinkle in a Silicon Valley entrepreneur's eye. This goes beyond just buying a voice-activated home assistant, too; it's possible to make a home environment where you can easily connect your heating, lighting, and security systems, as discussed via Love Property, creating a simplicity of function and a cohesive environment that you're just not able to do in older properties. If gadgets are your thing (and, well, an easy life), a new construction home could be for you.
You may well get a better resale price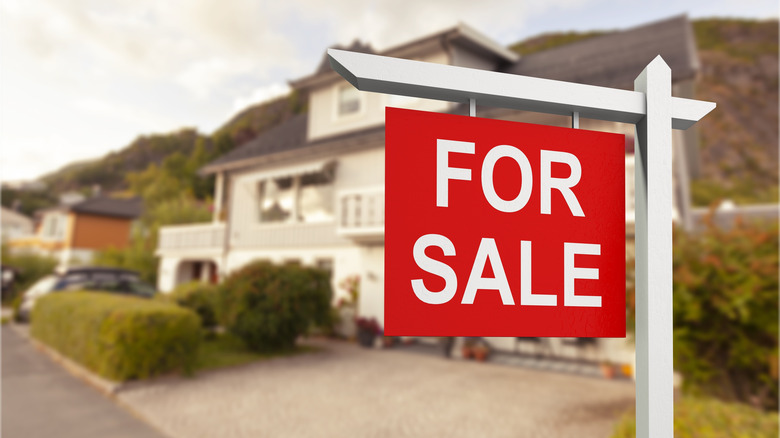 Billion Photos/Shutterstock
While buying an older property can sometimes give you a vintage charm that estate agents can cleverly upsell, everything has its limits; as houses age, higher upkeep costs and deteriorating conditions can mean you lose value on your home when selling. With a new construction home, however, you're buying something that will likely hold or increase in value, particularly if you plan on staying in the property for a few years or more to allow the market to catch up, as Home Light discusses. Buying a new construction home also puts you in a canny position to increase the value of your potentially off-plan house with DIY flourishes that add resale potential.
Most useful of all for the resale price of your home, however, is when you can time your purchase to maximize your cost-effectiveness — something that's harder to do if you're buying in an established area already. As Delaware-based real estate agent Emma Payne, who has almost 40 years of experience in the business, says to Home Light, "being the first into a new construction site is absolutely the best value, because they are going to add a lot of incentives to make up for the noise that might be around you." We'd say we trust someone with her level of experience!
New homes are far more customizable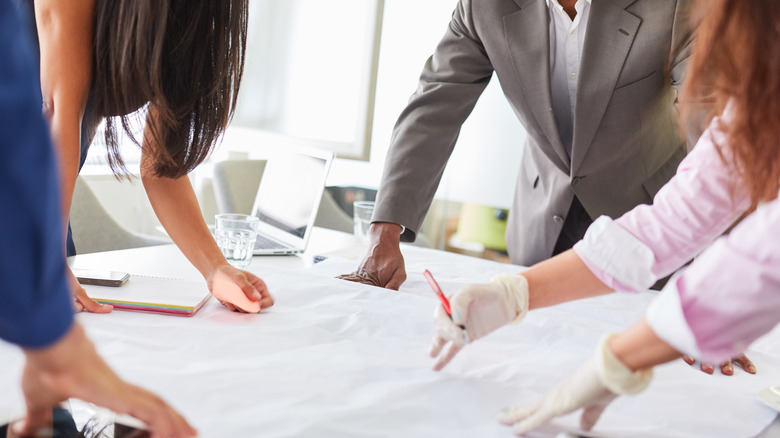 Robert Kneschke/Shutterstock
Buying an older property can come with a certain level of existing charm, but to have that, you often have to settle for the stamps that someone else has put on a property before you arrived. Screw that! With a new construction home, you get to decide exactly what you make of your new home, being the very first person in. Not only that, but buying a house before construction often gives you the autonomy to make customizations while it's being built, by negotiating to add in things like closet space or modern appliances, as Mortgage Calculator states, that not only make it your own but give you more bang for your buck.
When you're buying new construction, the possibilities for customization are pretty much endless, as Moving.com points out. Want an upstairs laundry room or underfloor heating? Or maybe you'd prefer to opt for a built-in sprinkler system in the backyard, or incorporation of home devices to make a smart home? Whatever the case, new homes are far easier to make your dreams come true without having to compromise for what's already there.
A builder's warranty could be your best friend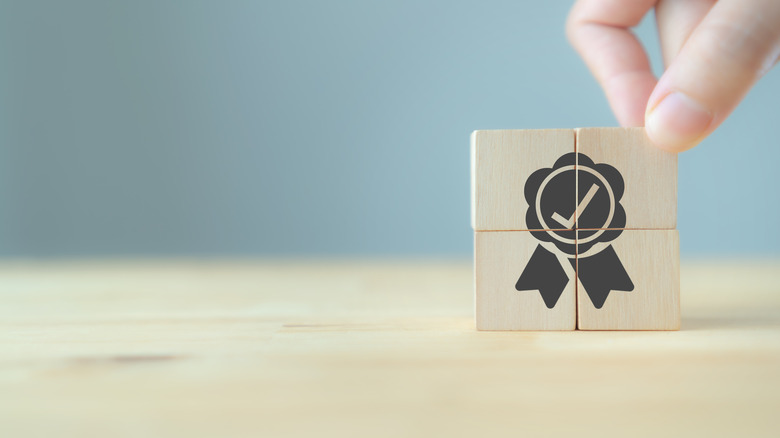 3rdtimeluckystudio/Shutterstock
When it comes to an older property, despite thorough checks, there's frequently something that can surprise you further down the line that needs fixing — and that can cost a lot of cash. With a new construction home, though, you have access to additional warranties and coverage that extends beyond a standard home warranty, as FTC Consumer Information explains. New construction homes come with a builder warranty that covers the permanent features of your home, with expiry on aspects starting after 12 months and extending to up to 10 years of coverage. As the FTC Consumer Information page states, the longer coverage is usually to cover anything that could be considered a "major structural defect."
Older homes are generally only covered by a home warranty which, while potentially useful, is something you have to pay extra for. What's more, the coverage of home warranties has its limits, which is something you have to keep an eye on. Take a leaky roof, for example. As Nick Gromicko, founder of the International Association of Certified Home Inspectors, states to U.S. News & World Report, your warranty could mean "you're only getting the repair of the leak, not a new roof." And it may not extend to damage caused by a leak, meaning that "by the time a layman finds a leak on the roof, water has usually come through the drywall and on to the baby grand piano, and so on."
There may be financing incentives available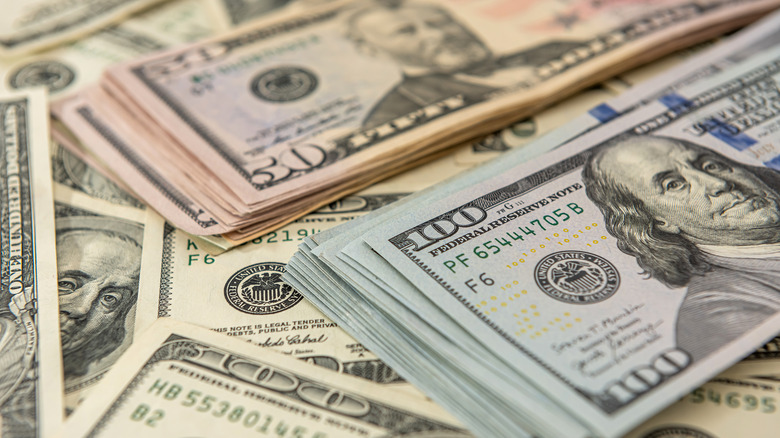 RomanR/Shutterstock
Let's face it, buying a house is not cheap. According to the Federal Reserve Bank of St. Louis, the average house sale price was more than $400,000 in the third quarter of 2021, and so any financial help people can get to purchase their property is very welcome. This is where new construction homes shine, as they can come with financial incentives to buy that older homes don't. For example, short-term, high-interest construction loans can help homeowners gain the necessary funds needed to build their property, per Bank Rate, providing a boost of cash to get your house off the ground (quite literally) that can also have benefits when it comes to closing costs.
Additionally, the home construction company you're working with might also have a few added financial bonuses up their sleeve, as Great Colorado Homes explains. Using a home construction company's in-house funding might mean they can help you out with closing costs. Remember though, it's important to consider all your options when it comes to funding your new build, as mortgage rates and your position in a buyer-or-seller market can change pretty fast.
You get to enjoy a modern floor plan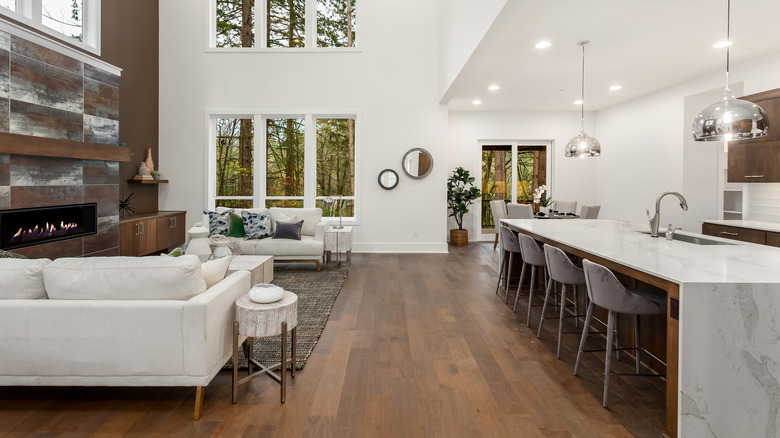 Breadmaker/Shutterstock
Have you been watching a lot of HGTV recently? We're definitely not. No way. No way do we sit down every day and routinely fall in love with the modern floor plans that the hosts create. Imagine!
Okay, we kid. But the fact remains that modern floor plans are very cool, and by buying a new construction home, you get to fully live your contemporary-home fantasy. As Steven D. Smith Homes point out, traditional floor plans, more common in older homes, can end up feeling less spacious and limit the capacity for natural light throughout a space, by dividing homes up into smaller rooms. Open, modern floor plans, on the other hand, combine multiple uses of space into one big room, creating space and a sense of luxury in a property.
Having said this, aesthetics and fashions change quickly, and traditional floor plans shouldn't be discounted. As New York-based designer Daun Curry says to Architectural Digest, "a surprising advantage of historic homes is that the spaces are clearly defined by separate rooms — allowing for a distinct demarcation between home and work life." However, the whole point of a new construction build is that you can have the control to choose the floor plan you want — so whether you prefer modern or trad, the world's your oyster.
You're the first one to live there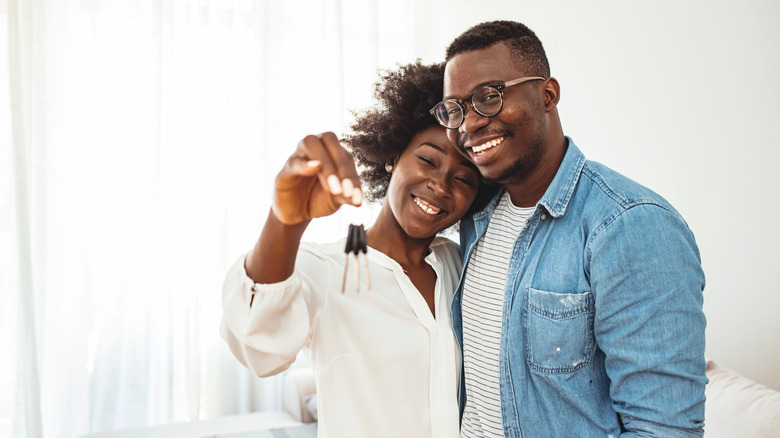 Dragana Gordic/Shutterstock
It's hard to discount the appeal of this one: When you're buying a new construction home, you're the very first person to make the property your own. You get to put your stamp on it, to be the first to make memories there — and crucially, you don't have to deal with anything that previous owners left behind.
These can vary from relatively benign stylistic choices (although we'd defy anybody to find a popcorn ceiling installed by a former owner benign) to more unpleasant, and potentially dangerous, things. Old cigarette smells in a property, for example, are not only pretty gross but can also reduce the value of a property by up to an incredible 30% when you come to resell it, as a survey of real estate agents, discussed via Third Hand Smoke, states. What's more, as thirdhand smoke is fundamentally a toxic chemical residue that works its way into fabric and surfaces in your home, buying a property with smoke smells can result in some people experiencing harmful physical symptoms like headaches, earaches, and shortness of breath.
Timing is on your side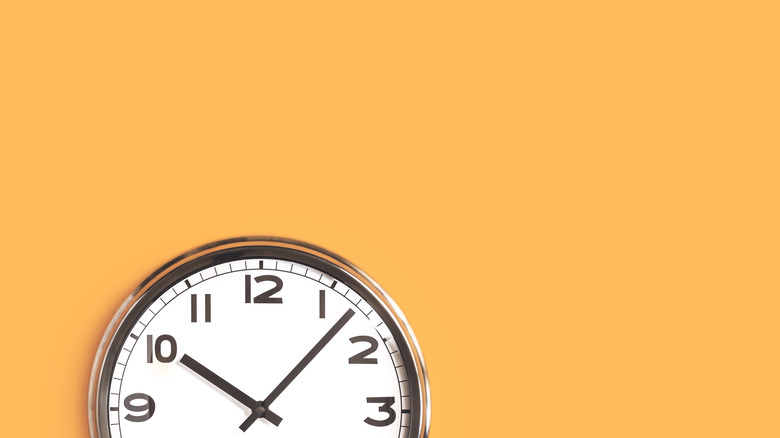 taniascamera/Shutterstock
It's easy to see the timing side of a new construction home as a negative thing. After all, having to wait for ages for your house to be built doesn't sound like the best thing in the world, right?
Well, when you consider the fact that the housing market has become more competitive and faster than ever before, it helps to see things differently. According to Zillow, in April 2021 47% of homes in the U.S. were sold within a week, meaning that you have to act pretty fast in a lot of cases to secure a house. Buying a new construction home, on the other hand, gives you a huge amount of time, and means that you don't have to compete with everyone else out there to get your home. New construction homes generally take about five months to complete if they're single-family properties, or a little longer when they're condos (per Zillow). That means that once you've bought your property, you've got bags of time to sit back, relax, and plan your dream property.
New construction homes often have better moisture control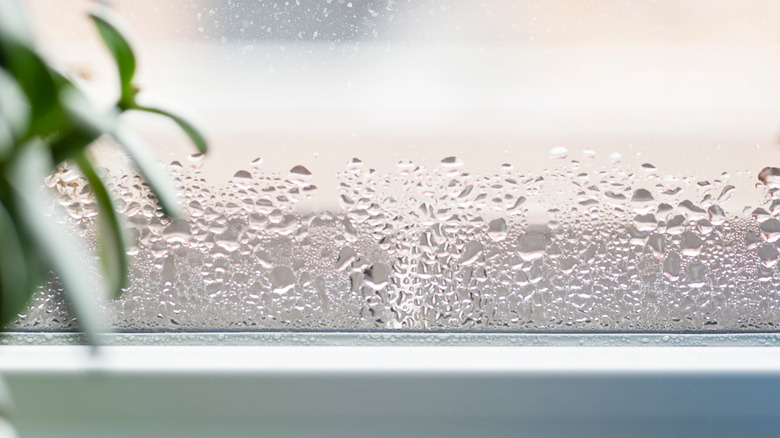 matuska/Shutterstock
Do you know that trademark musty smell that pervades old homes? Well that, friends, can often be a sign that dampness or moisture has gotten out of control — and it's something that new construction homes don't have to deal with nearly as much. As Barratt Homes states, newer homes are built with the latest up-to-date technology when it comes to insulation, ventilation, and moisture control, and frequently use breathable materials that help keep dampness and mold at bay. Older homes may well not have been built with these things in mind as much, or else materials have deteriorated to a point where damp can take hold much more forcefully.
Dampness and mold in properties go way beyond things just smelling a little funky, too. According to the CDC, mold can affect some people pretty significantly, leading to congestion and wheezing in some individuals, and more intense and dangerous reactions in others. If you find yourself with damp or mold in a property, making sure you check your pipes and sealants for leaks, any signs of condensation, and increasing ventilation through your property can be useful, states Real Homes.
Your insurance may be cheaper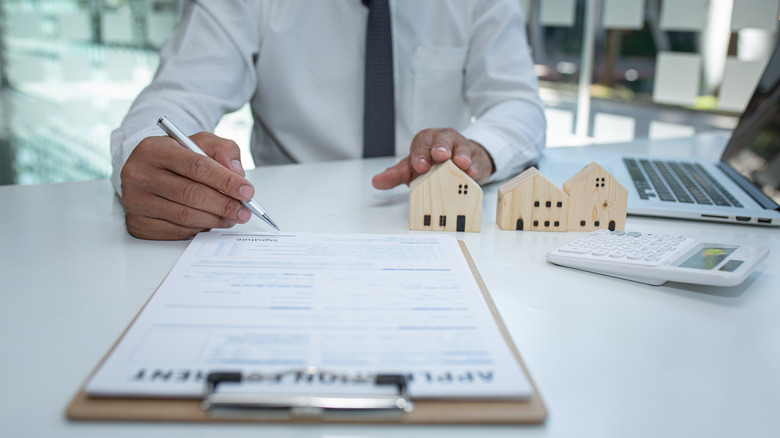 DavigGyung/Shutterstock
Homeowner's insurance is essential for protecting your property and the things and people inside — but it's no secret that it often doesn't come cheap. The average cost of home insurance in the U.S. in 2021 was $1,312 each year, according to Bank Rate, and this expense racks up as time rolls by.
So, if you want to consider a long-term serving on your insurance, buying a new construction property could be the way to do it. According to The Zebra, homeowners insurance for a newly built property is far, far cheaper than trying to insure an older home. Insurance premiums for new homes can often be hundreds of dollars cheaper than a home that's just 10 years old, and once a home is 50 years old or older, the difference between the average premium cost is pretty huge; the average insurance cost of a new construction home is $966 per year, compared to $1,700 yearly for a 50-year-old home. Insurance companies are also way more amenable to insuring new properties, thanks to lower risk, because everything's, well, new. Makes sense to us.
New construction homes are often easier to keep clean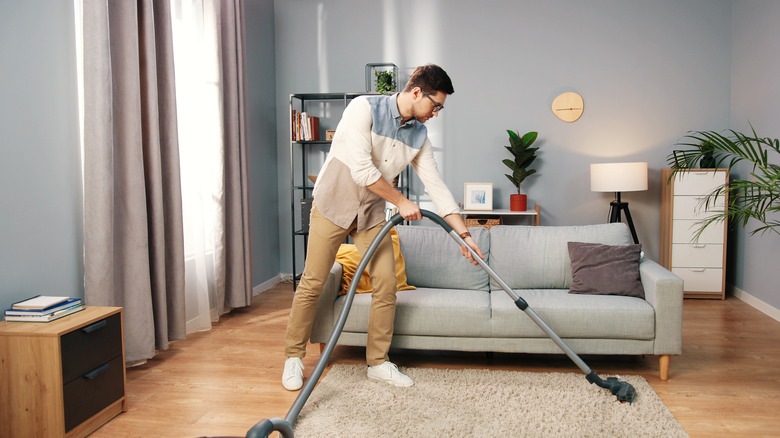 M_Agency/Shutterstock
It feels strange to claim that new homes are cleaner than old ones — surely a home is as clean as you make it, right? Well, yes, that's true, but there are several factors at stake when buying a new construction property that'll help it stay clean for longer, and make it easier to spruce up than an old property. As Great Colorado Homes state, new construction homes use newer materials and sealants that help homeowners maintain the cleanliness of their property with more ease. New homes are also built with new cleaning products in mind, making it easier to find the right things to clean your house.
There's also the built-in systems of a property to consider, and how dirt can be spread beyond surface-level grime. Bob Vila points out that HVAC systems are a huge culprit for dirt and dust, with clogged or old air filters leading to a build-up of dust that is then expelled through your home. In a new construction home, your HVAC system is as brand-spanking-new as everything else, making it easier to maintain from the beginning and stopping you from having to spend time and money cleaning the previous owner's mess.
What's the process of buying a new construction home?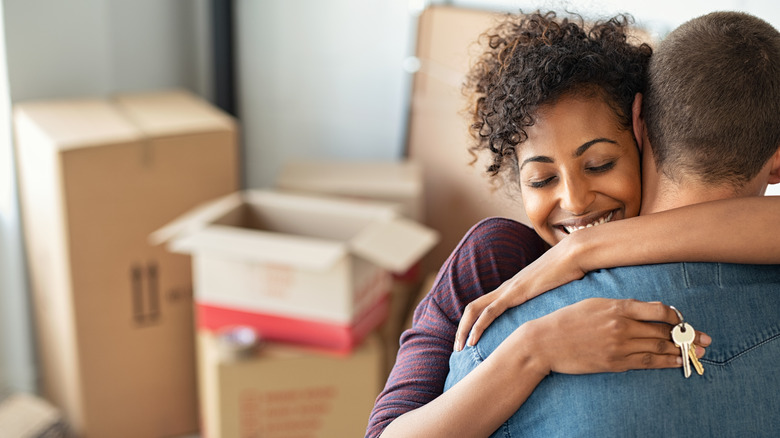 Rido/Shutterstock
So, you've decided that a new construction home is for you. What do you do now?
Your first step is to decide the type of new home you want, as Forbes states — you can either go fully custom, taking the reins of the design and creating everything from scratch, working to a semi-custom model and having some say in the design and construction. Or, you can buy from spec and take the stress of decisions out of your hands. Once that's done, you may need to gain pre-approval from a lender.
Employing the services of a real estate agent, as a middle person between yourself and the builder, can be a useful thing to do, particularly if you're buying a semi-custom or spec home. Establish your timeline, the area you'd like to live in, research builders, new home companies, and neighborhoods, and start striking some deals. Once you're settled on your options and are ready to sign an agreement, get ready to negotiate and consider all your options before you take the plunge. Finally, as your home is being built and on completion, you might find it useful to schedule inspections alongside the builder's own, to give you peace of mind.