30 Gorgeous Churches To Inspire Your Building Project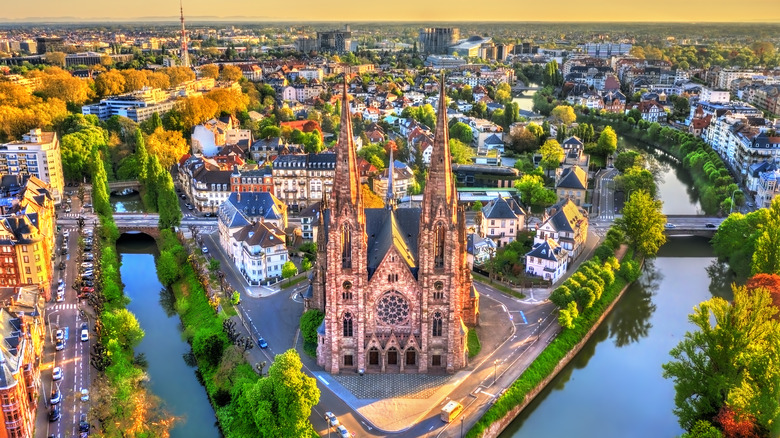 Leonid Andronov/Shutterstock
There are some stunning basilicas and churches around the world. If you're in the market for a new home and are looking for something original, consider purchasing a church that you can convert. Per Insider, churches can be transformed entirely and make spectacular homes. With gorgeous architecture, many churches-turned-homes feature open-air truss ceilings and stained glass windows, so it's no wonder why people want to live in these breathtakingly heavenly structures.
One magical part about calling a former church your home is the feeling you get in the space. Husband and wife duo Elana Frankel and Dan Tashman, who renovated a converted church to be their home, told Apartment Therapy, "We are stewards of the space. It feels like our home, and it feels like we live in it, but it doesn't feel like we own it..."
Keep scrolling to see how these 30 beautiful churches can inspire your next project, perhaps inspiring you to go out and buy a former church and make it your cozy home, relishing in all of those gorgeous details.
1. Stunning First United Methodist Church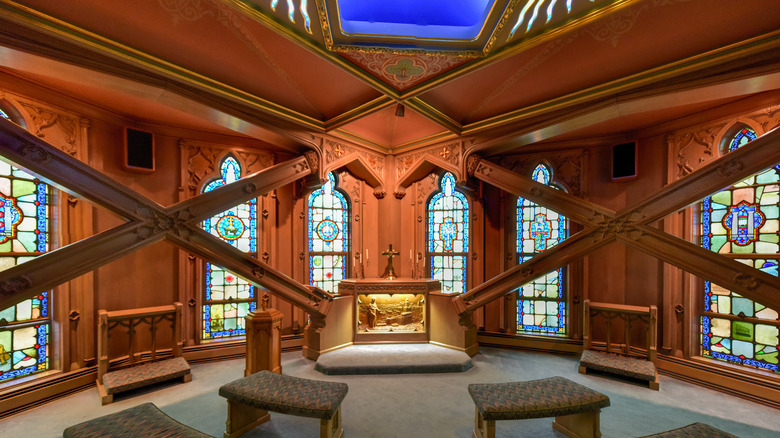 Felix Lipov/Shutterstock
The First United Methodist Church at the Chicago Temple can definitely be used for major decor inspiration for anyone looking to transform a church into their home. We love how cozy this room looks with the contrast of the wood walls and the stained glass windows that pop.
2. Breathtaking ceiling in chapel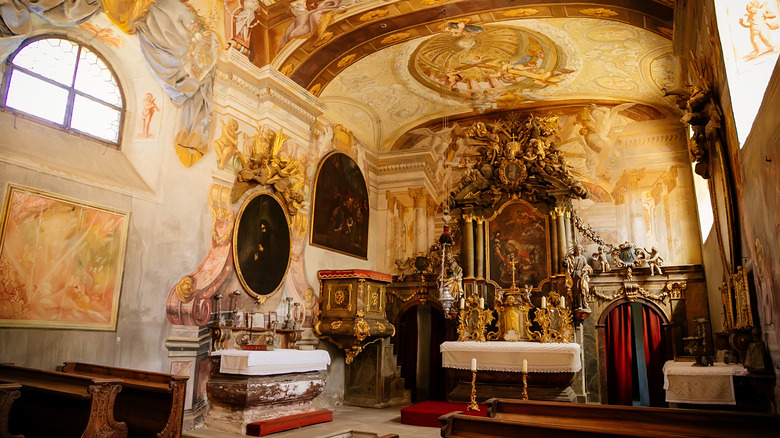 rudnitskaya_anna/Shutterstock
Imagine waking up to ceiling murals in your new church-turned-home just like the Chapel of the Conversion of St. Paul at Castle Pernstejn located in the Czech Republic.
3. Ornate Russian church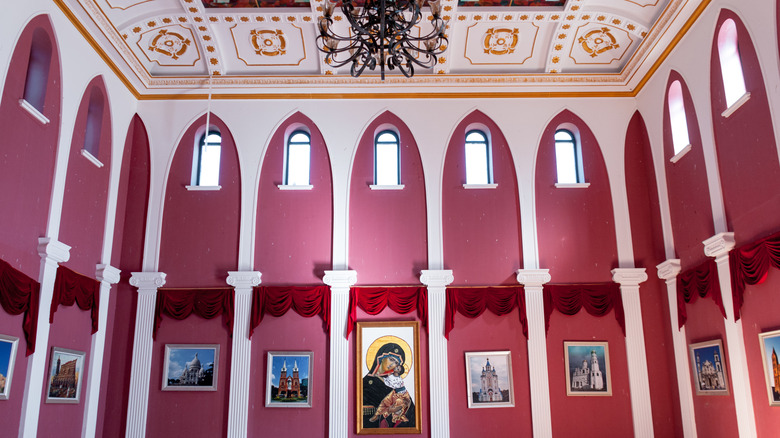 Beliakina Ekaterina/Shutterstock
The ornate arches and ceiling would make a beautiful inspiration for the interior of your new home. The burgundy shade of the walls of this Orthodox church in Heihe, Russia, is also a major inspiration.
4. Dining room church windows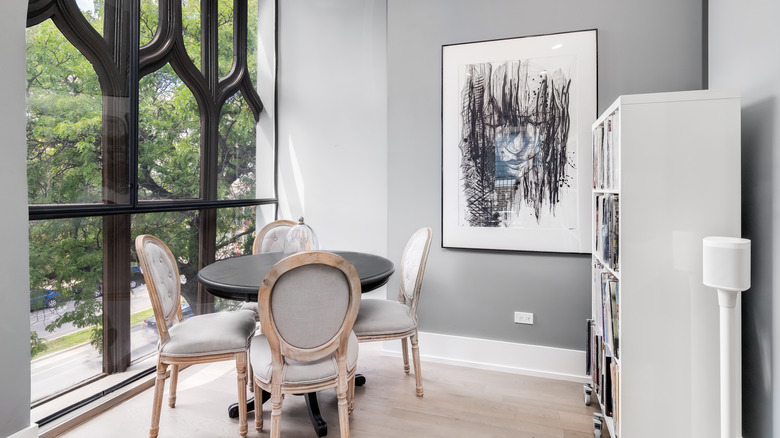 Hendrickson Photography/Shutterstock
If you are looking for dining room inspiration, these windows of a former church in Chicago feature beautiful detailing. We love how they painted it black to really make it stand out! This Airbnb in Brooklyn shows just how beautiful windows like this can be!
5. St. Basil's Cathedral's ornate walls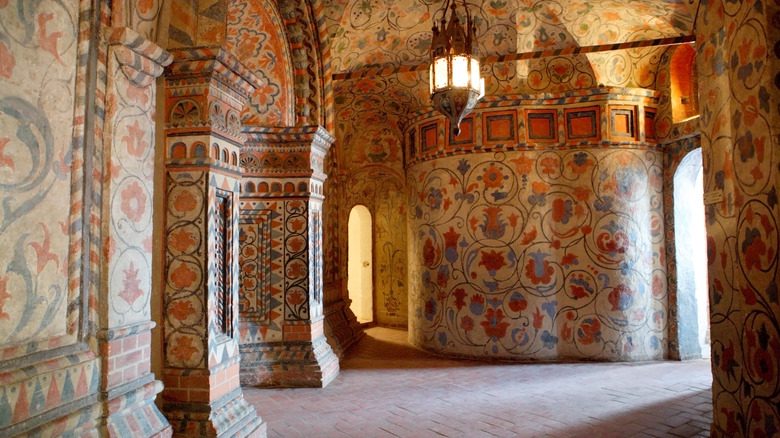 Olga Golovkina/Shutterstock
Moscow, Russia, is home to one of the world's most famous (and colorful) churches. While the colorful exterior is world-renowned, we can't help but gain inspiration from the interior – namely, the floral walls that would be beautiful in a living room.
6. St. Peter's Basilica in Italy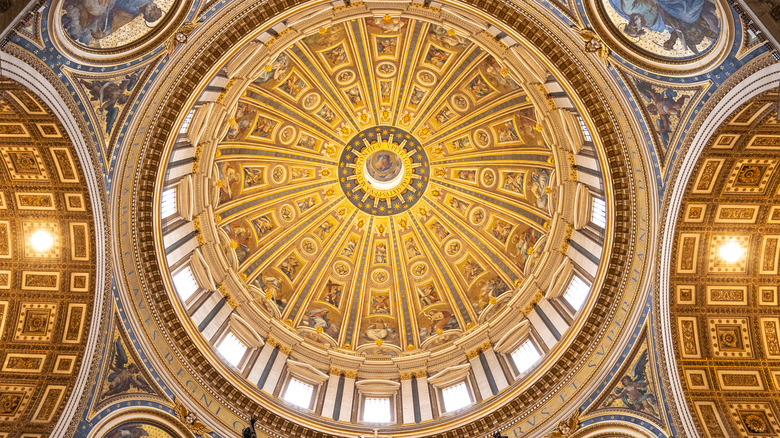 Hellotica/Shutterstock
St. Peter's Basilica in the Vatican, Italy, would be the perfect starting point for inspiration if you purchased a former basilica. We think the grandness of a room with a dome would be the ideal spot for a great room.
7. Inspiring church in Nova Scotia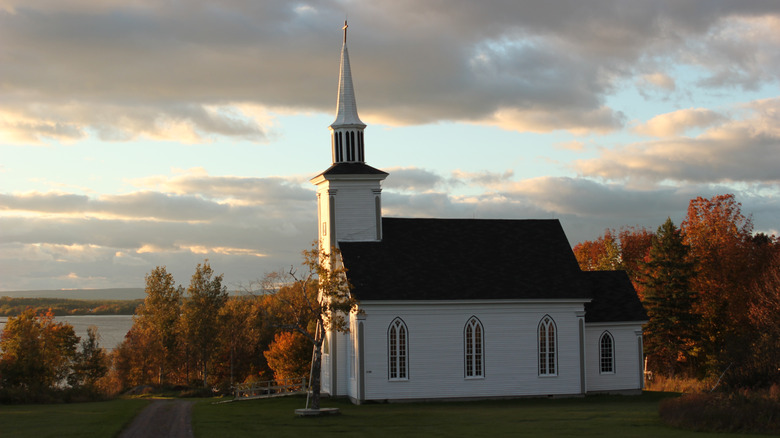 Brendan Riley/Shutterstock
Located just in Nova Scotia is a historic church that we would love to emulate. We love the white exterior paint with a black roof. This style of church would make for an inspiring project!
8. Cathedral Basilica of St. Augustine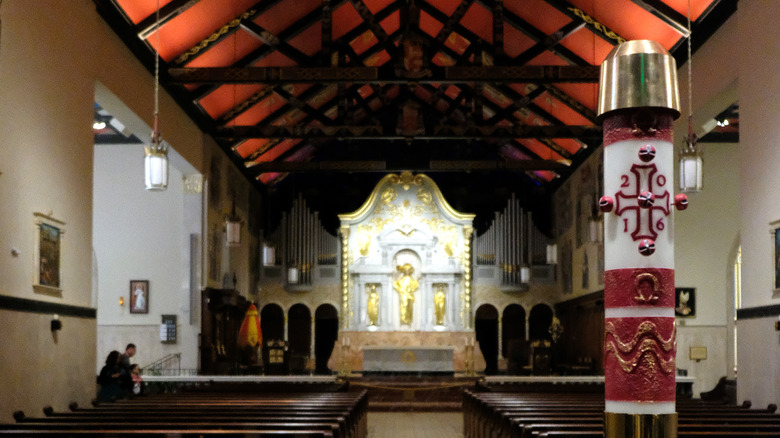 Heather Shimmin/Shutterstock
The exposed truss ceiling at the Cathedral Basilica of St. Augustine in Florida would constantly make us look up and is a feature that you can keep in your church-turned-home that would be a conversation starter. This Airbnb in the Logan Square neighborhood of Chicago does an excellent job of showcasing the wooden trusses.
9. Monastery ceiling detail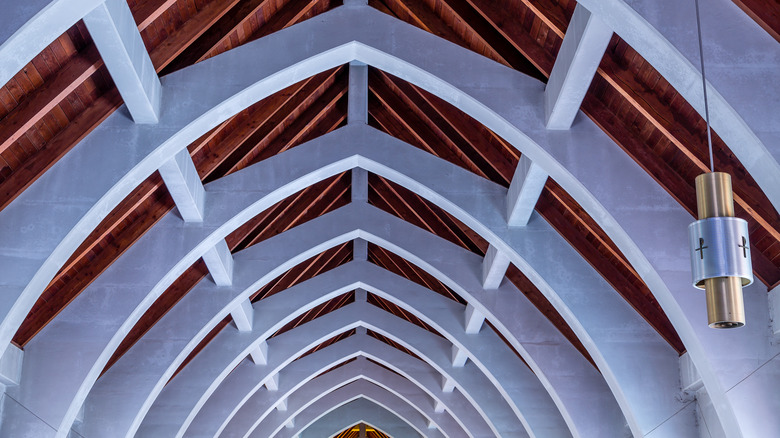 Darryl Brooks/Shutterstock
The old abbey at the Monastery of the Holy Spirit in Conyers, Georgia, just outside Atlanta, has a gorgeous ceiling that had us doing a double-take. Just imagine this as your living room! Its ceiling highlights white cement arched beams and natural wood, so all we want to do is look up.
10. Exquisite ceiling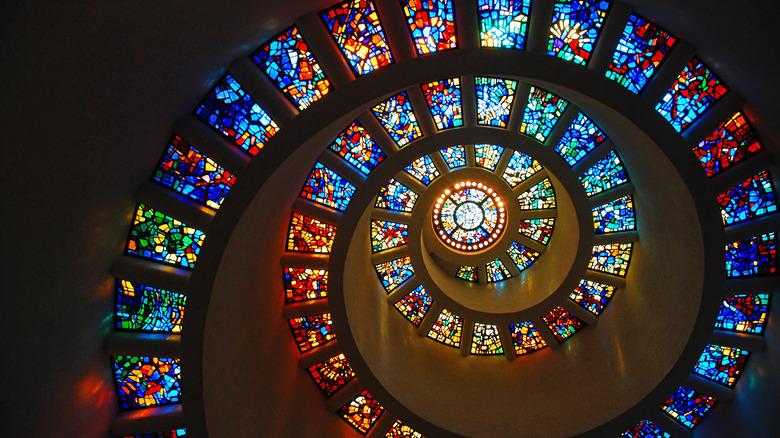 James Kirkikis/Shutterstock
Stained glass windows are one of the best elements of churches, and the colorful and light-infused windows found at the Thanks Giving Chapel in Dallas are giving us some major design inspiration.
11. Lutheran church in Namibia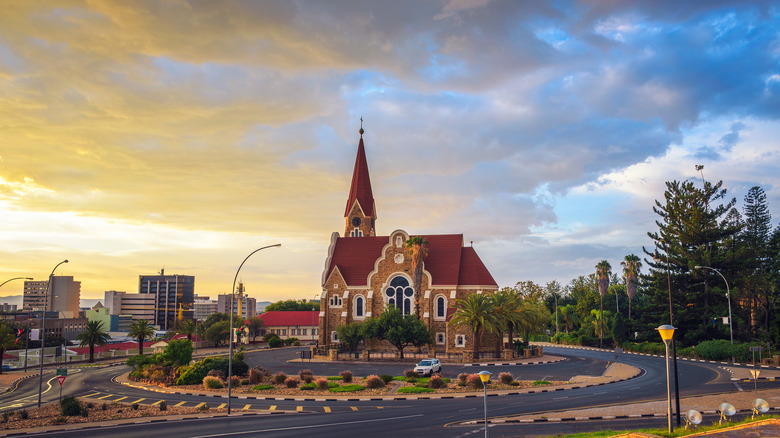 Nick Fox/Shutterstock
This Lutheran Christchurch is a landmark located in Namibia. Its style reminds us of this 4,500-square-foot Lutheran church conversion with expansive 22-foot ceilings on Airbnb in Minneapolis with an open floor plan that combines sitting areas and a kitchen.
12. Boekhandel Dominicanen in Polare Maastricht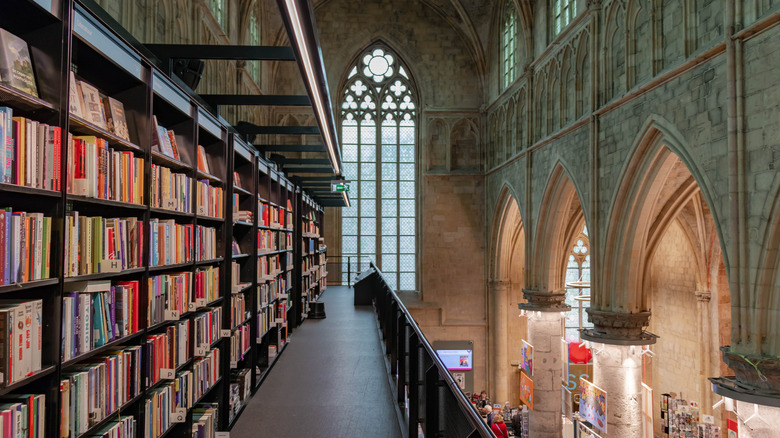 Wut_Moppie/Shutterstock
If you plan on having a library in your converted church, take inspiration from Boekhandel Dominicanen in Polare Maastricht, which was dubbed the "most beautiful bookstore in the world." We wouldn't mind reading there for hours!
13. Thorncrown Chapel in Arkansas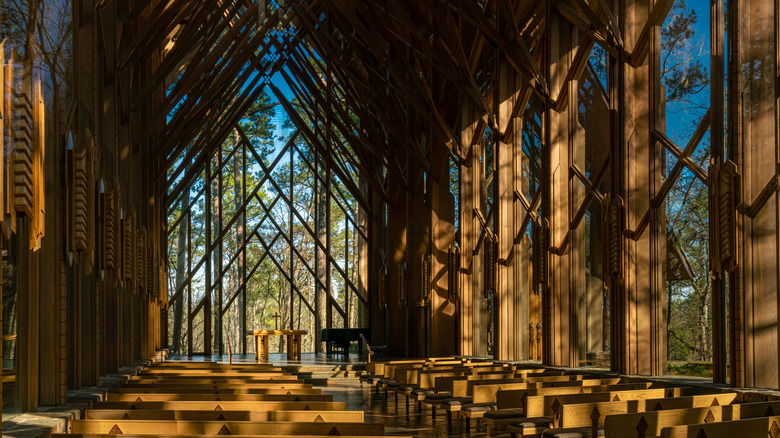 Donna R. Theimer AIFD/Shutterstock
Some structures have excellent bones, and we can imagine an open floor plan with all that natural light that could shine through your home if you transformed it like the stunning Thorncrown Chapel located in Eureka, Arkansas.
14. Stunning colors in San Salvador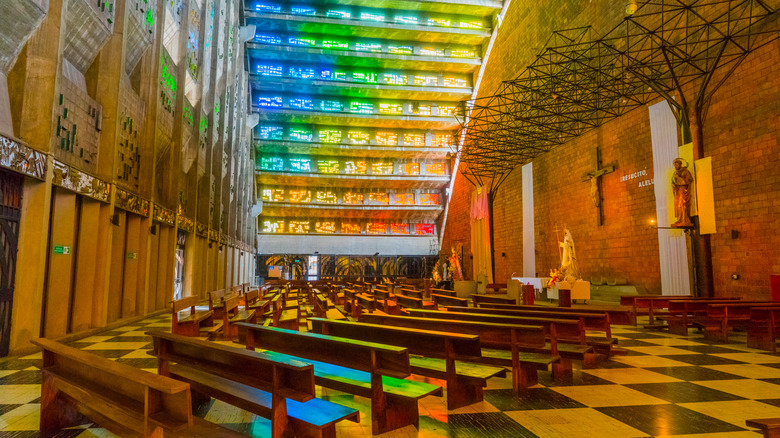 lingling7788/Shutterstock
Designed in 1971 by sculptor Ruben Martinez, Iglesia El Rosario in San Salvador has a kaleidoscope of colors filtering through and would make for an incredible inspiration for a lovely open-air great room full of rainbows.
15. Door inspiration from Hexham Abbey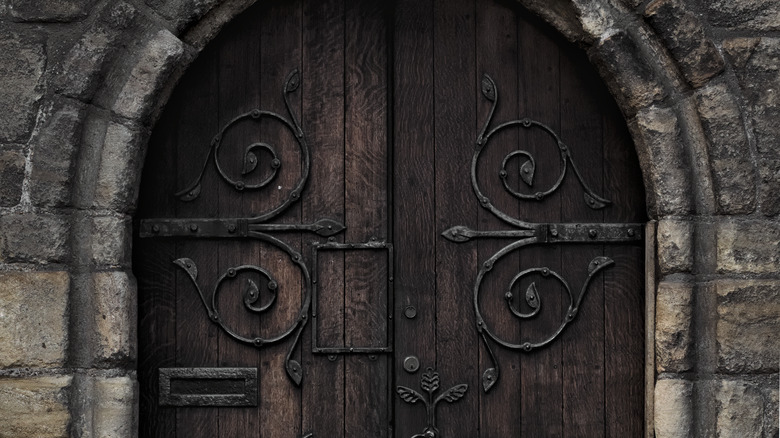 Ben Heathcote/Shutterstock
Church doors, like these of the Hexham Abbey in England, can be a game-changer and something that can get your house guests talking as soon as they walk into your church ... er home! We love how this Airbnb located in Australia kept the beautiful doors on their converted church home.
16. A unique church bedroom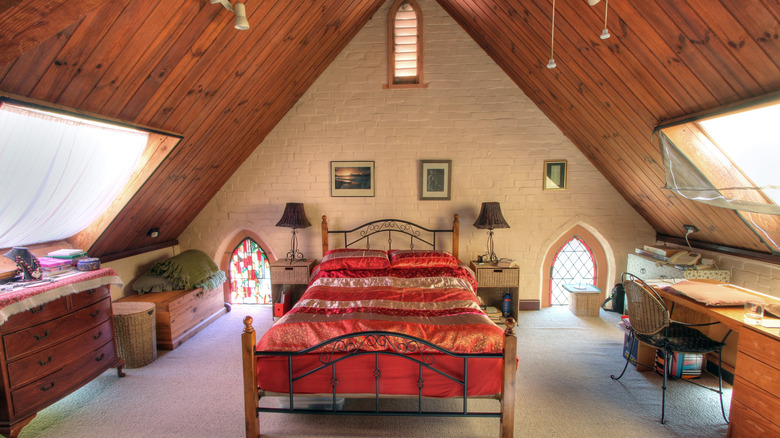 Christopher Meder/Shutterstock
This gorgeous former church shows just how beautiful a bedroom can be in a sacred space. Small stained glass windows on either side of the bed, exposed wood on the ceiling, and white brick create a beautiful bedroom.
17. Inspiring cathedral courtyard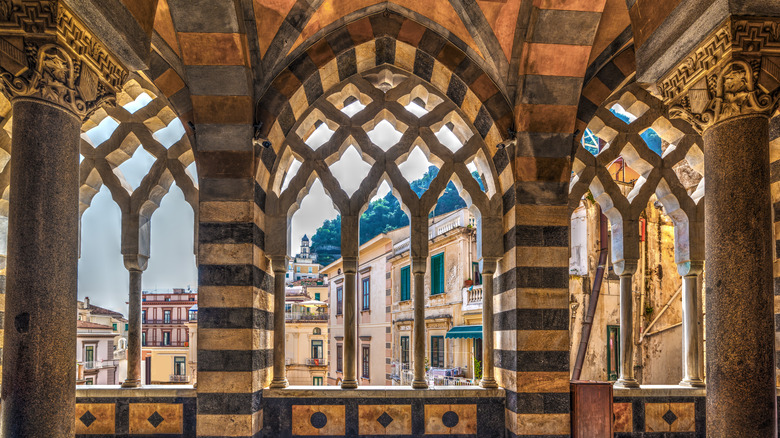 Gabriele Maltinti/Shutterstock
The Amalfi Coast is one of the most coveted destinations globally, and this Amalfi cathedral gives us incredible courtyard vibes with swoon-worthy views. Could you imagine your patio furniture in this space?
18. Stained glass focal point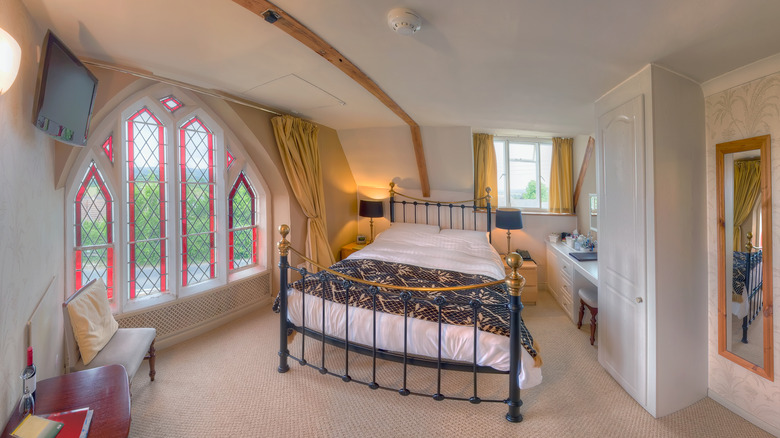 Marcin Sylwia Ciesielski/Shutterstock
A stained glass wall in a bedroom offers a delightful standout feature. We love how it is the focal point in this room and easily replaces any need for artwork in a space.
19. Out-of-this-world living space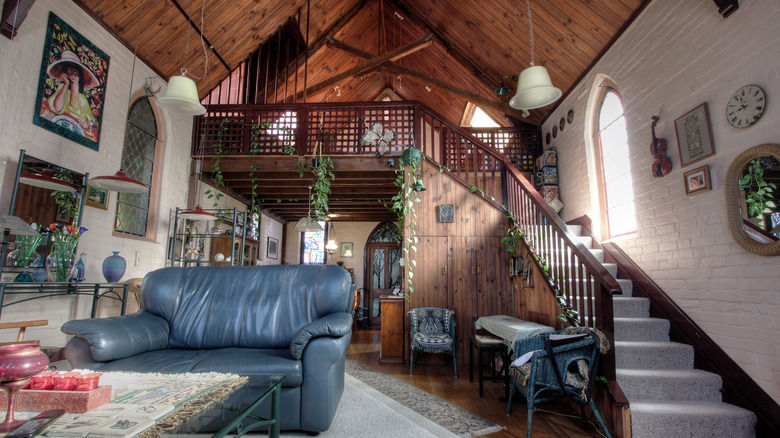 Christopher Meder/Shutterstock
This former church-turned-residential home features expansive ceiling height from the main level to the second floor, and we can't get enough of the warm woods on the ceiling and exposed brick that is painted white.
20. Bright pink chapel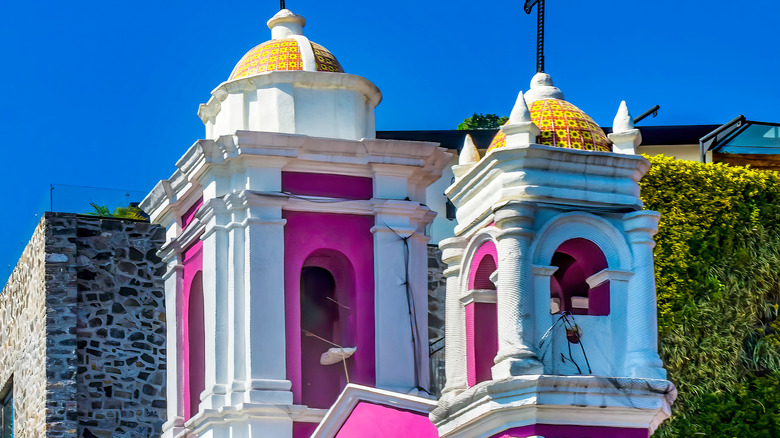 Bill Perry/Shutterstock
If you're looking for a bit of exterior inspiration color-wise, look no further than Capilla del Cireneo Chapel Church in Puebla, Mexico. This small Catholic church would really brighten up your neighborhood block.
21. Vaulted chapel ceiling in Prague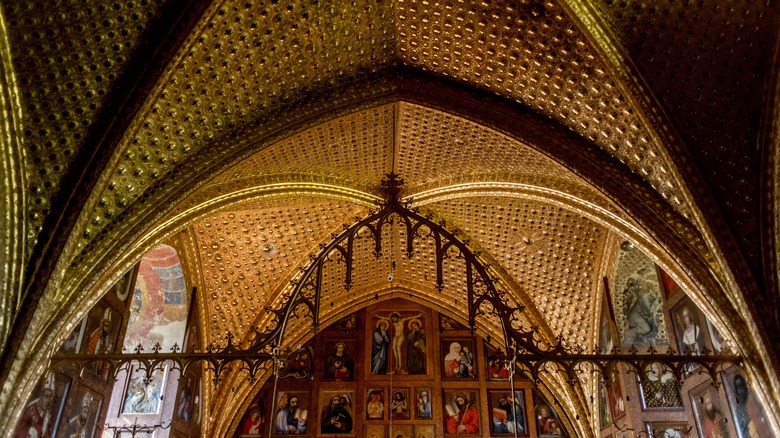 Matej Divizna/Getty Images
Located close to Prague, within the Karlstejn Castle built in 1348, is the Chapel of The Holy Cross, which would make a stunning inspiration for your living area.
22. Baroque style from Italy
steve estvanik/Shutterstock
In Taormina Sicily, Italy, this church features an exquisite Baroque altar, which could become a beautifully ornate living room if transformed into a home.
23. Inspiring Basilica façade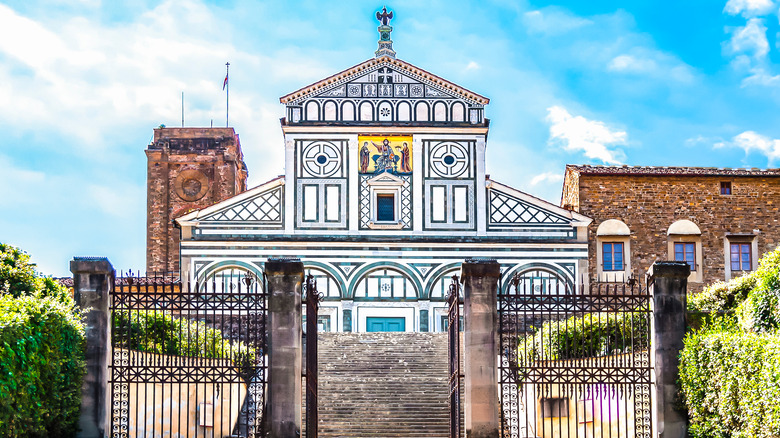 AlexMastro/Shutterstock
According to Culture Trip, the Basilica of San Miniato al Monte in Florence, built from 1013-1150, is an excellent example of Romanesque architecture. We are wholly inspired by its façade that features marble in green and white geometric patterns, which would be a stunning recreation for your own project!
24. Picturesque stone chapel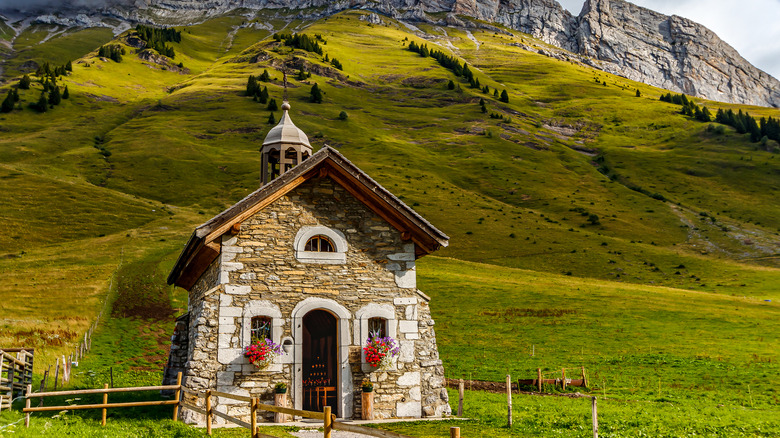 Kostya Zatulin/Shutterstock
This beautiful stone chapel is so quaint, and we have to say, we are pretty obsessed with those flower boxes. As for the style, it reminds us of this Airbnb of a former Methodist church with an awe-inspiring open-concept kitchen and beautiful windows.
25. Stunning church architecture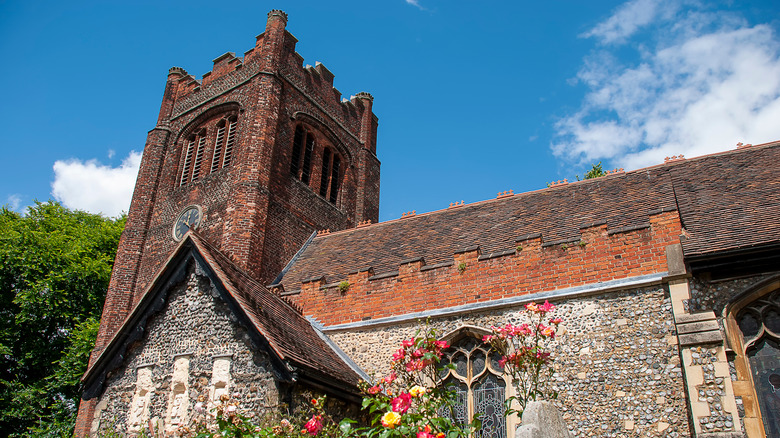 Rob Atherton/Shutterstock
We couldn't be more inspired by Saint Mary at the Elms, an Anglican parish church located in Ipswich, England. This 1,000-year-old Airbnb in rural Suffolk is similar and shows how gorgeous the architecture is once you transform it into a home.
26. Royal Chapel touched by gold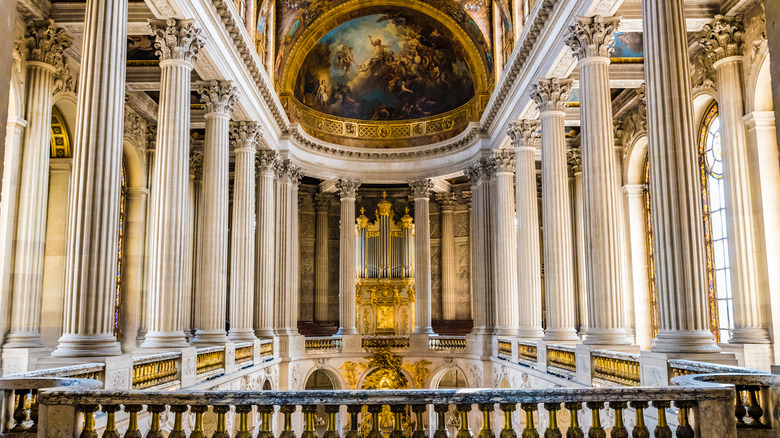 Takashi Images/Shutterstock
The beautiful Royal Palace of Versailles Royal Chapel is inspiring with pillars and touches of gold throughout. A look like this would give you a little taste of Versailles in your own renovated church.
27. Unique chapel inspiration in Arizona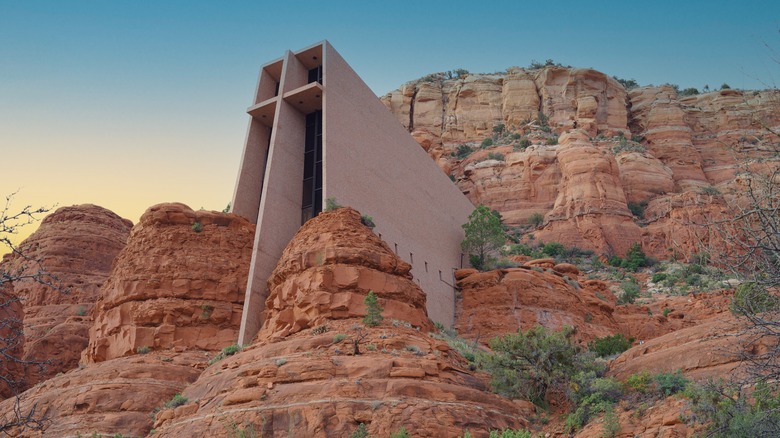 Angel DiBilio/Shutterstock
Sedona, Arizona, is home to the Chapel of the Holy Cross. The Roman Catholic landmark was built into the red rocks by Marguerite Brunswig in the 1950s, according to Sedona Red Rock News. Let this 250-foot wonder be your inspiration for your own build.
28. Simple Parish hall look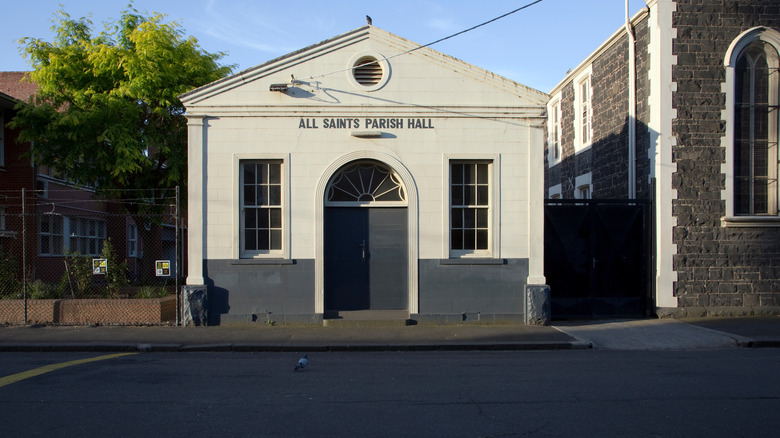 David L Young/Shutterstock
The All Saints Parish Hall in Fitzroy Melbourne, Australia, couldn't be simpler. But if this Airbnb of a similarly converted church is any indication of what it could be, you are in store for a treat. It has a large open kitchen, a beautiful patio with an herb garden, and a unique, oversized door.
29. A colorful church conversion
According to Realtor, this $1.6 million, 6,000-square-foot converted church in Watsonville, California, has kept many of the original features. This includes the gorgeous cross-hatched wood beams and the former altar where the TV and sitting area now reside.
30. Monastery landscaping in Greece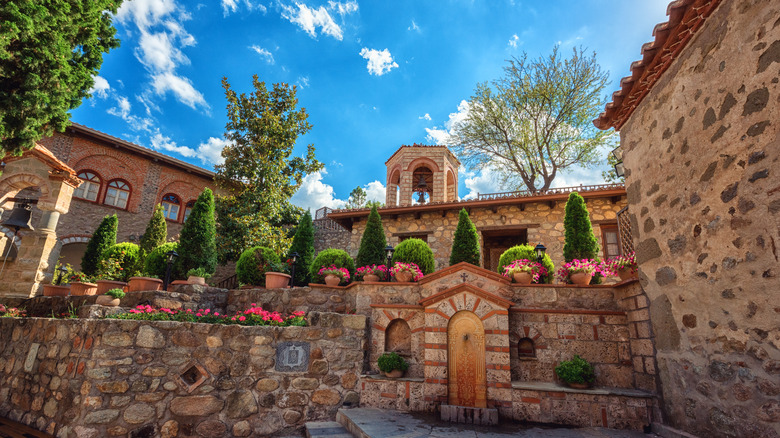 Uhryn Larysa/Shutterstock
This Great Meteora monastery in Greece would make for a gorgeous residence. This 1830s Airbnb in the village of Pyrgos in Greece does a fantastic job of showcasing how this style of a church can be renovated with modern amenities while highlighting historical aspects from stonework to the monastery's domes.