Christina Hendricks Reveals Why She Doesn't Decorate Based On Design Trends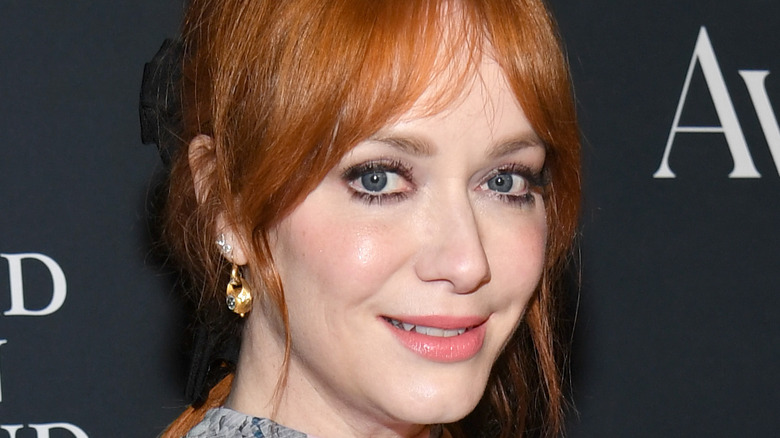 Jon Kopaloff/Getty Images
Actress Christina Hendricks might be known for portraying memorable characters on screen, but her knack for decorating is just as distinctive. In an interview with Reveal, she said she wanted her Los Angeles Colonial home to be more of a reflection of her personal taste rather than the latest decorating trend. With nothing but a sense of what she likes to guide her, Hendricks' home is an eclectic blend of old and new.
In 2019, Hendricks updated her house because she wanted it to be happier and more cheerful. She said she added more yellow and pink to the once neutral palette, adding that over time, some rooms see new coats of paint while others get new wallpaper. And every decorating choice is her own. "Hiring someone to do my house would be like hiring a stranger to make me a mixtape," she told Reveal, adding that everything in her home has an emotion or memory attached to it. The end result is something unique that you won't find anywhere else.
Christina Hendricks wants her home to feel whimsical and magical
Christina Hendricks expresses her style through a combination of pieces from different décor families that work together. Hendricks told Reveal that she wanted the home to be filled with "magical" and "whimsical" elements while still maintaining a balance throughout — and nothing is off limits. "When I buy a new piece, I do try to make sure it complements what's already there, but if I truly love it, I'll find a way to make it work," she revealed. For instance, Hendricks decorated her bar area in an old-fashioned Art Deco style, putting plush pink velvet cushions atop brass barstools. Meanwhile, her guest bedroom is a luxurious space with an eclectic blend of striped wallpaper, floral patterns, and an antique fringed lamp. Her kitchen features black cabinets, white brick walls, and a brass light fixture.
At the end of the day, Hendricks' home can be described as welcoming. Since she travels a lot and often stays in unimaginative environments for extended periods of time, coming back to rooms filled with hand-selected items "feels like a hug."