There's More To Picking A Black Paint Color Than Meets The Eye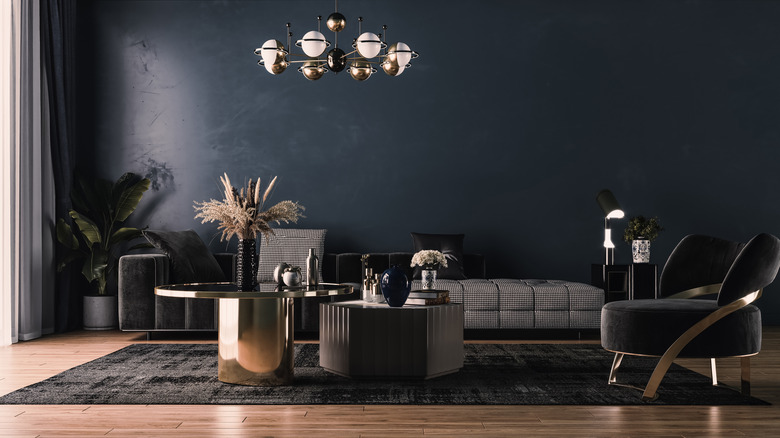 mixphotos/Shutterstock
When considering paint colors for your home, you might never imagine painting your walls in all black. After all, keeping a room light and airy is the goal for so many homeowners. At first thought, you may think it would give the room a dark and depressing aesthetic. But we have found there's definitely more that goes into selecting black paint than you may initially think.
According to The Spruce, choosing the dark hue may be a challenging and intimidating decision; there are some rules you want to follow to keep the vibe from heading into a too-dark-and-depressing place, instead steering into something more sophisticated and modern. The Washington Post even goes so far as to call it a neutral color (gasp)! Read on to find out the best tips for choosing a black paint color for one of your home's interior spaces — whether it's a bedroom or a cozy living space to lounge in — and yes, how it can be used as a neutral!
Black paint can be modern, sophisticated, and extremely versatile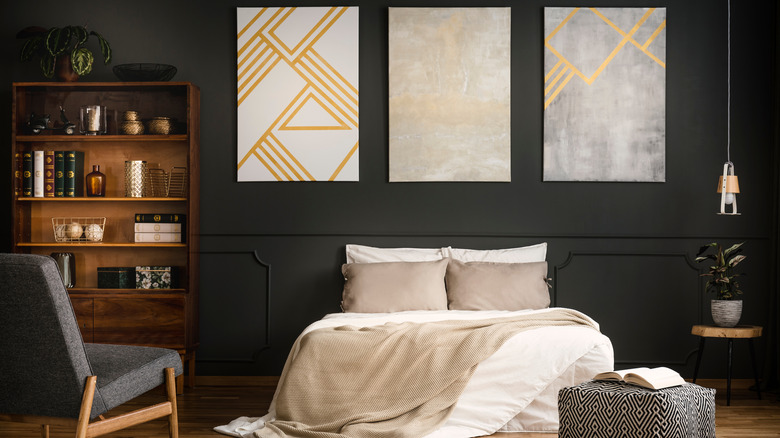 Photographee.eu/Shutterstock
Several interior designers point out that black paint can be extremely versatile. Sarah Fishburne, Home Depot's Director of Trend and Design, told The Washington Post, "I have always loved black rooms, especially when you have great molding and trim work. The black really shows it all off." Fishburne added that it's also a great way to make artwork really pop off the walls, too. "Like white, black is a blank canvas, and it's super versatile," she continued. So, we suggest looking at your artwork and deciding if black paint on your walls will create the right kind of drama for the space.
Interior design expert Abigail Ahern agrees, explaining to MyDomaine how transformative black paint can be, including how it can make a space appear more extensive, as well as how much of a game-changer it can be for a room. Since white paint can come off as dull, going with black is one of the most affordable ways to truly transform a room.
Finding the right shade of black paint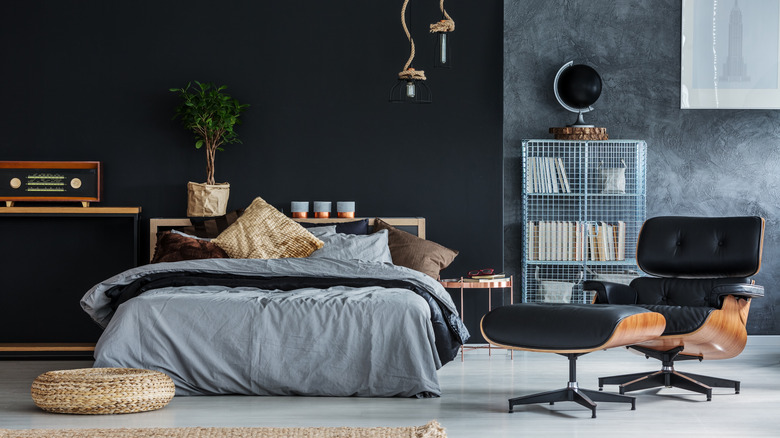 Photographee.eu/Shutterstock
While you might be thinking there's only one shade of black, there are several shades in reality, according to The Spruce. Before you paint, you'll want to decide which the right hue for you. For example, if you're looking for something ultra-rich and saturated, go for Sherwin-Williams' Tricorn Black. Or, if you want something warmer, opt for Sherwin-Williams' Black Fox which has brown undertones.
The main trick when painting your walls black is not being afraid of the dramatic hue, says interior designer Abigail Ahern. "Paint is the cheapest and most transformative change you can make to any room. It's a game-changer," she revealed to MyDomaine. "When you go dark, you suddenly create this vibe that almost exaggerates coziness; you just want to hunker down and never want to leave." So there you have it; if you haven't considered painting your walls black before, you may want to go for it and create a dramatic, inviting environment that is never dull!