Are Mrs. Meyers Products Safe To Use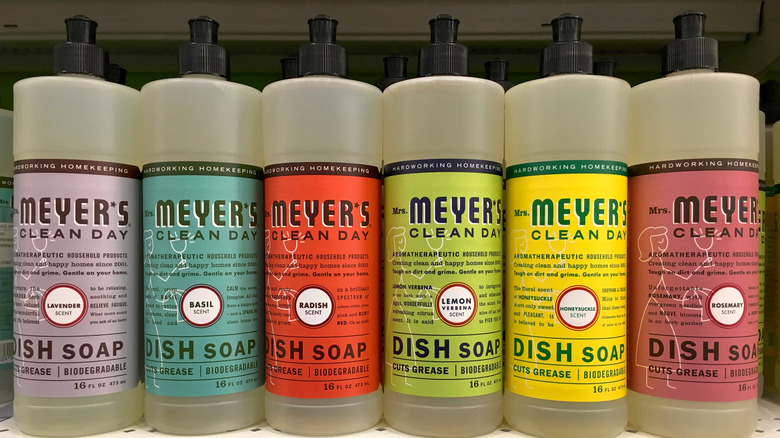 Sheila Fitzgerald/Shutterstock
Mrs. Meyers is a brand of cleaning products that include household cleaners, dish soap, hand soap, laundry detergent, air fresheners, and body cleansing products, as per the brand's official website. In the "About Us" section of the website, the brand boasts that it uses "plant-derived ingredients" and "essential oils" to "get the job done thoroughly" and "bring all the loveliness of the garden inside." The site adds that Mrs. Meyers products are free of ammonia, phosphates, parabens, formaldehyde, and many other nasty and harmful chemicals. They also only contain palm oil from sustainable sources and never test on animals. You can find a transparent list of ingredients found in all of the brand's cleaning products on the website as well.
Most consumers have come to view this brand as a safe, non-toxic, and organic alternative to the many toxic products on the market today, especially since the products are shelved in natural grocery stores and the organic sections of regular supermarkets. However, Mrs. Meyers has been accused of greenwashing, which is a marketing ploy designed to portray a brand or product as environmentally friendly and safe to use, as per Sharon Mahan. In reality, anyone who knows how to interpret the list of ingredients found in each Mrs. Meyers product will realize that the brand isn't as non-toxic and natural as they would like us to believe. In fact, most of what we believe to be true about Mrs. Meyers products has been debunked.
The hidden dangers in Mrs. Meyers products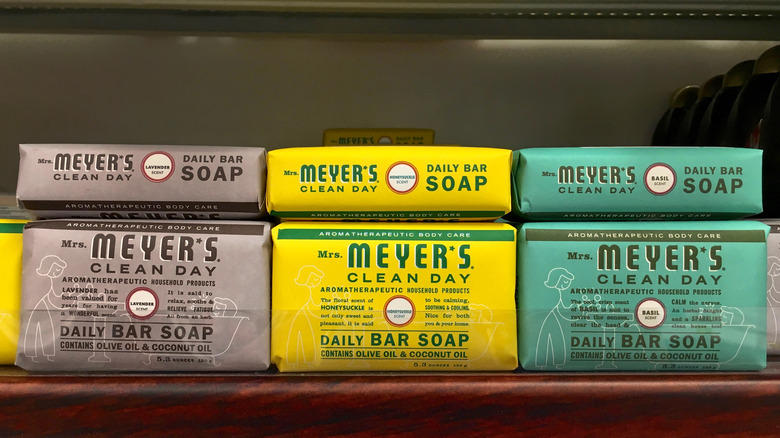 Sheila Fitzgerald/Shutterstock
The website I Read Labels For You has reached some unnerving conclusions about the safety of Mrs. Meyers cleaning products. For starters, even though this brand is often sold in natural, organic grocery stores, it is not actually organic. To be considered organic, the products would need to include the USDA Organic logo, which they don't. This means that at least 95 percent of their ingredients don't come from organic origins. The next red flag is the presence of fragrance in all Mrs. Meyers products. Fragrance is made up of a variety of ingredients, many of which are allergenic and toxic in nature. Mrs. Meyers products also contain preservatives, namely methylisothiazolinone and benzisothiazolinone. While neither of these preservatives scores alarmingly high on the toxicity scale, methylisothiazolinone can provoke allergenic skin reactions in some people, while benzisothiazolinone is considered to be a sensitizer, which can also cause skin irritation.
If you choose to continue using Mrs. Meyers products, it is advisable to wear gloves and avoid the products that are applied directly to the body, including the hand soap and body wash. The good news is that there are many non-toxic brands on the market that you can use to substitute Mrs. Meyers products, as per Little Urban Life. Popular brands include Dr. Bronner's Pure Castile Soap, Molly's Suds, Branch Basics, Everyone Soap, and Kosmatology Soap. Ultimately, you should always do your own research to determine the best brands for your family and household.