What's Wrong With Carrie's Apartment From Sex And The City, According To Designers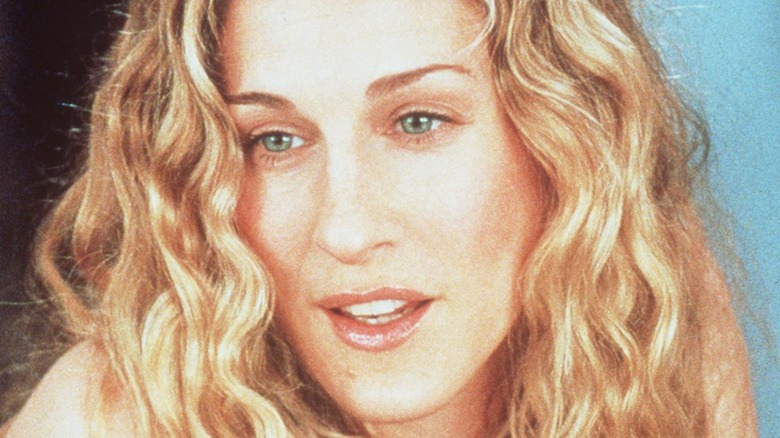 Getty Images/Getty Images
Our obsession with décor causes us to get inspired by just about everything, whether we are perusing Pinterest or watching our favorite shows. Enter: "Sex and the City," the iconic series that followed Carrie Bradshaw (played by Sarah Jessica Parker) in the early 2000s. With the sequel "And Just Like That" streaming on HBO, and Carrie's apartment making its way onto Airbnb, we'd say there has been an infusion in popularity of the series as of late — especially including a new interest in Carrie's brownstone apartment.
It isn't hard to see what people love about Carrie's apartment. For one thing, that incredible closet is the stuff that dreams are made of. As Vogue points out, it's filled to the brim with iconic pieces that anyone would want in their wardrobe, including lots of sparkles, tulle skirt, and those iconic Manolo Blahnik heels (hello, lovers)! While we can't get enough of what's inside Carrie's closet, we were also inspired by the décor; however, according to interior designers, there were a few décor-related mishaps in Carrie's residence, as noted by Insider.
Interior designers weren't impressed with Carrie's bedroom
Fans, fashion designers, and magazine editors can (of course!) get behind Carrie's incredible closet in "Sex and the City," plus all of its stylish contents, per the Zoe Report. Additionally, there are positive design elements in Carrie's bedroom, according to interior designer Kobi Karp of Kobi Karp Architecture and Interior Design in Miami. "The asymmetry of the room denotes that the owner has an artistic mind," she told Insider. "I like the placement of the bed, allowing the morning sun to act as a natural alarm clock for the person sleeping." However, Karp noted a big issue in the bedroom: clutter! She stressed that Carrie might consider adding another bookshelf to fix the problem.
Additionally, Alec Holland, a New York City-based interior designer, thought the aesthetic in Carrie's bedroom wasn't a fit considering how stylish she was portrayed in the show. He pointed out how casual the room is and said it was lackluster, which we co-sign! To create a more exciting environment, Holland told Insider, "I'd get a good shag rug, put a headboard on that bed, and maybe wallpaper behind it to create a more interesting focal wall. I'd also lose the off-center bookcase above the bed — a disaster waiting to happen — and paint that radiator a glossy black." So there you have it! If you are looking to recreate Carrie's bedroom with a tad more style, you know what to do!