Kanye's Controversial Wyoming Ranch Is Up For Sale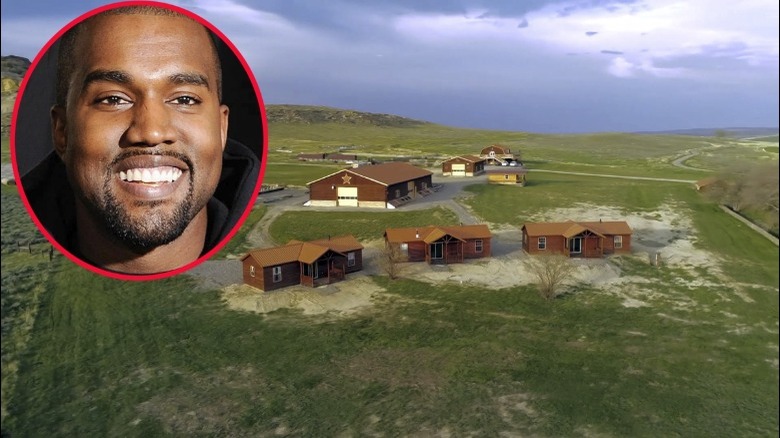 backgrid
Kanye (Ye) West is selling his Wyoming property. No, not the "seven commercial properties in Cody for $3.2 million," although Forbes shared he's selling those too. No, not the Bighorn Mountain Ranch, which he purchased in Greybull, Wyoming, for $14.5 million — Ye is selling his other Wyoming property at Monster Lake Ranch, which has been officially listed for sale at $11,000. The listing agent with JW Robinson of DBW Reality further describes to the magazine, "It has two freshwater lakes. The outstanding trout fishing is unmatched in quality and quantity. There are several new upgrades at the ranch, including adult and child go-carts on an asphalt track."
Zillow reports that the average Wyoming home currently retails for $303,325 — so this multimillion-dollar listing near Yellowstone National Park is significant.
This rustic ranch surprisingly only lists 3,450 square feet of living space with one bedroom and two half baths and features an extensive Bureau of Land Management lease, which makes the acreage extensive, according to DBW Realty. And while living space is limited, the amenities are not as the package features listed include "equipment sheds, equine facility, livestock corrals, and hay meadows" plus a lodge that also has a commercial kitchen. Virtual tours are available via the listing realtors.
The former Monster Lake Ranch is up for sale
Monster Lake Ranch, as shared by The Wayback Machine's archive, used to be a spot for tourists featuring cabins and camping, with the big draw mainly related to outdoor activities and the lake. Ranch activities were listed as fly fishing, bird hunting, shooting sports, and horseback riding. Fly fishing master Denny Rickards is quoted describing the property, "Monster Lake has been and still is one of the best stillwater fisheries in the country." The website also described the property as featuring "panoramic views of the Absaroka Range," noting it is an excellent local for weddings or events — or perhaps Hollywood celebrities. 
While the ranch has not been redeveloped by West prior to sale, the commercial and tourist potential for this property seems to remain high. Reported by the Powell Tribune, this larger ranch was previously owned by the Dan Eddleman family, who are responsible for a number of the more entertaining upgrades. The family initially put the entire ranch up for sale in 2017, but it ultimately went to auction as six different parcels, including that purchased by Ye. 
We can only guess at West's current reasons for his ranch sale as the rapper previously seemed invested in the Wyoming area.