10 Amazing Before And After Closet Makeovers
No matter the size or shape of a closet, it can easily get cluttered if it's lacking a system, storage solutions and, possibly most important, a plan for maintenance. Many closets, especially ones on the smaller side, are inherently missing the basic necessities for storing clothing and accessories, such as a spot for shoes or multiple shelves for bags. Open space like the height above a single shelf or the back of the door is often overlooked.
If you're finding that your closet needs some TLC and are itching for a transformation of your own, there are fortunately many ideas that you can consider. The first step of any closet organization project, according to Better Homes & Gardens, is to declutter what you no longer need. From there, a better system can be created with what you want to keep, and then storage solutions can be explored and implemented.
Feel free to use the following ten before and after closet makeover photos as inspiration for your own closet project.
Before: Piles of clothes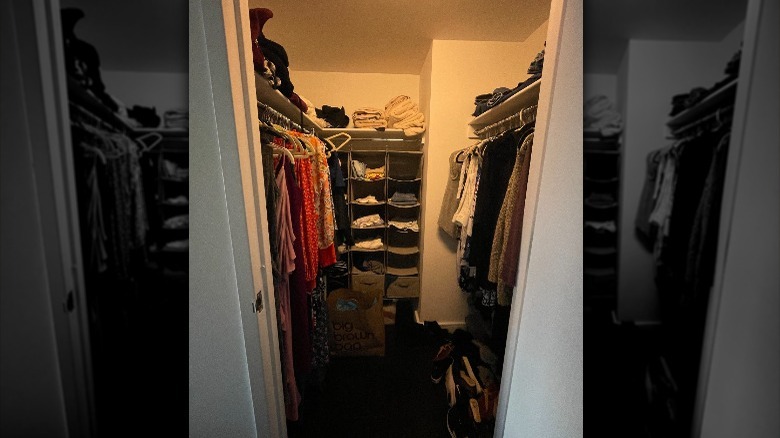 Mary Cornetta/House Digest
This dimly lit closet was lacking a system and the shelves weren't being utilized to their best ability, making it difficult to find things. That led to piles of clothes and shoes.
After: Everything in its place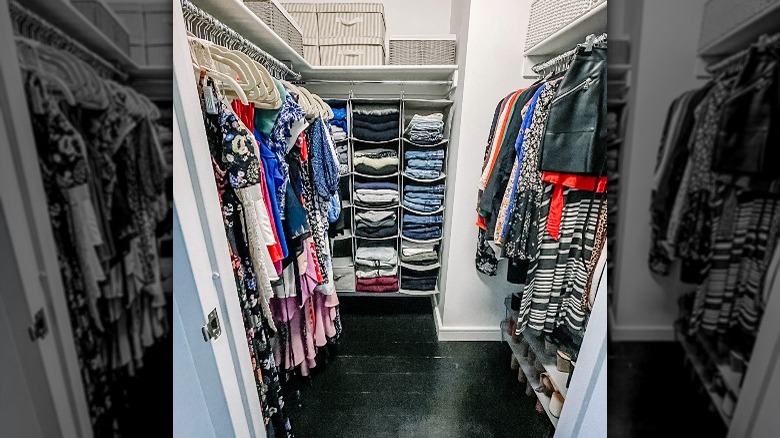 Mary Cornetta/House Digest
Dividing and organizing the clothes by type gave every article a place, while racks help keep shoes in order. Stacking bins were added to neaten up the shelves and make the most of the vertical space. The lighting is improved, too.
Before: Poorly used space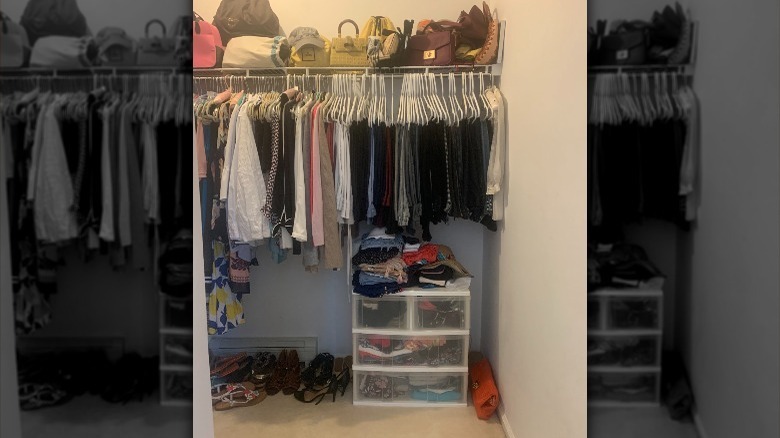 Mary Cornetta/House Digest
A single wire rack restricted how many items could be hung, while plastic tubular hangers took up more room than needed. Handbags were crammed onto the only shelf available and there was a lot of wasted space above them.
After: Proper space utilization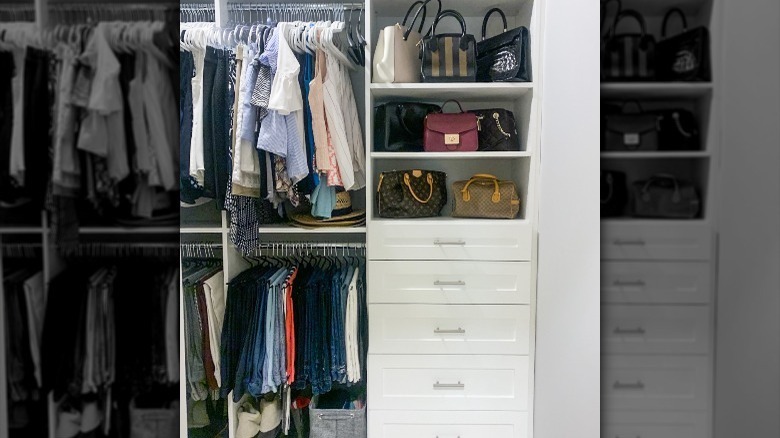 Mary Cornetta/House Digest
After removing the wire rack, a custom closet was built to fit specific needs. Double rods increased the amount of hanging space, open shelving allowed for handbags to be neatly stored, and drawers were added for smaller items. Thin velvet hangers replaced the thick plastic ones.
Before: Perpetual disorganization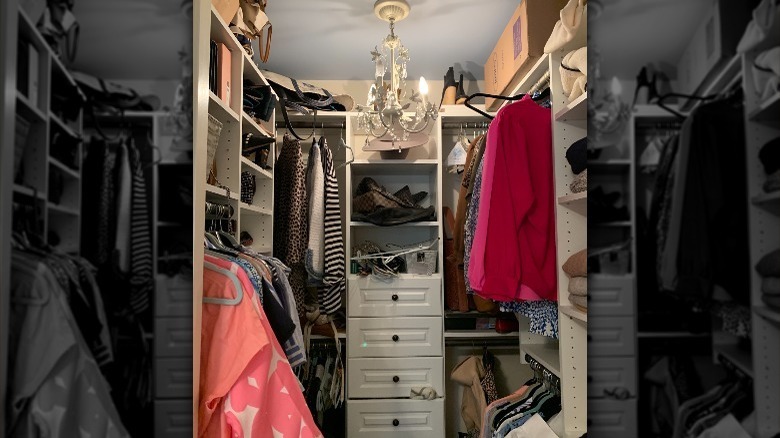 Mary Cornetta for @simplyelsa/House Digest
While this closet had good structure, the lack of a system and the tendency to dump items in it that don't belong led to a perpetual state of disorganization.
After: Storing likes with likes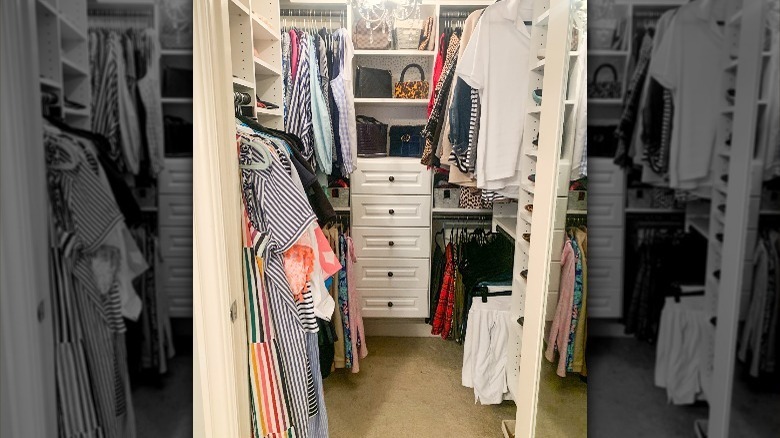 Mary Cornetta for @simplyelsa/House Digest
Containing similar clothes — such as button downs with button downs, dresses with dresses, and so on — into certain sections resulted in a much more organized closet.
Before: A messy look and feel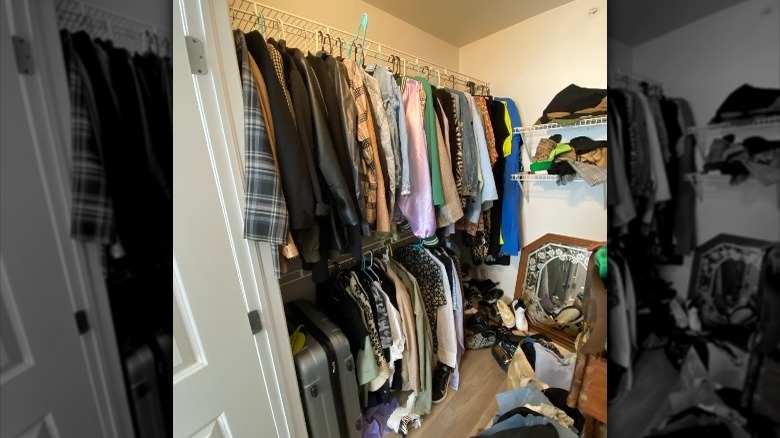 Mary Cornetta/House Digest
The shelves in this closet were barely being used, if at all. Mismatched hangers and items on the floor contributed to the messy look and feel.
After: Distinct sections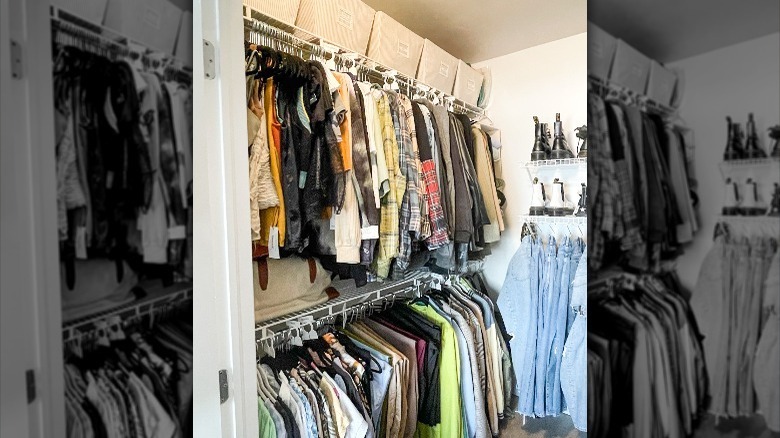 Mary Cornetta/House Digest
Large open bins with labels were added to the main shelf for bulky items, while hooks were added to the smaller one for jeans. Dividers, also labeled, were added to the rods so it's clear where one section of clothes begin and end.
Before: Piles everywhere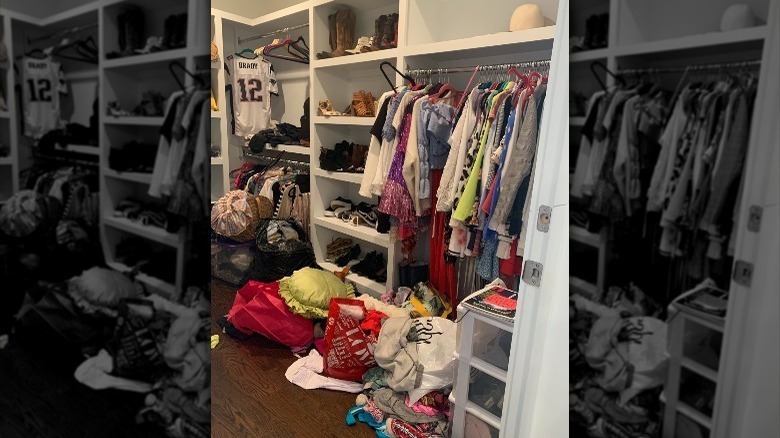 Mary Cornetta/House Digest
Like so many closets, an organized system was lacking. This resulted in clothes piling up on the floor, while the shelves and rods were not being used properly.
After: A lasting organizational system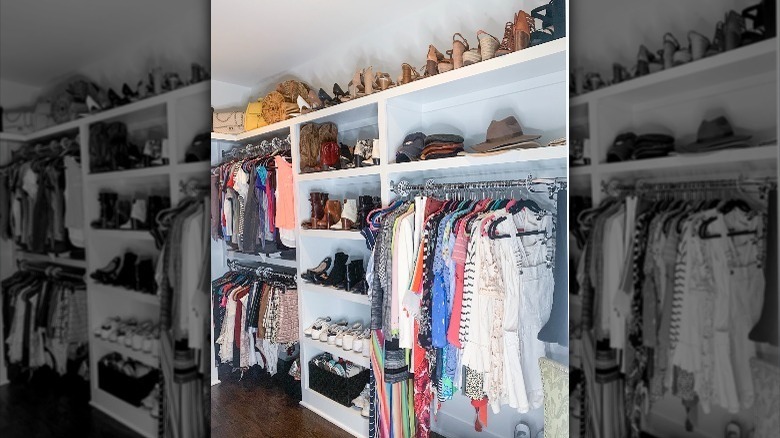 Mary Cornetta/House Digest
Closet rod dividers with labels were added to create a lasting organizational system. Shoes were placed on the shelves with one facing forward and the other facing backward to maximize the storage space.
Before: Hard to find items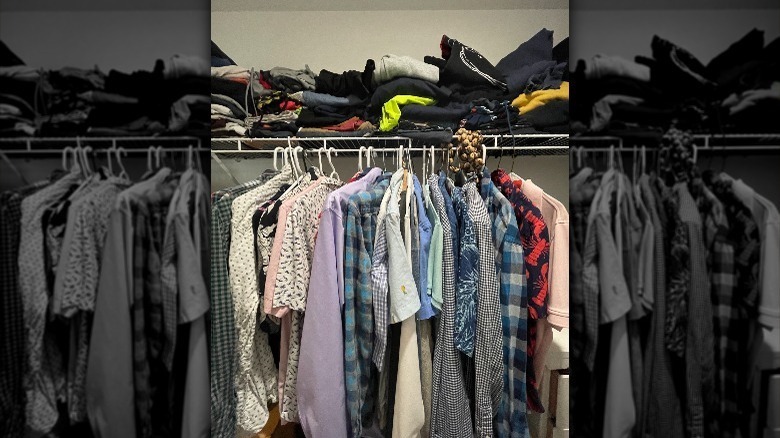 Mary Cornetta/House Digest
The clothing items that were stored on the shelf were stuffed on it and hard to find. The hangers were mismatched and also took up more space than necessary.
After: Streamlined and pleasing to the eye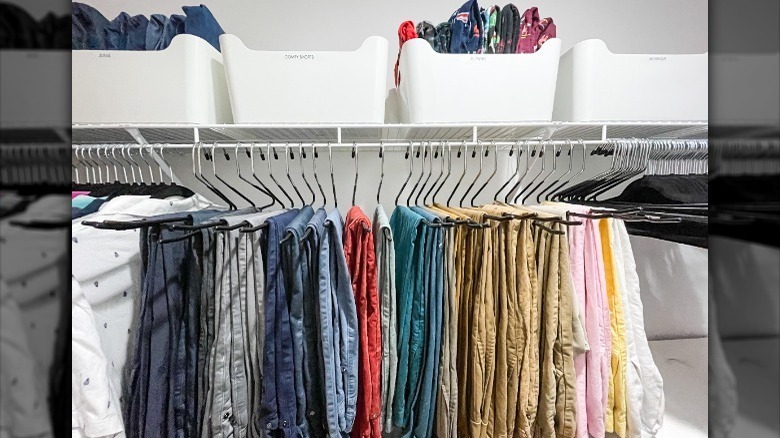 Mary Cornetta/House Digest
Labeled bins were placed on the shelf, clearly defining where to find or return different articles of clothing. Matching velvet and open-ended pant hangers replaced the old ones to streamline the hanging clothes.
Before: A lack of walk space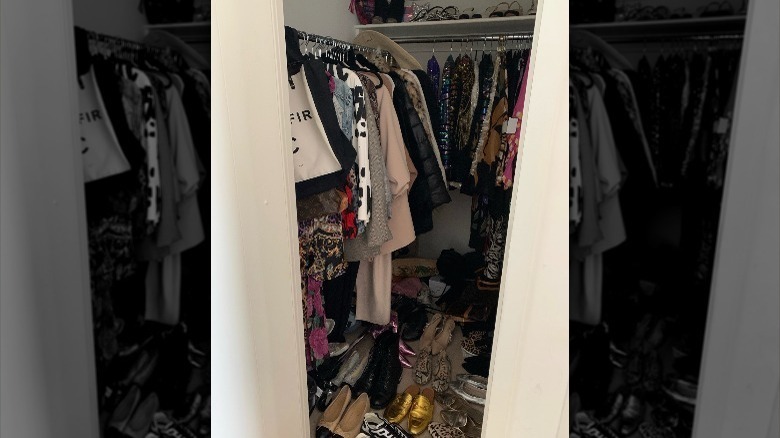 Mary Cornetta/House Digest
This deep and narrow closet had little room to store shoes, leaving them to accumulate on the floor and preventing a walk space.
After: Saved by vertical storage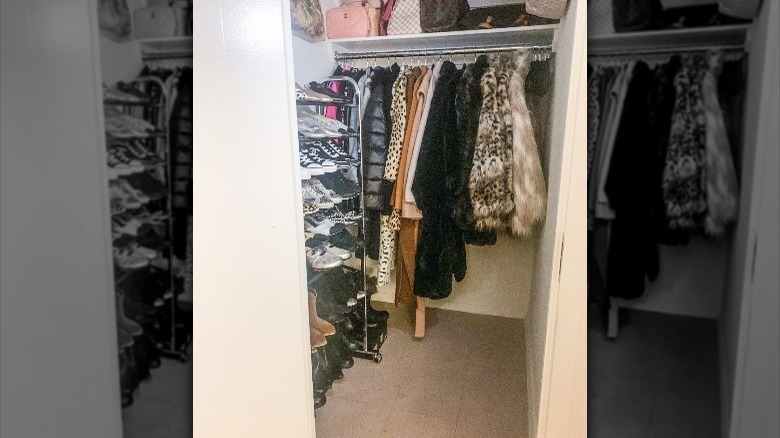 Mary Cornetta/House Digest
A tall, vertical shoe rack was implemented to provide ample space for shoes which, in turn, opened up the floor and allowed for better use of the closet.
Before: Cramped style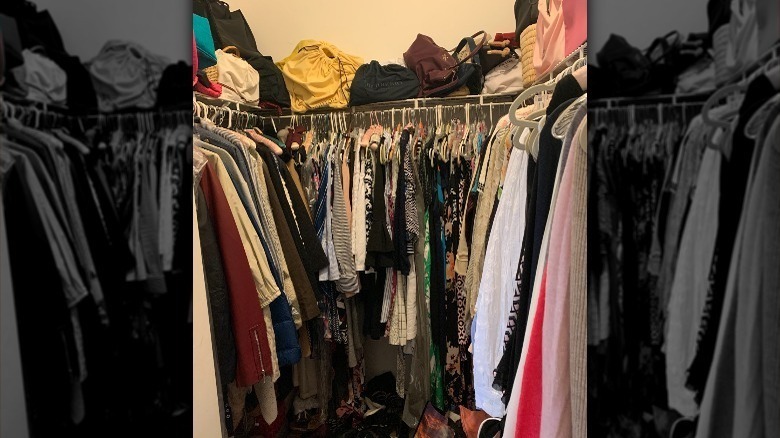 Mary Cornetta/House Digest
One single shelf and rod led to a mess of bags and cramped hanging clothes. Shoes also piled up on the floor of this dark closet.
After: Double the storage space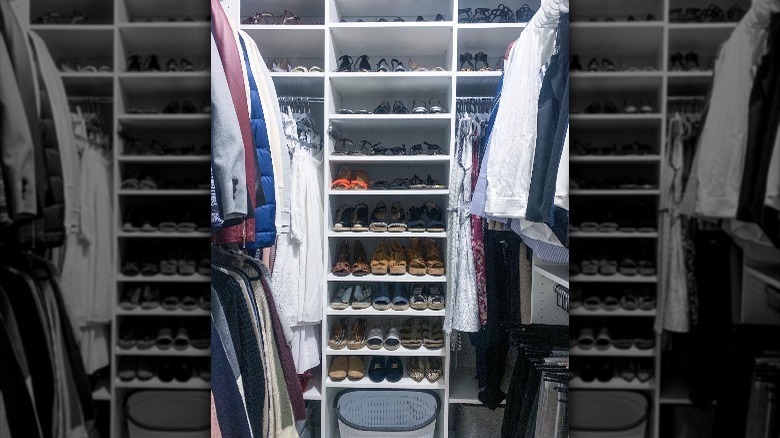 Mary Cornetta/House Digest
A wooden closet system was installed to replace the wire shelves. Multiple hanging rods doubled the amount of space and a multitude of short shelves gave way to storing dozens of shoes.
Before: Crowded clothing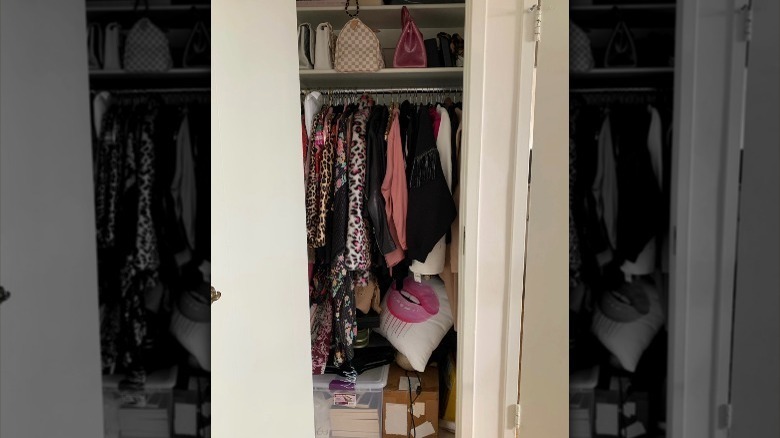 Mary Cornetta/House Digest
Items that don't necessarily belong in a closet, such as books and boxes, collected inside this small one and began crowding the hanging clothes.
After: Items where they belong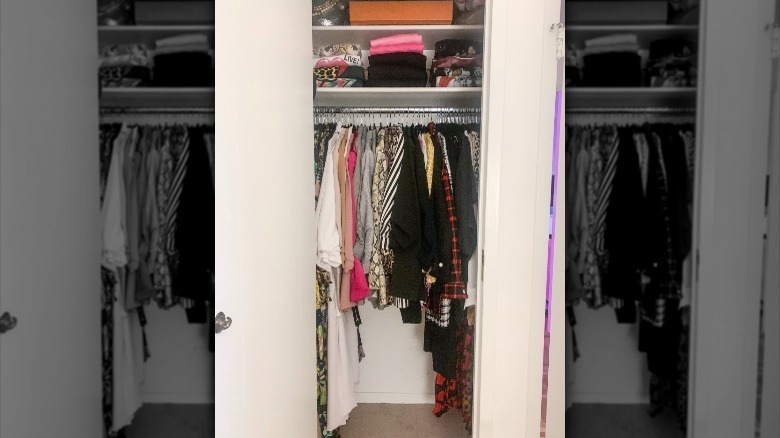 Mary Cornetta/House Digest
The non-wardrobe related items were removed from the base of the closet, making it easier to organize and maintain the hanging clothes by type.
Before: Disorganized and messy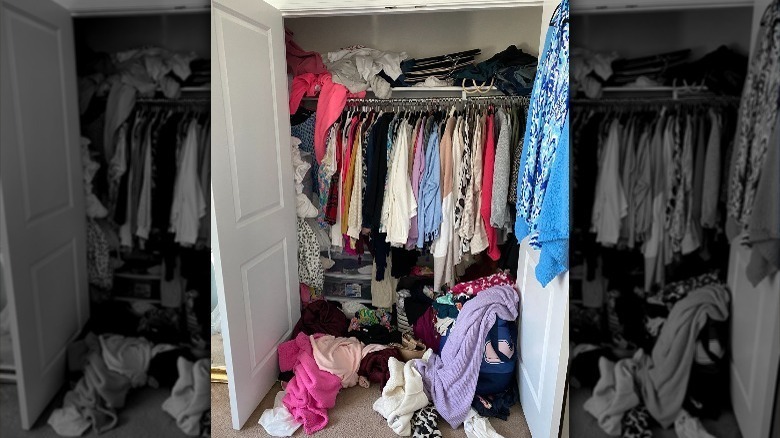 Mary Cornetta/House Digest
Other than hanging space, there were not a lot of ways to keep items organized in this double door closet. The single shelf became a dumping ground and the less than sturdy plastic drawer organizer was hard to reach.
After: A Pinterest-worthy presentation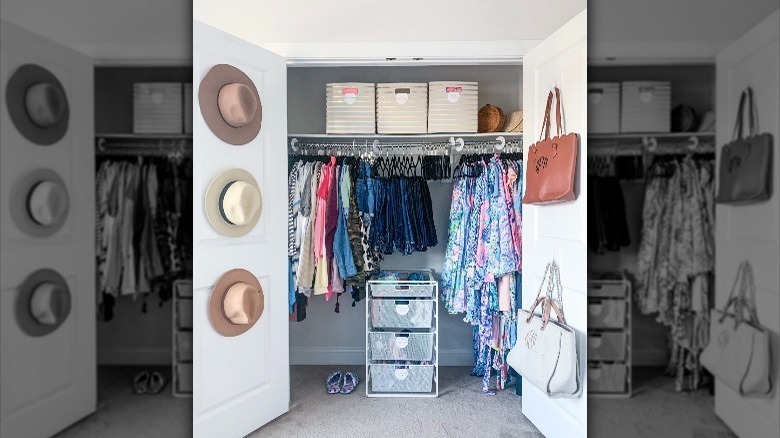 Mary Cornetta/House Digest
Bins with labels placed on the shelf kept folded items much tidier and a quality metal drawer organizer replaced the plastic one. Labels were added to the rod to sort clothing by type, while hooks were attached to the inside doors to hang hats and bags.