Is A Microfiber Mop Better Than A Swiffer?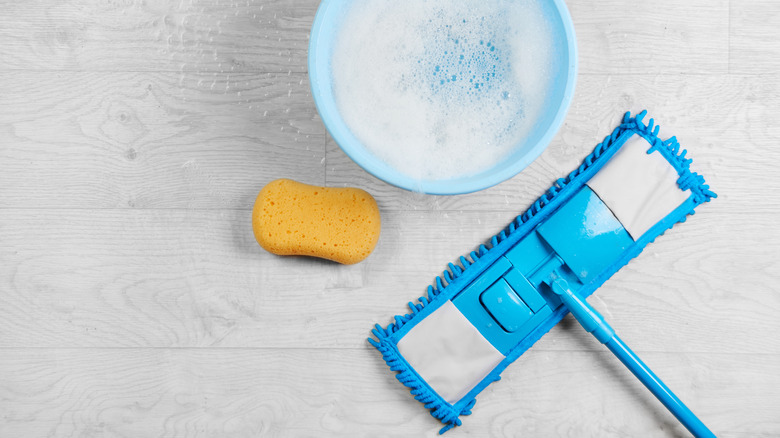 ivan_kislitsin/Shutterstock
We may receive a commission on purchases made from links.
One of the hardest challenges when living on your own is keeping your home clean, especially when it comes down to the floors. Between dust, dirt from the outdoors, food crumbs, hair, and even fur from pets, it can be difficult to keep up with floor maintenance. Furthermore, it can be tough to tell if the floor is actually clean just by looking at it. Then, top that off with the fact that it takes up more time addressing floors than cleaning almost anything else. According to Action Unlimited Resources, mopping the floor takes up to about 35 to 40% of the time spent cleaning. That's close to half the time!
If you're a homeowner newbie, you may be confused about which products to buy as there are so many options out there. Some of the most popular and well-known options to choose from are string mops, sponge mops, Swiffer mops, and microfiber mops. However, the two most commonly used mops are the microfiber mop and the Swiffer. Both are great mops that can get your floors to shine, but which one is better?
Microfiber mops vs. Swiffer mops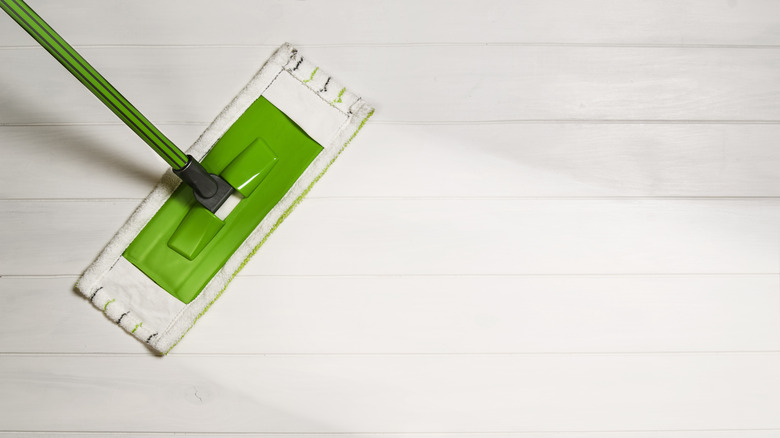 Wstockstudio/Shutterstock
Overall, microfiber mops have more pros than Swiffer mops. Microfiber mops can be used as a two-in-one to both sweep and mop at the same time. However, a Swiffer mop can typically only clean after the sweeping has already been done. Microfiber mops can also be used for both wet and dry cleaning whereas Swiffer mops can only be used for wet. An extremely important fact to know is that microfiber can work on almost any floor type, but Swiffer mops can only work on a couple of types. It's also a lot easier to use a microfiber mop than a Swiffer mop. Most microfiber mops have a rotation of 360-degrees while Swiffer mops only have a 90-degree rotation (via Prudent Reviews).
While there are many pros, there are some notable similarities to take into consideration. Both of these mops also have the option to use reusable pads. This is a great feature that can help to save money in the future. Speaking of money, there is a con to microfiber mops when it comes to price; overall, microfiber mops are slightly more expensive than Swiffer mops. According to Turbo Mops, Swiffer Sweeper kits can range anywhere from $12 to $20 for a complete kit, and microfiber mop kits can range anywhere from $20 to $40 depending on the mop itself. However, the investment can be worth it to some as they are able to do more with the microfiber mop than the Swiffer mop.
Which microfiber mop should you buy?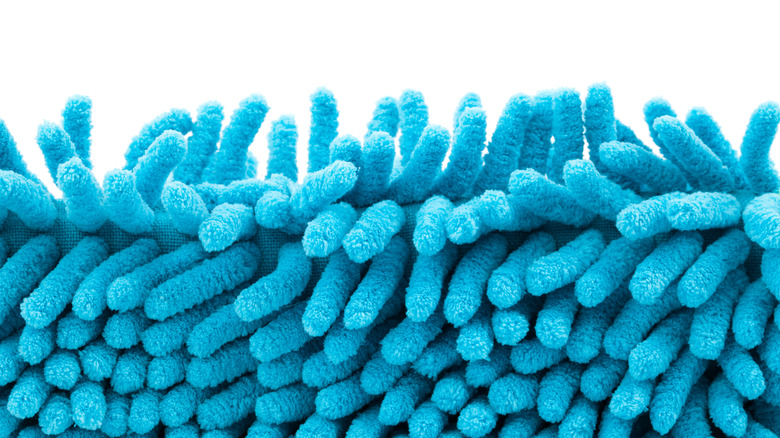 Mariusz Szczygiel/Shutterstock
Now it's time to buy a microfiber mop, so which one is the best? Along with several different mop types, there are also several different mops to choose from for each type. Some microfiber mops can have aluminum handles while others can have plastic handles. Some can be as tall as 60 inches while others can be 40 inches. The list goes on. 
If you're just now getting into microfiber mops, Oh So Spotless recommends getting the Snap Mop as it's the most comfortable to use. This mop is affordable at less than $30 and has a 4.5 rating on Amazon. If you're already comfortable with using microfiber mops, then Real Simple highly recommends the Turbo Microfiber Cleaning System. This all-in-one mop originally goes for less than $50, but on sale it's less than $35. It also has a 4.6 out of a 5.0 rating on Amazon. It comes with two machine-washable microfiber pads and two scrub pads, and both can be used to sweep and mop. No matter the choice, remember you always have options and can find the mop that's best suitable for your needs.