30 Best Colors And Décor Ideas To Decorate With For Spring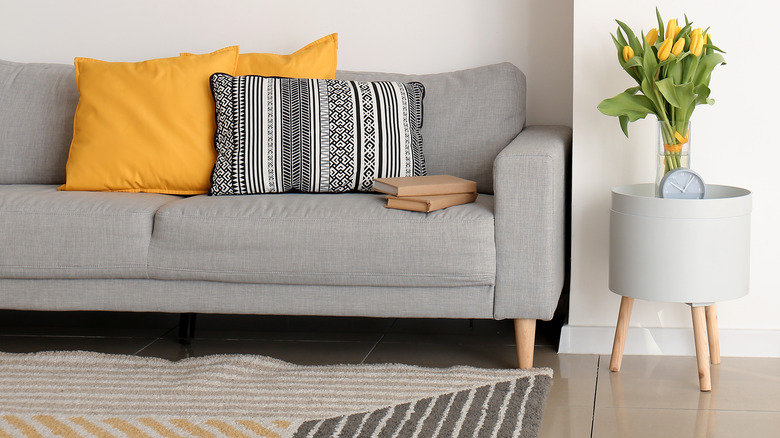 Pixel-Shot/Shutterstock
Spring is on its way, and we can't help but be excited about this season of new beginnings and growth. Giving your home a dash of color is a reliable method to rejuvenate your place to welcome a new season. Color has power: It can be used to elicit various moods, tell a good story inside a home, and even alter how someone feels in a place. As a result, choosing a color palette for your home may seem like a high-stakes and difficult task. It's essential to understand which colors work best combined and why before picking paint colors, furniture, or décor, so why not draw some inspiration from Kimp's 2022 color trends piece?
Decorating your home is always exciting, but there's something more wonderful about doing it during the spring season, with all the new colors and lively feeling the season brings. Sunny weather isn't just an excuse to clear out your closet and schedule some spring cleaning time; it's also an opportunity to try out some no-fail spring design ideas. New houseplants, new decorative pillows, candles that smell wonderful — these can change the vibe of your home in an instant. They don't have to be time-consuming and costly, either. These 30 colors and décor ideas range from pristine whites to whimsical pastels and are sure to make your home bloom.
1. Start with some colorful cocooning decorations
Nadine Wuchenauer/Pexels
Preparing for spring can start with laying the groundwork for one of the most joyful seasons of the year. Real flowers and plants are the finest choices for the critical parts of spring-themed meals. Even a store-bought bouquet of colorful flowers can be lovely if you arrange it to leave a deep impression.
2. Get a springtime yellow on the walls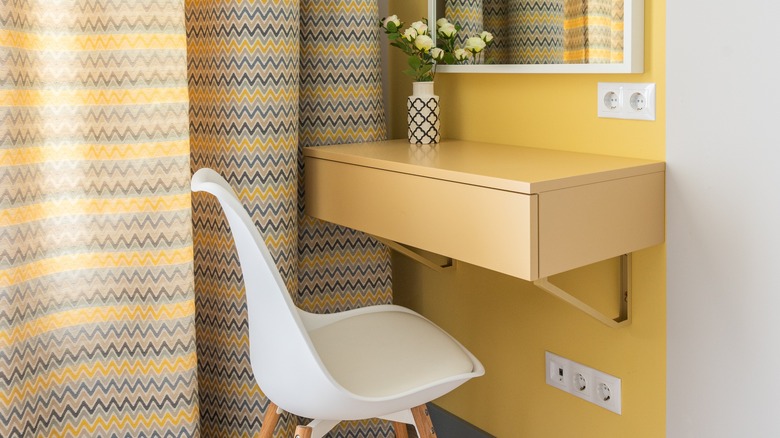 Max Vakhtbovych/Pexels
Painted in a sandy yellow wall color, your master bathroom can epitomize the season perfectly. You can balance the style with white cabinetry pieces and glossy midnight blue floors.
3. Hang a pastel curtain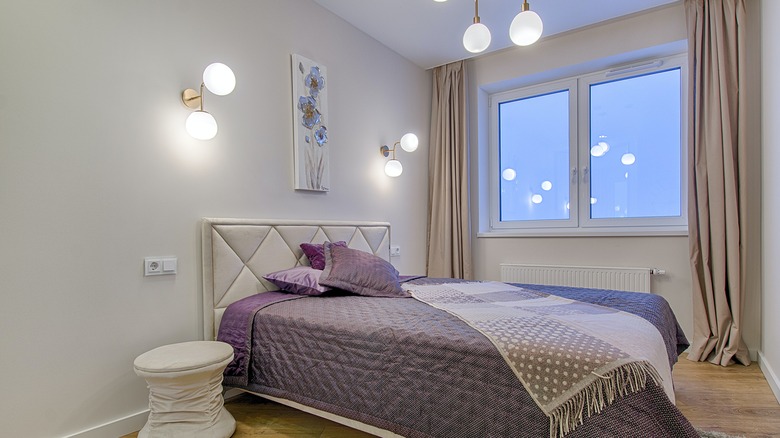 Vecislavas Popa/Pexels
Turn an underused part of your home into a gorgeous area to kick off the spring season: Add a pastel-colored curtain to the bedroom windows to give the room an airy, clean, and fresh feel.
4. Add some color with a green centerpiece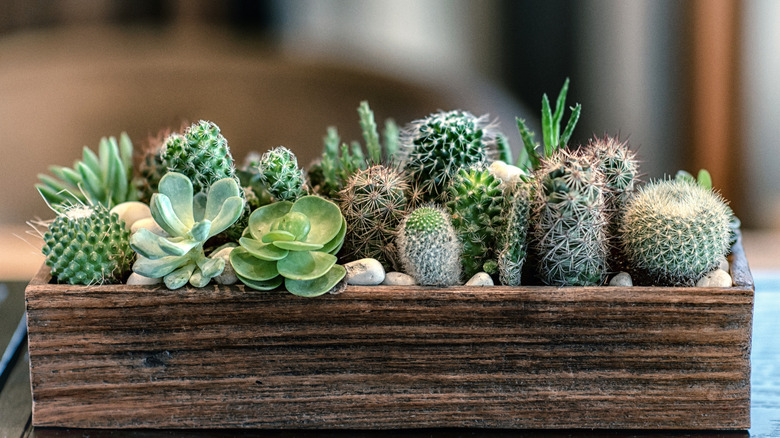 ae0816146146/iStock
Living greens are always in style, even if color trends vary from year to year. Make a green display the centerpiece of your dinner gatherings to add some serenity. You may make this accent even more practical by using edible greens like lemongrass or wheatgrass.
5. Fill a vase with beautiful floral branches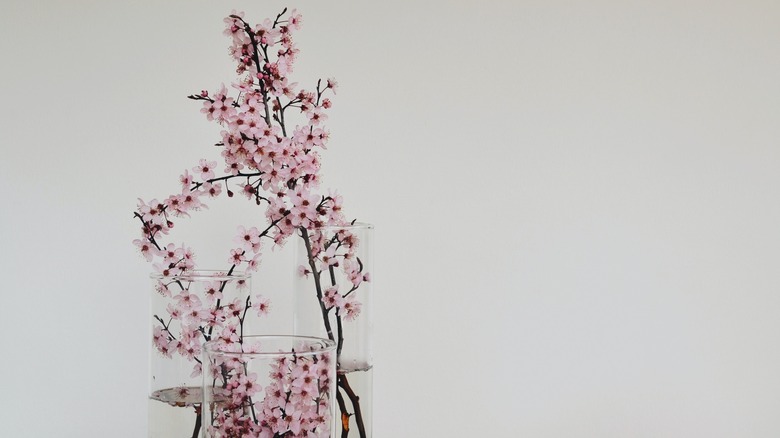 Federica Giusti/Unsplash
The days of drab fake floral arrangements are long gone. A basic branch arrangement adds a splash of color and a lot of volume while being surprisingly simple to put together. All you need is a vase and a few tall, brilliantly colored floral sprigs or blooming branches.
6. Put up fancy floral wallpaper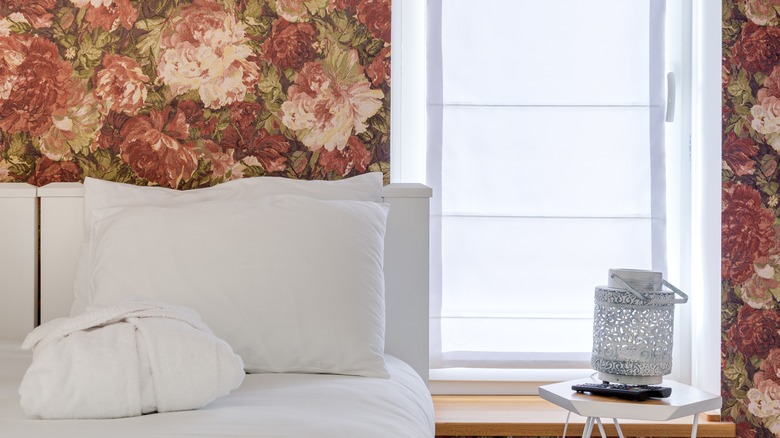 Max Vakhtbovych/Pexels
A fancy wallpaper with a lovely mix of fitted geometrics and gentle florals can produce a lattice of color and flow that will instantly brighten up your doorway, bedroom, or powder room walls.
7. Repaint bookcases in a bright hue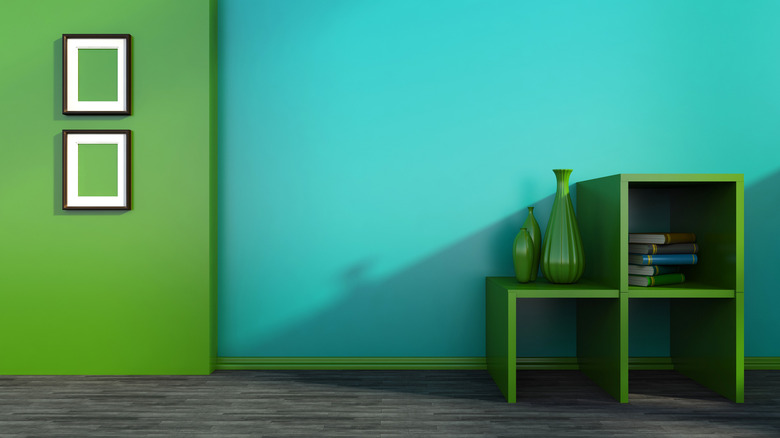 Stockernumber2/iStock
Paint the niche of a built-in bookcase a bright spring hue to give it fresh vitality. For instance, a millennial pink, a deep violet, or a light green paint with playful and quirky tchotchkes and topiaries will give the space a new dimension.
8. Decorate with beige pampas grass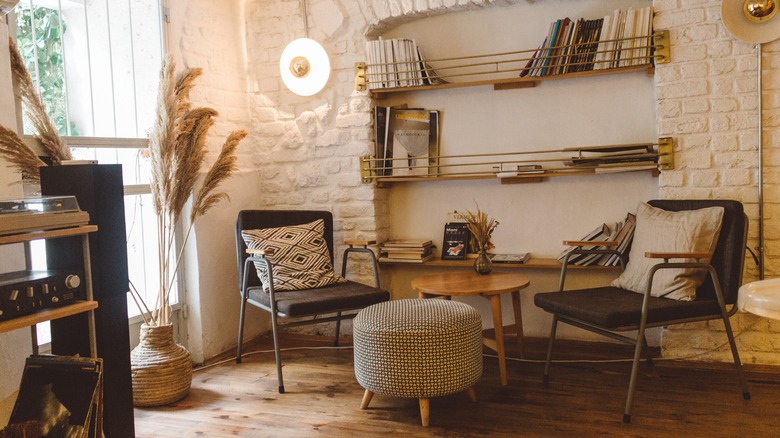 Emre Can Acer/Pexels
Pampas grass has started popping up everywhere. It has that classic California-cool air while also fitting in with a clean, neutral color scheme, making it ideal for spring décor. Even better, because it's a dried floral, it lasts indefinitely, and requires almost no care.
9. Throw in some shades of coral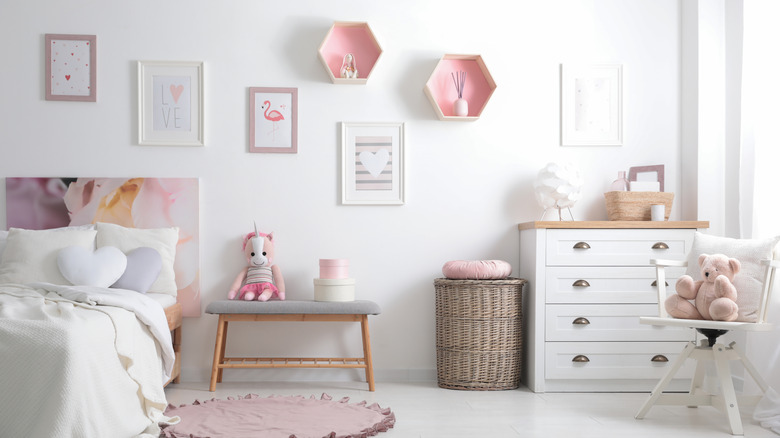 New Africa/Shutterstock
This season, again, designers have been drawn to millennial pink. This shade of pink has a more sophisticated and opulent feel to it, and it works well with warm grays, wood accents, and patterned whites to give your home a classy, feminine sense.
10. Paint the kitchen island bright blue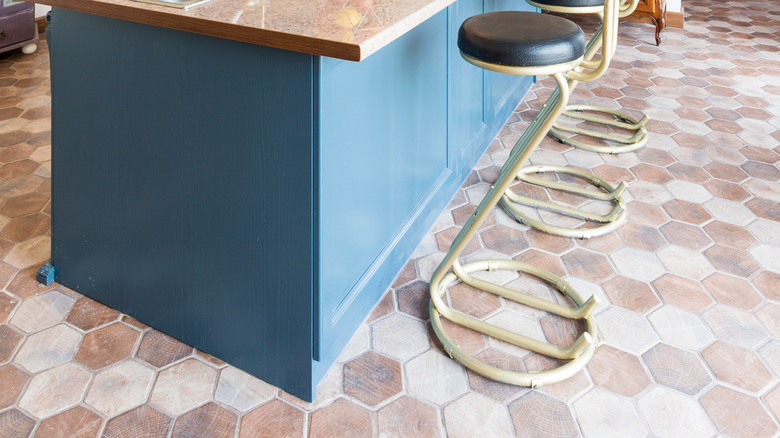 KatarzynaBialasiewicz/iStock
Paint the kitchen island a vivid blue or red color to make a dramatic statement. Pair it with neutral bar stools for a more subdued but equally stunning aesthetic.
11. Paint something in ultra-light mint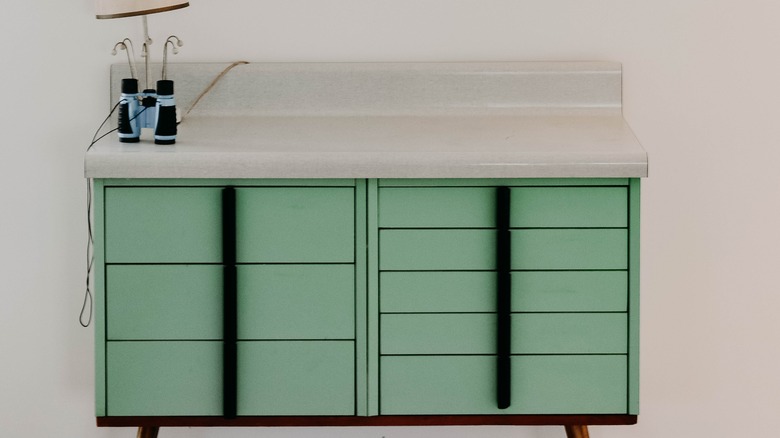 Jacalyn Beales/Unsplash
With a fine layer of ultra-light mint green paint, you can lighten up any space. If you have an exposed brick accent wall, railings, paintings, or a dresser, the combination will add character and history to the area, creating a harmonious balance.
12. Make space for a rattan item
Ivy Aralia Nizar/Unsplash
Adding rattan is sure to bring spring to your space. Dress up a brown rattan bar cart as a side table by placing books, a tiny ornate tray for jewelry, and a vibrant floral arrangement on it. Or, you can simply purchase a rattan chair.
13. Add neutral breezy blinds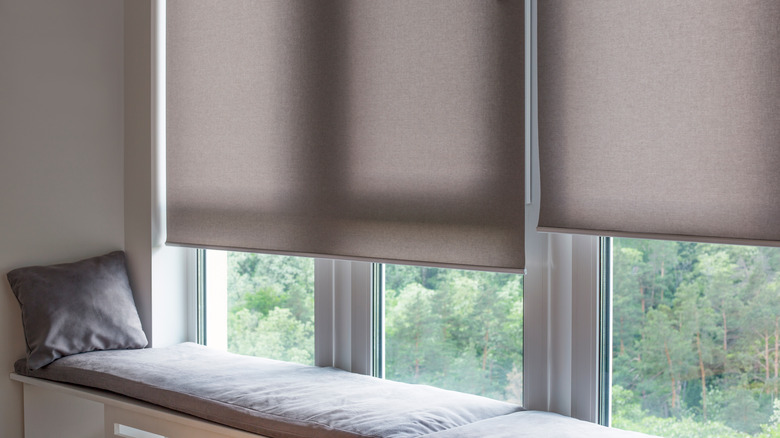 Astibuk/Shutterstock
Neutral-colored roller blinds enable some light to filter through. They are incredibly versatile as you can control the amount of light you let in while also adding a touch of color and a comfortable feel to the room.
14. Style the living area with some vibrant throw pillows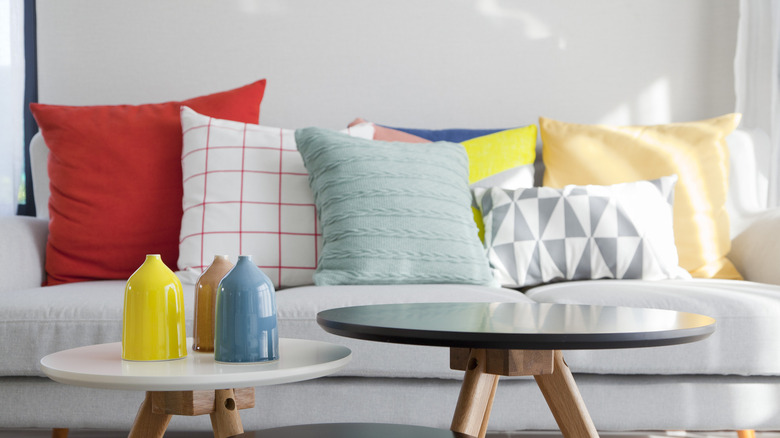 ben-bryant/iStock
Decorative pillows never fail to add individuality to a place. Use bold pink and orange cushions for a lively home office or green and pink shades for the living room.
15. Create a festive floral monogram wreath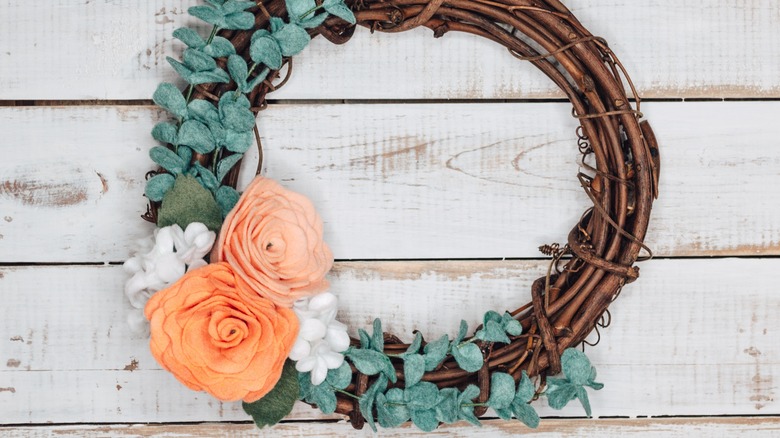 Mel Poole/Unsplash
A lovely personalized door wreath is more stylish than shabby, but it has a lot of rustic aspects that make it work with a lot of different design styles. A grapevine wreath serves as a classic foundation. A subtle way to personalize this piece is with an elegantly scrolled initial.
16. Add a floral kitchen centerpiece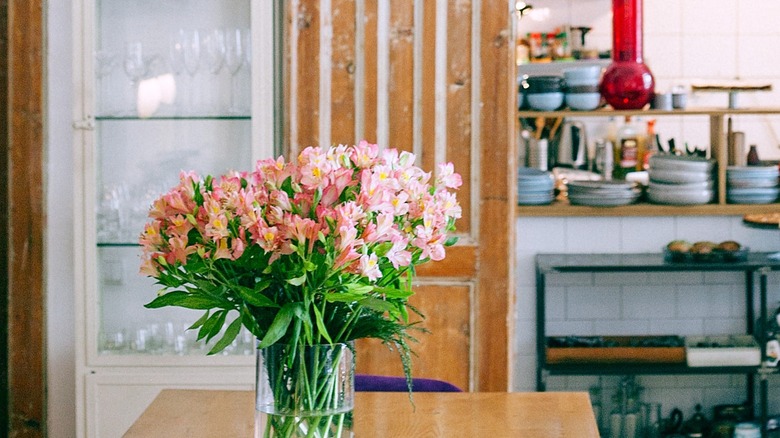 Maria Orlova/Pexels
Choose your favorite flowers in pink, red, and yellow for the ultimate spring dinner setting and lay them around the table runner.
17. Decorative wooden frames for the gallery wall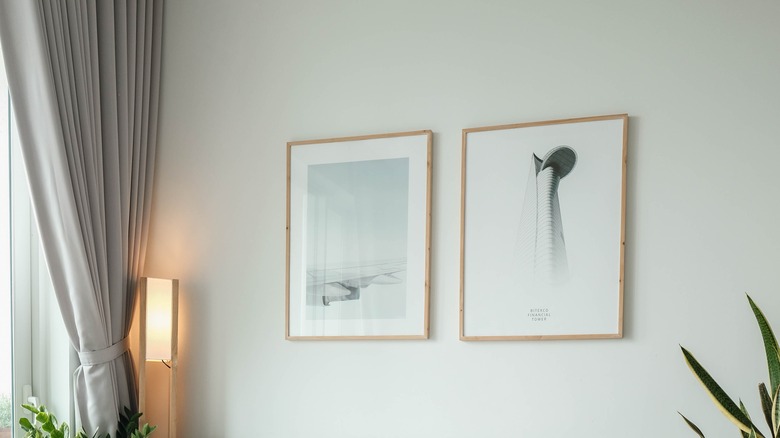 Minh Pham/Unsplash
A vintage wooden frame may easily become the ideal place to showcase your artwork or the best images from the season, including family hikes and botanical garden visits.
18. Make a statement with a bright rug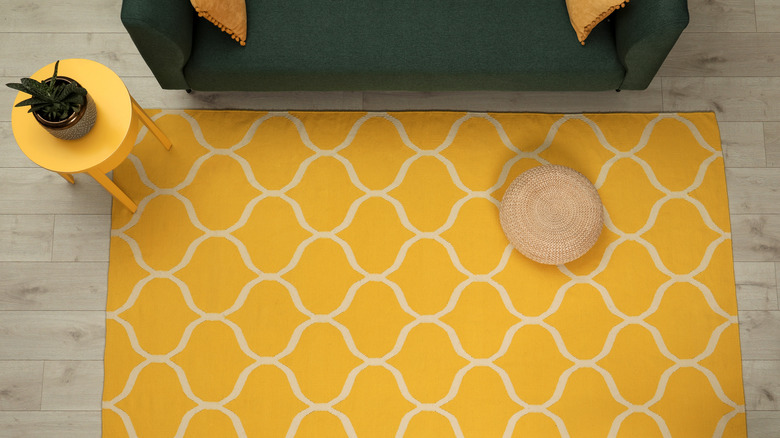 New Africa/Shutterstock
A brilliant yellow or orange vintage rug for a guest room or the living area can make all the difference in the world. Not only will the piece provide contrast, but it will also add a fresh feel while not being overwhelming.
19. Create a green vertical garden in the kitchen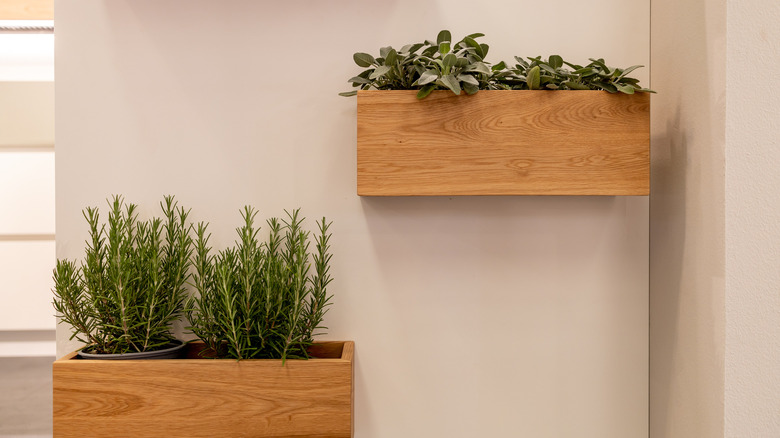 christian cantarelli/iStock
Think vertically if you're short on an outdoor area and need a unique way to display your potted plants. An excellent way to welcome spring and make use of amazing colors is to place a wooden pallet against a wall and fill it with as many potted plants as possible.
20. Make a pastel floral mason jar centerpiece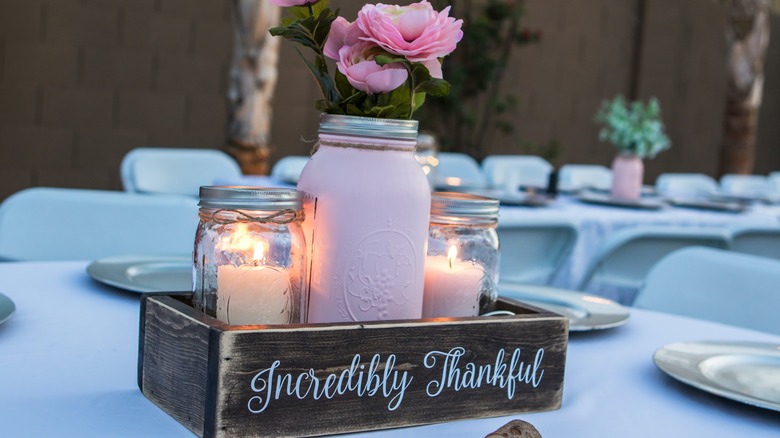 Brandy/Pexels
Paint some canning jars white to bring out their antique images or in light blue chalk paint to give the item that oh-so-desirable timeworn aspect. This lovely table decoration is complemented perfectly by pastel flowers.
21. Accessorize the entry hall table with white tulips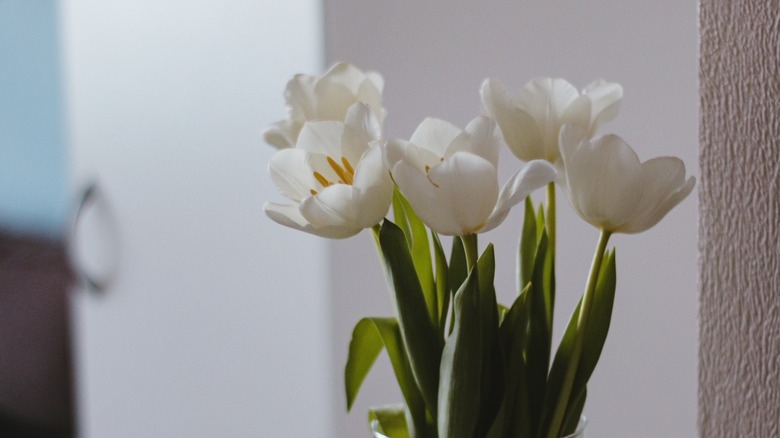 Pure Julia/Unsplash
Top a white tulip table with books, foliage, and perhaps a few ornamental objects in the center of an entry hall for increased visual interest. The white tulips will give the space a comfortable and clean feel.
22. Throw in some sky blue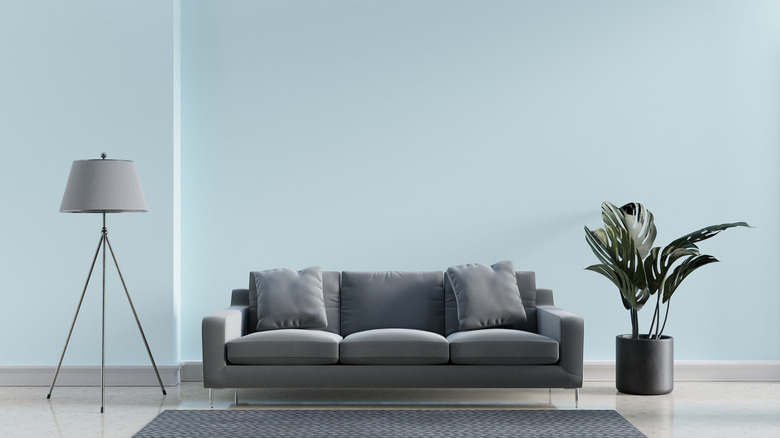 Shutter2U/iStock
A cheery shade of blue would look great on any accent rug, cushion, or flower arrangement. If you'd prefer to go big with it, make a true sky blue statement with paint in the kitchen by painting the walls or the cabinets sky blue.
23. Go for a stunning botanical wallpaper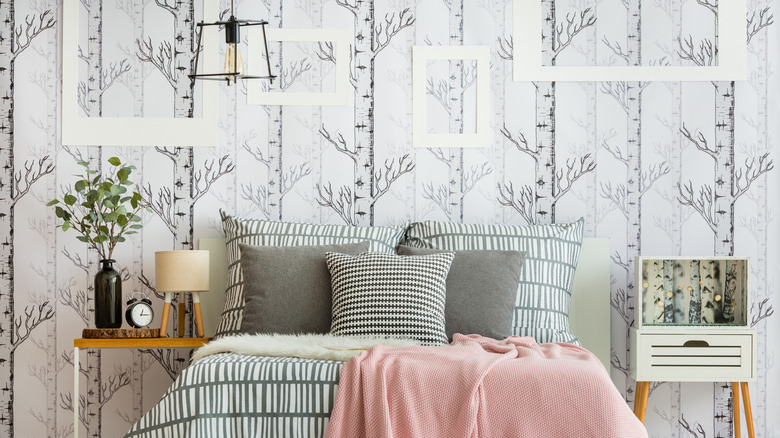 KatarzynaBialasiewicz/iStock
Make your bedroom a cheerful retreat with a great design idea: Put a botanical-inspired wallpaper on a wall, hang some colorful drapes in the windows, and add a space-saving pendant lamp to finish the style.
24. Allow artwork to talk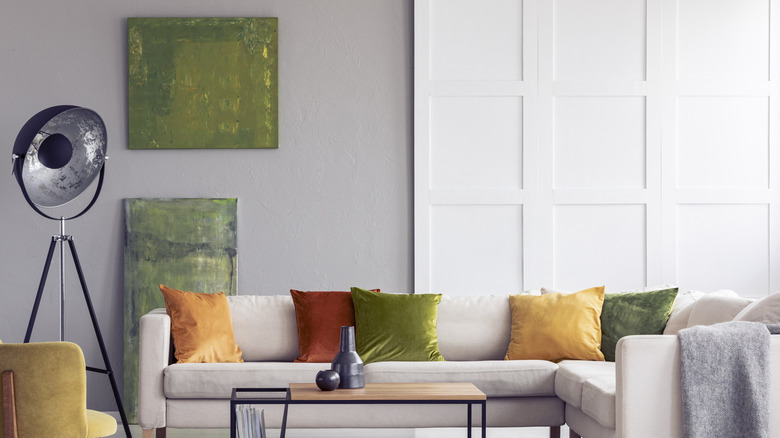 KatarzynaBialasiewicz/iStock
Regardless of the season, you can give the room a lot of adaptability and flexibility with a large-scale painting that uses a variety of hues. If you have similar artwork, pick a seasonal hue from it and complement it with a corresponding throw pillow for an inexpensive spring upgrade.
25. Add some bright yellow forsythia bushes outdoors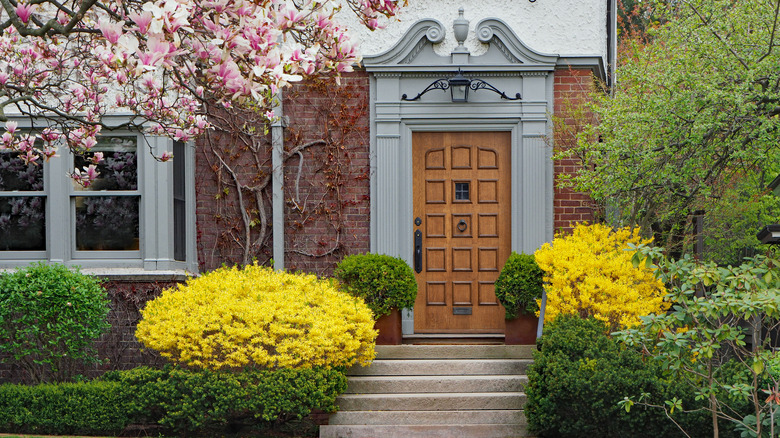 Spiroview Inc/Shutterstock
It can be stressful to try new home design trends every few months. So instead of renovating your interiors, focus on your landscaping. Even though your hangout space might be ageless, a few forsythia shrubs adjacent to the front door screams spring.
26. Add several pops of color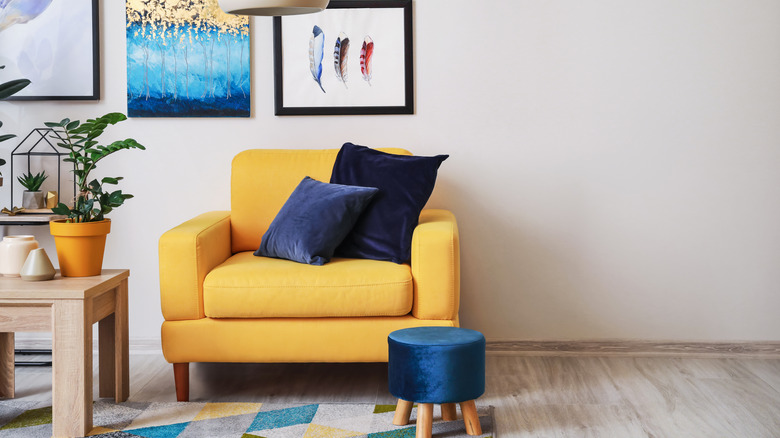 Pixel-Shot/Shutterstock
Mix in new decorative pillows, blankets, vases, and catchall trays in several spring-appropriate colors to add intensity to your bedroom or the living room.
27. Go for bright fixtures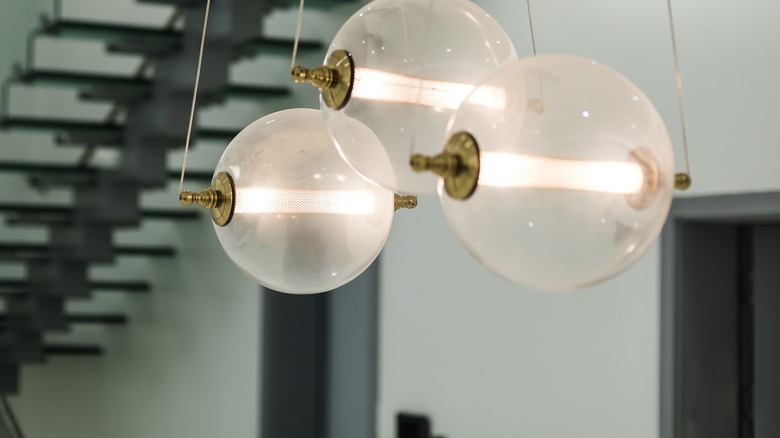 Emmanuel Ikwuegbu/Unsplash
Brighten up your room with bright yellow light fixtures and complementary ornamental accessories — think lemons and yellow tulips. What a stunning view it will be!
28. Paint your cabinets in luscious greens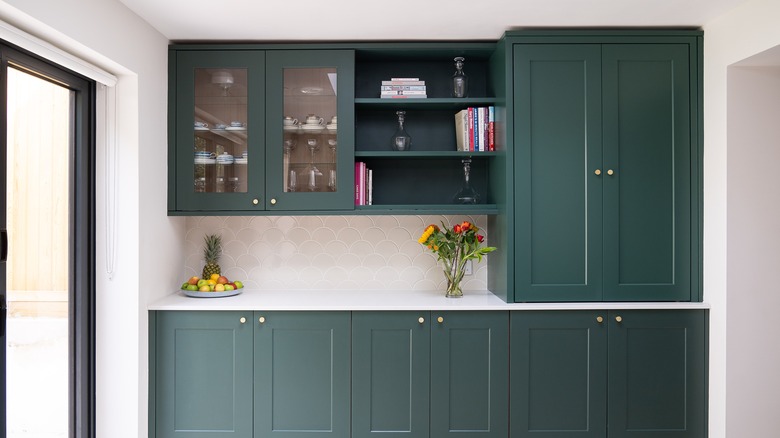 Laurence Katz/Unsplash
Painting your kitchen or bathroom cabinets in a luscious green color will herald spring into your home beautifully. Add fresh flowers and a bowl of fruit as colorful accents.
29. Set a floral tablescape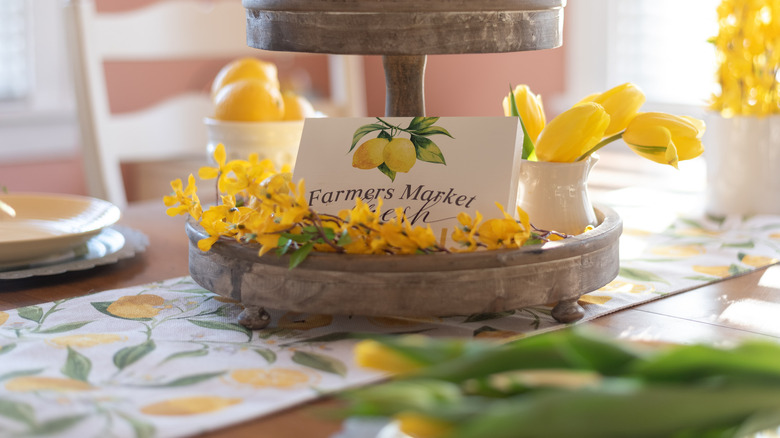 Kristen Prahl/iStock
A floral centerpiece is lovely on its own, but it truly pops when set on a tablecloth with a garden theme — especially when spring is so near.
30. Swap your shower curtain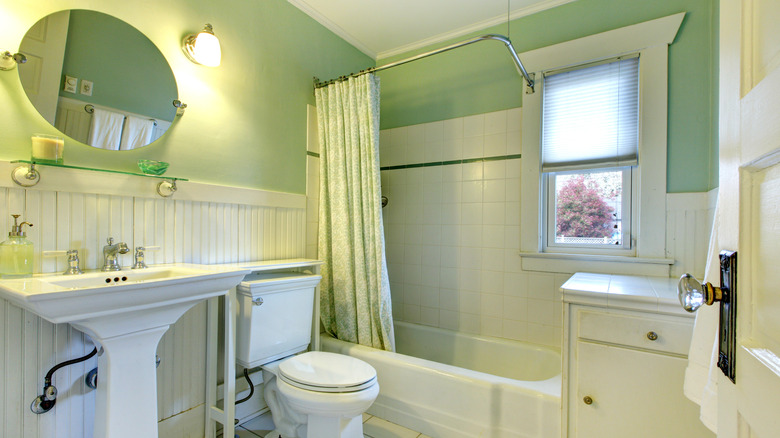 Artazum/Shutterstock
An easy way to bring a touch of spring into your space is to swap out the shower curtain. Opting for colors like green will bring a light feel into the room.