The 35 Best Accent Wall Colors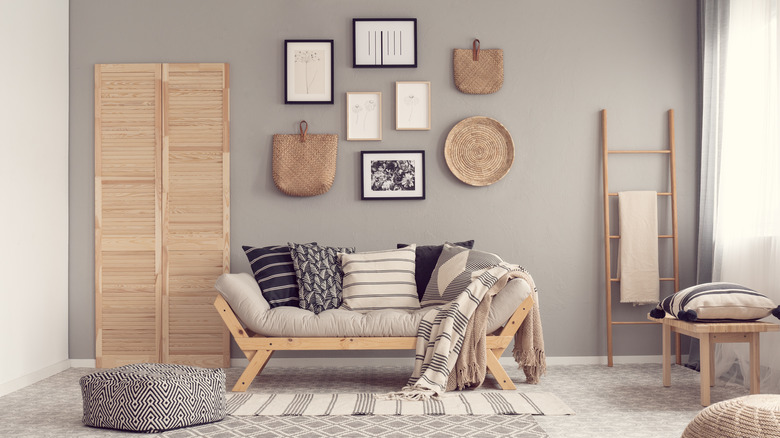 Photographee.eu/Shutterstock
Although beige and desert-inspired tone palettes are popular right now, you shouldn't be afraid to add a splash of color to your residence, and an accent wall is a fantastic way to do it without going overboard. Using an accent wall to provide shade or showcase the décor treasures on your walls is a terrific way to do both. One of the most appealing parts of an accent wall is the opportunity to choose a strong, vibrant color that you may be hesitant to apply throughout the whole space.
An accent or highlight wall allows you to experiment with color in your space without overwhelming it. Moreover, the location is entirely personal, just as The Spruce mentions. So, if you're having trouble adding visual appeal to a vast, boxy space, an accent wall might serve as a lovely focal point. When choosing an accent wall color, you can even look for a complementary hue darker or more decadent than the rest of the space. Here are a slew of the most stunning accent wall colors if you're looking for inspiration.
1. Go dark and bold with black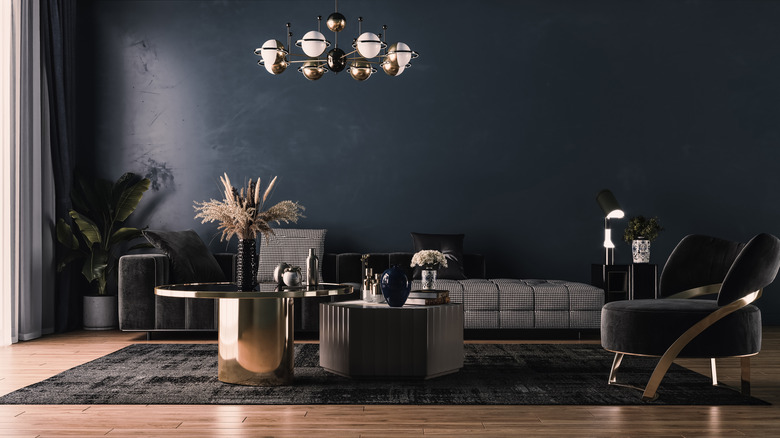 mixphotos/Shutterstock
You'll love a black satin hue with a sheen to it for a dark and bold look. This tone provides a lot of stark contrast and can be used with various styles and color schemes.
2. Give the room an airy feel with sage green
Followtheflow/Shutterstock
Need to unwind after a long day at work or home? Make your living room accent wall sage green; the color would look great in a living area. It's a soothing, peaceful color that's ideal for welcoming guests into your residence, besides being very adaptable to various venues and styles.
3. Warm-up the room with a spicy desert palette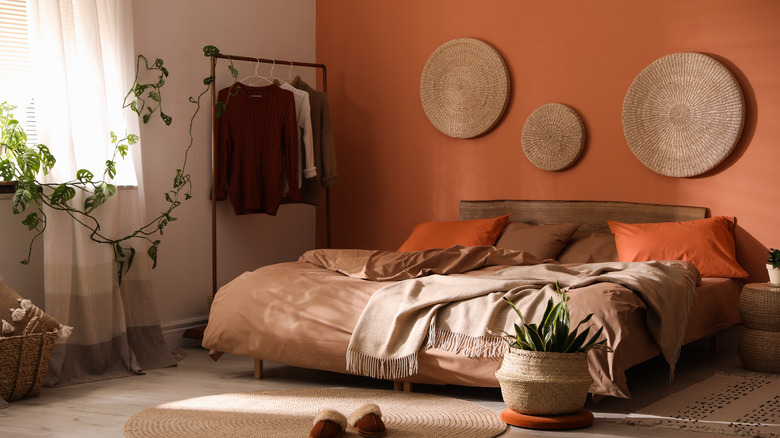 New Africa/Shutterstock
Hot, vibrant desert combinations — reds, oranges, and yellows — can be used for a fiery accent wall. These paint colors for the living area are an actual color explosion. To make an area feel more livable, add pillows that speak to the vibe of the desert palate. 
4. Combine blue and sandstone for a beachy feel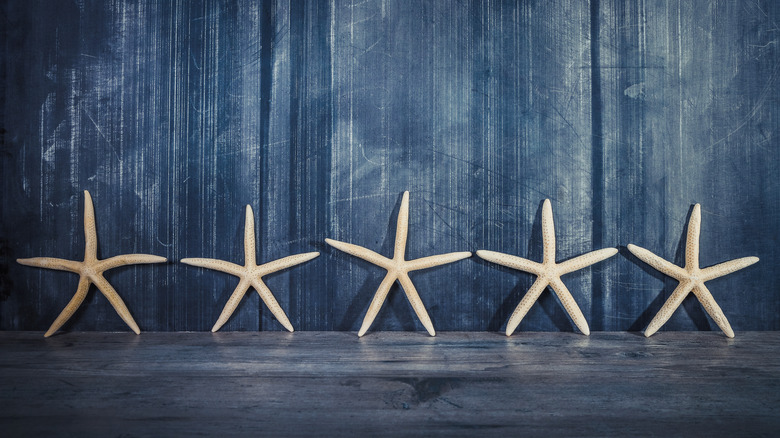 Suzanne Tucker/Shutterstock
Set a tranquil tone in your bedroom or living area with a combination of ocean blue and tan tones. You'll get a relaxed, beachy vibe without the clutter of sand and ocean.
5. Light up the space with a mellow yellow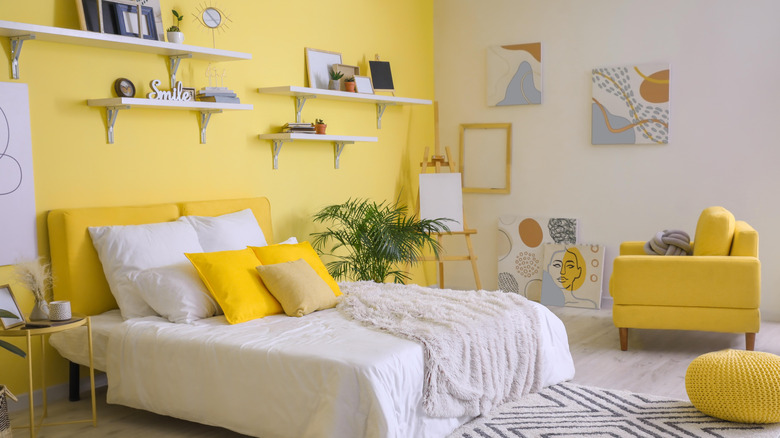 Pixel-Shot/Shutterstock
Look no farther than a sunny, neutral hue of yellow for a paint color that delivers a modest statement on an accent wall. A warm yellow instantly energizes a room without being too bright. A mellow yellow hue is particularly effective in sections of your home that get lots of natural light.
6. Chanel rustic summers with an olive green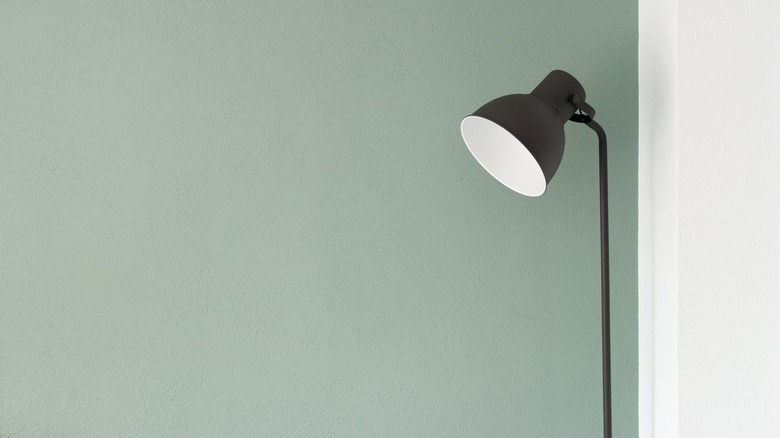 David van Dijk/Unsplash
Green is a popular paint color, but an accent wall can be an excellent compromise if you don't want to go all-out. Choose a green shade that pairs nicely with neutrals like beige or off-white.
7. Choose medium blue for a calming atmosphere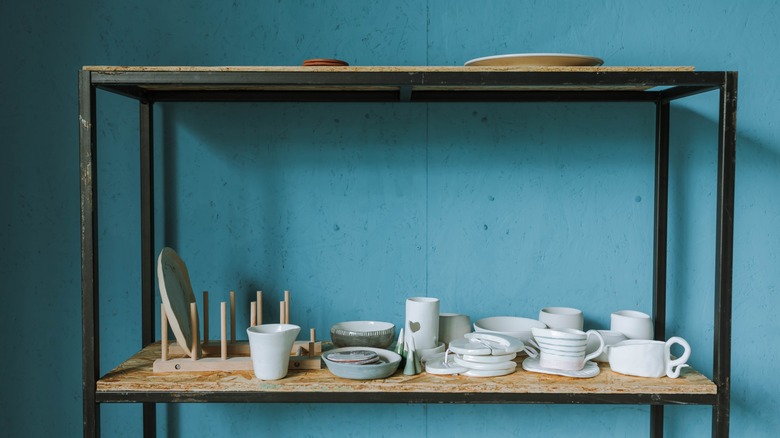 Anastasia Shuraeva/Pexels
Because it lends a relaxing touch to the room, blue is a terrific choice for an accent wall. A medium blue is a powerful hue with cool nuances that will give your feature wall a pop of color. Use cool neutrals like gray or white to highlight the rest of the space.
8. Cheer up a room with a bubblegum pink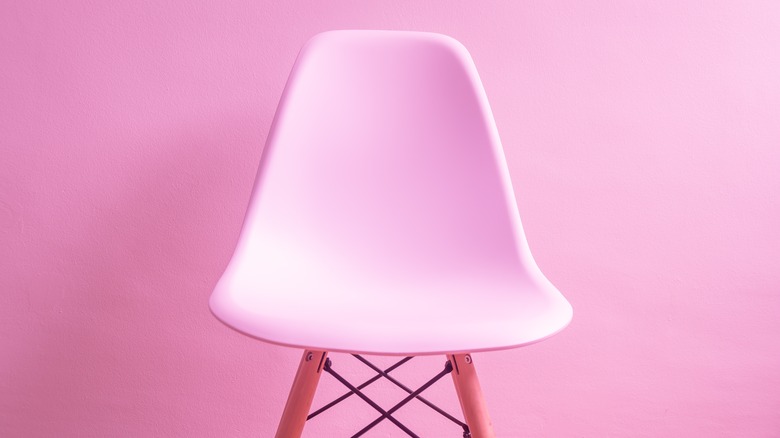 Willian Justen de Vasconcellos/Unsplash
A bright pink color is a cheerful hue for accent wall paint that reminds us of bubblegum and childhood. This hue provides unlimited color to your room and becomes an instant center point, so try it behind a couch in a basic living room to add some individuality.
9. Try an emerald green for a luxurious feel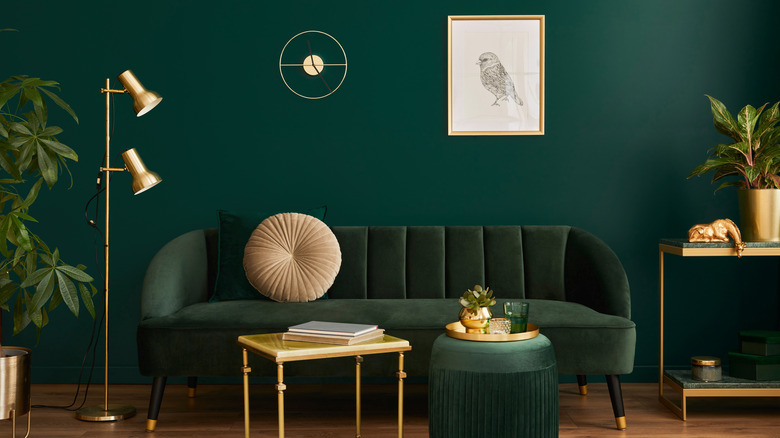 Followtheflow/Shutterstock
An eye-catching jewel tone may produce an impressive effect on an accent wall; it's powerful but not loud or demanding. This emerald green hue has all the relaxing, recessive, introspective aspects of a fabulous shade, but with a pop of vigor and assertiveness.
10. Go royal with a rich purple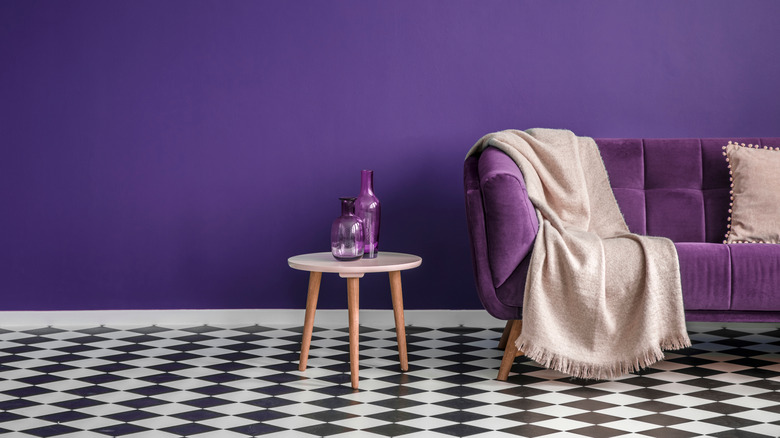 Photographee.eu/Shutterstock
A rich purple is a sophisticated, grown-up purple that looks great as an accent wall color. This deep shade would make a great accent wall color in a den, office, or bedroom. It's a chilly, dusty tone that's both welcome and peaceful.
11. Bring the sea inside with an aqua blue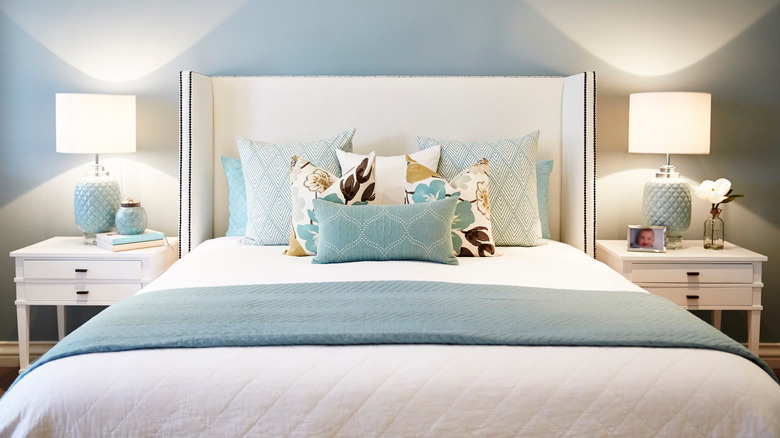 PhotoMavenStock/Shutterstock
Who says accent walls have to be dark to be effective? A light aqua paint hue can brighten up any space, so if you want to keep your adjacent walls white or painted in a milder neutral tone but want to add color, a lighter accent wall is a perfect alternative.
12. Try cobalt blue for a rich aura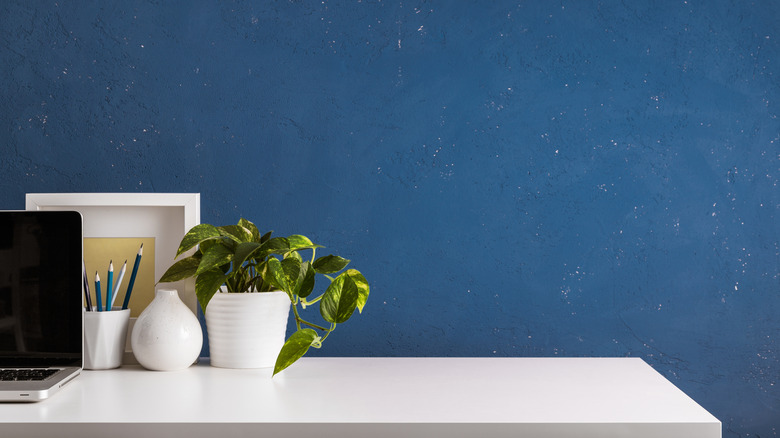 Mallmo/Shutterstock
Cobalt blue is a color that is both friendly and daring. While it resembles a deep rich sea, it's a little brighter and more colorful, with a hint of charcoal undertones. It's a majestic hue that works well in both old and classic settings.
13. Bronze for an urban atmosphere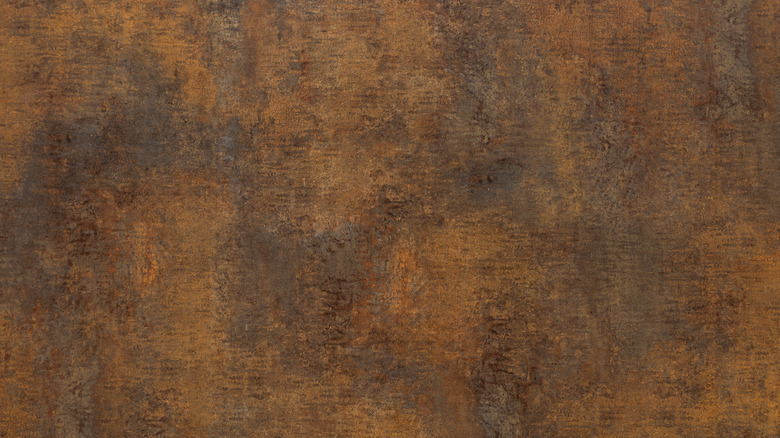 Fake Moon/Shutterstock
Bronze is a deep yet subtle tone that encourages silent reflection. You'll feel as if you're borrowing inspiration from decades past, but with a new perspective.
14. Fake a brick wall to maintain a cozy tone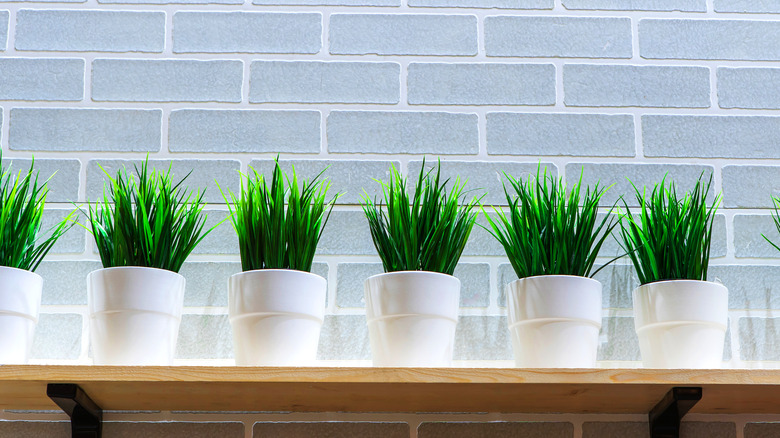 Dmitry Markov152/Shutterstock
An accent wall made of brick can provide dimension, neutral color, and warmth to a room, and it's ideal for achieving a rustic look. However, you don't have to renovate your wall to get this result. Instead, create a brick accent wall with a sponge and a bit of color.
15. Catch the breeze with an airy blue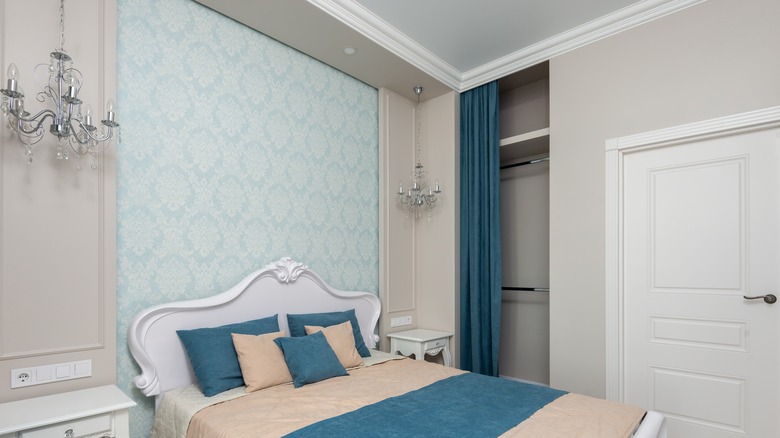 Max Vakhtbovych/Pexels
If you like powder blues, an airy hue is a must-try. This delicate color is nearly a pastel, yet when used on a wall, it pops. However, you'll want to ensure your other walls are light and neutral to get the most contrast.
16. Go charcoal for a cozy yet light feel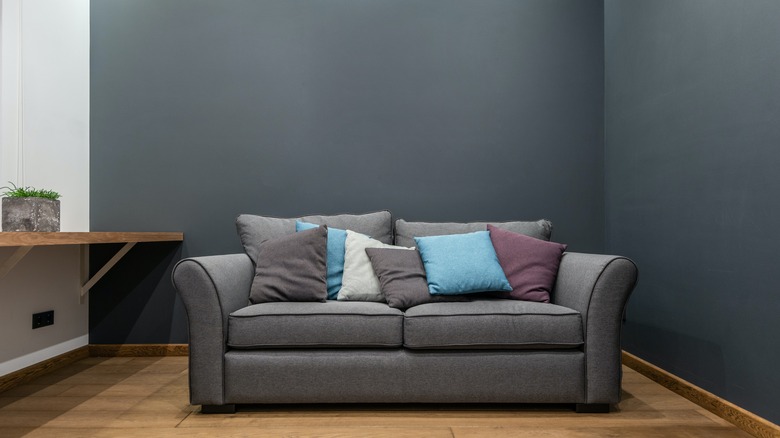 Max Vakhtbovych/Pexels
A piece of conventional, neutral furniture would merge fantastically with a charcoal gray as it has a low visual effect, allowing the darker hue to shine. Don't be afraid to experiment with this deep, somewhat purple-gray tone; it turns out to be a vibrant and dramatic backdrop.
17. Bring summer inside with a lemon yellow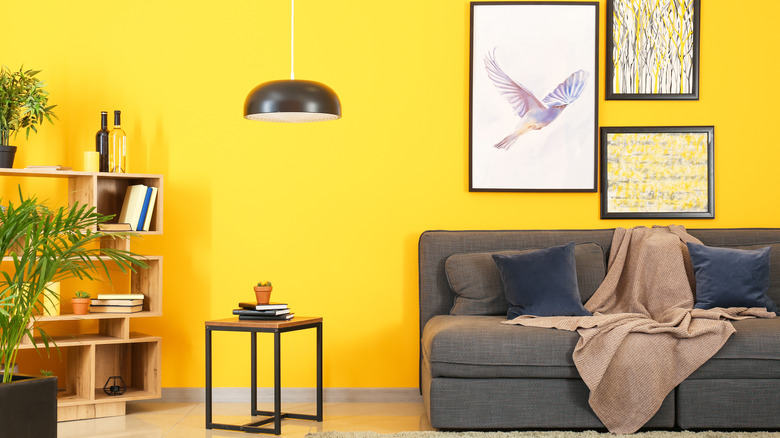 Pixel-Shot/Shutterstock
Does the idea of painting a wall yellow make you feel sick to your stomach? A lemony yellow accent wall that gives off a vibrant, bright, and summery feel will change your mind. Paired with a few chilly blue tones, it will provide a warm, glowing contrast you'll fall in love with.
18. Try a gray and peanut butter combo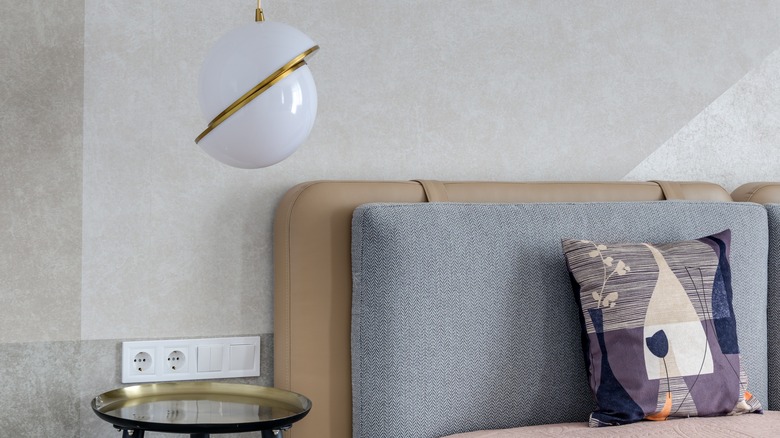 Max Vakhtbovych/Pexels
Light and serene accent wall color selections are among the nicest. The area will soothe the eyes and the spirit, with an accent wall set against a comfy bed.
19. A peachy hue for a warm yet airy space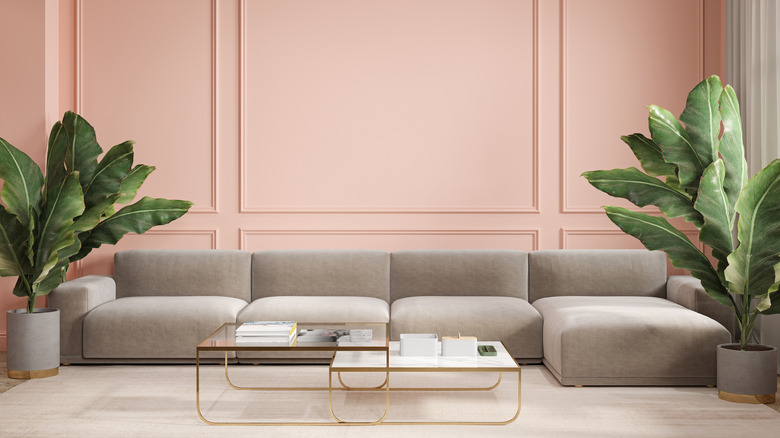 YKvision/iStock
A peachy hue on a wall will give the room a new dimension. Warm, yet not too warm, this color goes well with several pink variations, rosy glows, and brown hues.
20. Choose an earthy orange for a dreamy autumn atmosphere
Pixel-Shot/Shutterstock
If you enjoy the fall season, this is the ideal hue of orange to use on your accent wall. It's deep and rich but also light and brilliant, making it a popular choice for individuals who want to bring the comfortable orange glow of autumn into their homes all year.
21. Go with a stunning navy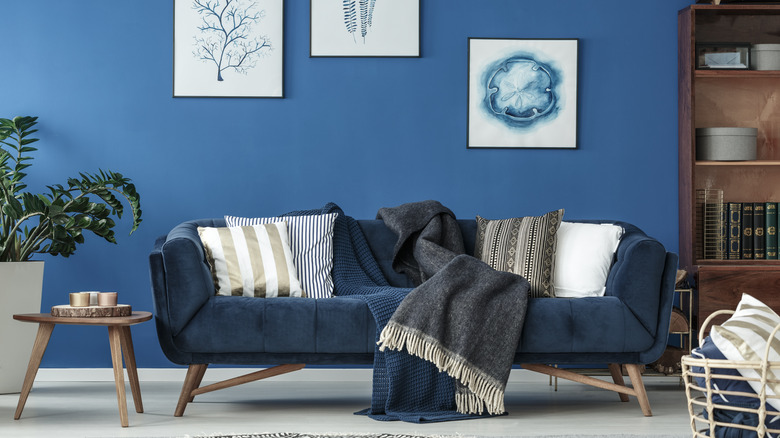 Photographee.eu/Shutterstock
To create a contrasting pattern with the crisp white in a room, paint a wall navy blue. You can develop a reflective and sensual backdrop further by combining the matte navy blue with gray and gold tones — it's ideal for a small living area.
22. Achieve a bold and hot aura with a deep pink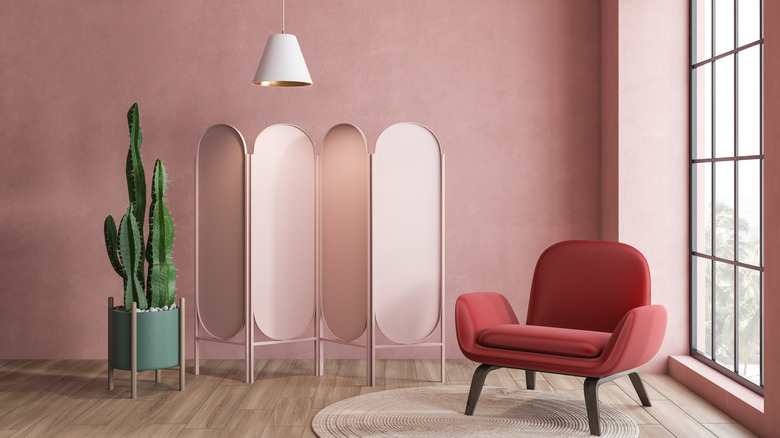 ImageFlow/Shutterstock
A deep pink paint is extraordinarily vivid but still not too bright or bold. When choosing accent wall colors, keep in mind that a shade of deep pink looks stunning against pristine white walls and in a room with rich jewel tones.
23. Choose lilac for a gentle touch of color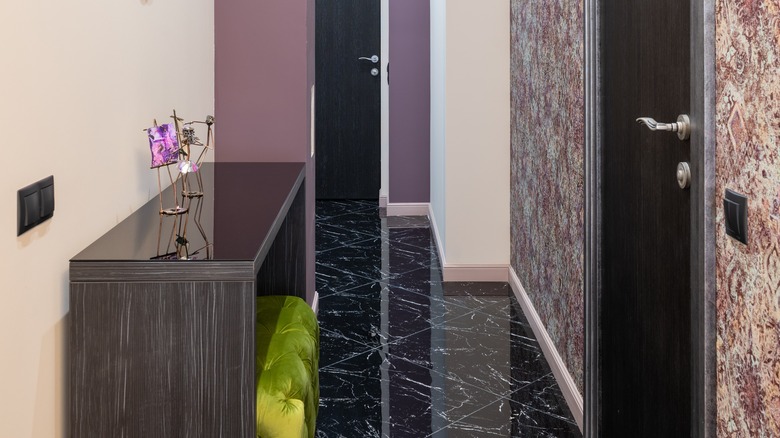 Max Vakhtbovych/Pexels
A misty lilac color on the walls helps ground vibrant, sculptural furniture items in an unusual but charming living room setting. The soft purple is mild enough to be used as a neutral, but it also has a sweet undertone that keeps a room from becoming too flashy.
24. Khaki green for the bolder ones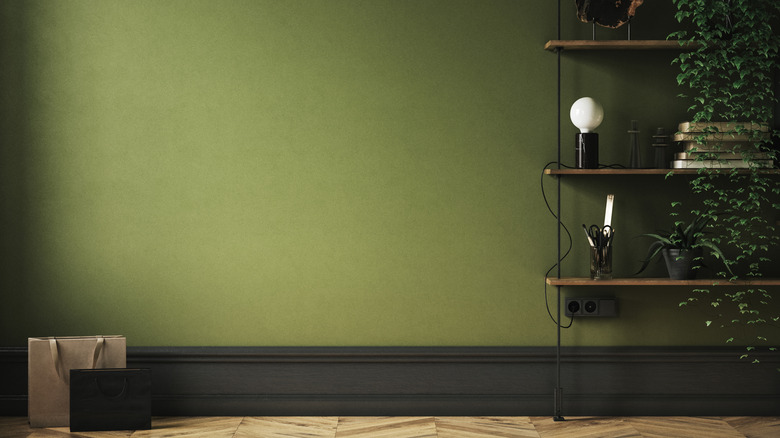 Artjafara/iStock
A neutral is anything that isn't shocking, which is a great way to reinterpret things if cream, white, or gray aren't cutting it in your living area. Because of the architectural style, light exposures, or incumbent furnishings, some spaces simply demand something out of the ordinary — and khaki green is just that.
25. Choose a dark gray for a lighter Industrial style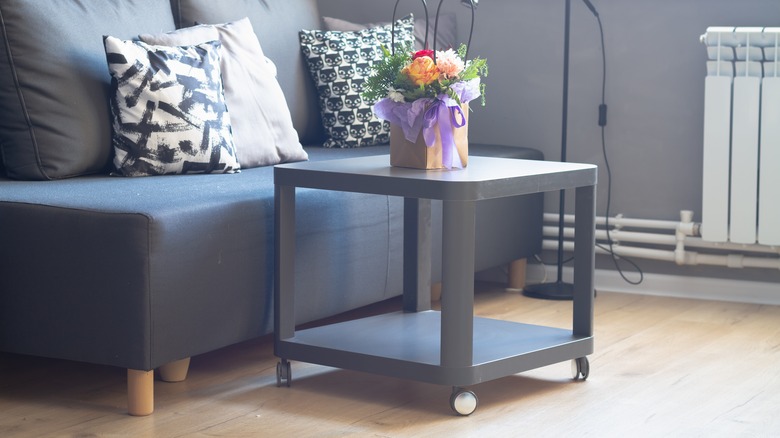 Evtushkova Olga/Shutterstock
If your home style resembles the Industrial design style or you want it to look more minimalistic, go for a darker, more striking gray. This color is a nice alternative to black and goes well with other cold colors.
26. Coral for a warm yet not too flashy space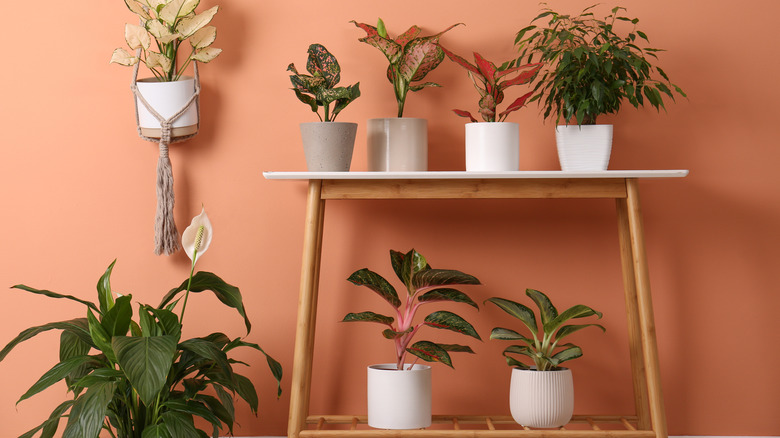 New Africa/Shutterstock
If you want to try out a bright pink hue, it's best to start with coral on a smaller part of your walls. Although offering pink nuances, coral gives off a romantic glow without making the room feel like you've coated the walls with bubblegum.
27. Choose a bright mossy green for a fresh style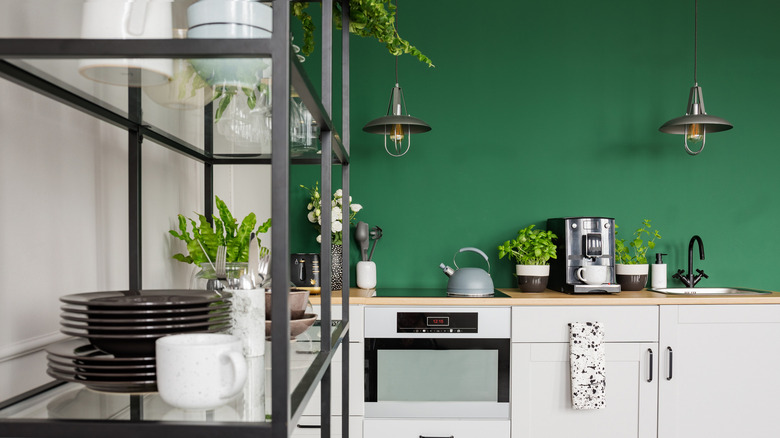 KatarzynaBialasiewicz/iStock
Try a mossy green for a bright accent wall that provides a bit more of a visual statement. This classic green with yellow overtones exudes a happy spring vibe. It's bold but classic, and it pairs well with other bright colors.
28. Stick with an ever-changing neutral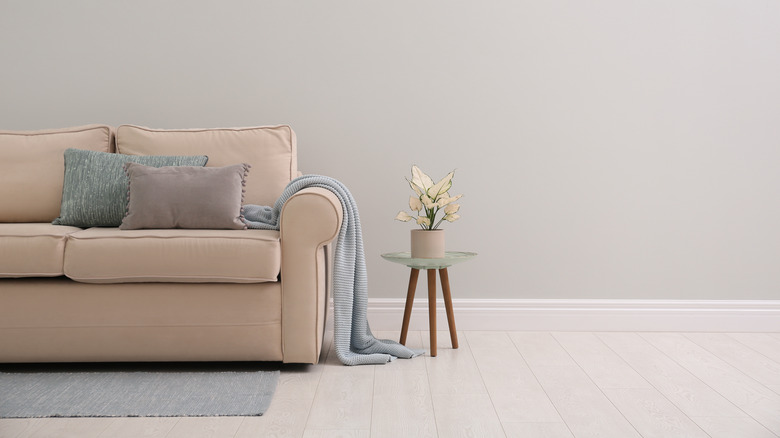 New Africa/Shutterstock
If you'd rather use a delicate color palette, warmer tones in a neutral accent wall will add some young buoyancy to the dark wood elements. Neutrals can show a soft gray-green color in some settings and a warmer beige hue in others.
29. Pair violet and red for an unexpected fusion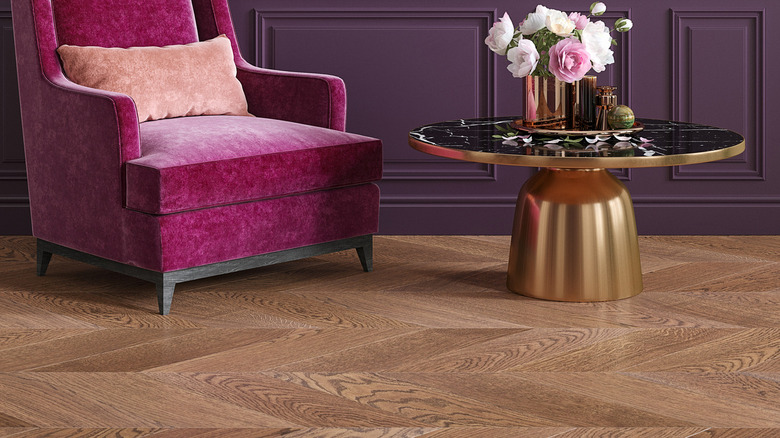 YKvision/iStock
Why choose between two interesting paint colors when you can have both? The romantic yet unexpectedly fresh color combination of fire red and violet will go perfectly with throw cushions in a bohemian style.
30. Try a rich yellow-orange combination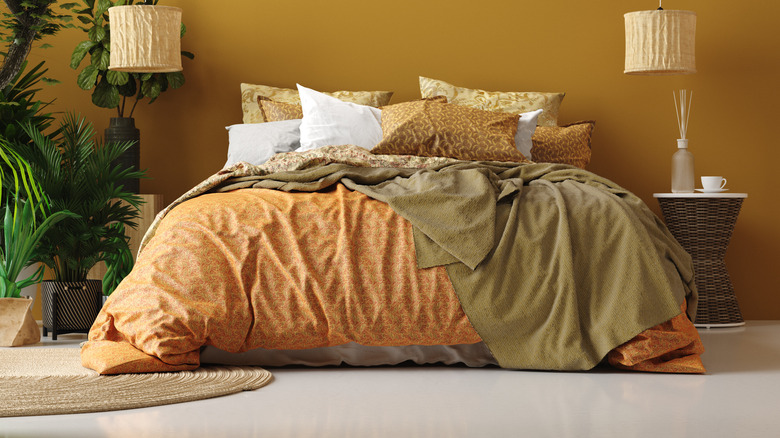 Artjafara/iStock
Honeycomb is a vibrant, lively color. It's a bright mix of yellow and orange that strikes the perfect balance while remaining quite earthy. Depending on the lighting, it can lean yellow, so if you're looking for a genuine orange, this color might be too airy for your preferences.
31. Stay with the traditional yet outgoing cream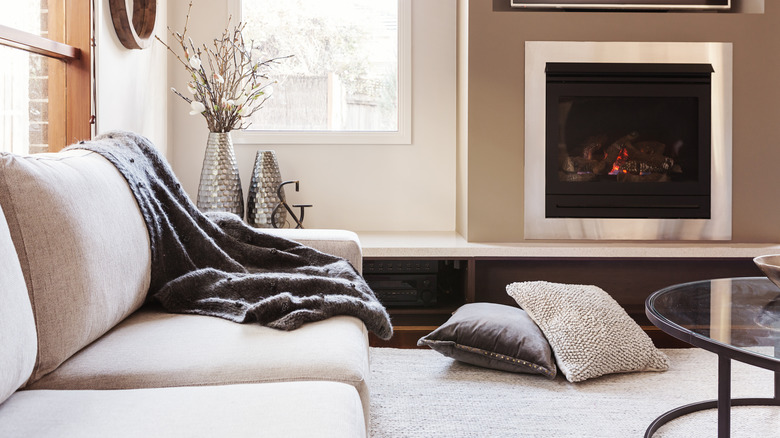 Jodie Johnson/Shutterstock
Cream, softer than white but neutral, is the ideal backdrop for a welcoming yet traditional living room. The neutral, almost iridescent accent wall can emphasize a velvet sofa and brass elements, while a blue blanket and white side table can provide a wonderful contrast.
32. Pick a light gray for a less dramatic feel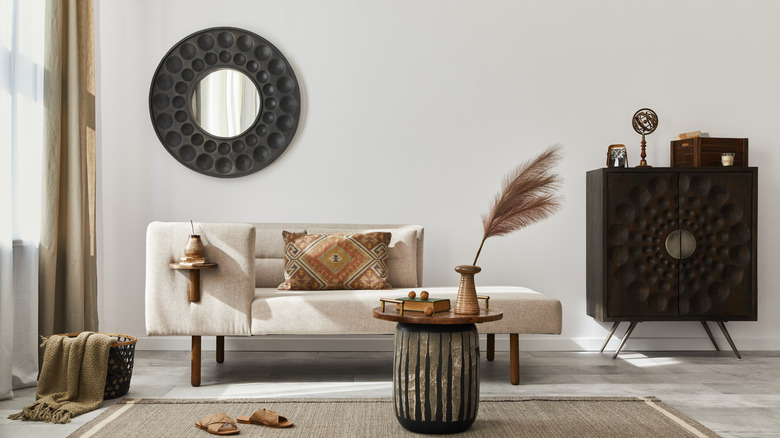 Followtheflow/Shutterstock
You can use a light gray hue in the living room as a neutral contrast for patterned furnishings and still keep it drama-free. It's more sophisticated and nuanced than a basic white, but not so much that it steals the show.
33. Try a dusty rose for a touch of spring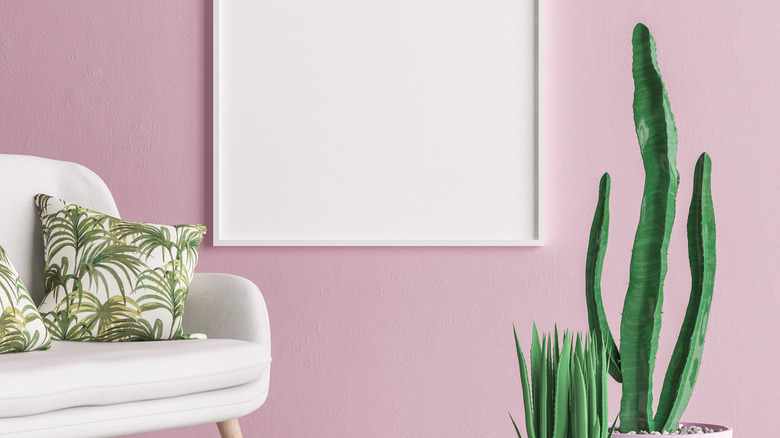 Artjafara/iStock
A dusty rose pink tint is indeed romantic, although it's a pretty classic color that's more neutral than warm. However, this makes it a versatile accent wall shade that can be used in almost any setting, providing a sense of soft refinement to any space.
34. Get an innovative greige hue for a comfortable setting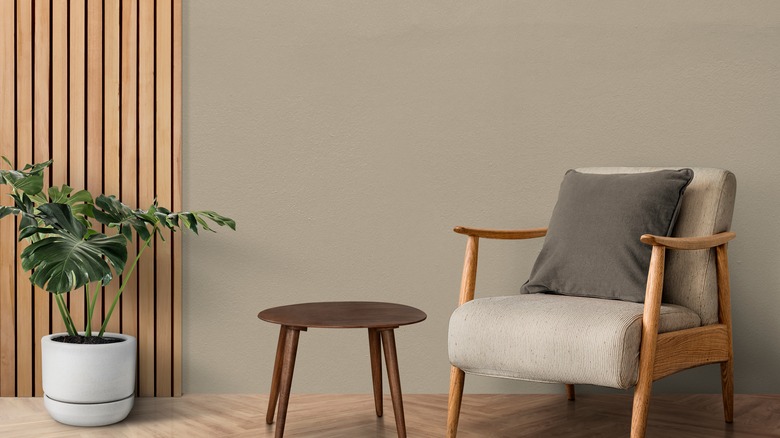 Rawpixel.com/Shutterstock
Greige paint colors are a great backdrop in contemporary interiors, as they are far more complex than white while remaining soft and modest.