The Real Reason IKEA Is Laid Out The Way It Is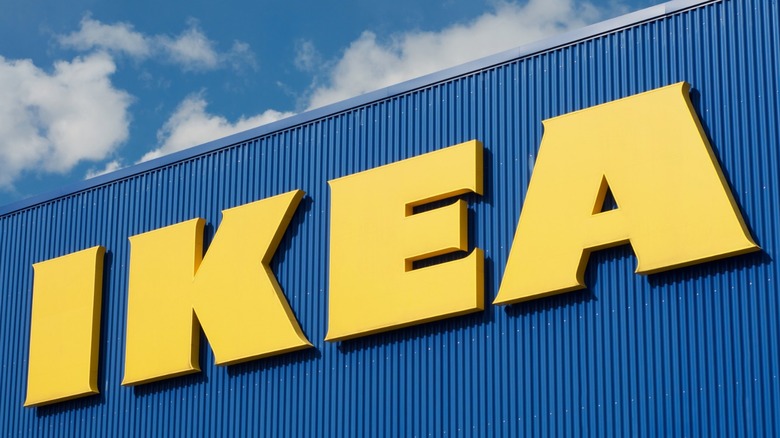 Marlon Trottmann/Shutterstock
IKEA is one of the most well-known home furnishing brands in the world with its easily recognized yellow and blue sign. IKEA is an acronym using just four initials to represent the founder's name, the farm he grew up on, and a nearby village. Their unique shopping philosophy isn't going to get you in and out of the store as quickly. Most of their stores have an open design that lets you wander as you choose. IKEA has a well-planned maze that leads you through every single department to get to the exit. By then, you've probably purchased several cool things that caught your eye and completely forgotten the one item you really came for. 
Try googling "jokes about IKEA." There's an endless number of sites that have gathered jokes about the layout. One user from Upjoke compared going into a teenager's room to going to Ikea. You go in just to see what's new and come out with 10 plates, three cups, and a pair of socks. IKEA reported $46.2 billion in global retail sales at the end of the financial year 2021 with a total of 458 stores worldwide, so they're probably laughing all the way to the bank. Their closest competitor, Wayfair, generated $13.7 billion in the same period.
Welcome to everything you need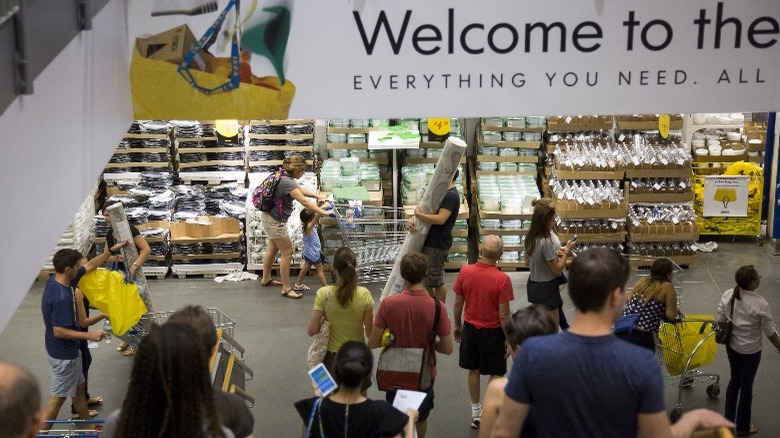 Bloomberg/Getty Images
IKEA was founded in 1943 by then 17-year old Ingvar Kamprad, the "I" and the "K" in the store's name. He began by selling small items like wallets and picture frames in a small, remote town in Sweden. Five years later, Kamprad was selling furniture and wanted to make good quality, well-designed furniture at prices that everyday people could afford. Antonella Pucarelli, the chief commercial officer for U.S. retail, said this "democratic design" means a product's functionality and aesthetic value do not have to come at a high price, per EnvZone. 
Kamprad's ingenuity led him from one business innovation to another. His isolated geographic location led to the creation of the IKEA catalog in 1951. When people felt the prices were too good to believe, the first showroom opened so they could come try the furniture themselves. People made an outing out of the long-distance travel to visit the store, which led to making food available for sale and a play area to keep children busy while their parents shopped.  
As the mail-order business expanded, Kamprad developed the idea of flat-pack shipping by removing the legs of a table. This started the DIY assembly trend in 1965. Kamprad, who died in 2018, embodied the creative and ingenious mind of someone who lived in a time and a place where most people didn't have very much and had to make the most of what they had, as relayed on the IKEA website. 
The entrance and exit maze
Everything about the IKEA shopping experience is intentional and psychologically driven, per author Dr. A. K. Pradeep, as quoted in EnvZone. There's something new to discover around every turn as you follow the yellow floor path. The store is primarily white, which feels like a clean, clutter-free environment that you can aspire to in your home if you just buy IKEA products. Finally, you arrive at the check-out with the sweet smell of baked goods that takes away the stress from having spent more money than you planned. 
For people who are shopping with children, there's an hour of complimentary daycare. After you pick up the kids, you can all head to the restaurant for meatballs. This is true comfort food to give you sustenance and help you recover from, what Pradeep called, the most tiring environment for humans; retail. 
Finally, there's the idea of DIY assembly. Yes, there are 10,000 pieces, said Pradeep, but you put it together yourself and have pride in your accomplishment. That notion may have finally become too much for some of the millions of shoppers. In 2017, IKEA purchased TaskRabbit, an on-demand service and errand platform that will deliver and assemble the products for you. Pre-pandemic, you could even get the meatballs delivered with Uber Eats. Fortunately for shoppers, the restaurants have re-opened.