10 Furniture Ideas For A Farmhouse-Inspired Home
In life, a person constantly changes over time. Additionally, just as people evolve often, so do homes. Whether it's swapping the wallpaper or redesigning the entire room, it's common for homes to go through different design incarnations. However, choosing what theme and design to do next is not so easy as there are endless amounts of options.
One of the most popular design themes out there is farmhouse. While originating centuries ago, this theme is most popular for those folks in country type areas that live on a farm. However, this theme is perfect for anybody wanting to add some southern charm into their life and home. But where does a person start?
For farmhouse-inspired homes, Vevano says that white-toned colors and wooden designs are the best way to indicate the theme. Furthermore, unlike other schemes, farmhouse pieces don't have to match perfectly. It's also easy to make this theme unique to the person creating it. That being said, there are still an endless amount of designs, colors, and combinations to choose from. To that end, here are 10 furniture ideas for a farmhouse-inspired home.
1. Hutch or china cabinet
Commonly known as a china cabinet, adding a hutch to a space can bring the room together, farmhouse style. Depending on location and color of the room, hutches should be a solid shade of white or brown. Most common for dishes, hutches can be used for storage amongst other things. 
2. Wooden coffee table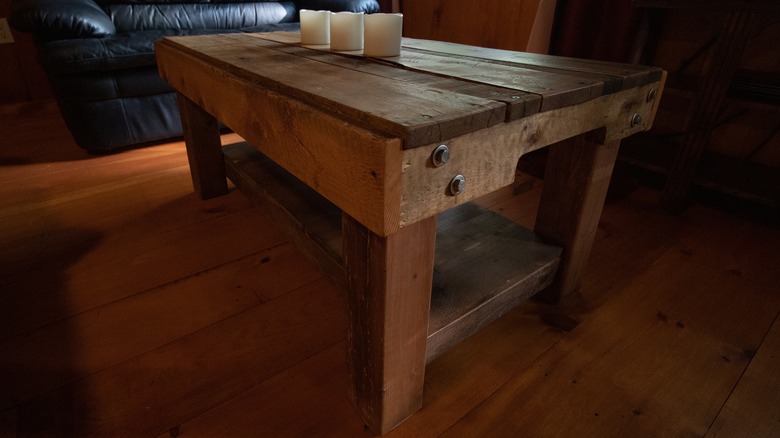 Matt Hyland/Shutterstock
Adding a coffee table to a living room is one of the most obvious and convenient ways to bring a room together. However, a wooden table can be used in a variety of settings including farmhouse themed. While up to preference, a dark brown top with white legs would fit perfectly.
3. Picnic bench dining room table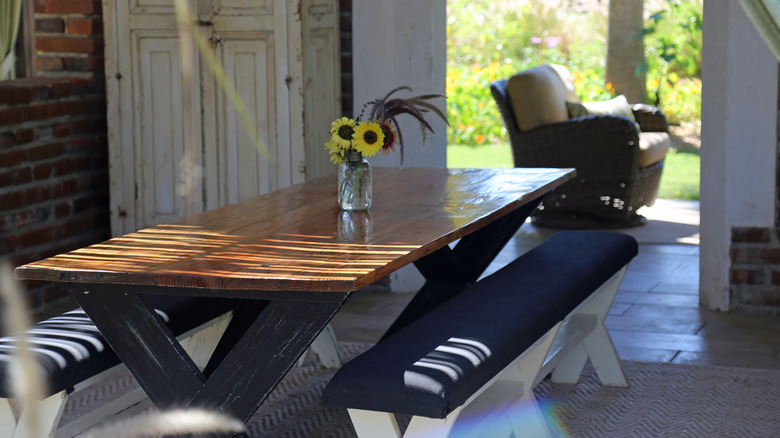 Rachel Lehne/Shutterstock
Go big or go home! For those that like unique furniture, consider going with a picnic bench for a dining room table. Popular in farmhouse-inspired homes, these can be an array of neutral tone colors and are sure to make any dining room standout.
4. Barn door headboard
For those that prefer headboards on their beds, changing up the headboard is an easy, yet potentially expensive option. However, one of the most popular farmhouse-themed pieces of furniture is a headboard that looks like a barn door. Cute and simple, these come in a variety of colors such as white, brown, or gray.
5. Foyer bench
The first thing most people want to do when coming home is to sit down and take off their shoes. Therefore, having a bench in the foyer is convenient enough in and of itself. However, for a farmhouse theme, this bench could be several colors such as off-white, light gray, or a rustic brown.
6. Electric fireplace
Pixel-Shot/Shutterstock
Fireplaces are one of the most controversial topics when it comes to homes. Most either prefer it or strongly dislike it. Luckily, electric fireplaces were invented. While providing heat, they are also portable and can be moved in and out of any room whenever desired. These are perfect for farmhouse-inspired homes and come in many different varieties.
7. Solid colored sofa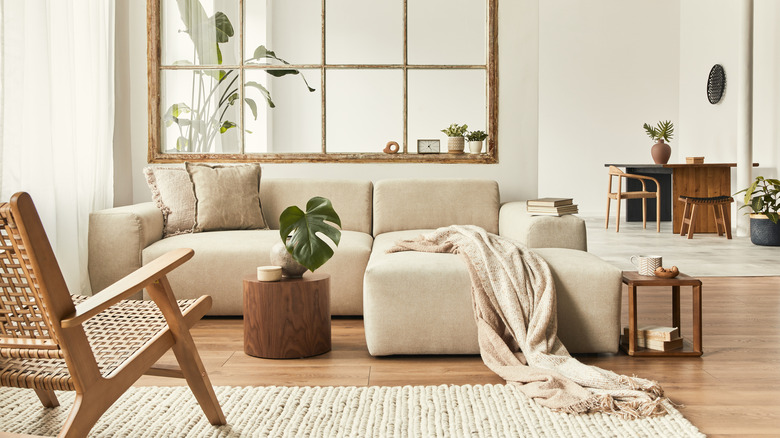 Followtheflow/Shutterstock
Sometimes simplicity is best. This is true as well when it comes to farmhouse-inspired homes. Adding a simple solid color sofa is a great way to adapt to this theme. A popular way to incorporate this is to add some dark-colored throw pillows to a light-colored sofa.
8. Opposite colored chair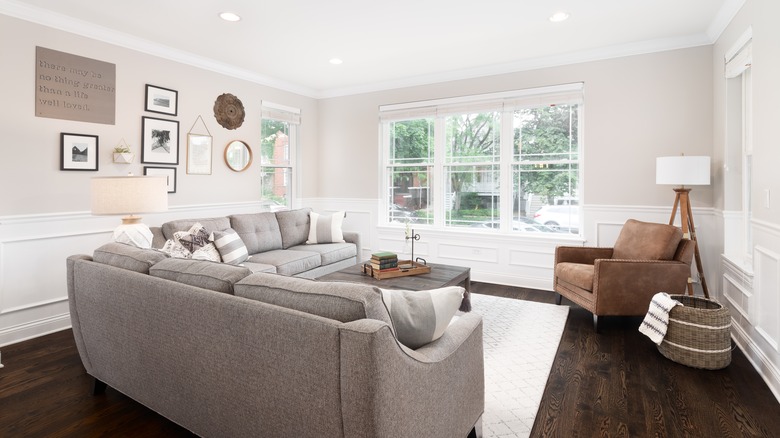 Hendrickson Photography/Shutterstock
If you chose a dark-colored sofa, a great addition would be to complement it with a light-colored chair. In opposition, if you chose a light-colored sofa, a dark-colored chair would look good alongside it. The opposing colors are a sure way to make the two blend together.
9. Barn door entertainment center
Almost every home has an entertainment center. Some are built-in with the home, while others are bought from a store. If bought from a store, an option is an entertainment center that has barn doors as opposed to standard ones. However, there are DIYs where you can do this yourself with your current center.
10. Hall table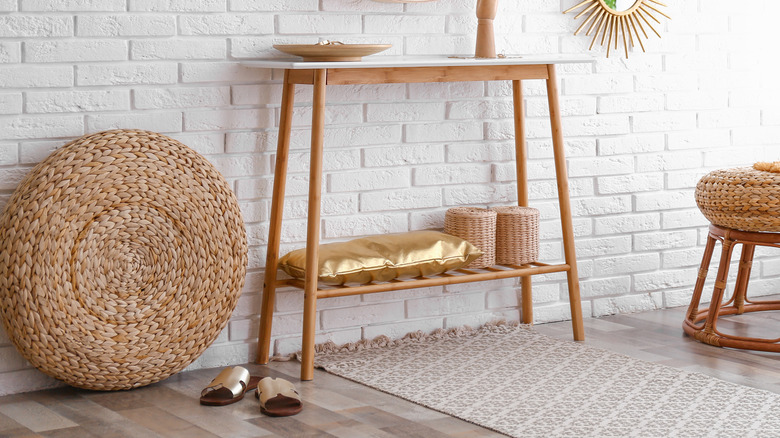 New Africa/Shutterstock
Adding a simple table to the hallway is sure to make any house come together. A table that's thin enough to where the wall is still seen is ideal. Hallways tend to be small, so having a thin table allows for the theme to be enhanced, but not cluttered.