20 Trendy Ways To Style Bookshelf Decor
Whether you are a reader of inspirational non-fiction, out-of-this-world science fiction, or prefer to drool over tasty cookbooks, there's nothing like a good bookshelf to display your collection of reading materials. However, that extra shelf space can be more than just a way of keeping your books ready for the next time you need them. A good bookshelf is also the perfect opportunity to add some decorative touches to their shelves that don't involve just adding more books.
Bookshelves can offer an ideal area to display pieces of art, small plants, pictures, and even special knick-knacks in order to introduce some personal character to the room. You could take this opportunity to decorate your bookshelf in a way that it becomes a focal point, which could have it serve as a conversation starter. Or — depending on your sense of style or the theme of the room — you could have it blend into the overall aesthetic of your home. Either way, there are plenty of ways you could decorate your bookshelf decor to make it a more stylish area of your home.
1. Color match your books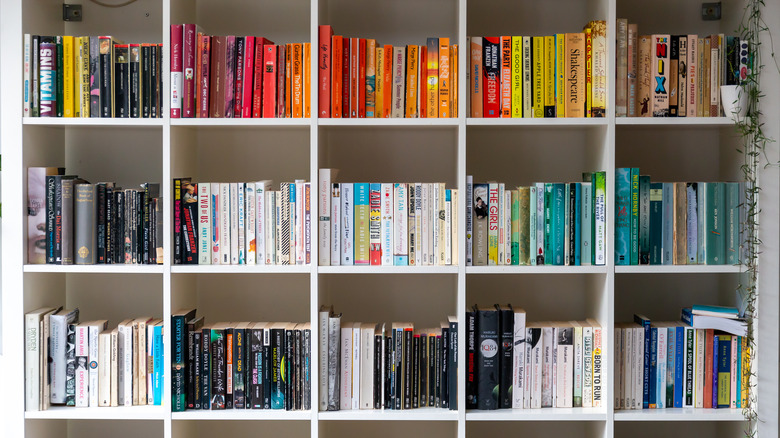 MagicBones/Shutterstock
If you have amassed a huge collection of books, one way of creating a visually appealing display is to arrange them by the color of the spine. Start grouping together the reds, blacks, whites, and all the other shades in between, and this can create a lovely spectrum that will make your bookshelf look like art.
2. Add a lamp to your bookshelf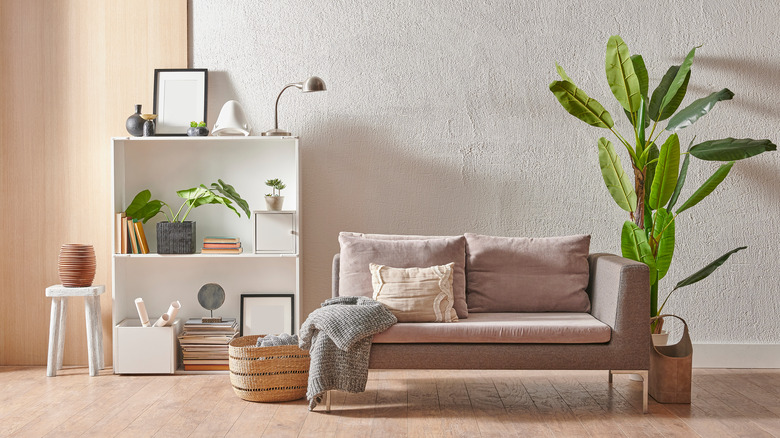 united photo studio/Shutterstock
Need a little illumination when you are ready for your next relaxing read? Try placing a strategically located lamp on your bookshelf. This can be just the thing to set the mood and keep you awash in warm light as you enjoy your next book.
3. Have fun with different shaped bookshelves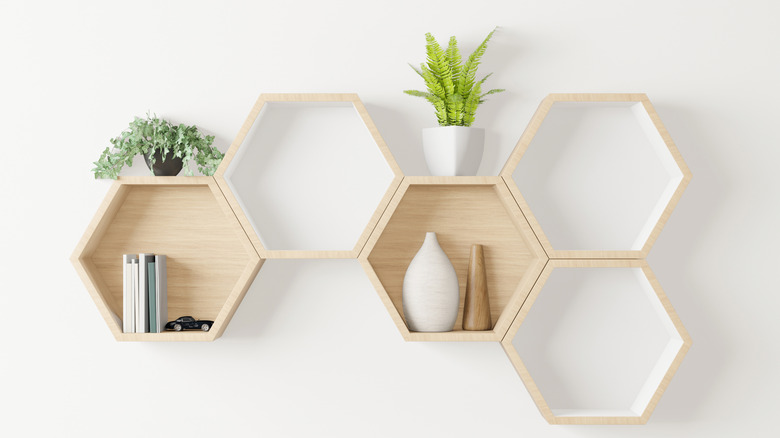 NukTD/Shutterstock
To shake things up a bit when it comes to the look of your home bookshelf, try playing around with different shaped shelves. These hexagonal-shaped bookshelves offer a new unique look to your living space but can still hold all of your reading materials as well as display some fun knick-knacks.
4. A mini chalkboard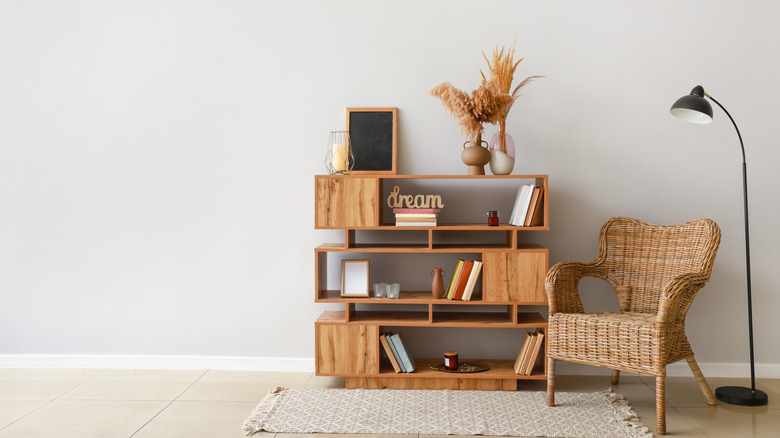 Pixel-Shot/Shutterstock
Adding a mini chalkboard to your bookshelf can be a great way to introduce an element of interactivity. Use the chalkboard to write down an inspirational passage you read from your book or have your friends and family add some fun, quirky messages or sayings. You could even use colorful chalk for those who are more artistic.
5. Incense holders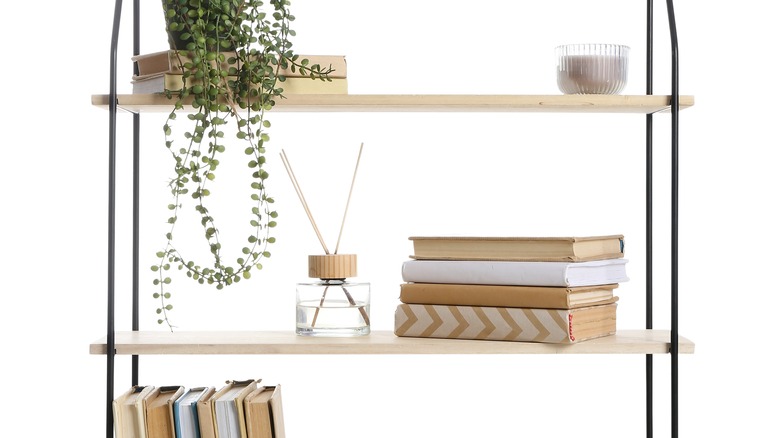 Pixel-Shot/Shutterstock
There's nothing like a pleasant smell to set the mood and create a welcoming atmosphere in a room. Placing a simple or even ornate incense holder to display some of your favorite scents can help to set a relaxing ambiance to your reading space but also look incredibly decorative.
6. Decorative flower vases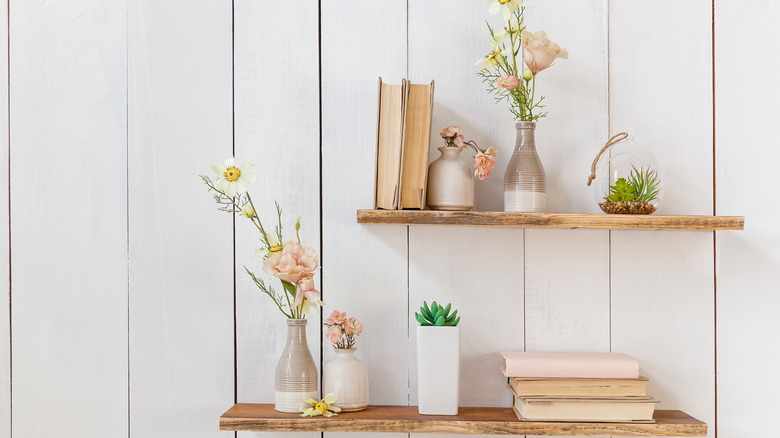 Photosite/Shutterstock
Flower vases come in all sorts of shapes, colors, styles, and sizes. This can be a simple yet effective way to spruce up a bookshelf by adding a visually pleasing component. For a more laid-back room, try using flower vases that are made from natural materials in creamy neutral tones.
7. Take a minimalist approach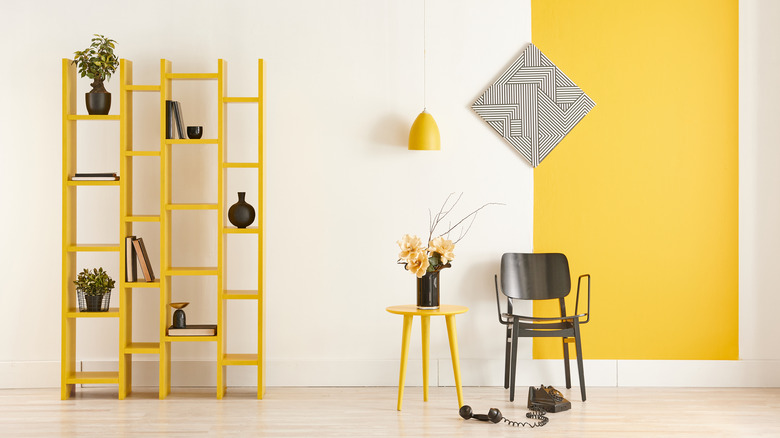 united photo studio/Shutterstock
Sometimes less is more, especially when you have a bookshelf painted in vivid colors. With a bright yellow bookshelf, you could tone down the amount you place on it in order to make certain items stand out. A few books and some well-placed darker objects can make the overall look of the shelf really pop.
8. Photo boxes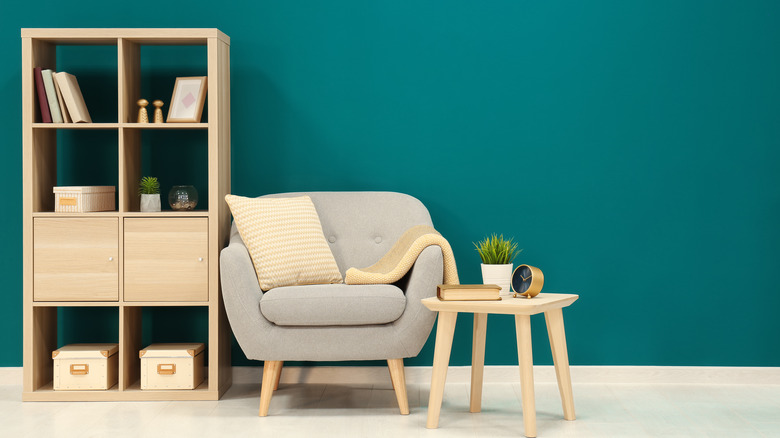 Africa Studio/Shutterstock
Keep all of those memorable photos within grabbing distance on your bookshelf by storing them in decorative photo boxes. Instead of cluttering your bookcase with photos, which may actually become a bit overwhelming, simply choose some attractive photo boxes which can keep them safe, organized, and ready to pull out whenever you like.
9. Wood frames for your plants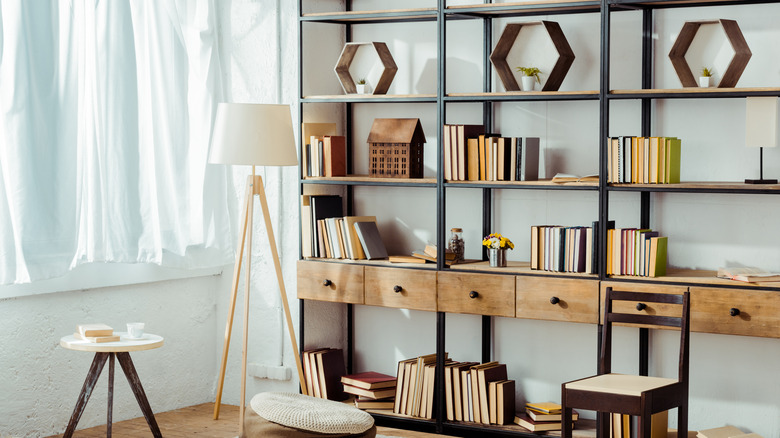 LightField Studios/Shutterstock
Instead of framing your pictures, try something a little different and add a simple frame to border your smaller plants. This easy to come-by bit of decor can really make your small cactus or succulents stand out from the other items on your bookshelf.
10. Side-by-side traditional look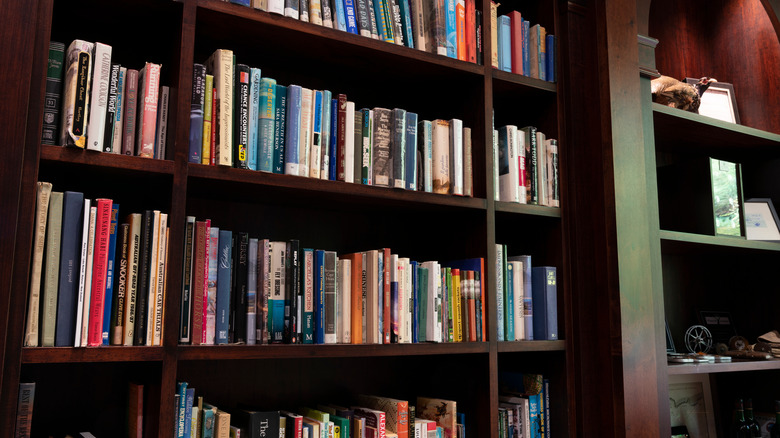 Photos BrianScantlebury/Shutterstock
Sometimes bringing back an old-school look to your bookshelf can be refreshing. If you have enough space to have the luxury of side-by-side bookshelves, then try keeping one shelf dedicated to books while the adjoining one can be jam-packed full of decorative items. This look offers a nice contrast to each other.
11. Vintage cameras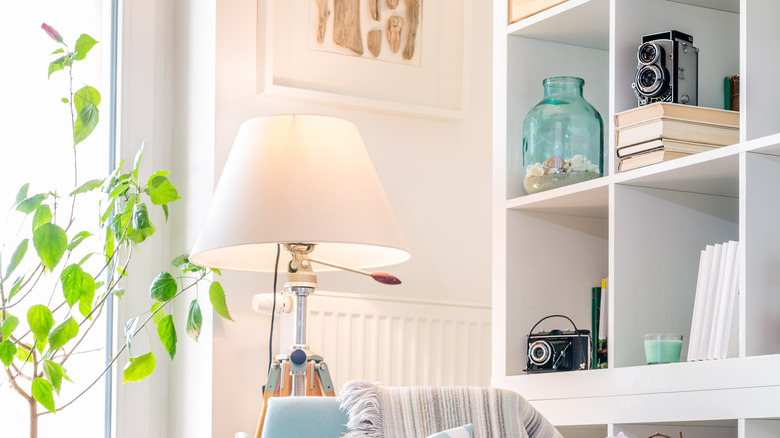 el lobo/Shutterstock
For the photographer of the house who needs to display all of their favorite books, what better way to accent your collection than peppering in a few vintage cameras as decoration. These cameras can be collected from thrift shops or flea markets and would definitely add a nice vibe to the overall look.
12. Plenty of plants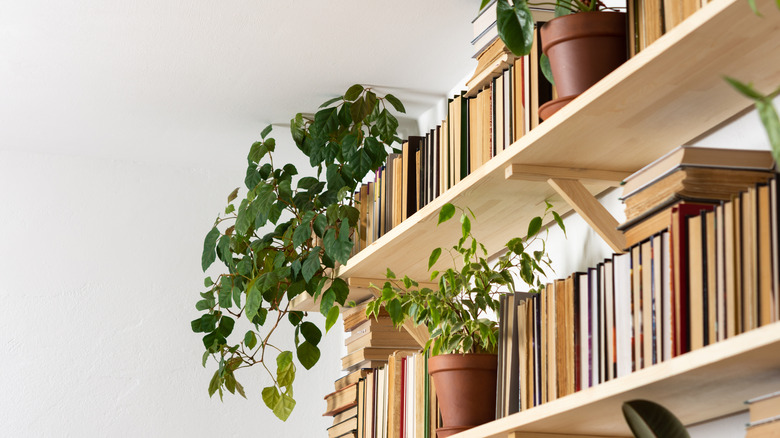 pundapanda/Shutterstock
Nothing brings color and life to a bookshelf more than some lovely potted plants. The addition of vibrant greenery set against old or new books is sure to stand out, especially if you have long-hanging plants. If you're worried about the amount of light they will receive, make sure to stick with quality low-light plants.
13. Utilize the negative space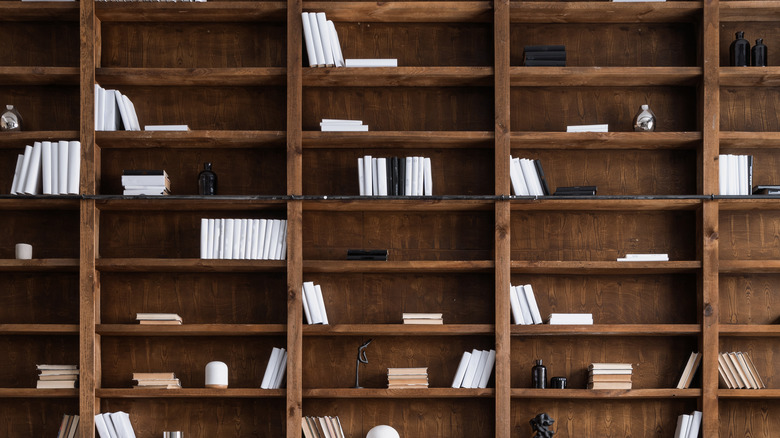 brizmaker/Shutterstock
You don't always need to fill up your bookshelf in order to make it look good. When it comes to decor, you might be surprised how much of an impact you get with fewer amount of books and well-placed items such as vases or small art pieces.
14. A wooden ladder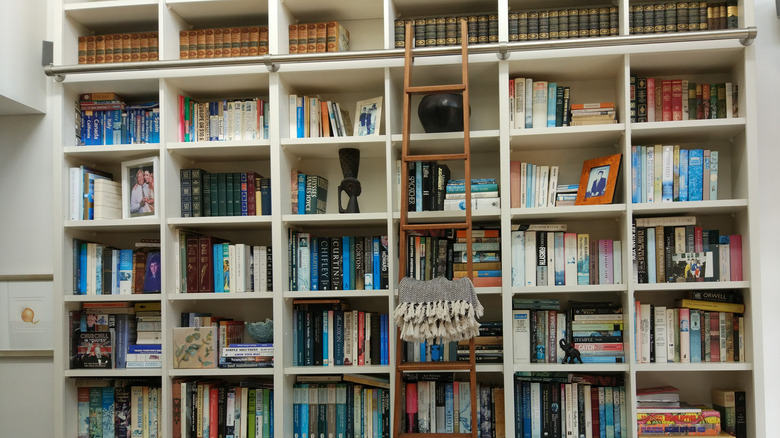 nata9m/Shutterstock
Give your bookshelf that classic library feel with a well-crafted ladder. Especially with higher bookshelves, a good ladder will not only look great but also serve a practical purpose to reach those fantastic reads that are just out of reach. You could also hang a comfy blanket off of the ladder for added appeal.
15. Use candles
Candles can be an easy way to bring some style to your bookshelf. They are a versatile piece of decor that can add some extra charm to any area, whether they are lit or not. Because they come in so many varieties, it's easy for them to fit into the rest of your color scheme.
16. Clay pots
Whether you dabble in the art of pottery yourself or you have amassed a collection from your local market, clay pots can be a welcome addition to any bookcase. They can act as the perfect vessel to hold flowers decorative items or just stand on their own with quiet elegance.
17. Style with picture frames
Display family pictures, special moments, or your best landscape shot in a beautifully designed picture frame. You can find frames in all sizes so that they can fit onto the shelf space you need. A good wooden frame can match well with any style of bookshelf and help add a touch of sophistication to neutral-themed decor.
18. Metal baskets
If you need a way to store items on your bookshelf but also want them to be seen, then try a metal basket. A metal basket made from white or black material can fit right in with a contemporary style bookcase. This can be an ideal way to display books, notebooks, or other decorative items.
19. Use unique lighting
A sure way to have your bookshelf really stand out in a room is to introduce some distinctive lighting. Low hanging lighting is perfect for illuminating non-traditional bookshelves. For other bookshelves, try angling your pot lights or ceiling spotlights so that they showcase your bookcase.
20. Get creative
The best feature of a bookshelf is that it is meant to exhibit whatever you choose to put on it. So go wild! Among your body of books, place picture frames, candles, attractive artworks, colorful plants, and all those things that make you smile. Because in the end, you want it to be a space you enjoy.