Tom Ford's Former Home Has One Weird Feature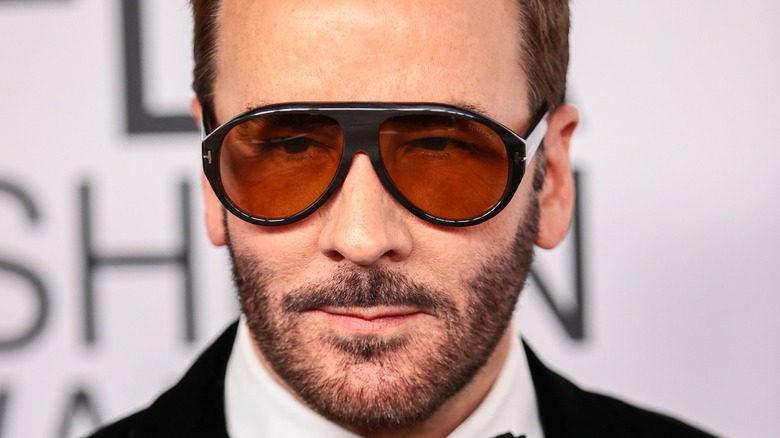 Dimitrios Kambouris/Getty Images
New Mexico's own "Cerro Pelon" Ranch, known environmentally and in the entertainment world for its incredible sprawl and popularity as a filming location for Western cinema, sold in 2021. The sale occurred in connection with a reported $48 million asking price, per the Neil Lyon Group. The ultimate selling price, though, as Architectural Digest noted, remains private. 
In an event, the 2021 sale followed a few years of visibility on the market and a reportedly higher asking price. In an earlier listing, then-owner Tom Ford sought $75 million, according to Architectural Digest. Considered a "legacy property," it is one of the biggest estates in Santa Fe County. In addition to containing substantial private land access onsite and having an entertainment industry rooted reputation, the property also includes a rare and soothing view of the Galisteo Creek. This body of water is an environmentally significant basin in an arid state where water access is rare. The creek ultimately joins the Rio Grande.
Not every property has such history
As a ranch-style home, Tom Ford's former "Cerro Pelon" property includes the traditional element of being a one-story structure. And while tradition is followed to some degree on the property, it also contains additional elements such as glass walls and separate quarters for ranch hands (who may find plenty of work as the property also includes several horse stables). 
As Architectural Digest reported, a self-taught and award-winning Japanese architect named Tadao Ando designed the property's primary residence. Ando's work elicits much acclaim and theorizing. Architectural historian Franceso Dal Co classified Ando's work as "critical regionalism." Ando's distinct point of view also earned him the revered Pritzker Prize in architecture. 
This property includes two guest houses, multiple staff residences, a horse barn, and office space. The weirdest feature? The Silverado Movie Town, as Design Boom reported. The notable western movie town was first constructed to be a set for the 1985 film "Silverado." Not every home has such history.