When Should You Really Be Decorating For Christmas?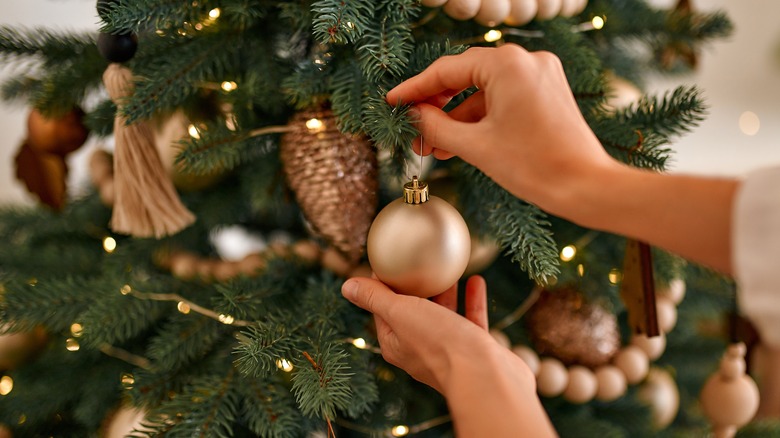 Orion Production/Shutterstock
Though we won't be decking the halls or wishing anyone season's greetings for a while, many people find themselves in the Christmas off-season wondering when they should take their ornaments and garland out of storage. A survey conducted by YouGov and shared via House Beautiful polled 2,748 adults in the U.S. who celebrate Christmas, Hanukkah, or Kwanzaa and found that 27% put their holiday decorations up before Thanksgiving, while 69% wait until after Thanksgiving to start putting up decorations. The most common days to decorate include the day after Thanksgiving (25%) and after Thanksgiving, but before December (24%). This means that, according to the survey, most people have their holiday decorations up before November ends.
It was once considered to be the general rule-of-thumb to wait until after Thanksgiving before decorating for the holidays, but a recent shift away from this trend has proved that is no longer the case. Etsy's trend expert Dayna Isom Johnson told Martha Stewart that people find themselves excited for the holiday season earlier, and it's okay to let them express that feeling of joy in celebrating their family and friends.
So when is the best time for you to consider untangling those strands of lights and picking out your tree?
Decorating early can make you happier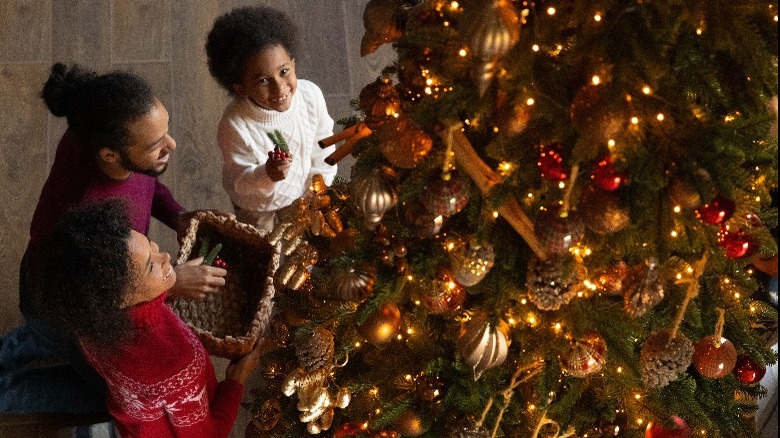 fizkes/iStock
It's never too early to start thinking about holiday cheer, especially since psychologists say decorating early for the holidays can actually make you happier. Christmas decorations create feelings of joy and can modify hormones in your body. In fact, psychologist Deborah Serani told American Christmas Tree Association that the act of decorating for the holidays creates a neurological shift that leads to a spike in dopamine. That feel-good hormone makes us happy.
Psychotherapist Amy Molin agreed, explaining via Yahoo! that Christmas decorations can evoke feelings of nostalgia and happy childhood memories. The cool thing about nostalgia (and the reason why antique stores are so popular, we might add) is that people find a link to their past, a connection to their childhood, and the joyous memories of family Christmases. Molin also said that it can help those who have lost loved ones, as they may feel a connection to that person while decorating.
Your decorating timeline depends on the type of decor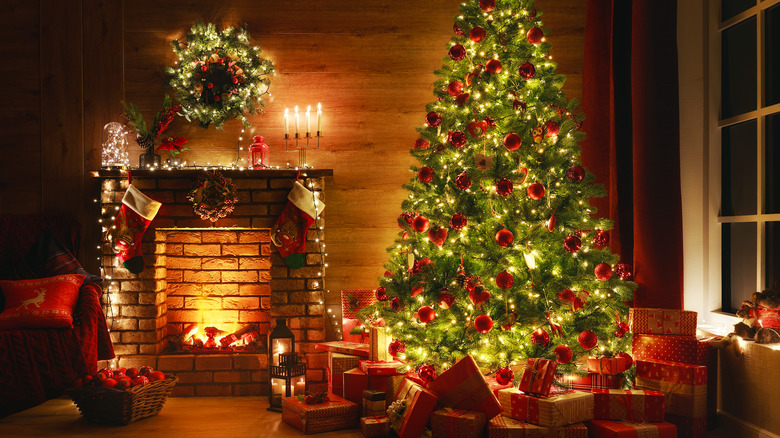 Evgeny Atamanenko/Shutterstock
It turns out, the recommended timeframe for holiday decorating depends on what type of decor you are putting out. Though there are no set rules, Shutterfly recommended waiting until at least after Halloween to hang any Christmas lights so that you have enough time to take down your Halloween decor and lights. Apartment Therapy pointed out the importance of being mindful and courteous of neighbors when setting up light displays that may keep the neighborhood up at night, but a study mentioned by American Christmas Tree Association showed that your neighbors may interpret you putting up Christmas decorations early as a sign that you're sociable and approachable. If you are concerned about keeping neighbors up at night with your light display, consider setting a timer for your lights so that they shut off when it's time for the neighborhood to go to sleep. Setting a timer can also help save on your electricity bill.
The recommended timeline for setting up your Christmas tree depends on whether you have a real or artificial tree. According to Shutterfly, fresh trees usually last for four weeks, which puts the best time to set yours up the weekend after Thanksgiving. If you put up your tree too early, you run the risk of having it dry out before Christmas. If you're putting up an artificial Christmas tree, you have all the flexibility you need to decorate as early as you choose.