A Look At Jeffrey Epstein's Private Island, Which Is On The Market For $125 Million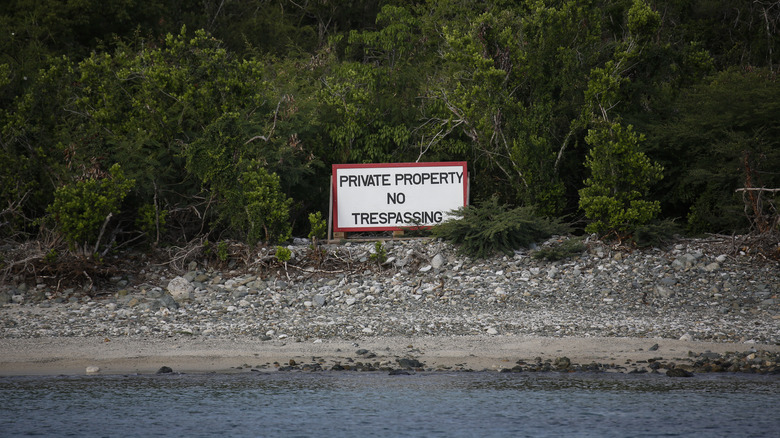 Bloomberg/Getty Images
Jeffrey Epstein began his career as a science and math teacher in New York City, where he was born and raised. From there, The New York Times states that he gained several connections that lead him to his next job at Bear Stearns' investment bank firm. In 1982, Epstein went off on his own and created his own finance firm, which led him to accumulating his fortune. At the peak of his career, Epstein's net worth stretched to nearly $1 billion, as he owned six different multi-million dollar estates including an entire private island (per Celebrity Net Worth). As he continued through his career, his social circle also grew with a variety of important people from around the world.
In 2019, charges hit Epstein, stating that he allegedly molested several young girls between 2002 and 2005. Nearly 10 years before, similar charges were placed upon him, but his social circle helped him escape the dire consciences. The 2019 case was not about to let Epstein run free again, but before he could face the charges in court, he reportedly died suddenly from suicide (via The New York Times). Since his death, Epstein's private island remained untouched, but recent listings show the island to finally be making an entrance into the real estate market. Here's what we know about the private island estate.
If you or anyone you know is having suicidal thoughts, please call the National Suicide Prevention Lifeline​ at​ 1-800-273-TALK (8255)​.
Jeffrey Epstein's former island is for sale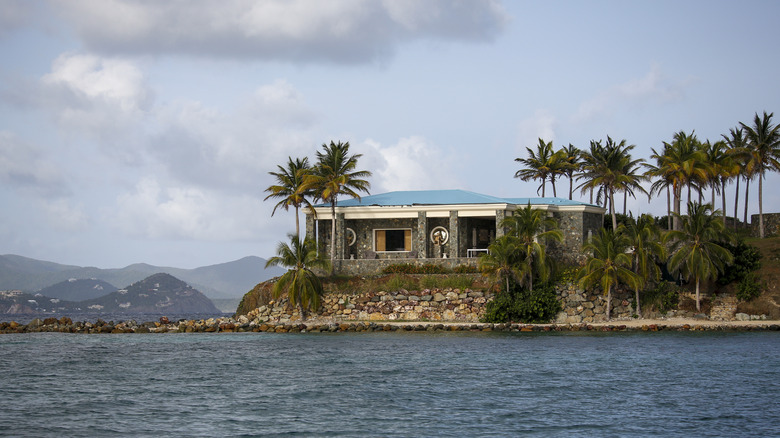 Bloomberg/Getty Images
After the allegation he faced before his death, Jeffery Epstein's private island was most commonly known as "Pedophile Island." He was specifically seen bringing his victims to this island, who often tried to escape by swimming in shark-infested waters. The New York Post states that Epstein's island, called Little St. James, is located in the U.S. Virgin Islands, and consists of about 70 acres of land. The island is complete with a helipad, private dock, gas station, gym, two pools, private beaches, a main residential house, four guest homes, and a Tiki hut. Right before his 2019 arrest, Epstein purchased another island, called Great St. James, which still only consists of small structures and a marine preserve. The Wall Street Journal informs that both islands will be sold together, making a grand total of 160 acres of land.
The private islands are entering the real estate market with an asking price $125 million. Epstein's lawyer, Daniel Weiner, states that the money gained from the sale of the islands will go toward the costs of the lawsuit that was put out against Epstein before his death, as well as other fees that accompanied the continued operation of the island after its direct use.
If you or anyone you know has been a victim of sexual assault, help is available. Visit the Rape, Abuse & Incest National Network website or contact RAINN's National Helpline at 1-800-656-HOPE (4673).