Page Turner Reveals How You Can Upgrade Your Home For $6 Per Square Foot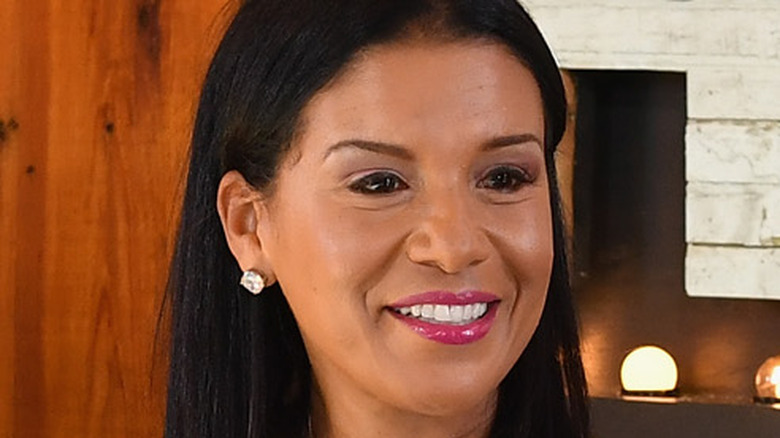 Jason Davis/Getty Images
Page Turner of "Fix My Flip" fame offers some handy fixes for house flippers who are on a time crunch, have a budget issue, or both. Regardless of the renovation obstacles, Turner's ideas, though relatively inexpensive, give a dull space a more eye-catching look and added functionality. She applies those very tactics to her latest project in California.
The "Fix My Flip" episode that's titled "Solutions in Santa Clarita" centers around Gus and Miguel, a licensed real estate agent and a licensed home inspector, respectively. The two house flippers encountered problems with a $410,000 house that's costing them $3,700 a month in holding costs. Plus, they've already poured $15,000 into the reno. Thus, time isn't on their side, according to Realtor. So, they looked to Turner for some tips and guidance to get the place sold in a reasonable amount of time without going far over their budget. After all, they've been sitting on this property for nine months already with seemingly no end in sight -– at least not in the near future.
Page Turner comes to the rescue
Consequently, the house flippers called on Page Turner for help with the hope of staying within a $55,000 price tag for additional changes, per Realtor. As fans of the show have already guessed, Turner remained optimistic that this goal can be accomplished, and that the house can actually sell for somewhere in the neighborhood of $600,000. From there, she takes on the project with an agreement in place to divide the reno expenses in half and to gain 40% of the profit when the house is sold.
So Turner took the necessary steps and offered valuable advice to Gus and Miguel along the way. Most of these tips can apply to anyone who's in the situation of selling or buying a house. For starters, Turner advises against excessive renovation. In this instance, the house is located in a community where home prices run fairly low. This particular property would work well as a starter home, which turns the focus towards features that'll make it more move-in ready while keeping it affordable.
House flipping hacks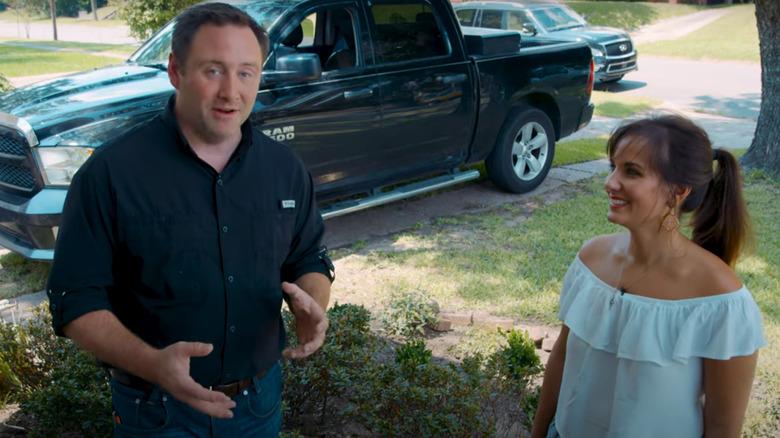 ArtBitz/Shutterstock
Other tips Page Turner offers relate to how a seller might overstate a few details about the property. As an example, Miguel and Gus's project has an above-ground building in the backyard that supposedly served as a bomb shelter, as mentioned on HGTV. While it's questionable if the detached structure is indeed a bomb shelter, Turner finds a way to turn the dwelling into a delightful space that's ideal for entertaining. Another important detail that the sellers goofed on was advertising the home as a three-bedroom residence. However, in order for a bedroom to legally fit that description, it has to have a closet. Luckily, with a minimal amount of demolition and rebuilding, Turner's crew created three bedrooms with closets.
Regarding the color scheme, Turner's interior designer, Francesca Grace, incorporated neutral tones that paired well with the home's desert surroundings. The colors added enough pizzazz to attract buyers who can incorporate a variety of decorating ideas. Also, Turner offers hints for saving money without sacrificing quality; while the owners want to repaint the cabinetry in the kitchen, they soon find out the particle board won't allow it. Thus, turner finds some inexpensive but beautiful cabinets. For bathroom and kitchen flooring, she suggests subway tile, which costs only $6 per square foot.
Once the home was sold, Gus and Miguel received their full asking price of $655,000 with a profit of $175,000, with Turner $70,000 minus her share of the renovation expenses. This leaves her at $42,500.