Before He Married Alexis Bledel, Vincent Kartheiser Owned A Tiny Home
As a generation, Millennials help to carry the tiny home trend, per Insider.  As the publication detailed, the reasons why certain Millennials choose, purchase, and enjoy their tiny homes are aplenty. As a general matter, tiny homes tend to be both physically smaller (as the name states) and more affordable than traditional, larger homes or expansive countryside estates. For some people, tiny homes are also considered to be both creative and compact living friendly. Because tiny homes tend to include fixed space allowances, the properties can also complement minimalist trends including capsule wardrobes. Additionally, these properties may reflect structural suitability for working from home, since many tiny homes include personal desks and work-stations in addition to WiFi access. 
Given these dynamics, and certain housing trends toward the tiny, real estate and home designer readers may find it interesting when creative professionals choose to go tiny for their living spaces. As Shoebox Dwelling reported, before he married Alexis Bledel, "Mad Men" star Vincent Kartheiser owned a tiny house. 
Details about the space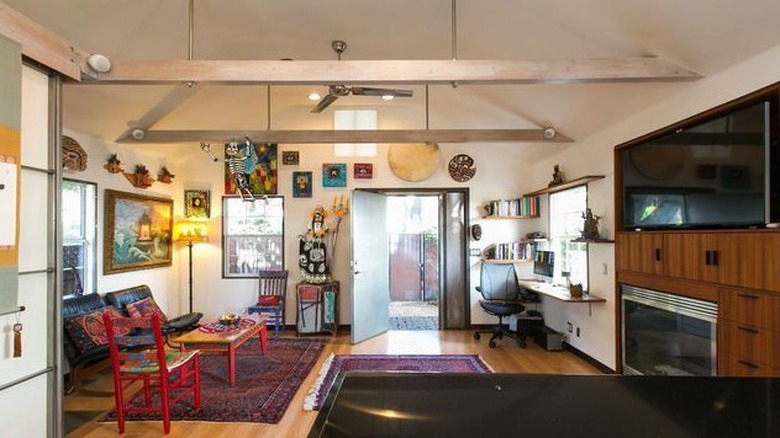 Ron Adar/Shutterstock
With respect to aesthetics, Vincent Kartheiser's 580-square-foot space includes light and neutral color layouts with pops of the color red, per Shoebox Dwelling. The home also has a combination of crisp and cozy furniture pieces, elongated Japanese windows, and wood-paneling throughout. Stylistically, the home includes partitions to create the appearance and experience of more rooms actually being in the house. Additionally, it is common for tiny home layouts to reflect modular design choices. Further, the property's layout includes an interesting feature: a mid-living room shower. 
Beyond the shower though, the tiny house also includes a suspended bed that is controlled by a pulley system. For the bed, the headboard drops down to form a double desk. The caveat? The double desk is operational only when the bed is positioned in mid-air. Kartheiser considered the space to be Japanese industrial, (via Shoebox Dwelling). In Japanese architecture, the word shoji reflects sliding outside partition doors, windows with specific wooden frames, and thick, white coverings, as seen in the tiny home. Once the windows are closed, as Britannica detailed, diffused light filters through the space.